4 days after Skiers Cup finished up in Andorra, many of the riders involved there were again in action, this time at stop 2 of the Freeride World Tour in Chamonix. There was a mystical atmosphere today in Flégère ski area as the clouds parted an unveiled the snow-capped peaks of one of Europe's most legendary freeride venues. Riders in both Men's and Women's Ski went big today in largely perfect conditions, shaking up the the overall tour rankings in the process.
Loic sending a big backy right in to the top spot. Photo: D.Daher
After a rocky start, this winter has been kind to Chamonix as heavy snows have blanked the magnificent peaks of the Aiguilles Rouge range in recent days. More snow fell than expected last night and riders were unexpectedly treated to between 50-100cm of fresh snow over the 2500m elevation level. However, despite the heavy snowfall, some parts of the Alaska-like Aiguille Pourrie face still had some hard snow exposed due to wind, causing trouble for some riders.
SKI MEN
The overall ski men rankings were massively shaken up today as top riders such as Jérémie Heitz, George Rodney and leader Kristopher Turdell put all their eggs in one basket and crashed out on big airs. On the day it was three skiers who had just arrived in Chamonix from the Skiers Cup, perhaps emboldened by the soft fresh snow that was sadly lacking at the venues in Andorra, who took the three podium spots. Loïc Collomb-Patton took home his third victory in Chamonix with a line featuring massive backflip up top (pictured above) and powerful skiing all through the bottom section. Young gun and party champion Logan Pehota busted out a smooth three off a windlip at the bottom his run to follow up a technical and large drop to chute in the top section and take second place. For me it was the run of the day and the win leaves him leading the Freeride World Tour overall. Not bad from a man who fell off a ceiling beam just a few days earlier.
New tour leader, Logan Pehota, hanging above the exposure. Photo: D.Daher
Fabio Studer brought his trick filled style to the competition venue with a hand drag 3 and a massive cork 3 in his line rounding out the podium and landing him in third. I'd definitely recommend checking out all the runs in the full replay at the end of this article, but if you only watch these and a couple of more, I'd also make sure to watch Sam Anthammaten, who for me was a backslap away from the win and Sam Smoothy who sadly front rolled away from a great result.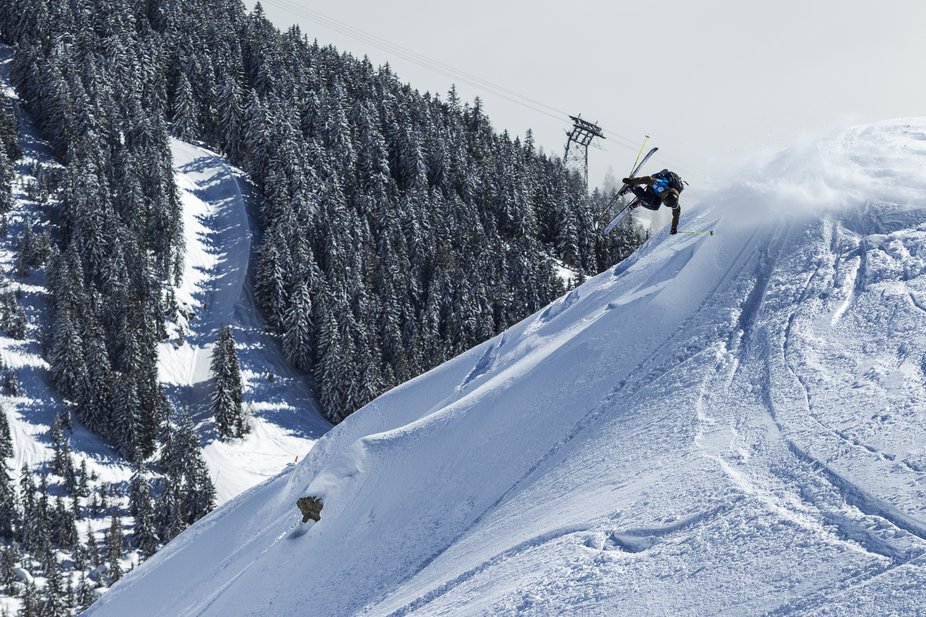 Fabio Studer bringing hand drags to the FWT. Photo: J.Bernard
SKI WOMEN
On the women's side of things Eva Walkner, no stranger to the Freeride World Tour podium, demonstrated her trademark powerful and technical skiing to once again bring home victory at Chamonix. The extremely talented Silvia Moser went huge with two massive airs as big as anyone, male or female, on the day but had a slight bobble which kept her off the top sport. The desire to win to better a second place finish at Chamonix previously was evident in Matilda Rappaport as she skied with incredible authority and a very smooth style but she eventually had to settle for a third place finish. Jacki Paaso encountered some tricky snow on her chosen line and had to bail out from it on to a completely different strategy which left her down in sixth, meaning the lead of the tour was taken over by today's winner Eva Walkner.
Full replay of the event below.
As always, to watch the version with the runs kindly placemarked by the kind people at Freeride World Tour, follow the link:
http://freerideworldtour.com/calendar/swatch-freeride-world-tour-chamonix-mont-blanc-2016
http://www.dailymotion.com/video/x3qkoan_replay-swatch-freeride-world-tour-chamonix-mont-blanc-2016_sport