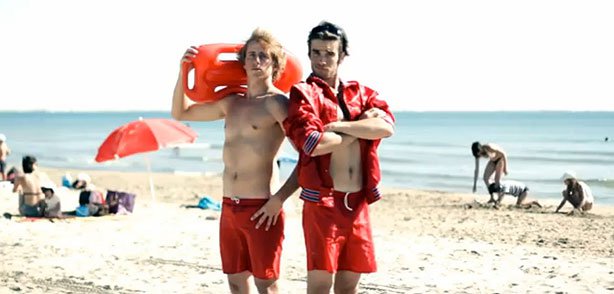 Kevin Rolland and Xavier Bertoni are now separated from each other since Kevin left Rossignol to sign for Core-Upt over the off season. We all thought that this would spell the end of their wonderful friendship but NO! This isn't the end at all! Here is the opening episode FollowUs.tv – season 3. Could it get any better?
Kevin talks about his new model before he sets off to Budapest for the Monster Fridge Festival. After his jumps he knocks his head and doesn't remember a thing! His trainer decides its best that he doesn't jump again so they head back to France to join up with Xavier.
Xavier talks about his previous season – what went wrong, what went right and what he's going to do this season.
There's only so much talking you can do before the comps start so they head to Copper for the Dew Tour where Xavier unfortunately breaks his thumb and goes under the knife…
Skiing.
It's not just episode one that I have though! Nuh uh. Episode 2 is right here and ready to follow up the treat that was the first one! But what happens?
Well, we catch up after Xavier's operation and follow him back onto his skis. Heading back to Copper we also get to watch Kevin as he tries to perfect a new trick.
MPORA Action Sports
Featuring: Tom Wallisch, Nico Vuignier, Xavier Bertoni, Kevin Rolland, Elias Ambuhl, Mike Riddle, David Wise, Torin Yater-Wallace, Duncan Adams, Thomas Krief, Jonathon Bertoni, Benoit Valentin, Taylor Seaton, Simon Dumont, Justin Dorey.
Related posts:FollowUs.TV ep1 training in Breckenridge FollowUs.tv starts in Breckenridge with a bit of pipe training...
FollowUs.tv ep2 DewTour in Breckenridge Follow Kevin and Xavier during the first Dew Tour in...
Teaser FollowUs.tv Xav Bertoni & Kevin Rolland Teaser introducing the new monthly webisode show from Xavier Bertoni...