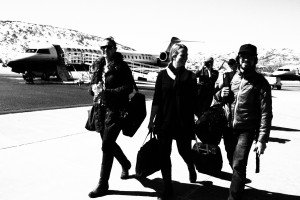 Megan, Kate, Scott - and Erik in the background - jumping off our plane in Aspen just now....Alarm clock at 4am. Right now, 6am. Boarding an early morning flight from SEA to Aspen, CO via Denver. Does this rhetoric sound familiar?
If it does, and if you're a regular around here, you'll recall a series of posts I did last year wherein I documented the play by play, day by day "Diary of a Photoshoot" during an REI campaign – capturing advertising stills and shooting this broadcast commercial. Based on volume of people who tuned in and the feedback you sent my way – it was a success of sorts. Although it damn near killed me (working 18-20 hour days and still making time to write and upload snapshots), I had a blast scribbling out the daily ups and downs, weather, production, and creative details in real-time.
Well, here we go again.
To that end, Aspen Resort and their kickass agency Factory Design Labs has given me the green light to bring you along with me for the 2013 Aspen Resort advertising campaign. Shout out to these folks who actually "get" this whole social sharing thing. While I've sworn off the putting myself through pure hell to report back details at every moment, I WILL be sharing as much play-by-play as I can muster while keeping my health and wits about me, including our early morning call times, first-light hikes to 12,000+ feet, helicopters, world-class athletes as talent, and the ? ahem? occasional nightcap cocktail after a hard day's work. I hope you'll follow along. Some important coordinates for doing so:
My Twitter handle: @chasejarvis
My Facebook page: Facebook.com/chasejarvis
My Google+ page here.
And, since they'll be piping out exclusive BTS content as well, follow along with the Aspen social channels too:
Aspen's Twitter: @AspenSnowmass
Aspen's Facebook: Facebook.com/skiaspensnowmass
I'll do my best to respond to questions and inbound stuff. And thanks in advance for your RT's, shares, +1′s and all that jazz.
BTW, today's mission? Travel to Aspen, connect with our cast and crew, and squeeze in a scout for our Monday shots. Details to follow. #Respect from 37,000 feet.
-Chase