Words by Brody Leven
Photos by Trevor Woods
Video by Tim Jones
Skiing by Giray Dadali, David Wintzer & Brody Leven
Your skiing lifestyle does not revolve around snow conditions. And regardless of what you say, you don't ski for that one overhead pow line, switch cork 7 mute, or mandatory 30-foot spine exit that you happen to stick each season. Instead, the individual elements that you encounter on a daily basis while living the ski life are exactly what keep you stuck in this scene. The cramped road trips, lift rides with nothing but a dead iPod, and friendships based around a mutual lifestyle bring an array of people together with skiing as the uniting obsession. Watching these skiers – photographers, videographers, and professional bums – enjoy one another's conversation on a long skin track or broken lift verifies our existence and who we are: skiers.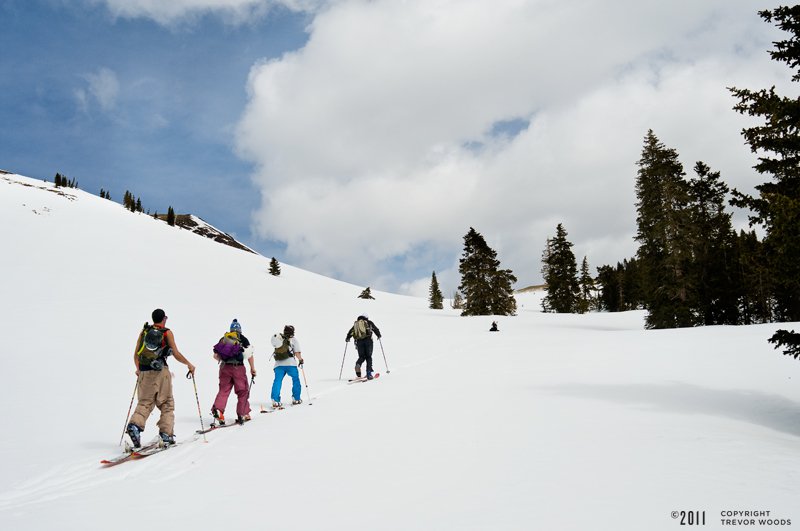 Welcome.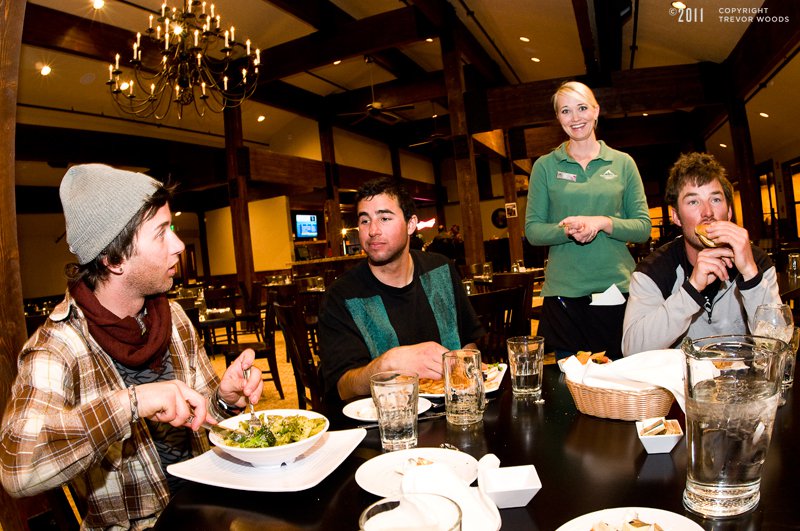 Far from a skier's typical dinner.
So when a three-day trip to Southern Utah offered snow conditions reminiscent of days in the Midwest and East Coast, it was easy to look beyond the crust and into the never-tracked peaks and untainted wilderness. The range is full of terrain that would make most tram-chasers cringe behind their full-face helmets and most park rats sob behind their smelly fleece-lined bandanas.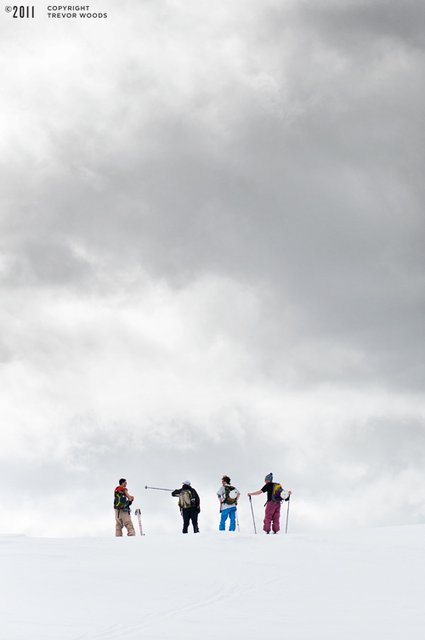 Lunchtime line-scoping.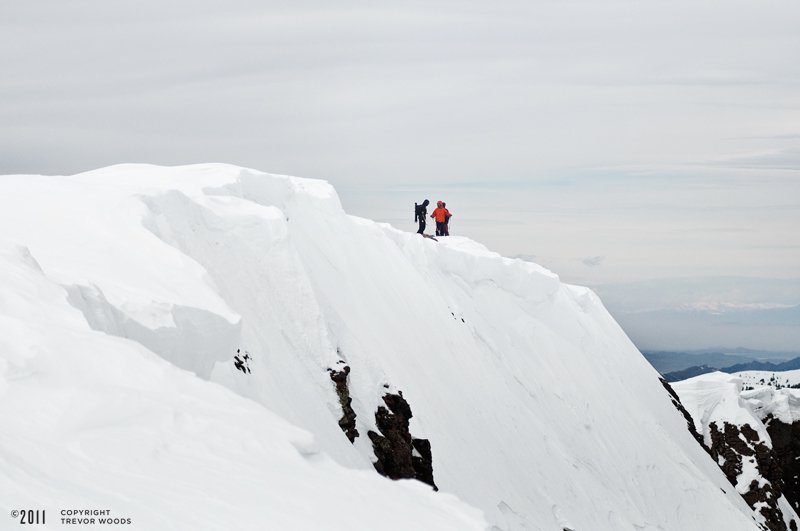 "So, um, I guess we're coming back?"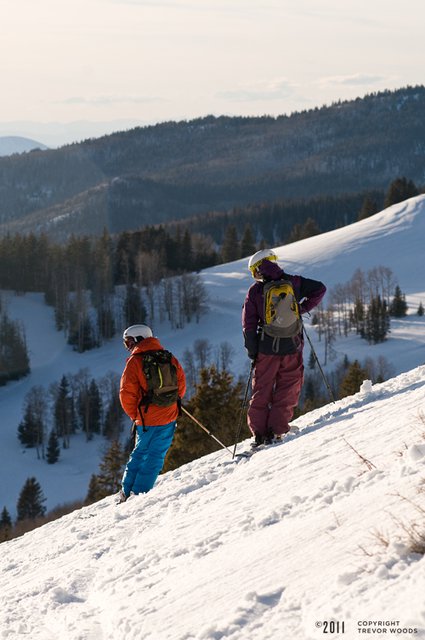 Brody and David, ready to make the most of it.
Southern Utah is not commonly considered a connecting link in the lives of those who share our fixation. But when Beaver, Utah's Elk Meadows and Mount Holly re-opened as Eagle Point in December of 2010, it caught the attention of a Salt Lake videographer wanting to venture into terrain previously unexplored by skiers in our realm.
David, who (I thought) knew better than to drop a cornice to cement.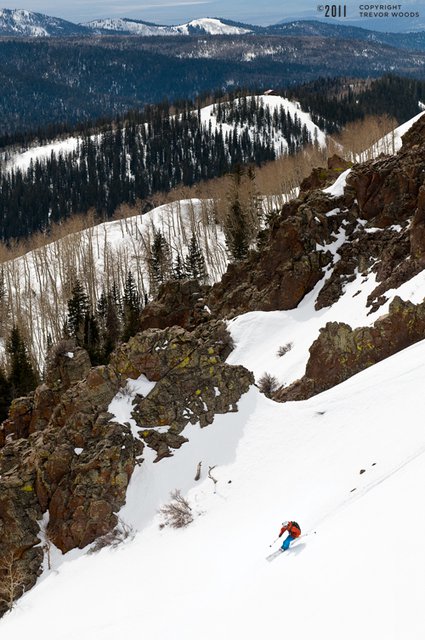 Brody, pretending it's pow.
What crew can be assembled five days before a three-day trip? Five jobless, Salt-Lake-implant powderhounds living day-to-day lives of skiing, traveling, and trying to perfect the combination of lodge crackers, mustard, and sample-size energy bars. After numerous phone calls, a diverse team was assembled with the intent of exploring a new resort and sharing its potential with our ski community.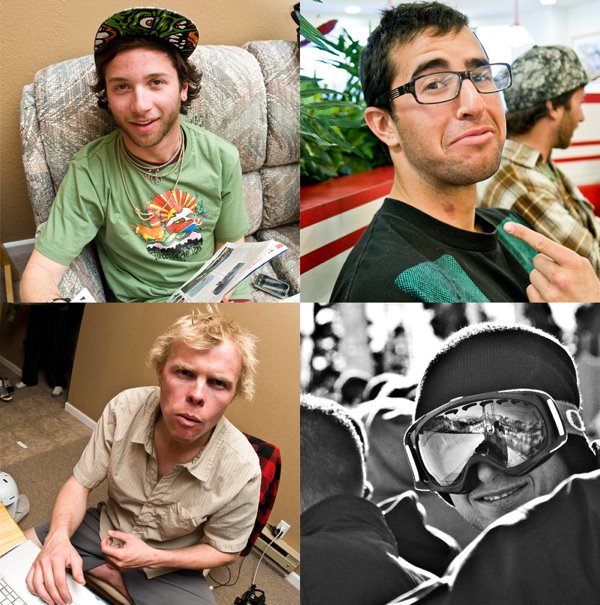 Friends: Brody, Giray, Tim, & Trevor (not pictured but still a friend: David).
The conditions couldn't have been more horrendous; but the surrounding terrain couldn't have been more serious. We ripped around the resort's 400 acres of inbound groomers and hit the three rails. We dug through the ice for our East coast roots. I skied park for the first time in years while Giray proved that he never stopped.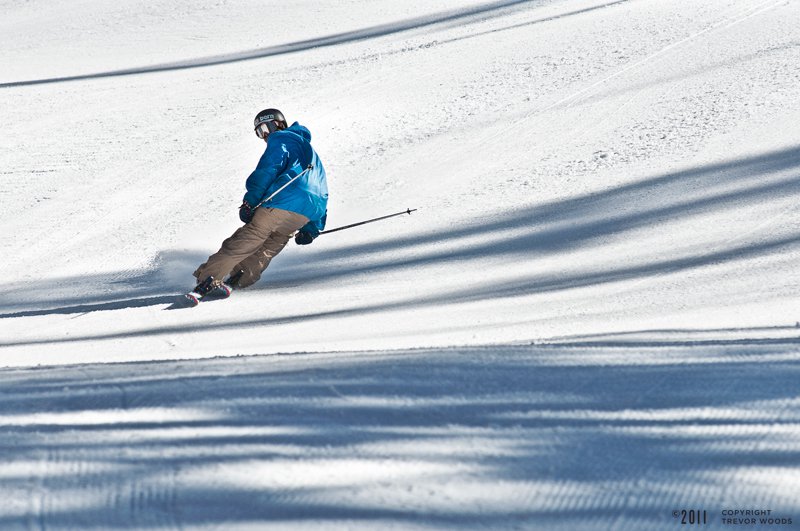 Giray Dadali.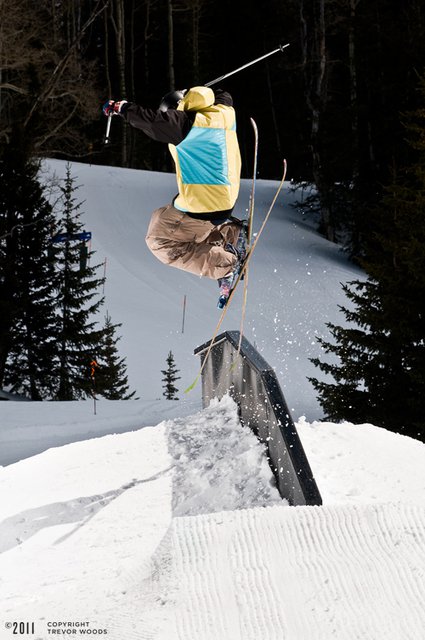 Giray.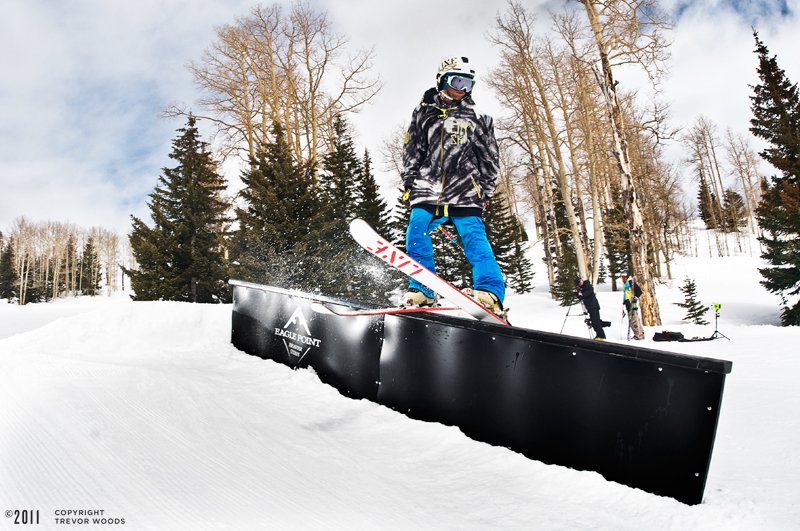 Brody Leven. It's like riding a bike.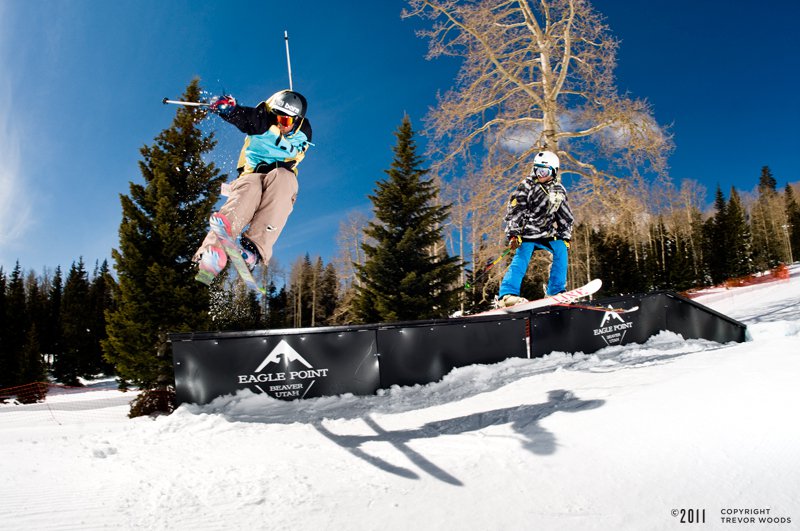 Giray and Brody, rail reminiscing.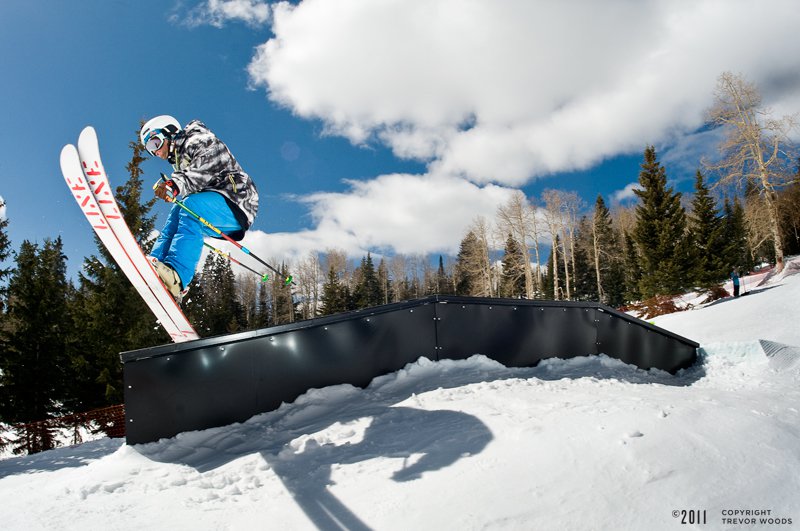 Brody
Jersey-and-jeans-wearing mullet-rocking locals made awesome lift companions. We interviewed locals and had lunch with the park manager. We basked in the sun and waited for cloud delays. Throughout the day at Eagle Point, though, our eyes couldn't leave the surrounding 12,000-foot mountains.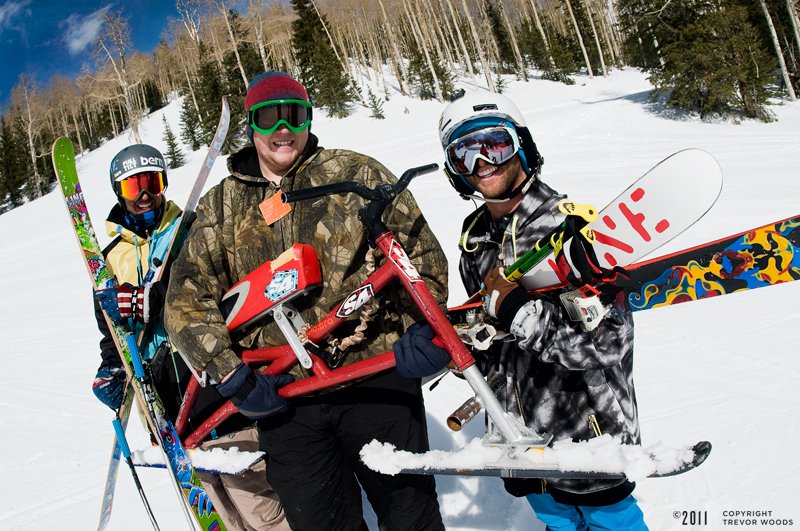 Two skiers separated by a future Olympic ski biker, Terry "Danger" Smith.
Exhausted from a bell-to-bell day in the park, Giray and I were craving calories and sleeping bags until we walked onto our balcony to see Trevor and Tim, with tripods and strobes in the snow, setting up some super-sketch BMX course of roof drops and jumps behind the condo. Our boots stayed on as our mirrored lenses lost purpose, and back in the snow we went for a sunset session of accidental tree taps, tranny-finding on cat tracks, and blinding flash bulbs that sent yours truly careening uncontrollably into tree wells.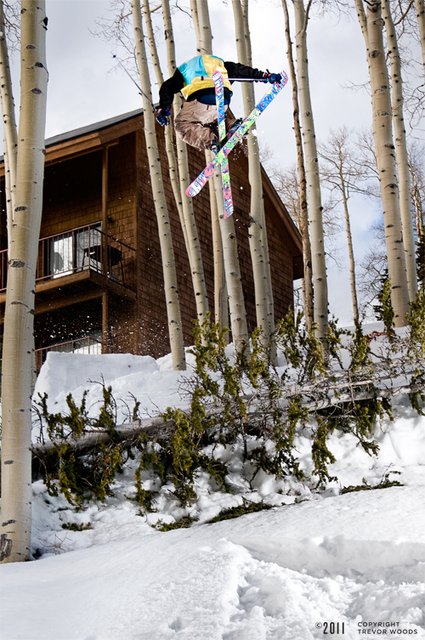 Giray.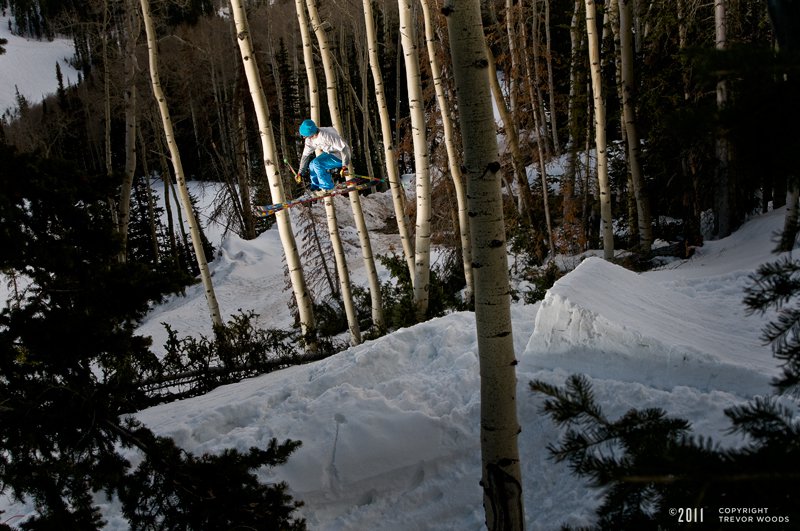 Brody, pre-tree well.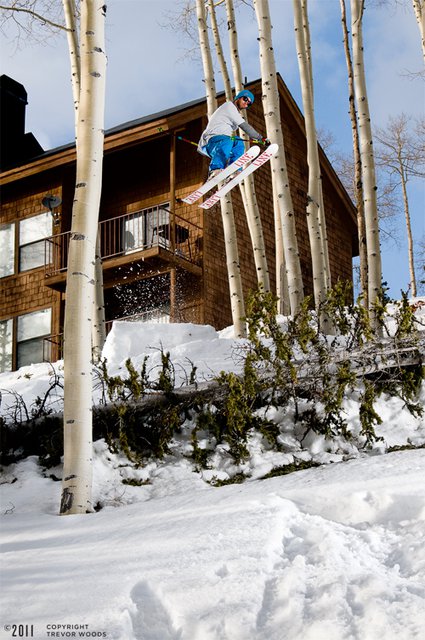 Brody, pre-tree well and pre-crash.
After our evening slumber party, Alec, owner of Tushar Mountain Tours skinned us into the backcountry for some steep faces and tight chutes.
Giray, Alec, Timothy, & Brody in the Tushar Mountains.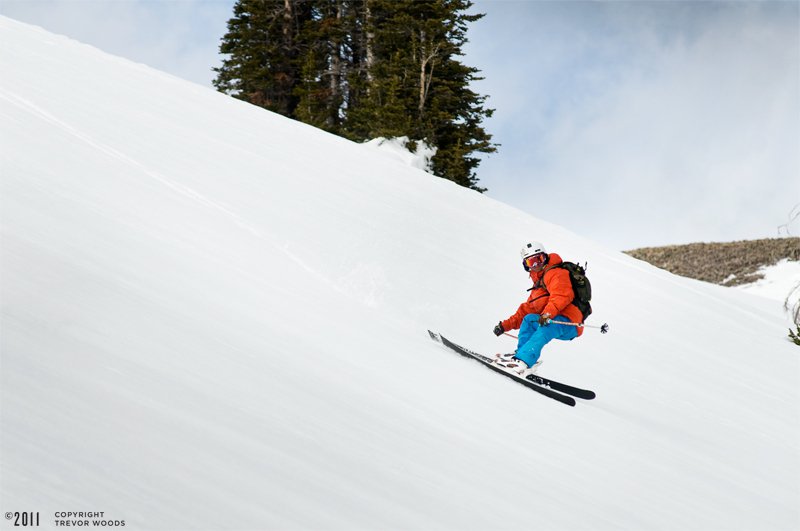 Brody…crashed.
Giray and David made the bleak, bare, and baked conditions look sunny, safe, and smiley.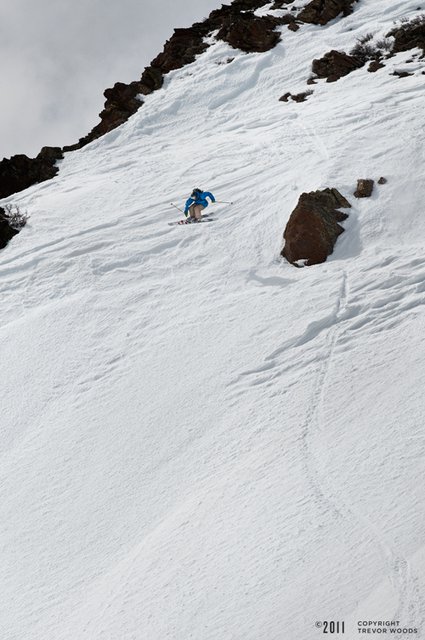 Giray.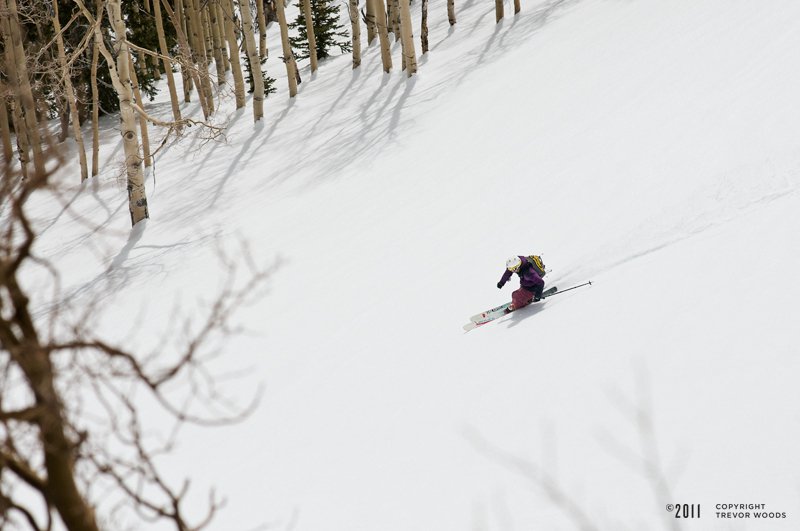 An Aspen tree, with David in the background.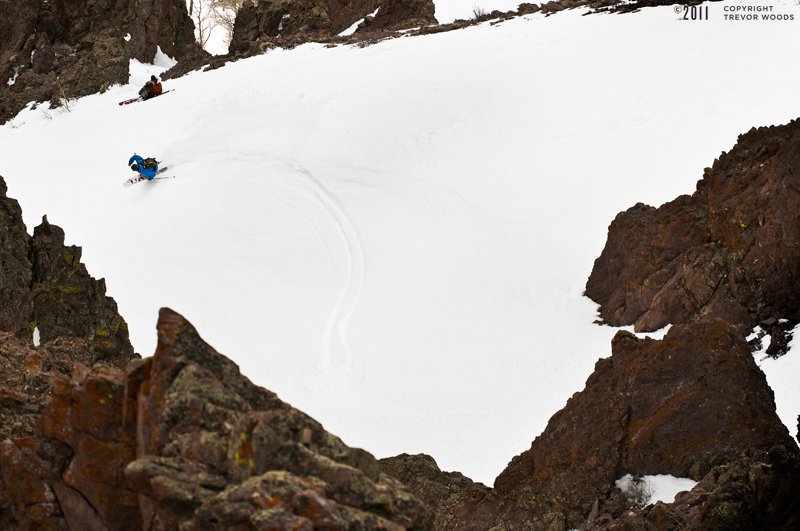 Welcome to New York, Giray.
Welcome to Ohio, Brody.
Tim and Trevor – both phenomenal skiers – sacrificed every line for the shot. I found some steep closeout couloir that ended in a bed of rocks. The cameras agreed to film it and I was quick to want to ski it. I crawled around on exposed, crumbly rock formations to scope the line; Trevor climbed them for the shot angle; Tim sat directly in the couloir's exit. Watching friends work together and make sketchy lines happen is why we dedicate ourselves to it.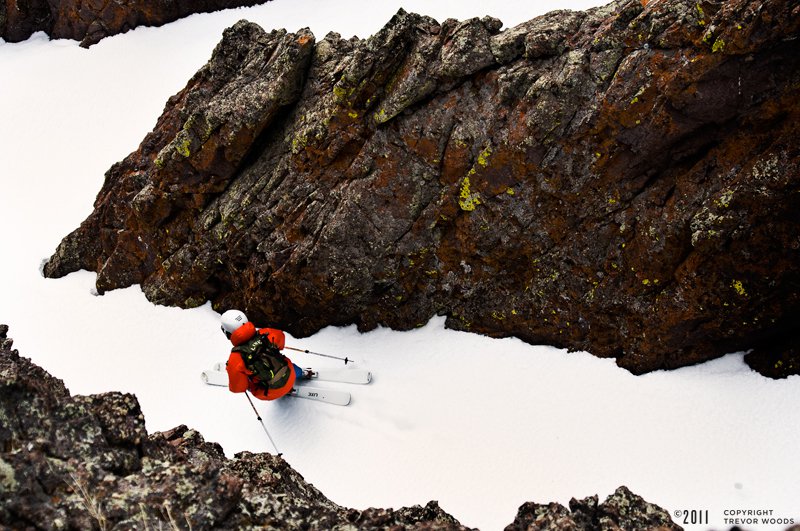 Brody, prior to a near-slaughter.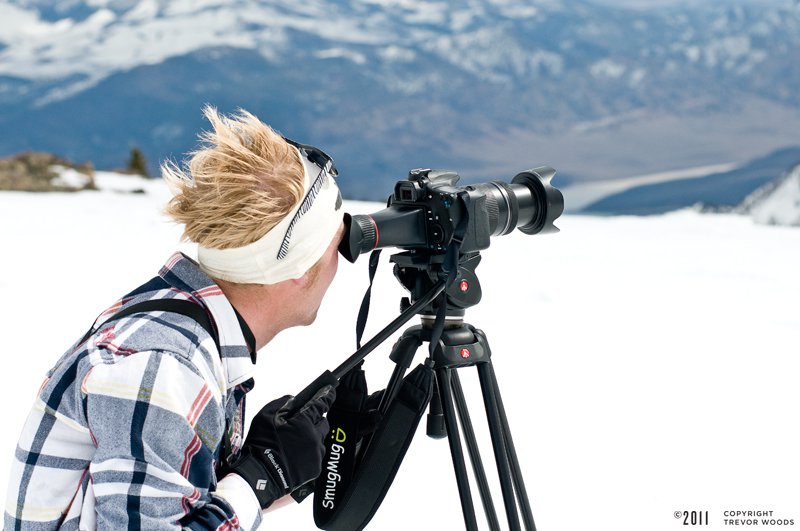 Tim's blowout.
Skinning back to the resort as the clouds began to reflect brilliant variations of the sun's light, we shaped a gap over a snowless patch of boulders and proceeded to session it until nightfall.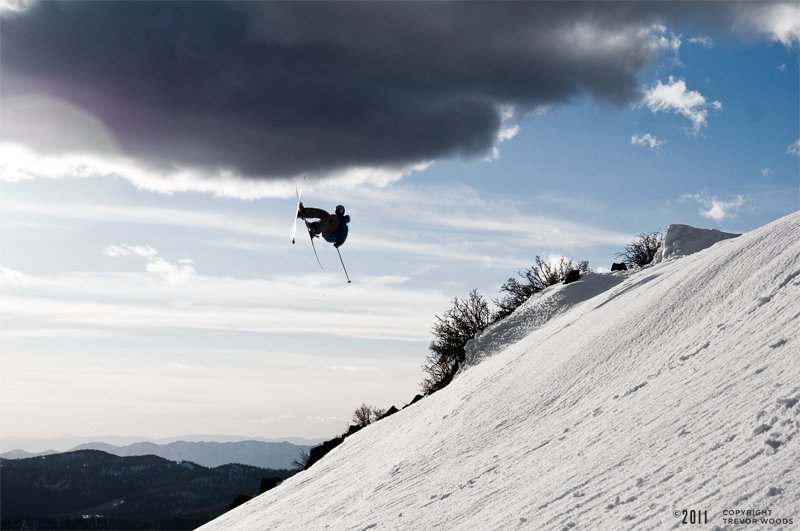 Giray.
As the new crew skied back towards the condo after another dawn-to-dusk day, we sought one last golden hour lap before the sun moved on. We skinned up, skied some ice, and ripped all the way back to the resort beneath lifts that hadn't held skiers for four hours and lodges whose last employees were already at home with their families.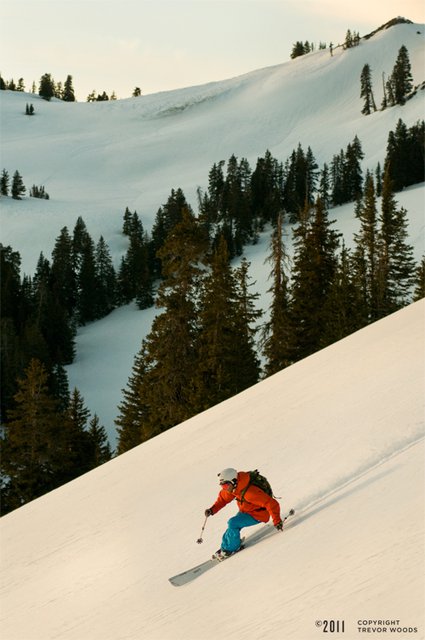 Brody.
Our last day at Eagle Point was our most anticipated. We were climbing a neighboring 12,000+ foot peak to see if, in fact, Google Earth was telling the truth. The honesty was astounding. I will leave those findings for another story after we return for the product we seek. We skied challenging conditions, shared in the excitement of finding a new zone together, and promised ourselves we'd be back.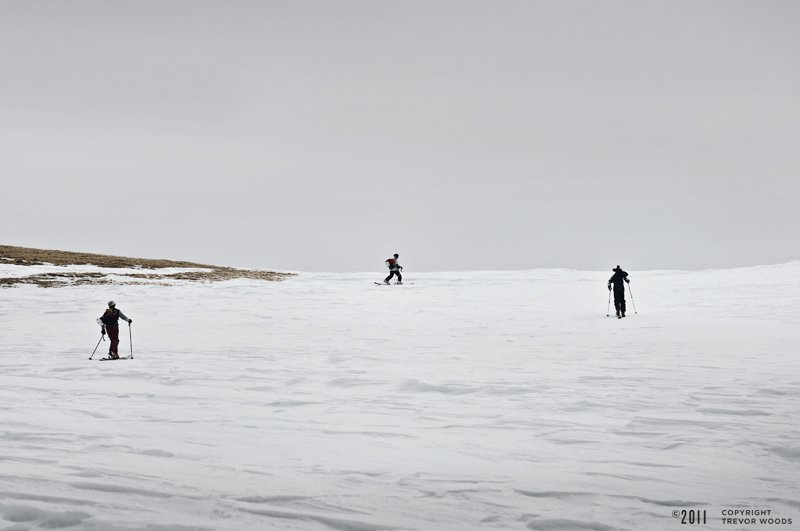 Moon skinning.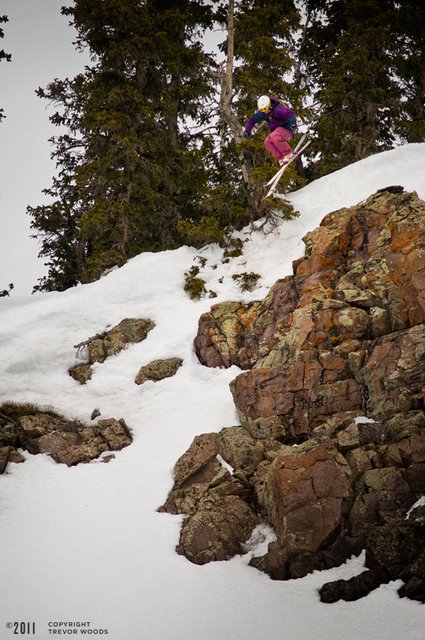 David.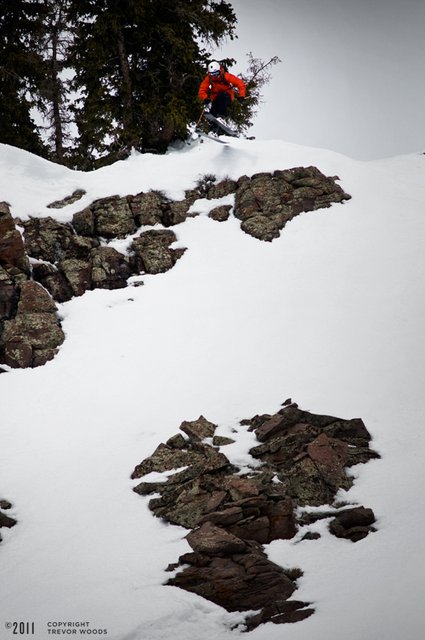 Brody.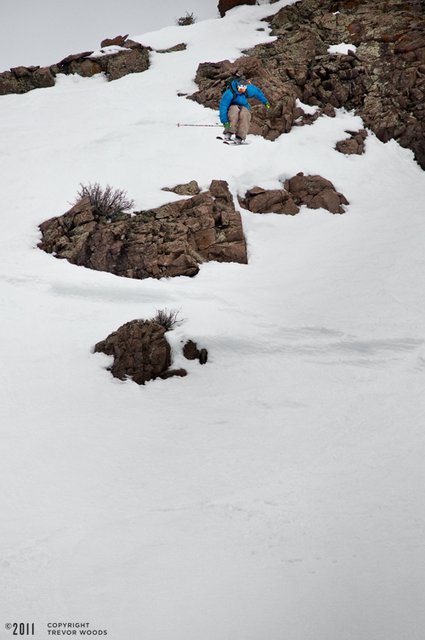 Giray.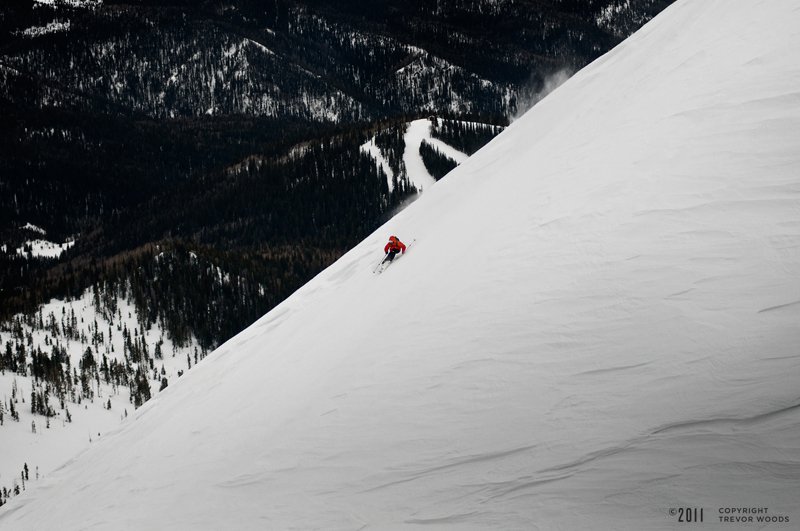 Brody on the rocks.
Our discovery of one of the sickest zones any of us had ever seen allowed a moment of reflection for the new crew. We realized it. This was that crowded car, broken-lift, talking-about-skiing-all-day road trip from which all good ski memories originate.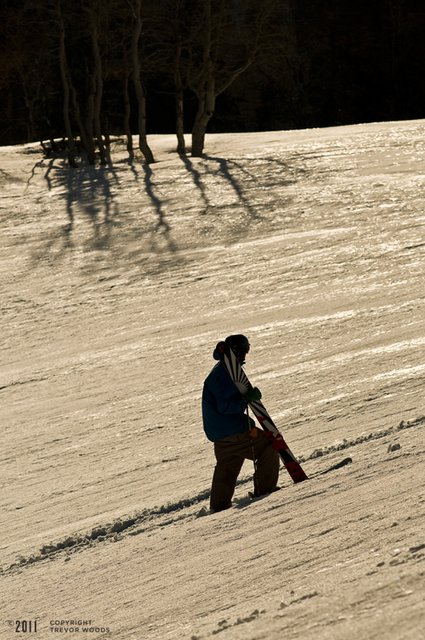 Until we return…
Eagle Point, Utah from Timothy Jones on Vimeo.