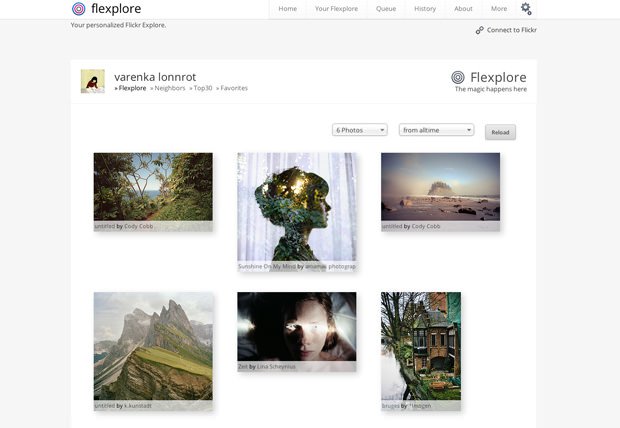 Getting personalized recommendations for the music you listen to became common practice many years ago with the Music Genome Project and personalized radio stations by the likes of Pandora. Up until now, however, we haven't seen anything that takes that same sort of technology and applies it to photography. That's where Flexplore comes in.
The idea is simple and many people seem to be impressed by it: analyze your Flickr favorites and get personalized recommendations. Admittedly, the website is still in beta and is probably receiving more attention that in originally planned for, but the concept is solid and the results seem to come out pretty well — no more crap photography when you're exploring Flickr, just stuff you'd actually like.
Other sits offer similar services: ffffl*ckr, for example, allows you to see your favorite's photographer's favorites, working on the assumption that the people who take the photos you like probably like photos that you would also like (tongue twisted yet?). But Flexplore, on the other hand, is more like a way better version of Flickr's own discover feature; as long as you have 200+ photos favorited, Flexplore will do the searching for you. Head over to the Flexplore website if you'd like to add your name to the growing "to-be-analyzed" waiting list.