Wrightwood, CA (October 8, 2008) – Faultline Terrain Park at Mountain High has doubled its production budget for 2008/09 resulting in a wide range of new features that include a massive 20'x20' wallride. In addition, two new park-specific Prinoth grooming machines costing over $800,000 have been added to ensure more consistent snow products throughout the park. Mountain High has also announced the 2008/09 Team that includes local pros Laurie Currier and Cory Cronk.
Faultline Doubles Production Budget
Doubling the production budget allowed Faultline to add a wide range of new features including a massive 20'x20' wallride that is located just above the Playground at Mountain High West. Fully illuminated for night riding, the wallride is a constant symbol of Mountain High's commitment to park riding. The new feature is made using a Skatelite topsheet material that delivers a consistent riding surface that won't warp as temperatures rise. Mid-level riders can hit the feature at a level they're comfortable with while expert riders can slay all 20 feet.
"Faultline has been working hard this summer to complete an arsenal of rider-friendly features for next season," said Justin Montoya, Faultline Terrain Park Manager. "Riders can find entry-level features off Creek Side lift, while everyone from mid-level riders to pros can progress on Faultline's wide range of features spread over 100 acres."
Also joining Faultline's collection of over 100 features are a 20' doublewide flat rail, a new rainbow box, and a jump box. Faultline's boxes and rails have been painted in a bright color palate of solid yellow, blue, red, purple, and orange; reminding everyone that snowboarding is still about having a good time on the hill.
New State-of-the-Art Prinoth Groomers
Over $800,000 has been invested in two new state-of-the-art Prinoth grooming machines this season: a BisonX and a Bison Sherpa Winch. The new cats deliver industry leading power-to-weight ratios, economy in operation, and are more environmentally friendly. Increased productivity and efficiency from the new groomers translates to more consistently groomed terrain on a nightly basis.
2008/09 Mountain High Team Announced
The 2008/09 Mountain High Team comes together with a strong mix of established and up-and-coming riders that include Laurie Currier and Cory Cronk. Laurie recently took home $5,000 for 1st place and another $1,000 for best trick at the S3 Supergirl Jam in Huntington Beach. Cory Cronk returns to the Mountain High Team, along with his signature 40' downrail/ flatledge combo feature. Also featured on the Team are Nirvana Ortanez, Nick Sibayan, Cory Whetstone, Geoff Isringhausen, Curtis Hill, Spencer Link, Kyle Lopiccolo, Anthony Fire, Danny Williams, Matt Ybarra, and Nicki Slechta.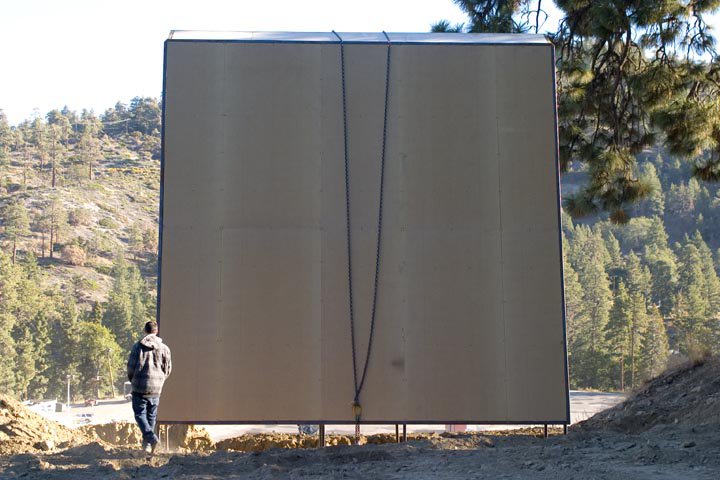 Photo: Mountain High's 20'x20' wallride. October 8, 2008. Credit: Mountain High
Mountain High is Southern California's closest winter resort located just 75 minutes from Los Angeles and Orange County. The area consists of three separate mountains (Mountain High East, West, and North), and offers a wide variety of high-speed lifts and alpine trails, the world class Faultline Terrain Park, an outstanding Winter Sports School, and the region's largest tubing park. Snowmaking covers more than 80% of the slopes delivering consistent snow conditions from November through April. Mountain High is traditionally the first resort in Southern California to open each season and the only local area with night skiing seven nights-a-week. Get more at mthigh.com.