Hello, hello, hello!Don't expect too much sweet skiing action in here, but here's a little recap of my fall thus far...Sorry that the pics aren't too high quality but my digi cam is out of commission currently...Anyway, pretty much I've just been spending a lot of time in Boulder, CO; simply going to school and just having a grand old time...One thing nice about Boulder is all the movie premieres that come through the area...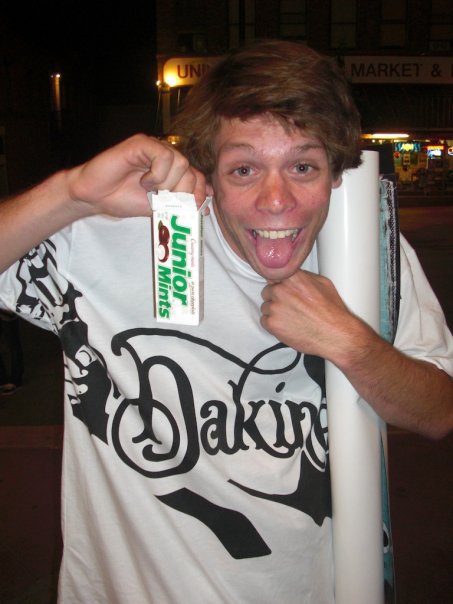 This is outside of the Fox Theatre after a premiere of the Massive. Tanner's movie totally rules! Junior Mints are a must at the movies...And in case your wondering what's in my other arm, it's a sweet poster of Tanner that is currently hanging next to my bed in my room....My friends and I also do some pretty fun stuff in our free time...
We recently had a nice golf scramble in honor of our good friend Wallace Westfeldt. He passed away snowboarding last season while riding in the Aspen backcountry. Much love to you Wally. We're missing you buddy...We also decided to have our own Prom...
Of course we went to dinner at the Olive Garden prior to the event... Bread sticks, dancing, and other fun festivities filled the night...
Henrik Lampert and his girlfriend Julie were the chaperones at the event... They sure looked good...Game days in Boulder are pretty fun as well... Too bad we aren't any good... Go Buffs!
Freeskier recently had a party in honor of Dumont breaking the world record last season... Congrats buddy! Booooosting that 9 tail!
Here's me catching some sweet air with Freeskier's Digi Dave and Salomon's Jenny Naftulin...Aside from easy Boulder living, I've also done a bit of traveling...I made the trip over to Switzerland for Freestyle.ch...
Simon, Riley, and Colby walking through the streets of Zurich...It was pretty scary to be on snow for the first time after breaking my back... hitting a big city jump made of scaffolding... I managed to do a weird version of my double 12, but unfortunately had some ski problems on my other jumpt!
Yeah, that's my ski flying off in the air! Still grabbing tale though...After Freestyle.ch I also went to this HUGE ski sale in Rochester, NY. It was pretty radical to make my way to Rochester because my half sister lives there with her husband and two kids...
Here are my nieces Caroline and Claudia! They rule so hard!I also went to San Fran for the Icer Air...
The Golden Gate Bridge is pretty rad at sunset from Fisherman's warf!I got to spend some time checking out the city....
Check out this crab bread!
The cable cars are sweet!!!!!Icer also had a VIP party at the Aquarium of the Bay right on Fisherman's...
Colby, Max, my girlfriend Ryann, and I at the aquarium party!
Little bit blurry but look at us at cruising through the shark tanks at the aquarium party! Rainville is in the background, SUPER STOKED on a shark...
Check out how little this skateboarder was that was ripping at the event! Next Tony?
I also found this picture of me on the Icer website BOOOOOSTING on the hip... Look at how cool this picture is!!!!!Anyway, that's it for now! Hopefully that wasn't too boring for you...I'll be checking in throughout the season, letting everyone know what's going on... Love.