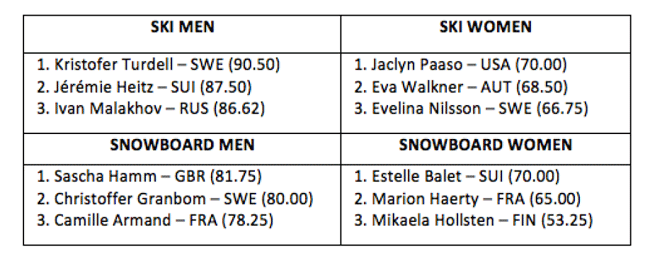 2016 is the second time the SWATCH FREERIDE WORLD TOUR has made an appearance in Vallnord-Arcalís. Riders and spectators alike were treated to blue skies and some high clouds with excellent riding conditions in the Andorran resort. After a relatively dry start, a recent storm dumped enough snow on the fantastically featured peaks of this ski resort that is quickly becoming the most important freeride destination in the Pyrenees mountains.
Riders made their way to Basser Negre zone after a short climb from the Basera chairlift. The terraced and feature-dense Coste Negre face offered riders a combination of tight couloirs along with clean run-outs and a multitude of options for taking big air. From its summit at 2680m, the competition face measures nearly 400m vertical meters at 40° allowing competitors ample opportunity to get creative as they make their way towards the finish line.
After the building anticipation of the summer months, riders were finally able throw down their best lines for the first time this season. While the lower shady aspects harbored excellent riding conditions, the sun-kissed aspects offered a bit more of a challenge for riders as conditions were less consistent on these faces. Plenty of rocks were hit, Bene Mayer for example lost a ski to a snow shark on what seemed like his first turn.
Ski Women
Jaclyn Paaso (USA) always sends it big and today was no exception. With some huge airs up high on the venue, Passo was able to once again emerge victorious in today's event. Former champion Eva Walkner (AUT) put together a solid run skiing a creative line on the skier's left of the venue for a second place finish. Third on the podium was rookie Evelina Nilsson (SWE) who demonstrated excellent control and solid riding.
Ski Men
The level of competition was incredibly high today as riders were able to combine creative freestyle tricks with full-throttle runs. Jérémie Heitz (SUI) had a screaming fast run but once again saw the first place spot slip away as Kirstoffer Turdell (SWE) hammered an incredibly impressive line down the face with a huge air, taking the top spot. With a risky but technically difficult line with big airs, Ivan Malahkov came in very close behind Heitz. Unfortunately, local favorite Dani Fornell-Prat (AND) sustained a leg injury along with Kiwi crusher Sam Smoothy (NZL). Big shoutout to Fabi Studer for throwing some tricks in to his line, I thought it was one of the most enjoyable lines to watch of the day.
After the incredible performances by these top freeriders, their fate will be determined during the upcoming four stops as they make their way to the finals in Verbier, Switzerland. Don't miss out on the next stop on February 6, 2016 in Chamonix-Mont-Blanc, France, where riders will prove themselves at the fabled freeride Mecca.
Source: http://freerideworldtour.com/news/winners-are-crowned-vallnord-arcalis
Full event replay:
http://www.dailymotion.com/video/x3ns20k_replay-vallnord-arcalis-swatch-freeride-world-tour-2016_sport