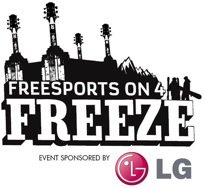 FSO4 FREEZE SNOWSPORTS AND MUSIC FESTIVAL RETURNS TO BATTERSEA
• Battersea Power Station hosts festival from 30th October – 1st November
• 32m snow jump with 17m drop to be re-created using 500 tonnes of real snow
• Orbital and Friendly Fires to headline
• Over 200 world class competitors from across the globe expected to attend
• FIS sanctioned World Cup snowboard event returns to London
• International Freeskie Event
• Battle of Britain Ski and Snowboard events
• Freeze Grind Rail comps and USA vs Europe competitions added to event line-up
• Tickets now on sale
The UK's biggest ever winter sports and music festival, Freesports on 4 FREEZE sponsored by LG, is returning to London following the phenomenal success of last year's event.
Once again, Battersea Power Station will be transformed into an international competition standard snowboarding and freeski venue to host world class skiers and snowboarders from around the world.
The inaugural event in 2008 drew huge crowds to the South London site and the event sold out all 10,000 tickets on the Saturday for the World Cup event.
The 32m high ski-jump will accompany the iconic towers of Battersea Power Station on the London skyline once again with 500 tonnes of real snow being produced and packed onto the slope to transform the site into a winter sports village. The big air jump will form the central hub of the competition and will return as the biggest ever created in the UK. The overall length from the top of the jump to the landing strip will be 110m, with a 17m table top drop from which competitors from around the globe will be showcasing their talents.
The festival will kick off on the Friday with a Battle of Britain ski and snowboard contest with the best of British talent battling it out for the title of top dog in the UK. Brit Olympic snowboard hopefuls Ben Kilner and Dom Harrington will be jostling for the top spot, before focusing on the World Cup event later in the weekend.
The LG London Big Air event, part of the FIS LG Snowboard World Cup, will take place on the Saturday, forming the main competition for snowboarders. All riders taking part can score crucial ratings points in their quest to become World Champions, whilst also improving their chances to qualify for the Vancouver Winter Olympics in 2010. Last year's winner Peetu Piiroinen (FIN) will be returning to defend his title, along with Scotty Lago (US) who hopes to retain his Best Trick trophy.
The International Freestyle Ski event over Saturday and Sunday will feature some of the world's most accomplished skiers, with multiple Winter X Games Gold Medal winner Tanner Hall (US) returning for a second year, along with Simon Dumont (US) and UK hopeful Paddy Graham, all of whom will be competing for the £10,000 prize fund.
This year's festival will also see a brand new addition to its sporting line up, with the Freeze Grind competition giving the ski and snowboard competitors a chance to display their skills on rails at the base of the slope.
Finally, the festival will close with a battle of the continents, with USA taking on Europe in a snowboard contest on Sunday which is guaranteed to get the audience's pulses racing.
Along with a stellar line-up of winter sports action, there will be music acts taking to the stage across the weekend to entertain the après-ski revelers after the on-piste action comes to a close. Electronic outfit Orbital have been confirmed for Friday and Friendly Fires will headline Sunday's music line-up. Other acts confirmed include Pendulum DJ set and Chase and Status Further acts will be confirmed nearer the time. The main music tent has been extended from last year to hold a massive 15,000 capacity crowd.
Andrew Topham, Events Director at Big Freeze Limited, the event producers commented: "We are delighted to be returning to Battersea Power Station in 2009. 2008 was a special event for us and you can expect '09 to eclipse that! The LG World Cup is a very important International Series and we are thrilled for London to be a part of that once more. Big Freeze will be working very closely with its partners to create the ultimate inner city snow and music festival."
Marcel Looze, Snowboard Race Director at the sport's official global body FIS commented: "Research showed that enjoyment of the LG Snowboard FIS World Cup Big Air was high with most wanting to come back or recommend a friend. The very special location at Battersea, the enthusiastic crowd and great performance of the riders made the first LG Snowboard FIS World Cup Big Air in London a success. FIS is proud to have London in the Calendar 2009/2010 again and give the audience another opportunity to watch World Class athletes without having to travel thousands of miles. We trust Sports Vision supported by the British Ski and Snowboard Association are able to create a great show again."
Ben Kilner, UK Olympic hopeful said: "I'm really excited to be sponsored by LG, their involvement in the FIS Snowboarding World Cup has really helped to grow the sport & FSO4 FREEZE sponsored by LG is looking like it¹ll be a great event again this year. I¹m looking forward to taking on the World¹s best snowboarders, which will be great preparation for me in the lead up to the Vancouver 2010 Winter Olympics, especially in front of a home crowd!"
Paul Meadows, head of brand marketing at LG Electronics UK & Ireland comments: "Freesports on 4 Freeze and the Big Air established themselves as iconic events last year and LG is delighted to be sponsoring both events for the second year running. Bringing freesports, music and the latest mobile technology such as social networking handsets together at the iconic Battersea power station, this year¹s event promises to be bigger and even more spectacular. We're sure that everyone who attends will have a truly memorable time, taking in the buzz and excitement of live action and music together with their friends and family."
Fans wishing to attend the event are advised to visit http://www.londonfreeze.com for further ticket information.
Tickets are priced at £35 for a day pass, £85 for a season pass (3 days), with a child's day ticket at £15 and a child's season ticket at £35.