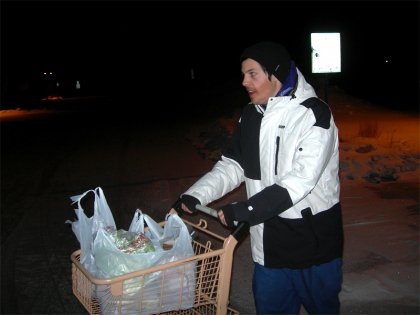 Yesterday after tramp-session I was tired and dumped down on the bed to relax for three minutes, then to find out we had forgot to buy more food. DOOOH! So we jumped on the first bus, and pretty much rushed through the store to find everything we needed. We had to run to the bus allmost at once, since it was supposed to leave 17 minutes after we jumped out of the bus we came in with. Dispite the running, we did not come in time for the bus to leave. FML. Walking is okey, but not half-an-hour with a cart full of groceries, after full day of skiing + trampolines… We made it to the motel though!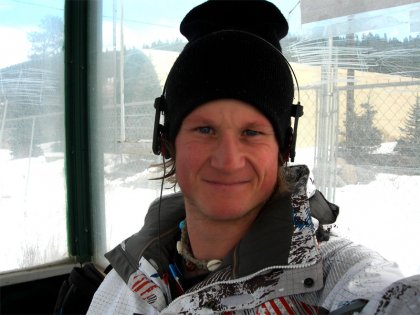 Hans went up to Breck for some skiing, while I took the day off from skiing. Keeps me really motivated if I ski 4 days straight, and take one day off. I took the bus up to Breck, and went to the Recovery Center (Gym). Had a nice little hour of lifting weights, to finish the things off with 15 minutes jacuzzi! NICE. Well, of course I missed the bus by 10 seconds both TO Breck, and FROM Breck. Haha, I am such a tool when it comes to timing. I think I was born to late. Haha.
Breckenridge ski-resort. They sure know how to make terrain-parks up here!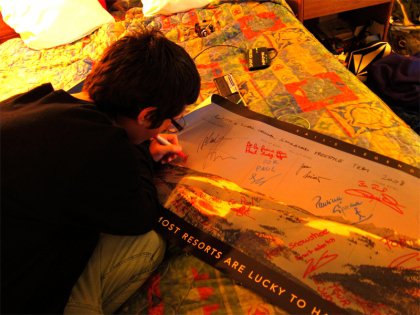 Hans beeing the man he is, pretty much prooooo, signing a poster for the Motel.
The boss at the Snowshoe motel (where we are staying). Really stoked and nice guy, interested in skiing, and totally supportive! Only thing I forgot his name, damn.
I have been thinking of tricks I want to do all day today, and I hope tomorrow will bring us decent weather, so we can go skiing in Keystone for once! Gotta love Keystone!