With the women's event canceled earlier in the week due to conditions, World Cup leader Giulia Tanno found herself taking the Women's Big Air crystal globe back to Switzerland without having to ski this weekend. Rain and a low tide winter in Europe made for a pretty scary looking jump but it worked. As the semi-finals kicked off, we saw several of the guys almost running out of landing in an attempt to get their tricks round but they were sending it to the moon regardless. Christian Nummedal twice landed with just a few feet of transition left and somehow rode out. Ultimately, Alex Hall, with his trademark switch dub 14 and dub 16 'buick', Lukas Mullauer, with a massive dub 16 blunt taken to the bottom, Andri Ragettli, and Oscar Wester joined the 8 riders who made it straight to finals in yesterday's qualifiers.
In finals, Andri Ragettli opened up the big scores with a 94.0 for a dub 16 tail with the grab held and tweaked for the whole rotation. Alex Hall's double 16 buick followed immediately but only scored a 91.25, having been a 95 in semis... the reason for which became quickly apparent. Elias Syrja added a nosebutter to the dub1 6 show and capped blunt for a massive 95.75. Ulrik Samnoey went switch triple 14 and stomped but grabbing safety 'limited' his score to 93. Birk Ruud ripped a switch double 16 tail for 94.50 before Antoine Adelisse went triple 16 mute with some extra flavor for 96.25, and Thibault Magnin rounded out the first run with a dub bio 14 for 91.25. It was starting to look like the judges hadn't left themselves enough space between scores with this one.
Run 2 saw Andri narrowly avoid a big spill, somehow skiing out of an overrotated switch dub misty 14 and Alex Hall stomp the switch dub 14 buick to back up the forward 16 from run one. They scored 86 and 91 respectively. Elias Syrja was pretty much still rotating a switch triple 12 screaming seamen when he hit the ground, but also skied out for 91.75 and the lead. Ulrik Samnoey stomped the forward trip 16 version of his switch 14 one from the run before and scored in the 93s again. Fabian Boesch stepped into the 90s with a double 16 blunt (capped). Birk Ruud bumped himself to second with a left dub bio 14 mute to japan for 92.5.
The final saw the running order switched to reverse ranking order. Antoine Adelisse, who had scratched his second run, stomped his switch pre-nose triple 14 perfectly for a huge 98.00 and a borderline insurmountable lead. Only Elias really even had a shot based on the scores, but everyone was sending regardless. Andri stomped his switch dub misty perfectly this time but the 92.75 was only enough for provisional fourth. Alex Hall went for the switch dub 18 buick but was a little short on speed and had to let it go. Ulrik Samnoey sent his switch triple to the moon, boosting his score to 95 and bumping Elias down to third. Birk Ruud stomped his dub bio 18 mute for 97.00 and provisional second. Elias, now off the provisional podium, had the final jump of the day and went waaay too big, landing a switch triple screaming on the edge of flat, going down hard. The medical team was there instantly. Fingers crossed that he's ok. That crash left Antoine standing on top of the podium with a Norwegian either side. Birk Ruud's second place saw him take home the crystal globe on the men's side, after a consistently insane season.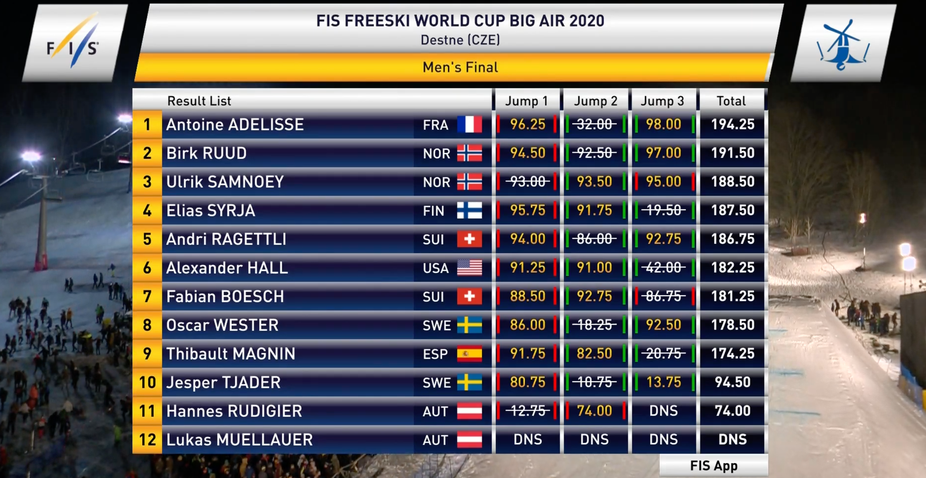 We'll have some highlights on IG courtesy of Daniel Hanka, who has been killing the takeover all weekend, and you can watch the full replay here:
https://www.newschoolers.com/videos/watch/956563/Freeski---Big-Air--Men----Destne---FIS-Freestyle-Skiing
You might need a proxy (UK, Italy and some others work) to watch this, but I'd highly recommend you do so because this was one of the craziest big air shows in some time.