Comp skiing returned to Aspen for the second weekend running with a rare World Cup. It doubles as the first Olympic qualifier for the US Team, which makes the comparative results of US skiers doubly relevant. The weather was certainly better than it was for World Champs but still fairly windy at times. At first, it was running fast with the course freezing solid the night before the event, but clearly it softened up through the event. The course itself was identical to that of the world champs, which is a pity in terms of mixing things up for both the riders and the viewing public. It is, however, understandable in this strangest of winters.
Colin Willi took a horror crash on a final hit triple, clearly knocking himself out on a final hit triple gone wrong and sliding down the landing unconscious. He was sitting up and waving after a significant course hold, so hopefully he's ok. But those crashes are the worst to watch.
_
Highlights - Women's:
- Tess Ledeux with a switch bio 9 to dub 12 mute combo on the bottom two jumps. Rails were clean but possibly not as technical as some of the other ladies but it didn't matter. Switch 10, switch right bio 9, left dub 12 was a crazy jump combo.
- Young Kirsty Muir, just 16, is going to be a name we see on the comp scene a lot in the coming years. She's been crushing it on the plastic slopes of the UK for years now and has game on both rails and jumps. Stomped a dub 12 on the final hit of her second run for her first world cup medal.
- Anastasia Tatalina continuing where she left off in Big Air by crushing the jumps looking super confident in the air. If she ups her rail game a little, she's going to be a major slopestyle threat. We think this is her first slopestyle medal.
- Marin Hamill, same run as world champs, but looks dope on rails... sw on, fs to forwards, and front 4 safety out of the cannon.
- Maggie Voisin back in the comp scene after some time out. We're loving her foray into filming with Good Company, but it's cool she's back in comps too.
_
First place - Tess Ledeux
_
Second place - Kirsty Muir
_
Third place - Anastasia Tatalina (Technical difficulties)
_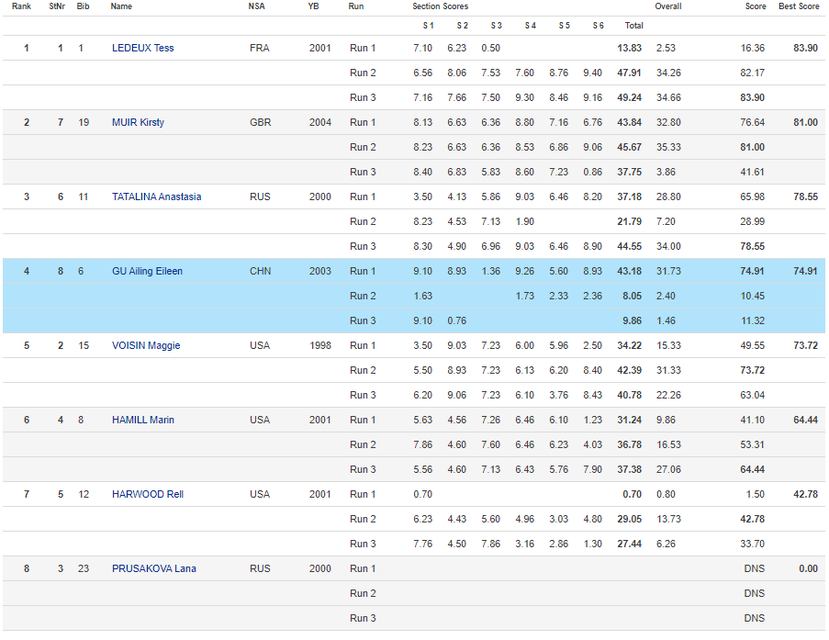 _
Highlights - Men's:
- Colby Stevenson. Switch 2 grabbed frontslide continuing 2 on the flat bar was dope. Otherwise, a very similar run to the world champs but he got it far nicer today. Mid-air touring pole separation on run two was a comp first and his last jump was ridiculous. Massive dub 16 stale to the bottom!
- Mac Forehand is back and throwing down. Super clean first run and a clear challenger for those hard-fought US team spots. Insanely big dub 7 on the last run throwaway was a (the?) comp highlight.
- Henrik is back too. Throwing down with the tips down 4 on continuing 2 and a dub bio 16 safety at the bottom. Still got that mad style.
- Sebastian Scherve, both ways front 3swaps on the first two rails... riding some Armadas from like 5+ years ago.
- Jesper... technical on rails, dub 16 to switch blender dub 14 combo on the bottom jumps.
- Alex Hall brought the little touches to the rail section. Nosebutter 4 p2 to switch wallie 2 on combo was dope. Trademark jump game too but didn't quite get a flawless run.
_
First place - Colby Stevenson
_
Second place - Mac Forehand
_
Third place - Henrik Harlaut
_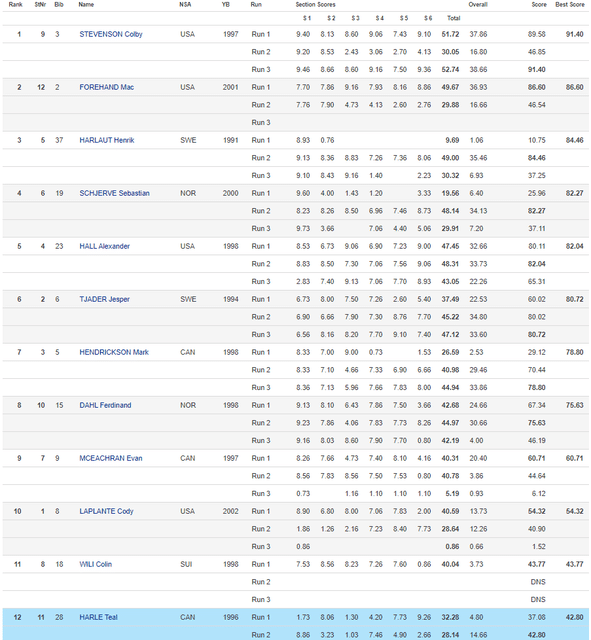 _
NS MVP Award: Mac Forehand