The first major slopestyle event in a post-olympic world went down in Switzerland earlier today. There was always a going to be a hangover after an event that big and so it proved with a few big names taking a break to rest and heal. On the men's side, Oystein and much of the US/Canadian team were notable absentees but there was still a strong field of Swiss and Scandinavian riders in a stacked final. The Corvatsch course looked a lot of fun and despite some scary looking flat light conditions, the riders threw down.
_
https://www.newschoolers.com/videos/watch/896185/Freeski-Worldcup-Corvatsch-2018---Finals-
_
Men
Run 1:
For the first run it felt like a lot of guys were feeling out the light and the speed. There were certainly more mistakes than normal but also some crazy runs, most notably from Alex Hall. He hit the magic combo of tech rails (switch right tails 2 on back swap continuing 2 on the down bar up top) and stomped jumps (sw right dub 9 double safety, left dub 12 seatbelt, switch left dub 12 safety) to go first with a 92.00. Andri Ragettli was (predictably) the only guy doing a triple but got let down by his rails and Max Moffat oozed style.
Run 2:
- Antoine Adelisse dub 9'd over the cannon rail and looked confused as to why he got an average score.
- Nummedal: Right 2 pretz 2, back swap cont 4 cannon, right dub 12 double japan, switch dub 12 mute (to japan? double grab of some kind), left dub 12 blunt, switch 2 on misty off.
- Kai Mahler: Steezy switch swerve slash on the qp.
- Jesper: 6 on, flair mute, switch left dub 9, right dub 16 tail, switch right dub 14 mute, switch on misty off. Slight early off on the 6 means it's only an 87 though.
- Sebastian Schjerve (no, me neither) - Super dope backslide-cork 4 on the cannon.
- Boesch: Flair blunt the QP to hard carve to backslide back 2 cannon was dope but he didn't have enough speed for the rest of his run as a result.
- Ragettli: Went for a triple and somehow opened out in to a dub 12 and stomped. Say what you like, dude is a ninja.
- Dahl: sw blender 2 cont 4, switch on cont. cork 6 off, switch dub 12 tail, dub (bio?) 12, switch left dub 12 safety, big disaster 4. Only good enough for third though. 88.6.
- That left Alex Hall with a victory lap as he took home his maiden slopestyle World Cup win. Congrats boss!
_
First: Alex Hall
Second: Andri Ragettli
Third: Ferdinand Dahl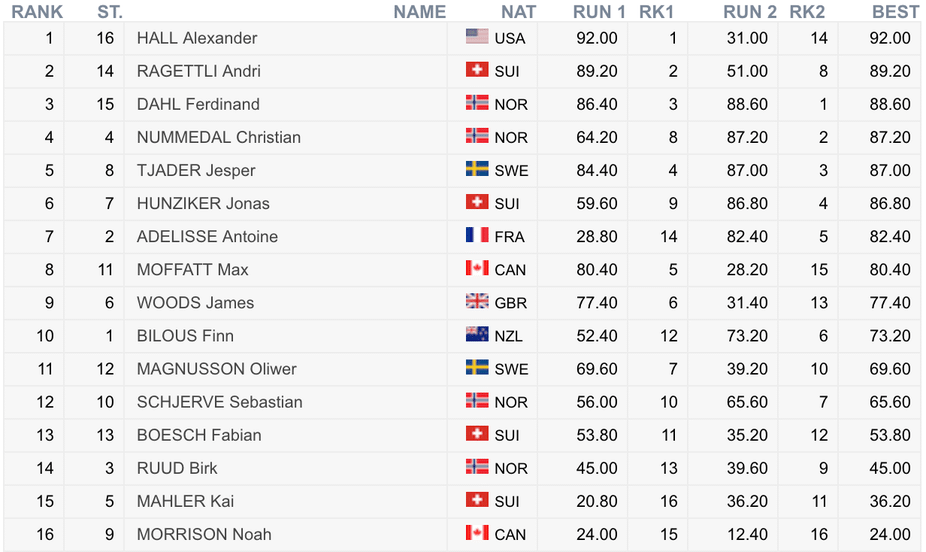 _
Ladies:
The Russians are coming. Seriously. We started to see it at the Olympics and particularly on the ladies side, there are a couple riders who are getting really close to that top level. Neither Anastasia nor Lena quite had the clean runs to make the podium today but the elements were all there and they are both so young. Two of the ladies who sadly couldn't put down a clean run in PyeongChang were back on top of the game today. Tess Ledeux took first place with a big, stylish jump line (right cork 7 blunt, left cork 9 tail, to switch left 9 mute) and Johanne Killi's trademark technical rails and a cork 9 tail of her own earned her second. Jennie-Lee Burmansson brought mad style to proceedings (she was probably the most stylish rider on either side of the gender divide today) and rounded out her run with a beautiful back 270 blunt off the last rail feature to earn herself third.