Welcome to Field Productions 2009!
We been out filming for our new movie release since November 2008.
Things are going well, and we´ve got alot of good footage so far. This
year will be bigger and better for Field Productions, and you can
expect some next level stuff and many surprises in September 2009.
STOCKHOLM / HELSINKI 2008
Field Productions kicks off the season with an urban trip to Sweden and Finland.
Crew: Filip Christensen, Espen Kristiansen, Tero Repo, Even Sigstad, Henrik Harlaut and Tom Wallisch.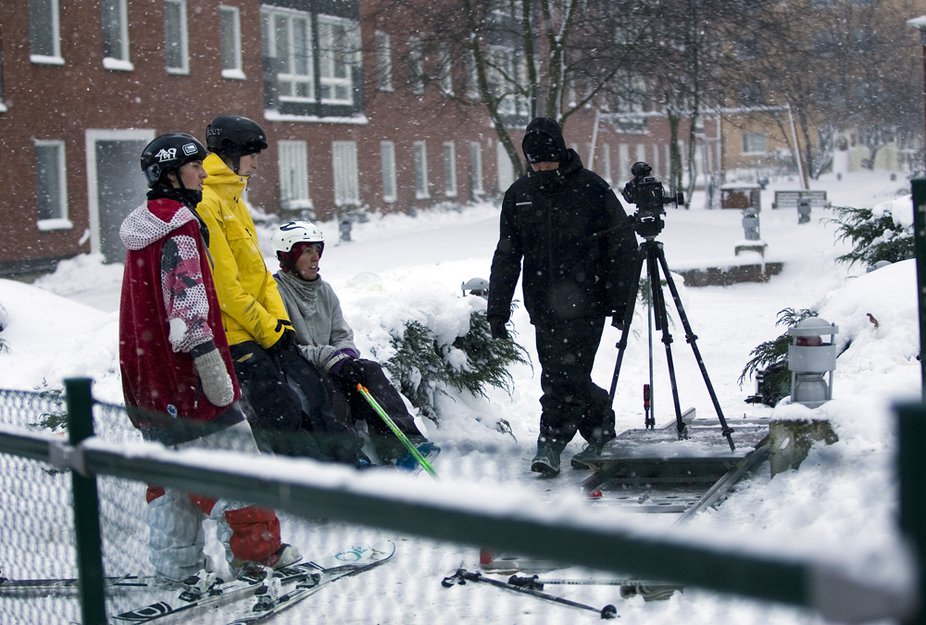 In the end of November 2008, we decided to head over to Stockholm to
shoot rails. It is not common that Stockholm has a bunch of snow in city
this time a year, but we were extremely lucky to get a good dump of snow
the day before we arrived. Stockholm is an urban mecca of
urban features, with all different types of rails.
We didn´t have much time to shoot, since the snow was melting fast.
The first days were very productive, and we got all kinds of new and
technical tricks on film. The boys stepped it up with stylish switch
270´s combos on kink rails, combos on 4 kinks and much more. Even though
we had very long nights and early mornings,the riders managed to ski
hard and technical.
When the snow was gone, we headed over to Finland in search of more
snow. Helsinki is also known for being Europes or even the worlds
urban rails mecca. We were stoked to try out the Silja Line Party ferry.
We eat a great buffet, and after a good night of sleep we woke up in
Helsinki the next morning. When we arrived the bay we headed directly to
the first location, a mellow double kink. It was time for some disaster
gaps and even more technical tricks than earlier. Wallisch threw down a
perfect 450 disaster, while Harlaut impressed us with a superstylish 270
pretzel 270. After Sigstad nailed a double switch up, we were ready for
a Mcdonalds meal to charge up for next feature. Next feature was a 4
kinker. Even if we had been shooting in rain for 5 hours, Harlaut ended
up killing this rail to the maximum.
Unfortunately all of the snow melted away the next day.
Even if the snow conditions weren´t the best, it was all in all a very succesfull rail trip to Sweden and Finland.
Be sure to check out this footage in our 2009 release. Dropping September 2009 in a store near you.
All photos by Tero Repo.
Thanks to Tero Repo and Jan Erik Blomberg for helping us out.
We´ll back soon with more summaries of our recent trips.
Cheers,
Filip
Field Productions