Interview by Jeff Schmuck
How's it going Filip? What have you been up to lately?
Hey man, it's going well, thanks. I just came home from our first urban trip this year. It's good to be finally out shooting again! 
As anyone who's seen it knows, you guys released an amazing new film earlier this fall called Eyes Wide Open. What was the reaction like?
First, thanks for calling it an amazing film. We have been working really hard to put the whole two-disc set together, and we are happy with the result and reactions from the crowd. It's a challenge to include all different aspects of skiing in one single movie, and we still have a lot to work on. Either way people seem really stoked on both the main movie and the documentary series, which was our goal.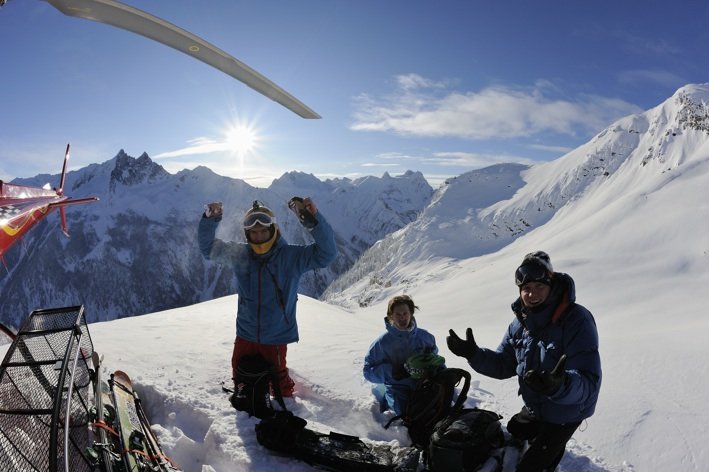 Mica Heli Guides. Åsmund Thorsen, Eirik Finseth & Filip Christensen. photo: Endre Lovaas (http://www.endrelovaas.com)
It seemed like you had quite the premiere tour on the go over in Europe this fall. Is it all done now, and if so how'd it go?
Yeah, we have been on tour over here in Norway whichw as awesome. Great to meet the audience face to face, and hear their feedback and criticism. Also, "Eyes Wide Open" had more screenings than ever in North America. Revelstoke, Banff, Lake Louise, Whistler, Montreal, Canmore and Salt Lake City just to name a few. Thanks to all the people who made it happen!
In addition to the film, you also released a behind the scenes documentary called Open Your Eyes that gives an inside and in depth look at what went into making the actual movie. Tell everyone what they can expect to see in that nice little addition when they purchase Eyes Wide Open.
Yeah on disc two, you'll find "Open Your Eyes", a fully packed DVD with three episodes which showcase the urban, park and big mountains aspects of skiing. Interviews, behind the scenes footage, leftover action footage and much more makes it a really entertaining addition to the main disc. You'll get over three hours of entertainment total.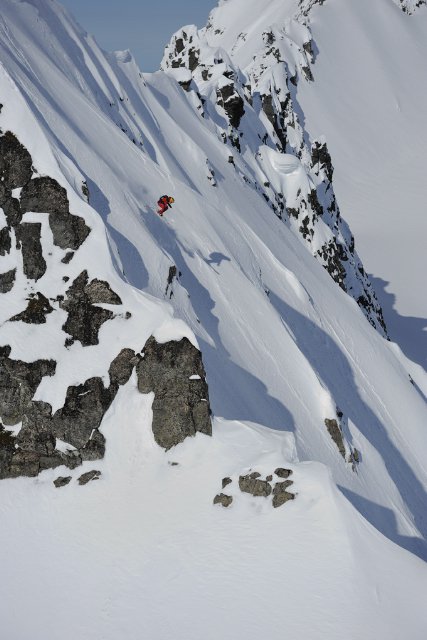 Eirik Finseth in the Sunnmøre Alps. photo: Endre Lovaas (http://www.endrelovaas.com)
What prompted you to make the documentary? 
Well the main guy behind the documentary is our athlete and co-editor Even Sigstad. He made a great effort, and it wouldn't have been achievable to make the documentary without him. We want to show the audience a bit more of what we do, how we do it and the athletes' thoughts and explanations for each aspect of skiing. This was meant to be more of an introduction of freeskiing to the mainstream audience, and we want our viewers to understand more of the process behind the content in the main movie.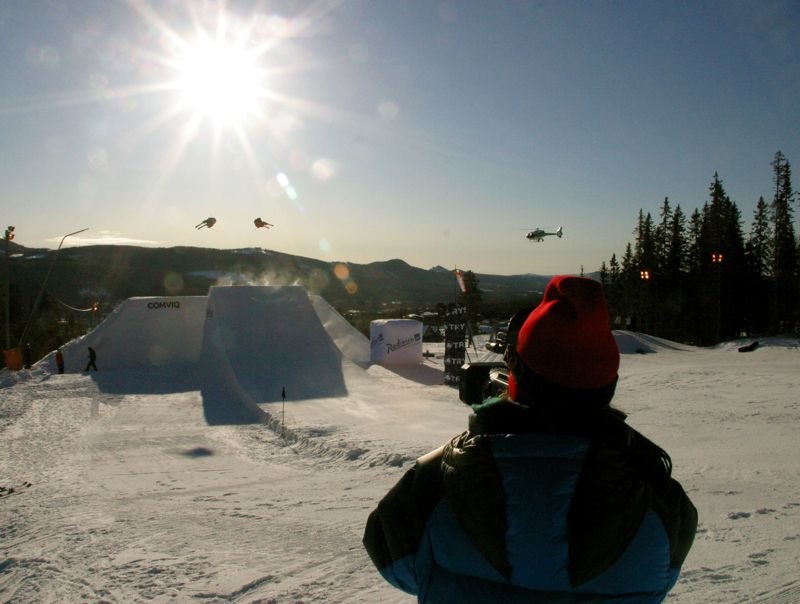 JOSS. photo: Jeff Schmuck
Was it something you had been planning for all of last winter, or was it more of a last second type of thing?
We were planning to put together a documentary since the beginning, and because of this we did film more of the stuff behind the production etc. compared to our previous movie.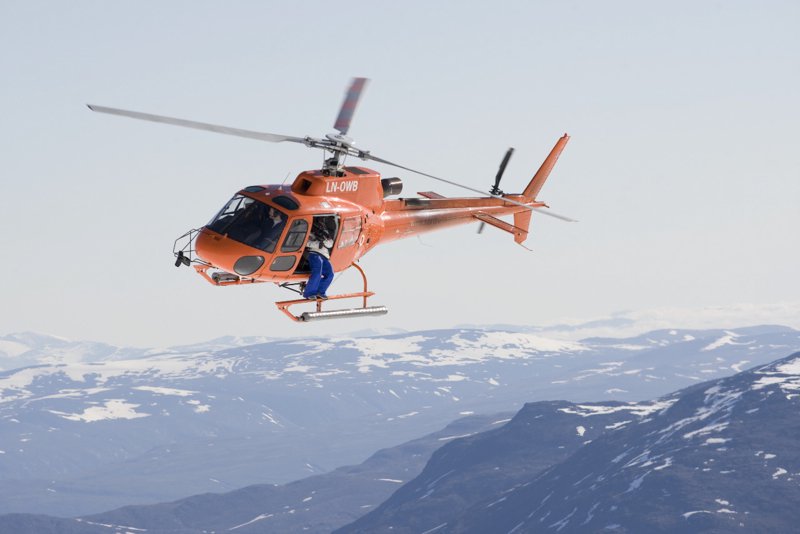 photo: Josh Knox
Looking ahead to this winter now that the snow has begun to fall, what are your plans for this season? 
We are struggling to get the production budgets together at this point. Still we have some big travel plans for this winter: AK, Mica Heli Guides, northern Norway and the west coast of Norway are some of our main trips. And we will continue working close with many of the athletes from "Eyes Wide Open", plus a few new big names that we are very excited about.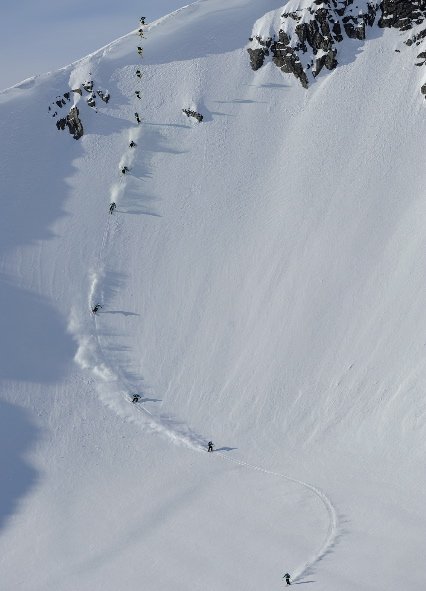 The talented Wiley Miller joined us on a trip to the west coast of Norway.
Here he does a 360 off of a huge cornice in the Sunnmøre alps. photo: Endre Lovaas (http://www.endrelovaas.com)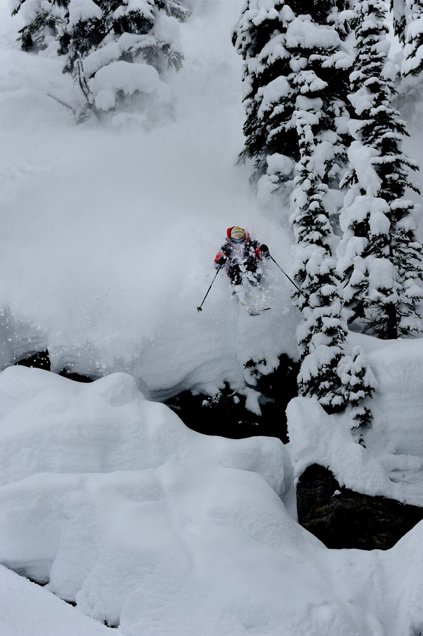 I was fortunate enough to work with Eric Hjorleifson at Mica Heli Guides in December.
He is for sure one of the guys that brings an unique and creative style into the big moutain scene these days. photo: Endre Lovaas (http://www.endrelovaas.com)
You said earlier you just wrapped up your first urban trip of the season. Have been filming much for your new film already?
We actually just started filming, which is a very late start compared to last year. Either way, each year is different and I try not to get stressed about it. Even Sigstad already has some great urban footage in the bag, and more to come up shortly. And we're just about to head to head to Mica Creek in Revelstoke, BC with Henrik Winstedt, Åsmund Thorsen, Mike Douglas and Mark Abma, which will be a trip for our next movie project together with Salomon Freeski TV season 4.
Have you already mapped out a concept for this year's movie, and if so can you let everyone out there in on it?
The concept is not yet official, but one thing I know is that we will be busy updating our travel blog with everything we do. Video clips, stories and photos will be updated regularly throughout the production period, so make sure you keep checking in with us at http://www.fieldproductions.com.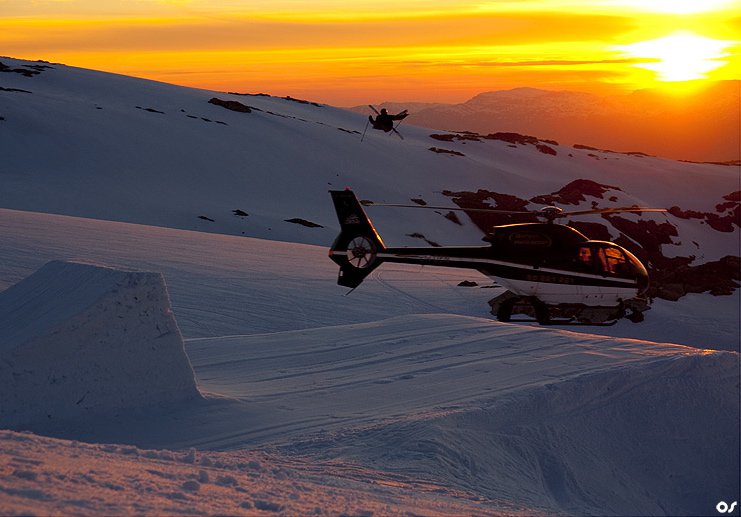 Anders Backe. Folgefona sunset. photo: Olav Stubberud (http://www.olavstubberud.com)
The final segment in Eyes Wide Open was primarily shot with the RED camera, with amazing results. Are you planning shooting more with the RED this winter?
The RED will be used as often as possible based on the budget. Last year was a great learning experience for me, and I was fortunate enough to use it for almost no rental costs. I now feel comfortable using it, but it is a complicated and vulnerable camera to use in harsh conditions where you go in and out of the heli, using snowmobiles, etc. I think it's an important tool to improve the quality of the movies out there, and to make a better experience for the viewer. I will do what I can to use the RED as much as possible.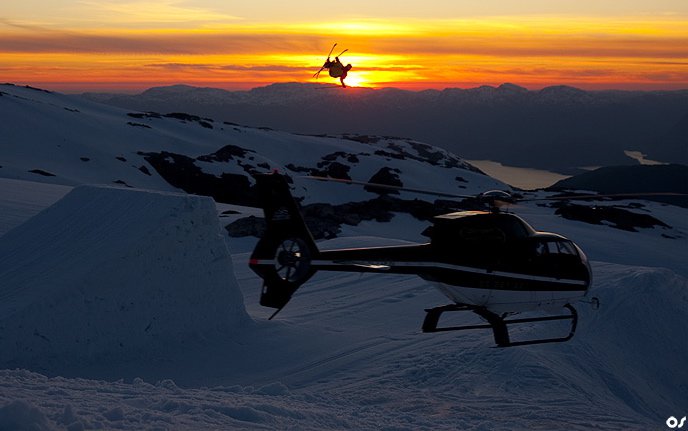 This is Christopher Frankum on the Folgefonna glacier in Norway.
We had a great time shooting it from helicopter with the RED, and all the athletes killed it. photo: Olav Stubberud (http://www.olavstubberud.com)
You're still pretty young, but have achieved so much from a filmmaking standpoint at your age. What advice would you give to the legions of kids out there who want nothing more than to make ski movies for the rest of their lives?
I never thought I would come this far with Field Productions, and it's truly a dream come true in many ways. But on the other hand, it is a very demanding job, and you never know what the future will bring. My advice is to just go out there and have fun filming your friends skiing, put an edit together, and get it online. Show your talent through the internet on NS, and one day your work will be discovered. You need to be patient with the growth of your ski movie company. I started when I was 15, and it took me seven years to get Field Productions where it is today. It's great to see all the talented people these days, and it will be exciting to see what the future will bring within ski movie making.