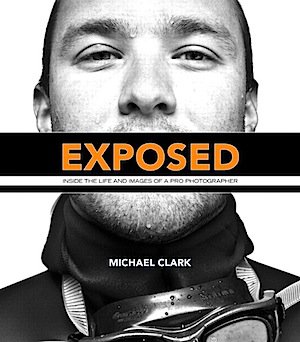 I first took photography classes at The Institute in Photographic Studies – a fabulous workshop based photography school. Some of the greatest learning times we had was when our instructors would take us through their photographic adventures. We students would watch wide eyed as our instructors told the scene and setting of each photo. Our minds would be stretched as we heard them explain the settings, and how they were able to capture what they did. I think it goes beyond the fact that we all like stories. I think that one of the most invaluable things in life is to have someone walk side by side and offer their experiences to us as we learn and grow.
While a book could never replace a person, Exposed comes very close to providing that artistic mentor that each of us needs. With clients from Adventure Magazine, and Travel Magazine, and Mens' Fitness, what Clark offers is certainly unconventional experience.
Clark has created a portfolio mentor that accounts for 25 different stories from climbing to adventure expeditions, athletic shoots and even a photo campaign for Search and Rescue. Every image featured in Clark's book reveals a detailed backstory, beyond what is usual for photography books. The reader hears about where Clark was in his life and career at the time, even how he came by the assignment. Each and every photograph includes a story of the time and scene, and of course the challenges Clark encountered along the way as worked toward his goal. Clark is a skillful writer, drawing the reader into each scene as if we were right there with him. Also included is a list of equipment used for each photoshoot.
Clark includes another treat for his readers: He starts his postproduction section by explaining his intent for the image, how that intent influenced his adjustments. In a clear and concise manner, he gives a step by step visual of each step taken in the postproduction in Lightroom.
Not simply an artistic book, Clark also includes advice on marketing, client relations, setting goals, and moving forward in your journey as a photographer. Filled with quotes and inspiration, Clark's words give both courage and perspective to career photographers at any level: "Embrace risk. That is the key to improving at anything. Without the willingness to go down the uncharted path, you will not learn, you will not improve, you will not grow."
Get a price on Exposed at Amazon (currently 37% off recommended retail price).
Post originally from: Digital Photography Tips.
Check out our more Photography Tips at Photography Tips for Beginners, Portrait Photography Tips and Wedding Photography Tips.
Exposed: Book Review