words by Jeff Schmuck
photos by CKO
Last Saturday night in Montreal was one of the scariest nights of my life. A blizzard roared into town off the Atlantic Ocean and rocked the city more violently than a lion dismembers a wildebeest. As I stared out my window at the havoc below, I prayed that the hurricane-like winds wouldn't shatter my windows to pieces and destroy my house with a smile, and then made the extremely foolish decision to actually go outside to return a movie. As my skinny frame got blown down the street like an autumn leaf, I kept telling my frozen brain over and over again that it was going to be okay, because I was flying to Europe on Monday…or was I? Fortunately, the two day shitfest ended on Monday morning, just a mere few hours before my flight to Zurich, and I headed to Pierre Elliot Trudeau International Airport (named after a legendary Prime Minister of Canada who once gave the middle finger to a crowd of protestors…how bad ass it that?) to wade through a murky fog of angry travelers who had spent the better part of the past few days there, watching their planes sit dormant on the tarmac as their cruiseships in Florida sailed away without them. It was not a pretty sight.
After eating a few bad airplane meals while being stuck next to a guy who spoke no English (and wasn't a hot chick), which is beginning to become a common theme in my life, the clouds parted ways and resting proudly beneath me was one of the most beautiful countries in the world, Switzerland. And while I expected to see heaps upon heaps of the white stuff in every which way and direction, it was surprisingly green and spring-like. The storm had made me forget that it was actually March. I met up with CKO in the Zurich airport and we continued our planes, trains and automobiles journey past crystal clear lakes, rolling green hills, picturesque churches and old school chalets that anyone who owns a pair of skis would kill to live in, until we arrived at our final destination, Laax, home of the Orage European Freeskiing Open, presented by Swatch (had to throw that in there since they gave me a badass watch that you used to scan as a lift ticket…ballin).
At the rider's meeting that night, it was more than evident that this event isn't just a big deal in Europe…it's the biggest. The room was packed like a jar of pickles with unknown European skiers from Switzerland, Austria, France, the UK and (most of all) Scandinavia, most of whom will likely go on to slay the comp scene in a few years like their founding forefathers Jon, Andreas and PK have.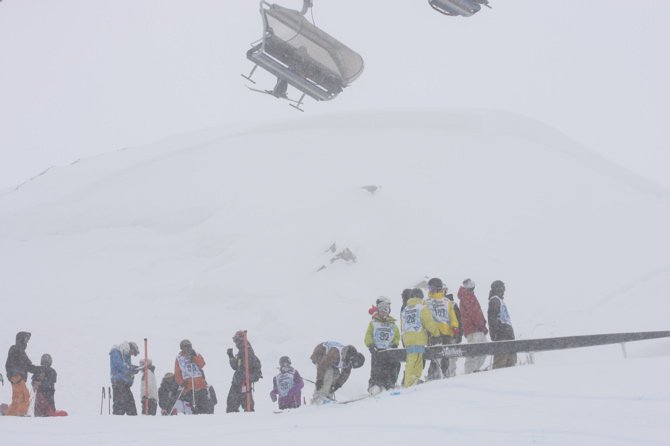 Sadly, the biggest skiing competition in Europe got off to a bit of a rough start this morning thanks to every ski contents' worst enemy, that cruel and heartless bitch Mother Nature. After some sunny weather teased yesterday's practice, today dawned to cloudy skies and one of the many unfortunate signs that signal the end of the season is near…rain. At the top of the course things looked a bit better, with the rain turning to wet snow, and after a bit of delay due to the first ever avalanche on a slopestyle course buried the top of the in-run (which forced the competitors to skip the first feature) things got going nicely.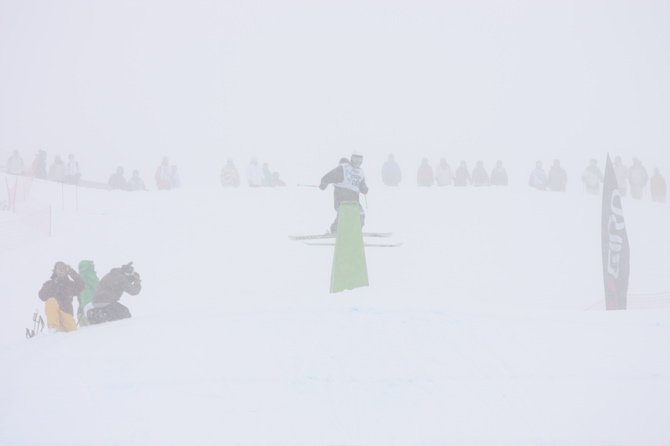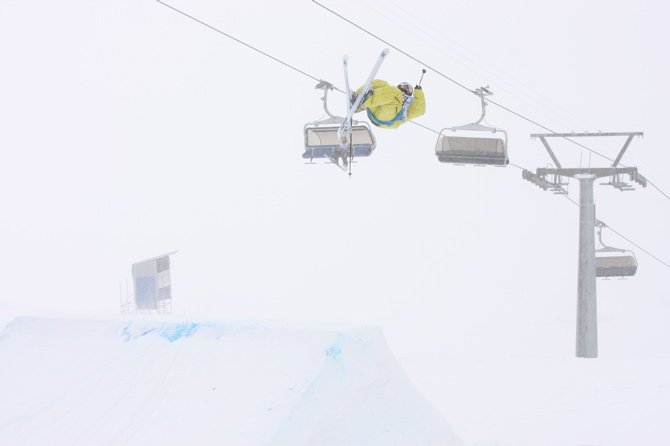 The course itself is extremely well set-up, with a nice steep in-run into the chopstick bowl (a featured conceived by Volkl to promote their new ski), which was an actual bowl made out of snow with rails going in and out of it. After this unique feature was a choice of two gaps to flat bars, followed up by three respectable-sized tables.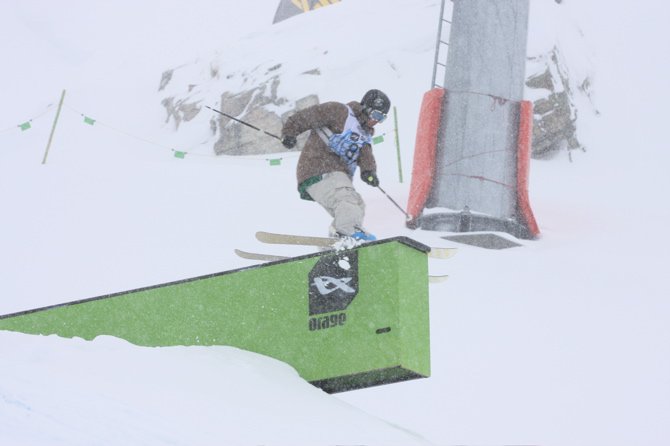 Andri Ambuhl
The first heat was owned by the Euros, with Roy Kittler, Niklas Erikkson, James Webb, Andri Ambuhl and Paddy Graham moving onto Friday's finals. The only foreigner to make the cut was Joe Schuster, who put in a more than admirable performance to qualify first place in his heat.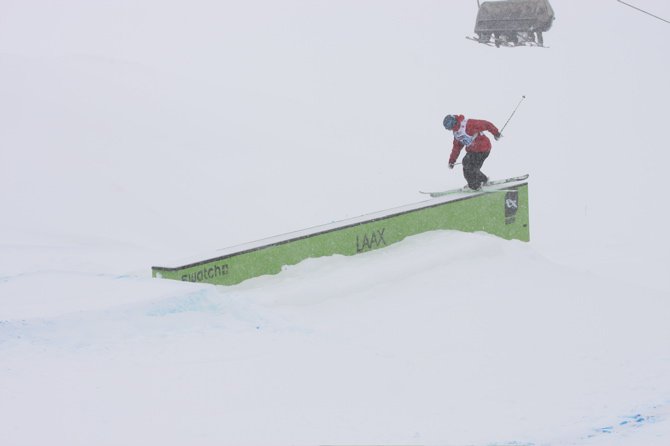 Joe Schuster
As the second heat began the wet snow that had been pounding down all morning started to become a factor as the course slowed down dramatically, which caused many of the guys to case some of the jumps (the speed issue also invoked the decision to postpone the women's slopestyle qualifiers until Friday).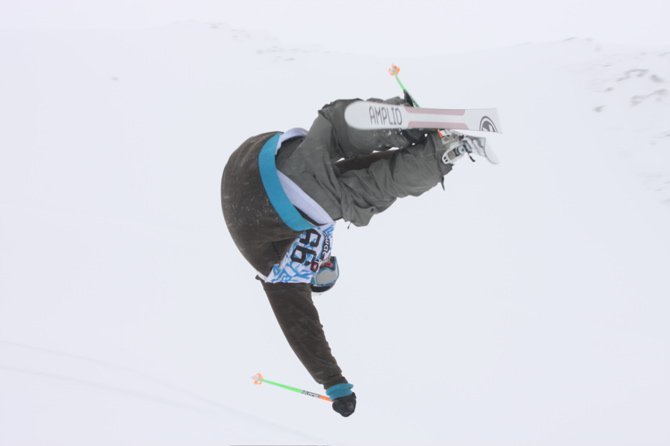 Tom Wallisch
Despite the difficulty some had clearing the tables, others had the speed figured out and persevered, particularly Tom Wallisch and Alexis Godbout, who both brought the course to its knees with their huge left and rightside spins to stomp. Also making the cut was Norway's Espen Linnerud and Gaute Haaker, Sweden's Bramwell and the man, the myth, the legend, Blake Nyman.
Alexis Godbout
Once the second heat was wrapped up the weather went from bad to worse, as 100km/hour winds ransacked the course. That combined with the speed issue forced the organizers and judges to make the difficult decision of postponing the men's third and fourth heats until tomorrow, which will go down right after the halfpipe qualifiers.
Stayed to NS all week and throughout the week for daily coverage on the European Open including another exclusive live broadcast. For more info on the site itself, be sure to check out http://www.orage.com/europeanopen
Results (heats 1 and 2)
Tom Wallisch
Alexis Godbout
Joe Schuster
Gaute Haaker
Espen Linnerud
James Webb
Paddy Graham
Andri Ambuhl
Niklas Eriksson
Roy Kittler
Blayze Bramwell
Blake Nyman