Words: Jeff Schmuck
Photos: John Vandervalk
The inaugural European X Games continued this evening in Tignes, France with men's ski superpipe finals.
After last night's heated elimination round that saw 16 of the best pipe skiers in the world narrowed down to eight, among them French superstars and local favorites Xavier Bertoni and Kevin Rolland, and a massive crowd congregated at the base cheering them on, the stage was set tonight for a monumental contest in the shadow of the Grand Motte.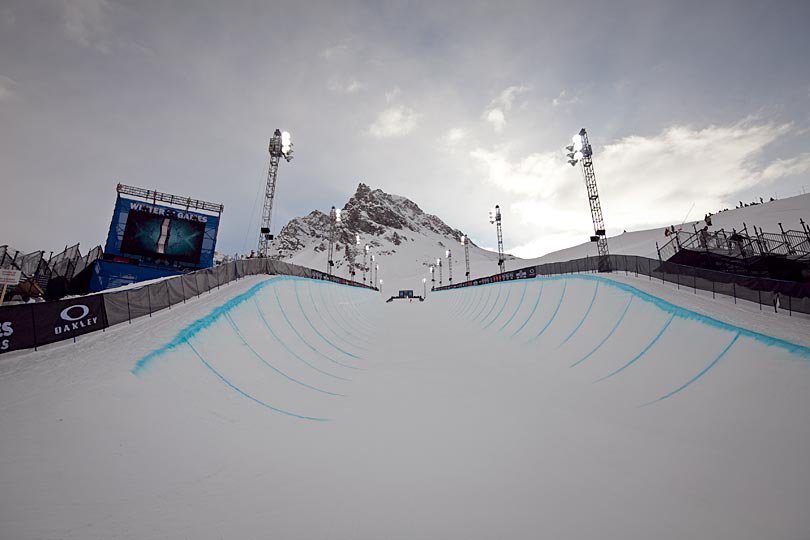 Just prior to the flood lights going ablaze the vibe in Tignes got that much more intense, as on top of the throng of people who came to town to take in this week's Xtreme activities, a parade of tour buses arrived from Kevin Rolland's hometown of La Plagne full of loyal and dedicated fans ready to cheer for their hometown hero, complete with flags, banners and signs in tow that depicted big Kev's smiling face.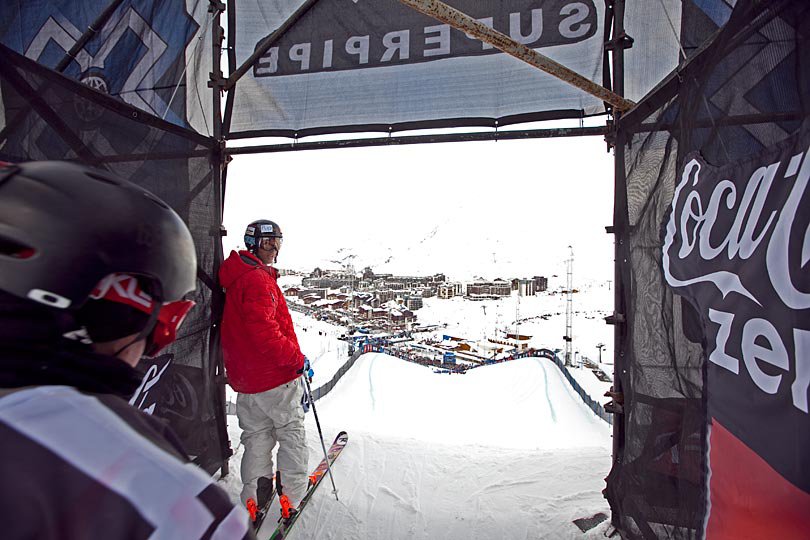 Kevin Rolland
As the announcer counted down trois, deux, un, the 17,000+ big air thirsty crowd whipped themselves into a frenzy as the first competitor of the night, AJ Kempainnen, dropped into the pipe.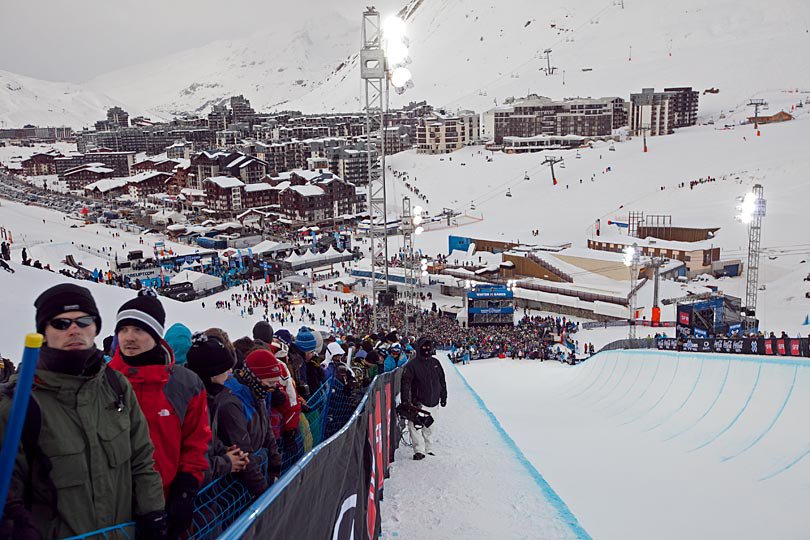 The Finnish freeskiing wonder picked up right where he left off last night, putting down a series of technically flawless tricks, including some of the smoothest 9's in the business and a quiver of flatspins and flairs. But even with his superb run, his eventual eighth place proved just how high the level was tonight.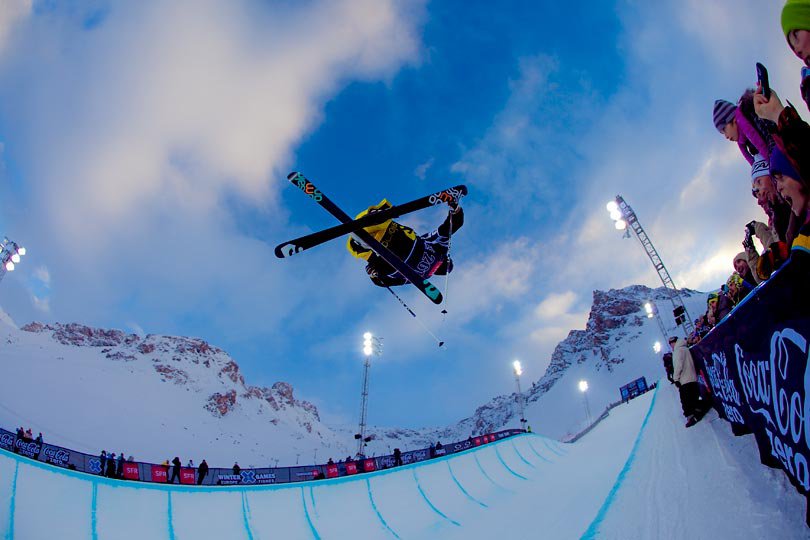 AJ Kempainnen
In seventh was Tucker Perkins, who has been skiing like a well oiled machine all week, and for most of the season for that matter. Once again Tucker set the bar by being the first competitor to throw a double, both in practice and once the contest began, and was displaying some of the biggest amplitude of the night with a massive flair, flatspin 5 and 9's.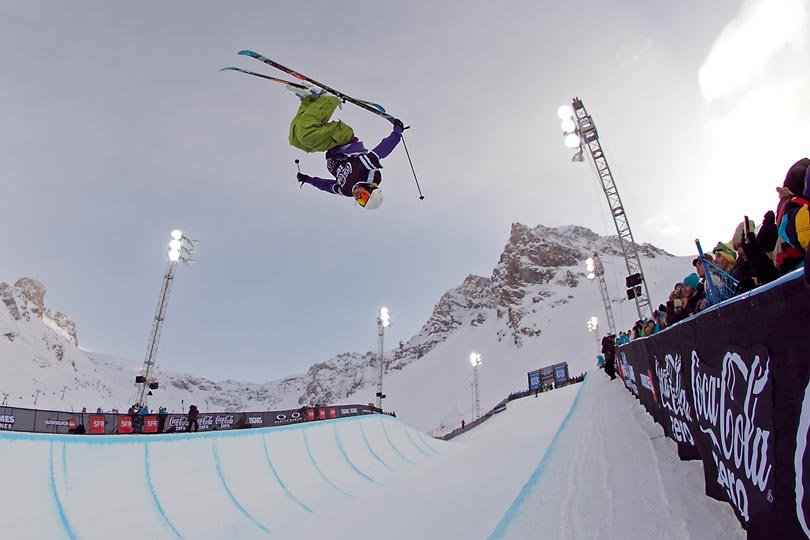 Tucker Perkins
Regular podium dweller Jossi Wells had a bit of tougher night than he's usually accustomed to this evening after falling on his double during his first and third runs. On his second go at he displayed the usual wizardry we've come to expect of him though with left and right 9's and his switch 7 shifty that makes anyone who appreciates style drool, but unfortunately it just wasn't enough to score him a spot on the steps.
Jossi Wells
His brother Byron faired a touch better in fifth, and for the first part of the contest (much like last night), he held the top spot with his first run that had some of the best held grabs and biggest airs of the night. The Lobster then humorously capped things off after crashing on an attempted first hit switch 10 with some old school hot dogging that included screamin seamens and cosacks, much to the delight of the crowd, who blew their air horns and rang their cowbells in approval.
Byron Wells
Just shy of the podium by a point and a half was Mike 'Milk' Riddle, who was on fire tonight with a first hit double, to right 9, to left 9, to flat 3 bow n' arrow to switch 9. Riddle told me last night that he had some tricks in his bag that he has yet to unleash, and that tonight may be the night for them, but in the end he decided to play things a bit safe (if doing a run like he did could be considered 'safe') and was showing off his mouthguard all night with a big ol' smile.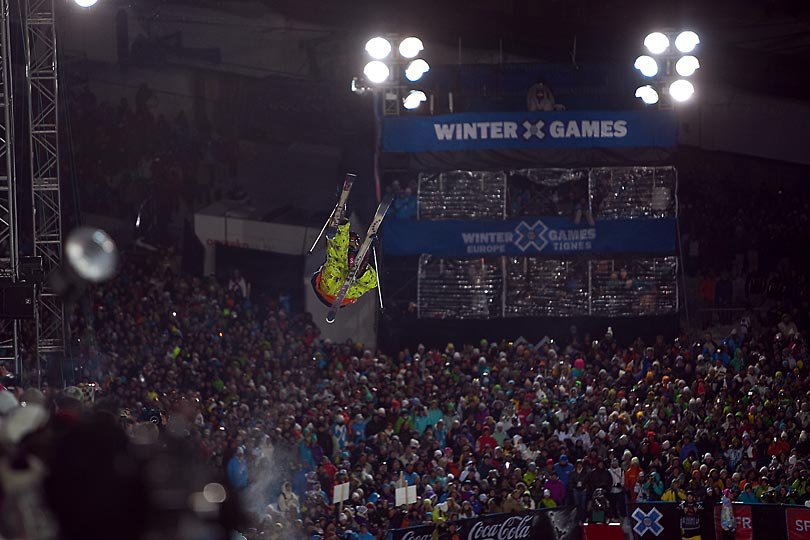 Mike Riddle
Taking the bronze tonight was Justin 'J-Bone' Dorey, who went for broke on his first run, throwing back-to-back doubles followed by his picture perfect alley-oop 3, to switch 9, to switch 7, to right flat 5. The run scored him second place until he was bested by Bertoni, and after crashing on his second run he was the last man to drop tonight. With Rolland in first and Bertoni in second at the time, an unfortunate incident took place that many felt will be a blemish on the first time event's record, as after Dorey crashed on his first hit the crowd tossed bottles and banners into the pipe and charged the finish corral before he finished making his way to the bottom.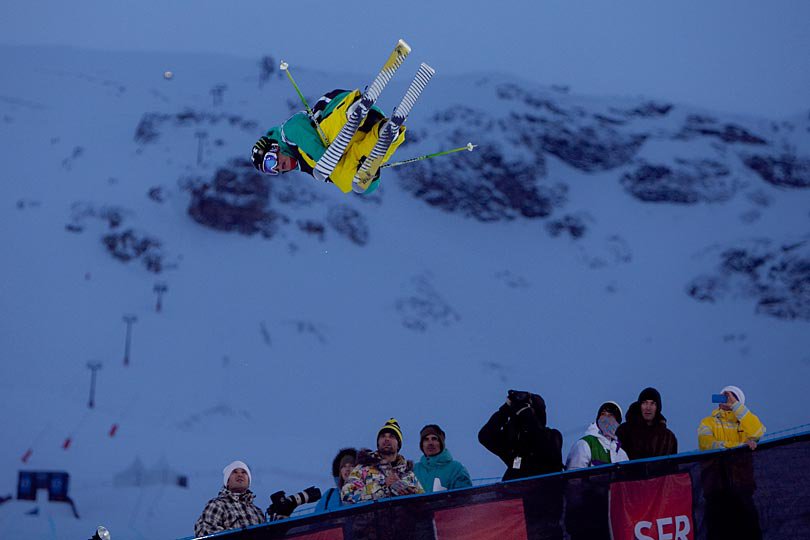 Justin Dorey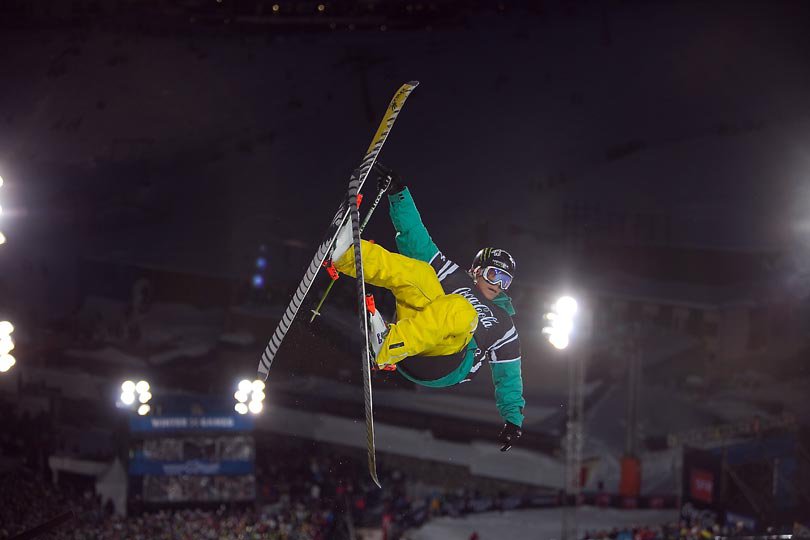 Just in front of J-Bone was one of the two fan favorites, the incomparable Xavier Bertoni. With a roaring crowd at the base cheering him on, which no doubt stoked him up and added to the pressure that undoubtedly comes with competing in a hometown environment, Bertoni, to no one's surprise, did not disappoint. With a gigantic first hit double, to back-to-back 9's, to a rowdy flat 3, to a switch 7 and capped off with a perfect cork 10, Bertoni fist pumped his way into the finish corral and basked in the deafening ovation.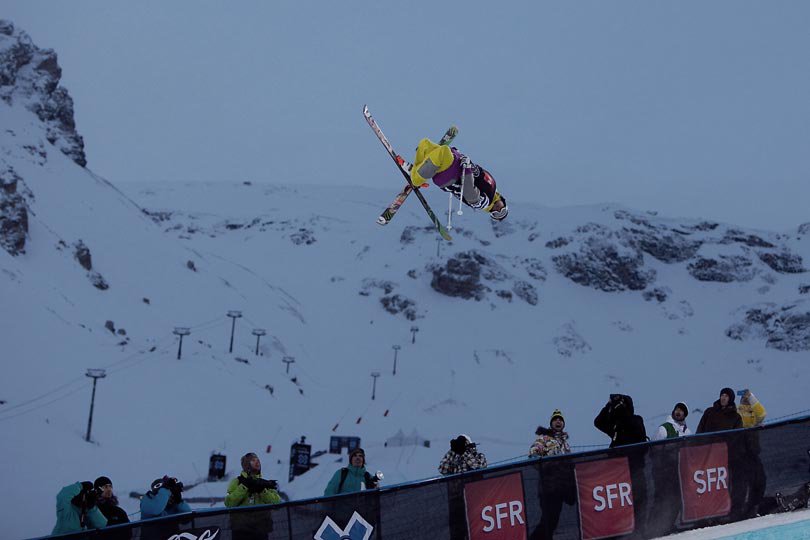 Xavier Bertoni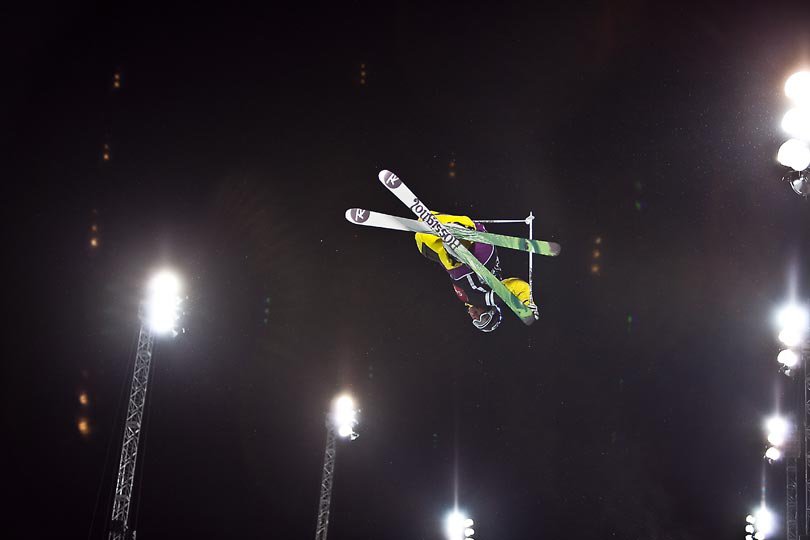 But it was his best friend and partner in crime Kevin Rolland's big moment tonight, as the Winter X Games 14 gold medalist authoritatively made it two-for-two this evening with the absolute biggest airs of the night that included a left side double flip with a tweaked mute grab, to flat 3, to switch 7, to flair, to the most ballsy and technical trick in world of pipe skiing, the double cork 1260, which he grabbed the piss out of the whole way through.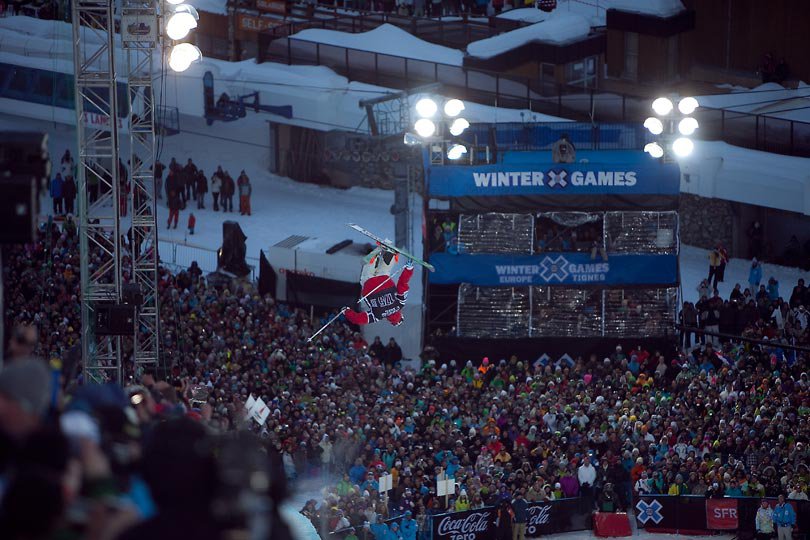 Kevin Rolland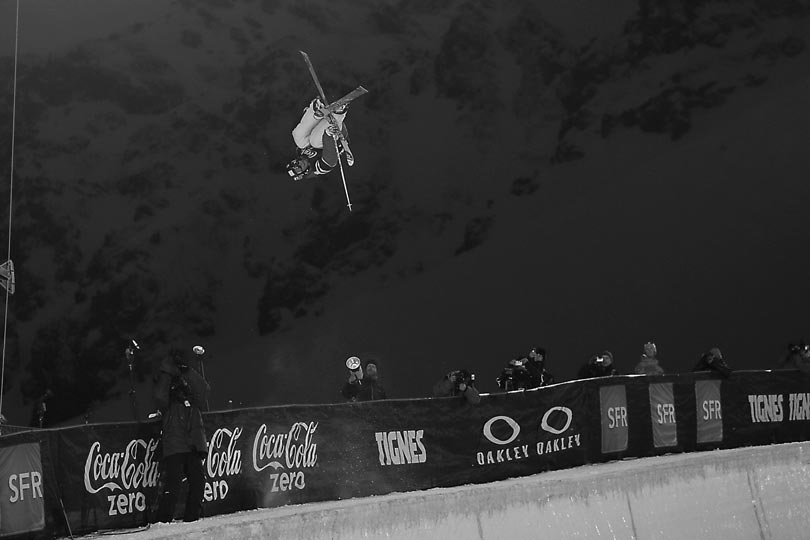 The finish corral instantaneously turned into a full-on mosh pit as a sea of excited French fans stormed the gates to surround their victorious countrymen as Rolland and Bertoni's entourage waved the French flag over their heads in triumph for the second time this year at X Games.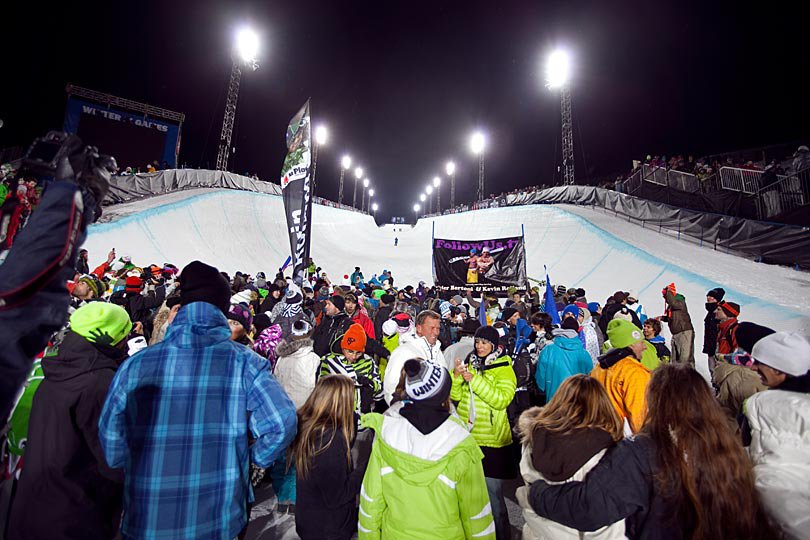 Stay tuned for more from European X Games in Tignes, France, which continues tomorrow with men's slopestyle elimination on the six jump course. Yep, you read that right.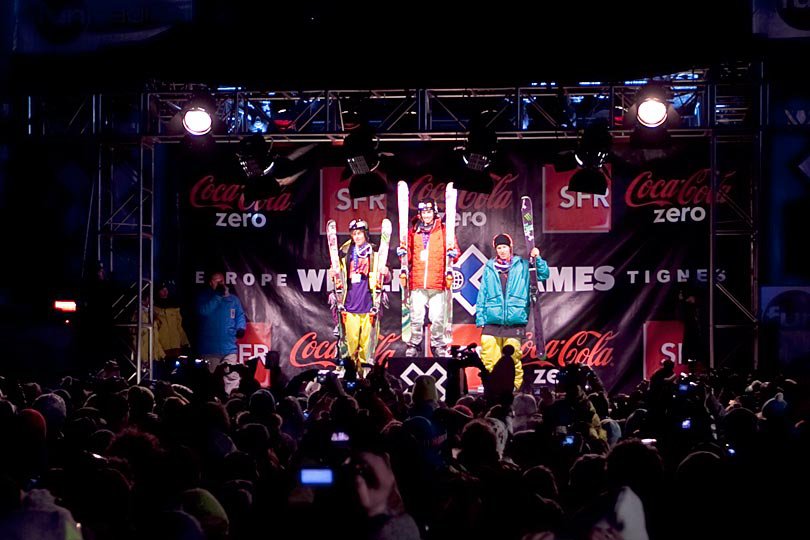 Results
1) Kevin Rolland - 95.66
2) Xavier Bertoni - 92.00
3) Justin Dorey - 86.66
4) Mike Riddle - 85.00
5) Byron Wells - 84.33
6) Jossi Wells - 82.66
7) Tucker Perkins - 80.33
8) AJ Kemppainen - 75.33