Words & photos by Ananda van Welij
After seeing Roz Groenewoud take home the gold earlier in the night, it was time for the men to cap off European X Games in Tignes, France with Men's Ski Superpipe Finals. Even though some fingers started to turn cold with the dropping temperatures under a clear dark sky, the crowd grew steadily as the men began practicing.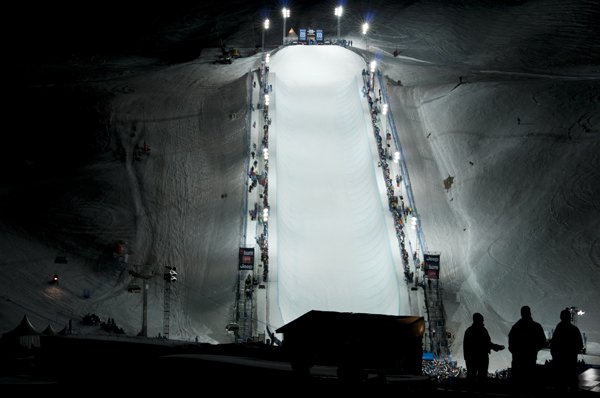 The pipe ready to be slayed.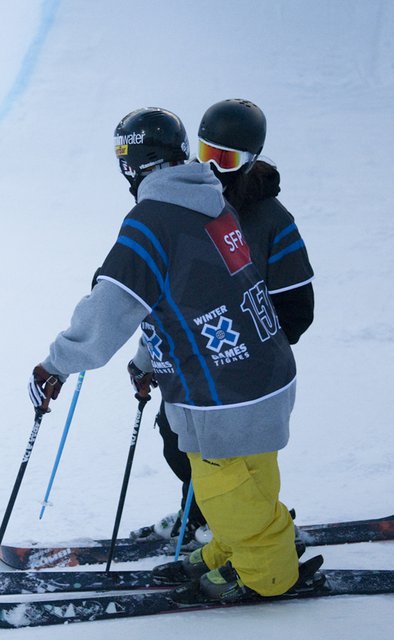 Noah Bowman and Gus Kenworthy during practice.
As with all the other finals, three runs were given to each rider, and based on yesterday's elimination results, Frenchmen Xavier Bertoni kicked off finals while being loudly cheered on by his fellow countrymen.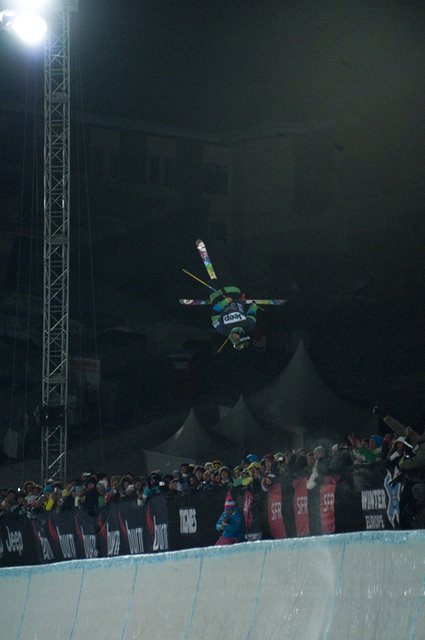 Xavier Bertoni
Just like yesterday, we unfortunately had to witness someone crash hard on their last hit tonight, and this time it was Noah Bowman. Although he had trouble getting back up, he still managed to put down a second run (but opted to skip his third), scoring a 85.00, which good enough for fifth place.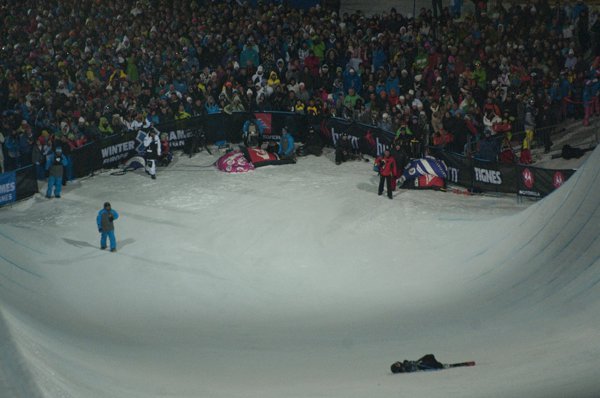 Noah Bowman finished fifth, despite taking a gnarly fall.
After not putting his jaw-dropping run down perfectly at X Games in Aspen, Justin Dorey was hungry for redemption, boosting his amplitude and unleashing everything he had to offer. Following his final run, Dorey was disappointed to miss the podium by just .33 points, but still had a wide smile on his face.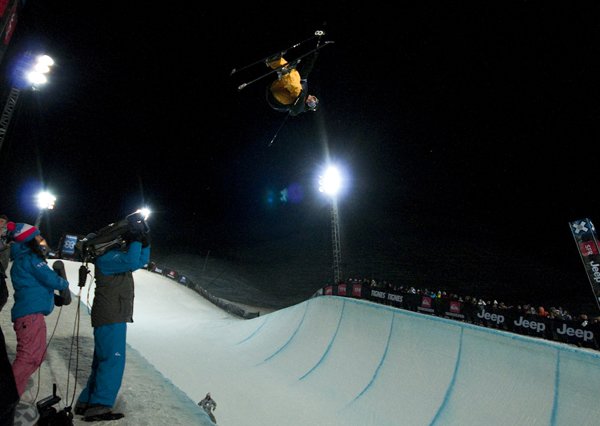 Justin Dorey hungry for the podium.
David Wise, who has been on an absolute tear this winter, had to settle for broze tonight after putting down a run that made everyone in Tignes heads spin. With a first hit switch double 10 japan, followed by a right side cork 9 tail, left cork 9 true nose, alley-oop flat 5 tail and finishing things off with a dub cork 12 mute, Wise once again proved that he's a force to be recokened with.
David Wise
Although Kevin Rolland was unable to defend his gold medal this year, the French connection didn't go home disappointed. Picking up where he left off yesterday during eliminations, Thomas Krief claimed a shiny silver medal tonight with a run that included a right side cork 9 reverse mute and a double cork 12 tail as the crowd cheered their lungs out.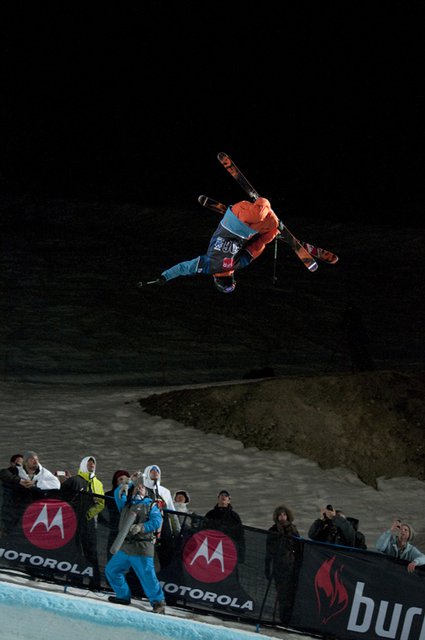 Thomas Krief, en route to claiming another medal for the French in the pipe.
But in the end it was young gun Torin Yater-Wallace who took home the gold while becoming the youngest superpipe gold medalist in X Games history. Torin began his run with a double cork 12 mute, to alley-oop double flat 9 japan, right side cork 9 tail, cork 10 tail and capped it off with a switch 9 mute. "I can't believe this happened to me," Torin said following his win. "I'm still so young and it's my life goal and it came true. I'm so happy right now!"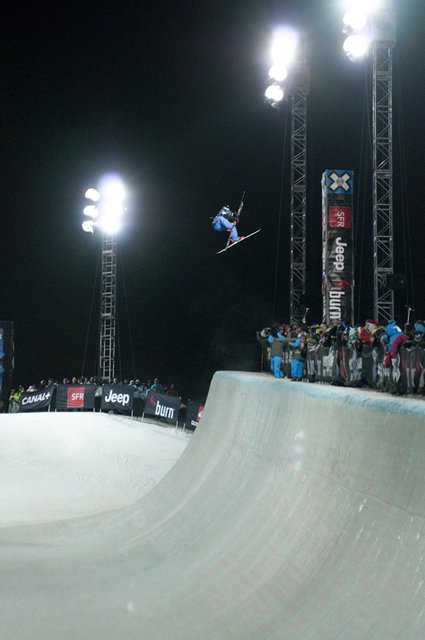 Torin Yater-Wallace double corking his way to victory on his final run.
"I'm really stoked for my teammate Torin and to see him take home the win," said Winter X Games gold medalist David Wise. "I don't know if you guys know how the current AFP standings are right now, but things are pretty tight so I'm really exicted to see how the rest of the season is going to turn out."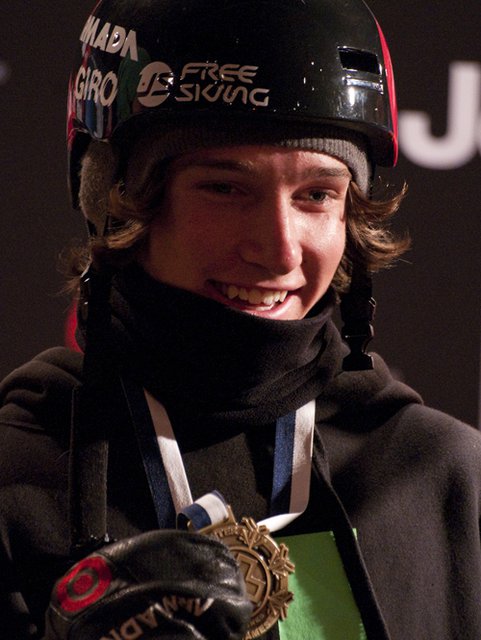 Results
1) Torin Yater-Wallace - 95.00
2) Thomas Krief - 91.66
3) David Wise - 90.33
4) Justin Dorey - 90.00
5) Noah Bowman - 85.00
6) Xavier Bertoni - 81.00
7) Gus Kenworthy - 57.33
8) Matt Margetts - 38.00
To see how this event affects the AFP Rankings, go to afpworldtour.com.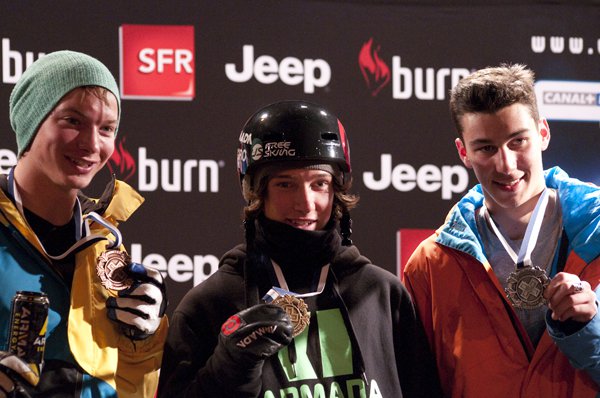 That's all for the 2012 edition European X Games in Tignes, France. We'll see you all next year, same time, same place.