Words by Jeff Schmuck
Photos by Felix Rioux
The second day of European X Games just wrapped up here in beautiful Tignes, France, and it was the busiest of the bunch with Men's Slopestyle Prelims, Women's Slopestyle Finals and the always entertaining and intense Men's Superpipe Finals.
Despite the weatherman calling for a full-on blizzard today in the French Alps, the weather for the most part held on for the better part of the day with half overcast, half sunny skies during slopestyle and some light snow during superpipe.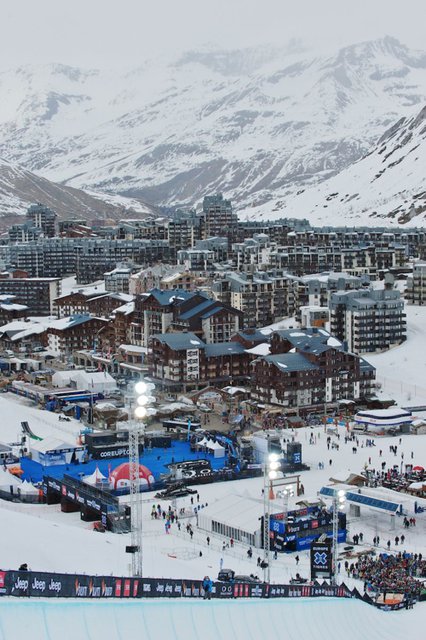 Tignes, France
The three-jump, three-rail option course has been the subject of much chitter-chatter amongst the athletes this week, as the jumps, which are smaller than we're accustomed to seeing at a major event, have had to be re-shaped and re-sized multiple times due to the lengthy flat spots in between them and the overall nature of the course. And although the competitors were beginning to get somewhat comfortable with it, today's overcast weather caused enough speed issues that the event organizers (at the request of the athletes, since they could barely make it over the knuckle) were forced to close the third and final jump, which left only two jumps and the gaggle of creative rails and boxes to play with.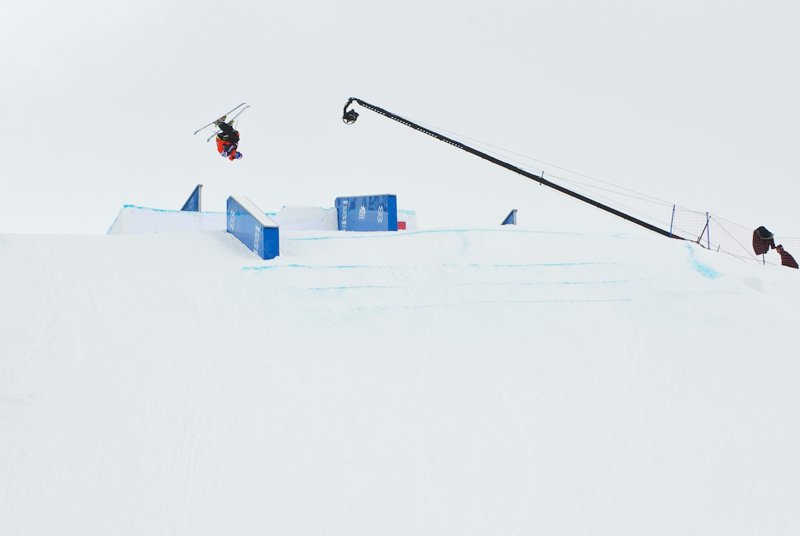 Markus Eder
Byron Wells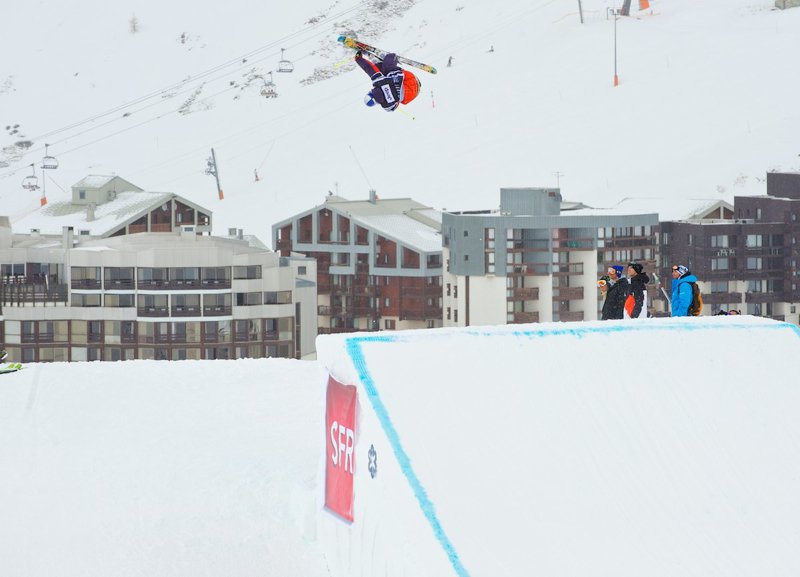 Bene Mayr
Up first was Men's Slopestyle Prelims, where a well-rounded and International field of 23 of the best of the best battled it out for one of the eight spots in tomorrow's finals. Failing to make the cut were Markus Eder (who attempted a ballsy misty 5 in the midst of the gap between the flat to down box), Ian Cosco, Byron Wells, Bene Mayr, Jacob Wester and Julien Lange, all of whom unfortunately crashed on their runs, along with Alexsander Aurdal, Gaute Silseth, Joss Christensen, Nick Goepper, PK Hunder (who just had knee surgery a month ago), and surprisingly, last year's gold medalist Tom Wallisch, who all had some slight bobbles on their runs that cost them a free pass to the big show.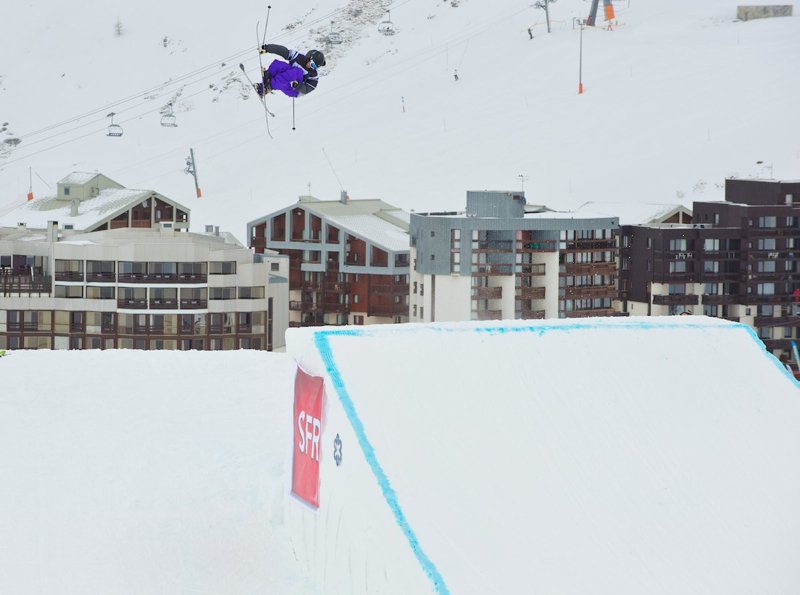 Alexsander Aurdal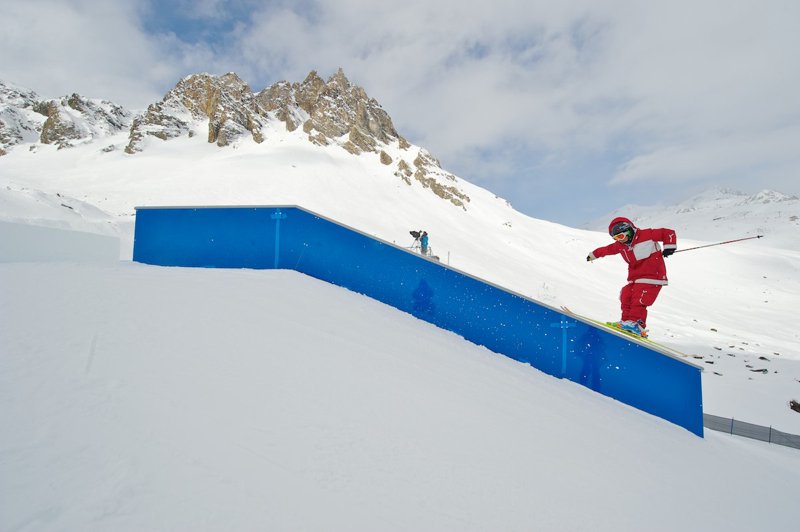 Gaute Silseth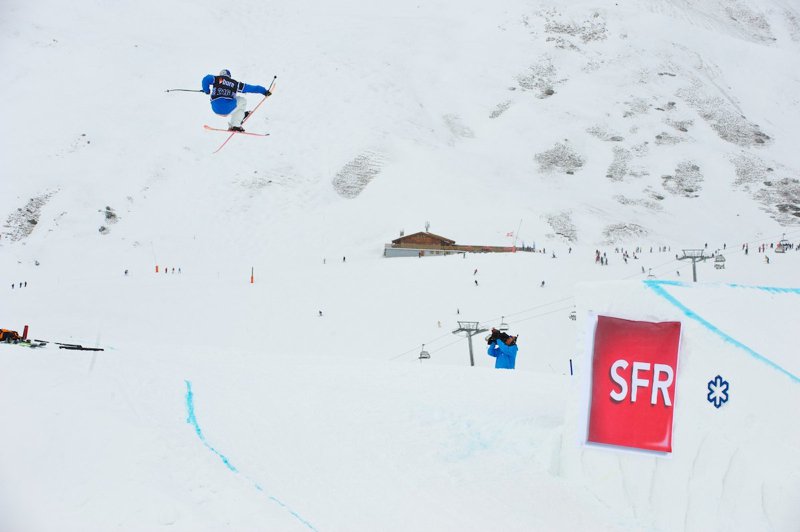 PK Hunder
Just below the cut-off line was Elias Ambuhl (who many thought should have been scored higher), Jossi Wells and Henrik Harlaut, who all put down some killer showings (including an impressive dub cork 10 from Ambuhl on the small jump up top and an all too sweet bio 10 blunt from E-Dollo), but couldn't quite find enough of the right stuff to land in the top eight.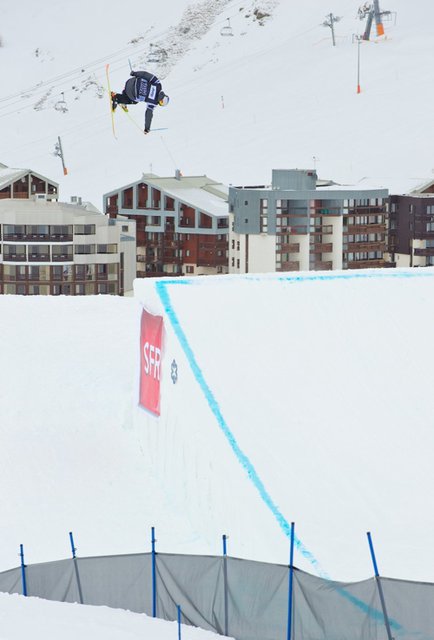 Elias Ambuhl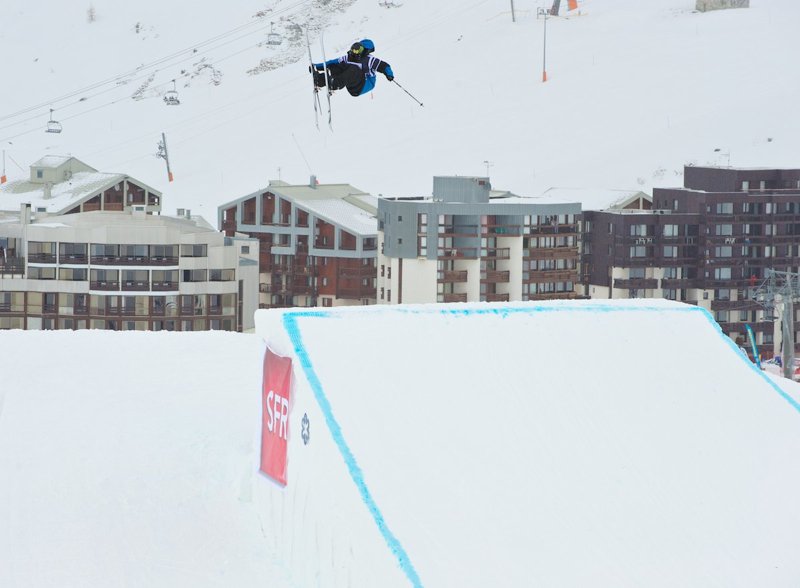 Henrik Harlaut
Just above the bubble in eighth was Phil Casabon, who as usual brought his street game to the rail section along with a cork 5 and switch 9, while after crashing on his first run Bobby Brown made it all count on his second with a disaster flatspin 5 onto the flat-down box and a huge, slow and stylish dub 10 to take seventh.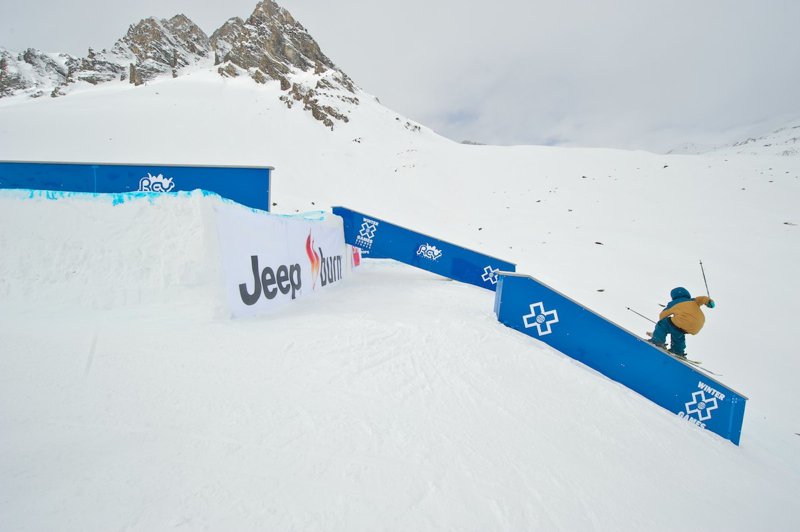 Phil Casabon
In sixth was Alex Schlopy, who brought his A game to the rail features along with a left cork 9 and right dub cork 12, while the always threatening and at times overlooked Andreas Håtveit put down an even cleaner version of a very similar run (but with a double grab on his dub) to take fifth place going into tomorrow.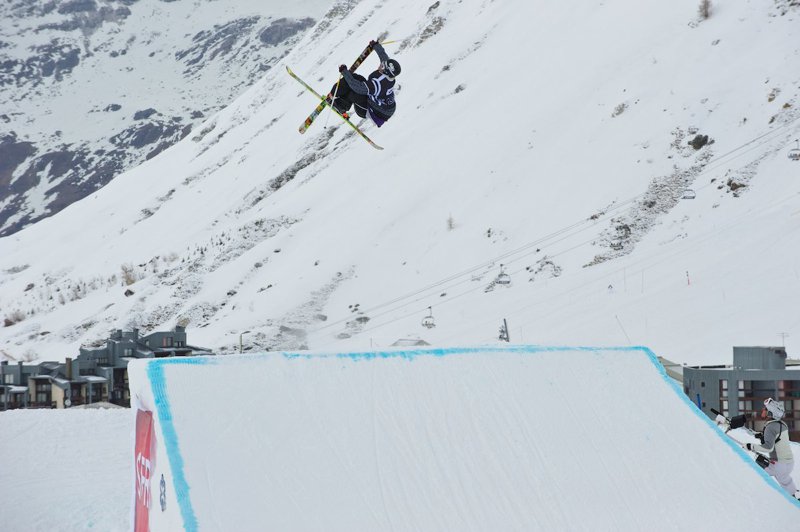 Andreas Håtveit
Fourth place went to Russ Henshaw after he greased the rail section and stomped one of his usual squeaky clean dub 12's, while James 'Woodsy' Woods proved to everyone in Tignes that he's in it to win it with a picture perfect and well-grabbed dub 12 of his own and some big ol' blind swaps throughout the rail section.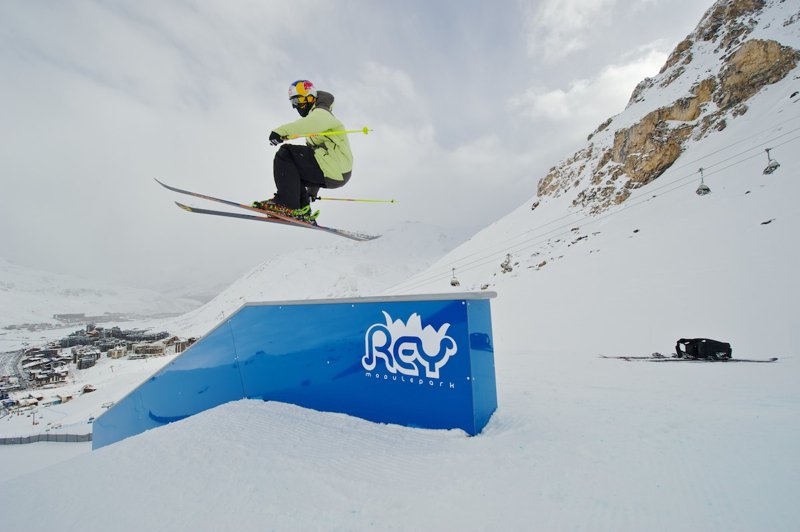 Russ Henshaw
Taking second was Gus Kenworthy, who threw a switch right 9 and dub 12 and arguably some of the ballsiest tricks of the day on the rails, including a huge 360 swap over the gap between the flat-down box, while an extra stoked JF Houle scored the top spot with a right 7 and left dub 12 blunt along with the madness we've all come to expect from the talented French-Canadian on the metal, including a sweet butter 450 on to 270 out on the flat-down.
JF Houle
Men's Slopestyle Prelims Results
1) JF Houle - 93.00
2) Gus Kenworthy - 91.66
3) James Woods - 86.00
4) Russ Henshaw - 85.66
5) Andreas Hatveit - 85.00
6) Alex Schlopy - 84.00
7) Bobby Brown - 83.66
8) Phil Casabon - 83.00
cut-off
9) Henrik Harlaut - 82.00
10) Jossi Wells - 80.66
11) Elias Ambuhl - 78.33
12) PK Hunder - 75.00
13) Nick Goepper - 72.33
14) Tom Wallisch - 71.33
15) Joss Christensen - 69.66
16) Gaute Silseth - 67.66
17) Aleks Aurdal - 54.00
18) Julien Lange - 47.00
19) Jacob Wester - 38.33
20) Bene Mayr - 36.33
21) Byron Wells - 35.00
22) Ian Cosco - 28.33
23) Markus Eder - 27.66
Immediately following the men it was time for Women's Slopestyle Finals, where 10 of the top female slopestyle skiers in the world were gunning for gold and despite the conditions put one of hell of a show, with some ante upping tricks and very few crashes to speak of.
In 10th place was Tiril Sjastad Christiansen, who skied her Norwegian heart out amidst a congregation of fans waving Roxy flags adorned with her name, while the impressive newcomer Katie Summerhayes from the UK showed why she'll certainly be a force to be reckoned with in years to come following her first X Games appearance at the age of 16. And taking eighth and seventh place respectively was Maria Bagge and European Open champion Emma Dahlstrom, who threw a silky smooth cork 7 on the bottom jump.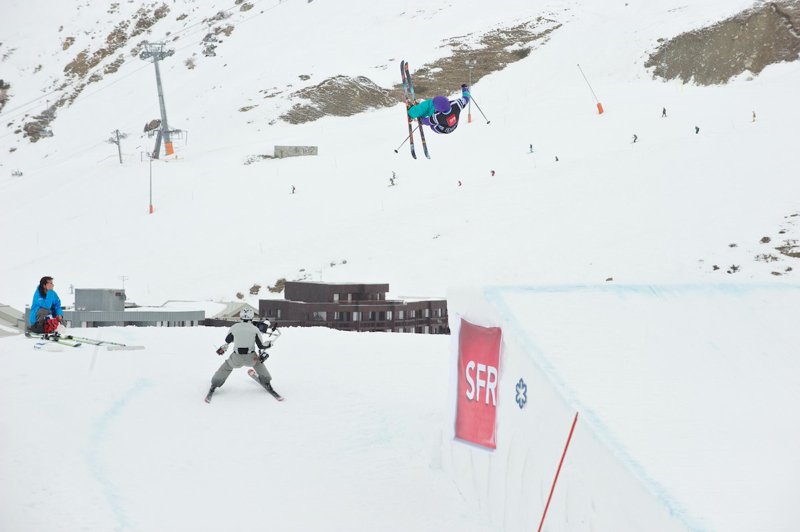 Emma Dahlstrom
In sixth was Ashley Battersby, who laid down some of the steeziest 5's and 7's of the day along with some blind switch-up's over the rails, while Devin Logan took fifth with a big ol' cork 7 of her own, but didn't let go of her grab in time on that very same trick during one of her runs and unfortunately broke her wrist. Proving that she may very well be the toughest girl in skiing though, Devin got a cast put on and said she's still going to compete in Women's Superpipe Finals on Friday. Give her some props.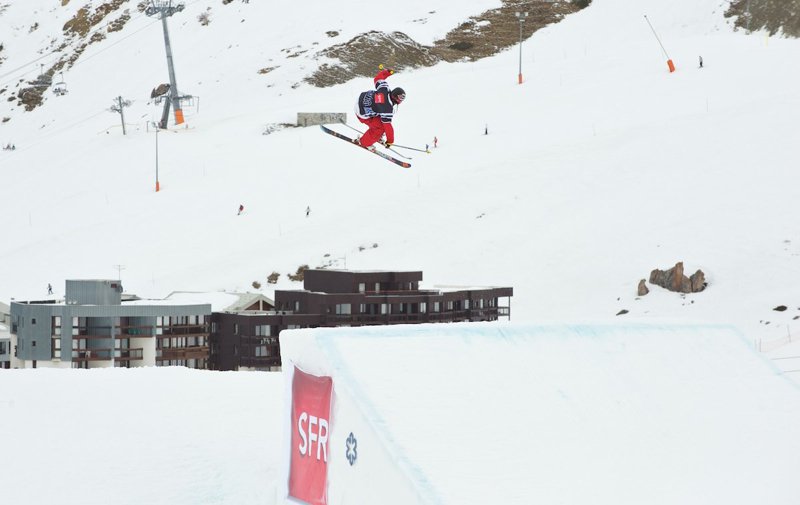 Ashley Battersby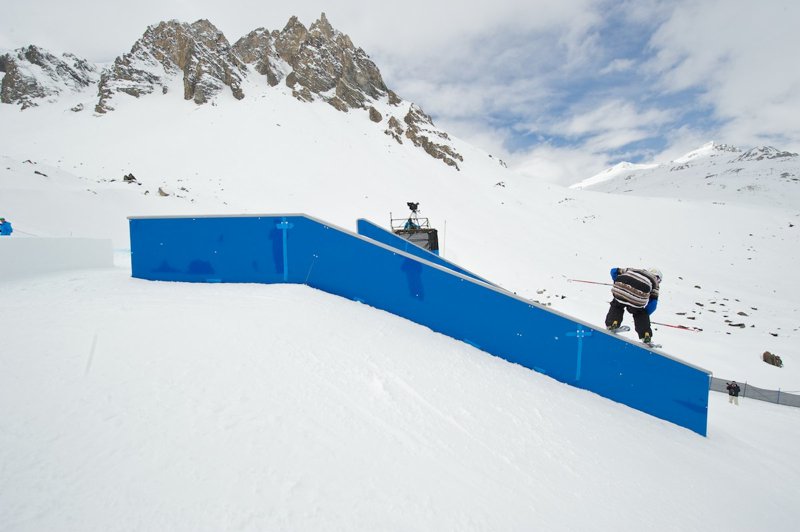 Devin Logan
In fourth place was the always consistent Anna Segal, who threw a flat 3 on the top jump and 7 on the bottom, while Kim Lamarre grabbed the third and final spot on the podium with some of the most technical tricks of any of the ladies on the rails and some stylish 5's to put the cherry on top of her bronze medal.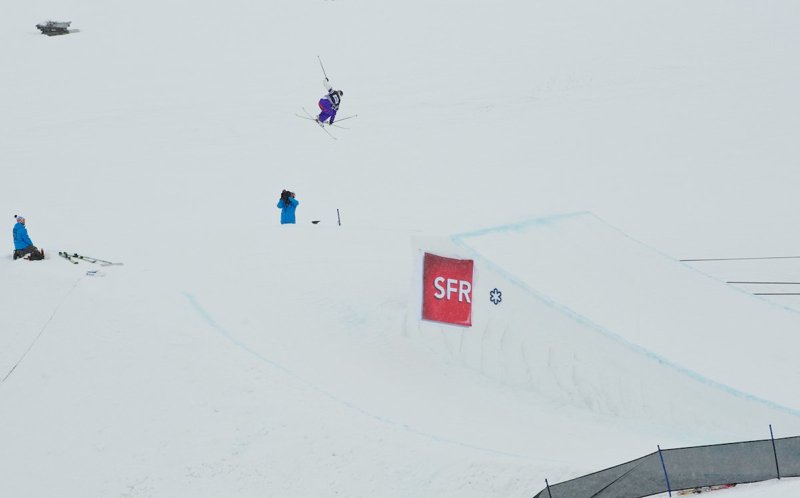 Anna Segal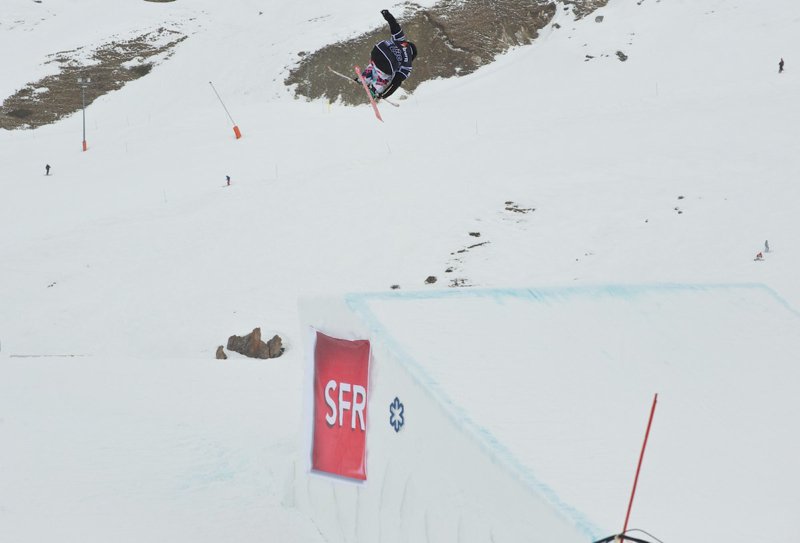 Kim Lamarre
In second in first were some familiar names, as Keri Herman now has another silver medal to add to her trophy case after stomping a big cork 5 and switch cork 7, while Kaya Turski claimed her second European X Games gold medal in a row with authority via switch-up's galore on the rails and a gorgeous cork 5 and switch 7 on the jumps.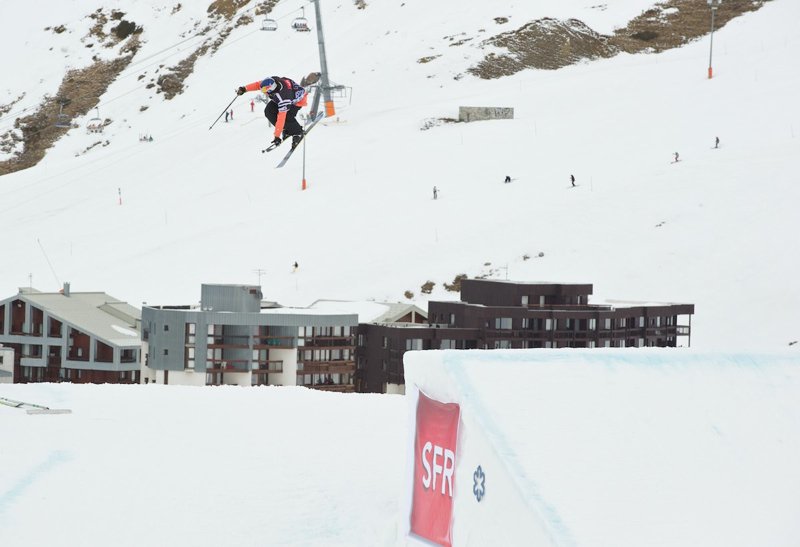 Kaya Turski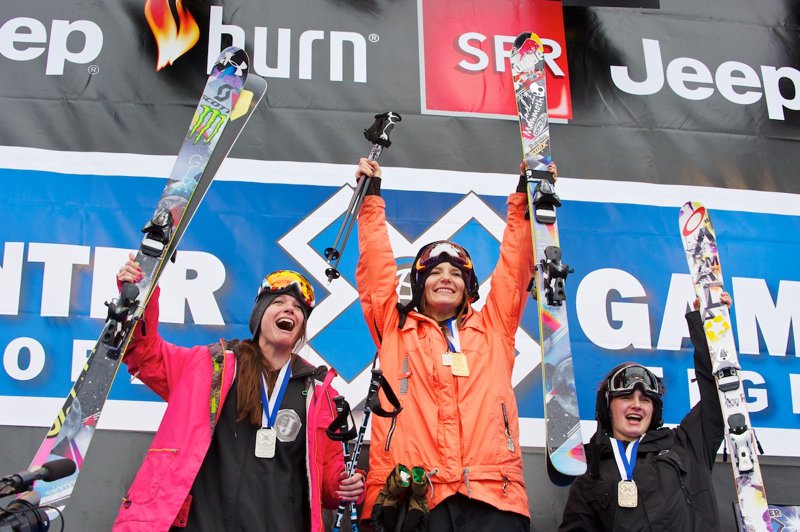 Women's Slopestyle Finals Results
1) Kaya Turski - 92.00
2) Keri Herman - 89.00
3) Kim Lamarre - 88.33
4) Anna Segal - 84.00
5) Devin Logan - 83.66
6) Ashley Battersby - 76.66
7) Emma Dahlstrom - 74.00
8) Maria Bagge - 73.33
9) Katie Summerhayes - 69.66
10) Tiril Sjastad Christiansen - 69.33
Following a short break in the action-packed day after the slopestyle side of things was all said and done, it was time for the most crowd-pleasing and anticipated ski event of European X Games, Men's Superpipe Finals. As a gigantic parade (literally) of Kevin Rolland fans from his hometown of La Plagne marched towards the awe-inspiring pipe, the iconic flood lights began to shine and the impressively enthusiastic crowd whipped themselves into a deafening frenzy as the event was about to begin.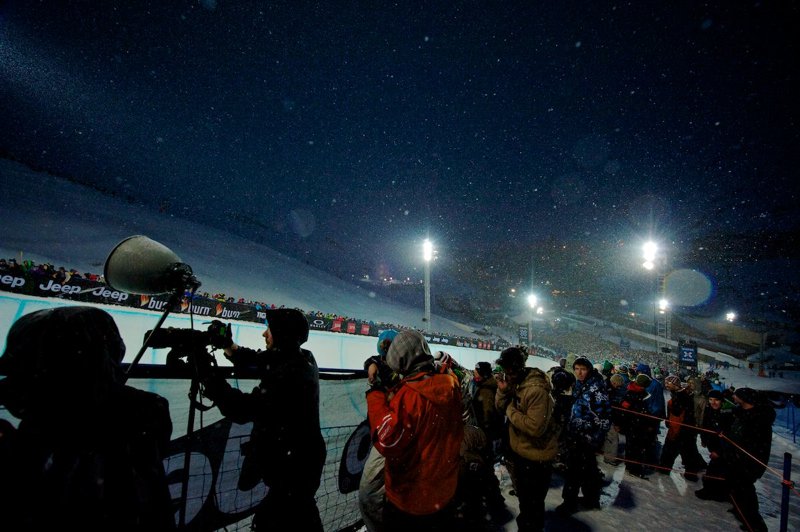 However amidst the high volume just before things got underway, a touching moment ensued, as the announcers asked for a lengthy moment of silence for the victims of the tsunami in Japan, and the thousands of fans and industry types obliged, many of whom hold a special place in the heart for the country after having visited it on numerous occasions. Needless to say, our thoughts are certainly with the Land of the Rising Sun during this horrific tragedy.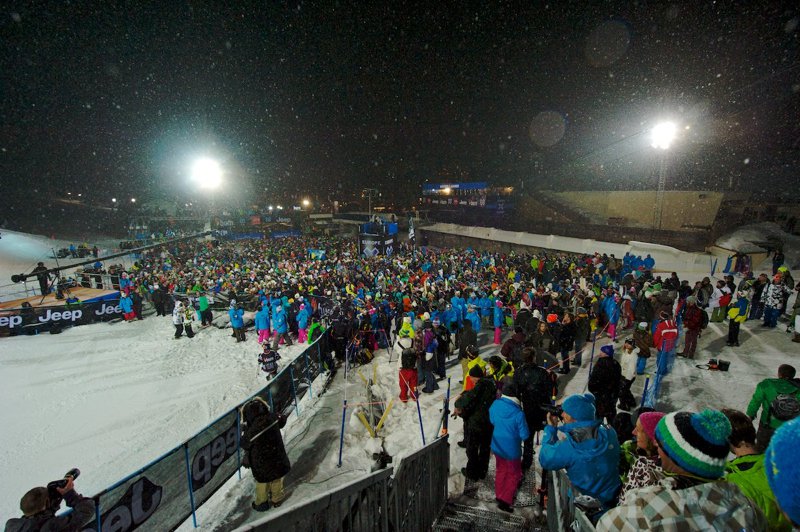 Taking eighth place tonight was David Wise, who crashed on the first hit of his first two runs and then almost put it all together on his third, but couldn't find the landing gears on his last hit dub 12.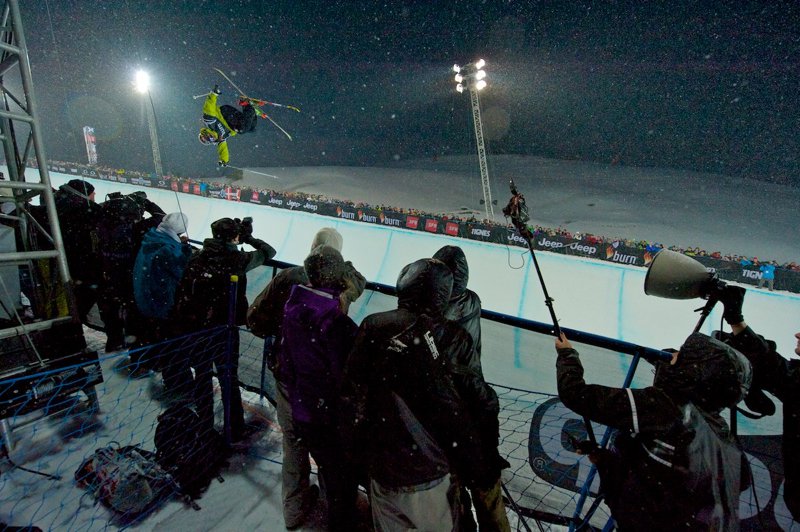 David Wise
In seventh was Jossi Wells, who threw back-to-back 9's, a double flair, to a flair to late 180 into an attempted switch double cork 10, but like a few others throughout the evening unfortunately didn't have the speed to put it to his feet.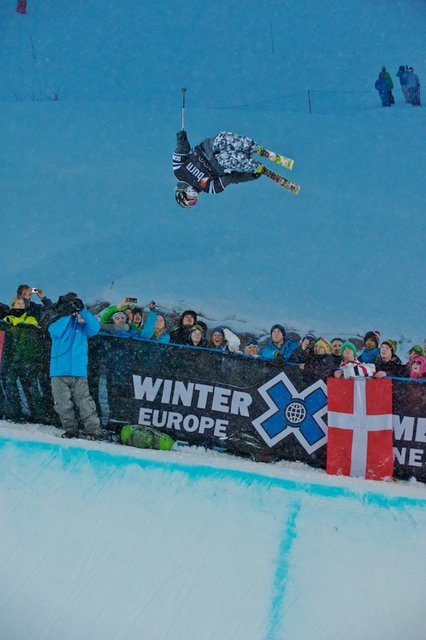 Jossi Wells
Sixth place went to Duncan Adams, who was taking his first zero spin to the moon along with a plethora of other switch hits that possessed more style than any of his peers, although he too experienced some speed issues throughout the course of the competition.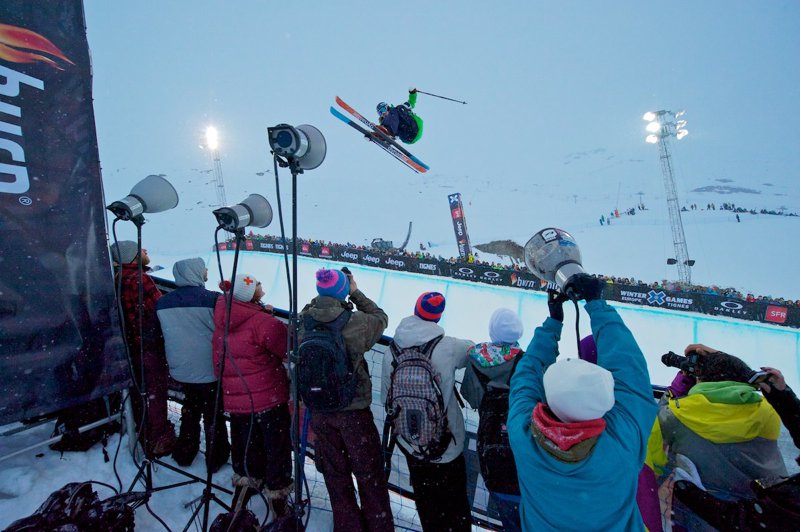 Duncan Adams
Taking fifth place was Thomas 'Toto' Krief, who was originally not scheduled to compete tonight after landing just below the bubble in prelims, but got a last second spot after Mike Riddle rang his bell hard in practice and was unable to compete. Toto took advantage of the opportunity, as did the throng of his supporters, who screamed at the top of their lungs and aggressively waved flags with his name on it as he unleashed a double flair, flat 3, switch 7, right 9 and dub cork 12 at the bottom.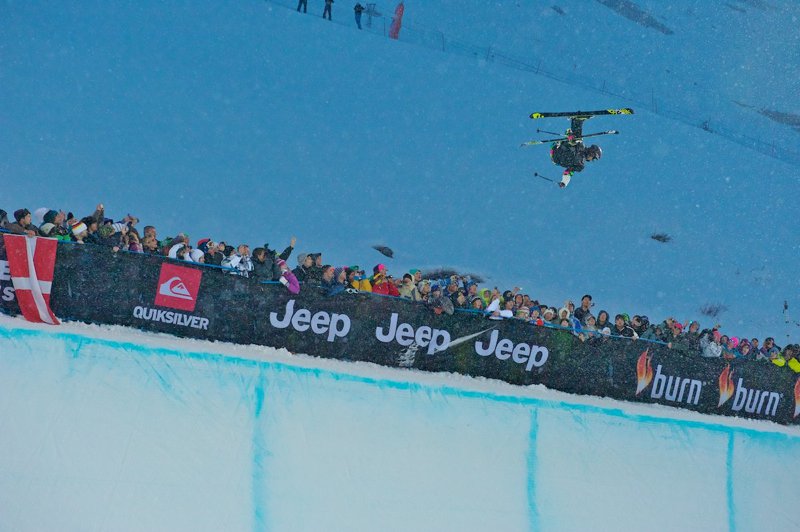 Thomas Krief
Just missing the podium in fourth was Simon Dumont, who put down the run of his life tonight and quite possibly one of the sickest pipe runs ever seen with a stratospheric first hit dub 12, right 9, dub flair tail, alley-oop cork 7 to switch double 10, but just clipped the deck on his landing.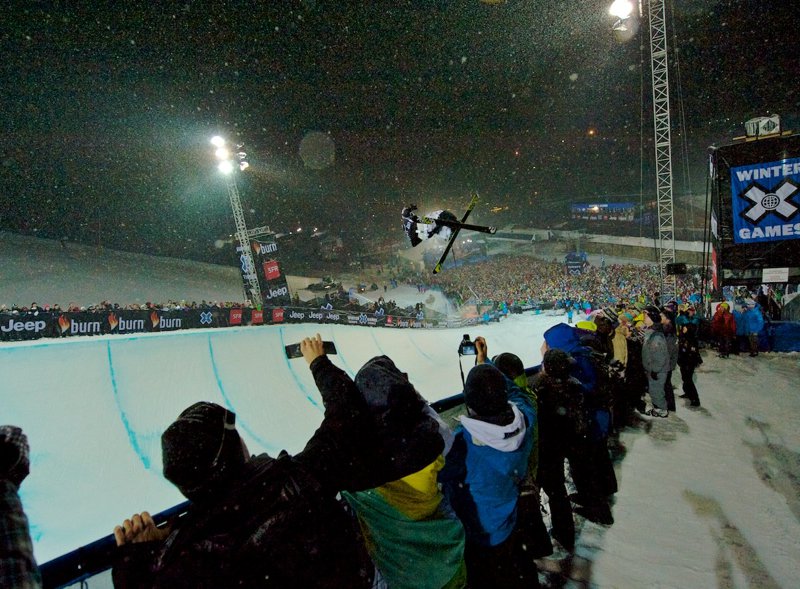 Simon Dumont
Going two for two on X Games podium appearances was the future of halfpipe skiing, Torin Yater-Wallace, who laid claim to some of the biggest amplitude of the night with a right dub flair, back-to-back 9's, alley-oop double flatspin 9, alley-oop 7 to switch 7, which was enough to earn him a shiny bronze medal and an even shinier ear-to-ear smile.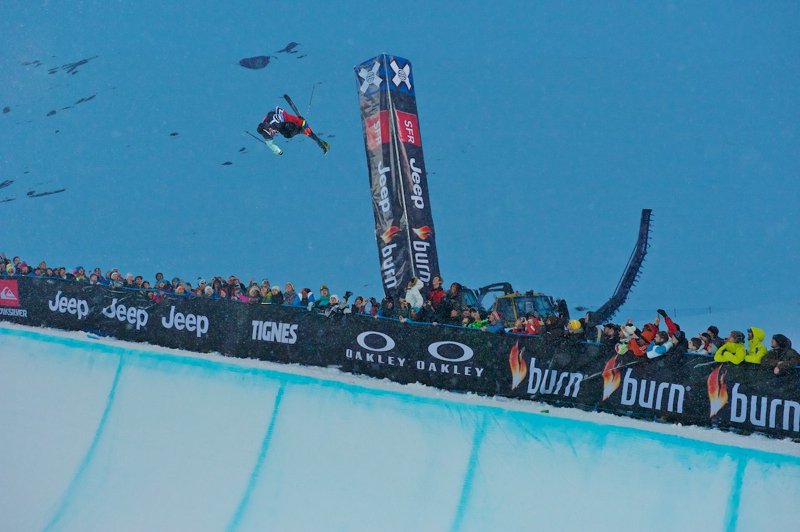 Torin Yater-Wallace
Taking home the silver medal to Canada was Justin Dorey, who much like Dumont unleashed the best pipe run of his career tonight with a ridiculously large dub cork 12, right 9, flat 5, right flat 3 to switch double cork 10 on his first run, but unfortunately just missed the grab (and then sat backseat on it during his next two attempts), which cost him the two necessary points to dethrone the man of the year in superpipe.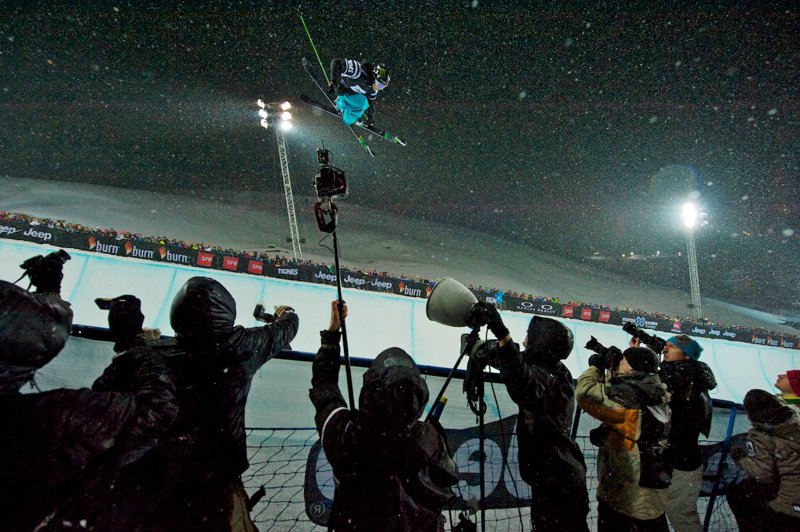 Justin Dorey
That man is Kevin Rolland, who won his fourth X Games superpipe gold medal in a row this evening with the run that has won him almost every contest he's entered this year, dub flair mute, right flat 3, left 10, switch right 7 to double cork 12, although this time around he did it bigger and most flawlessly than ever before.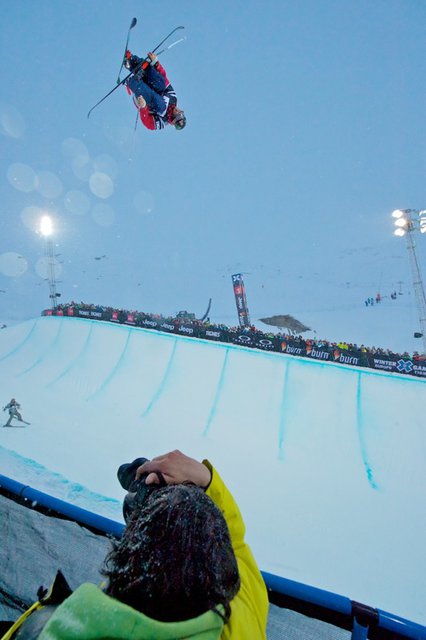 Kevin Rolland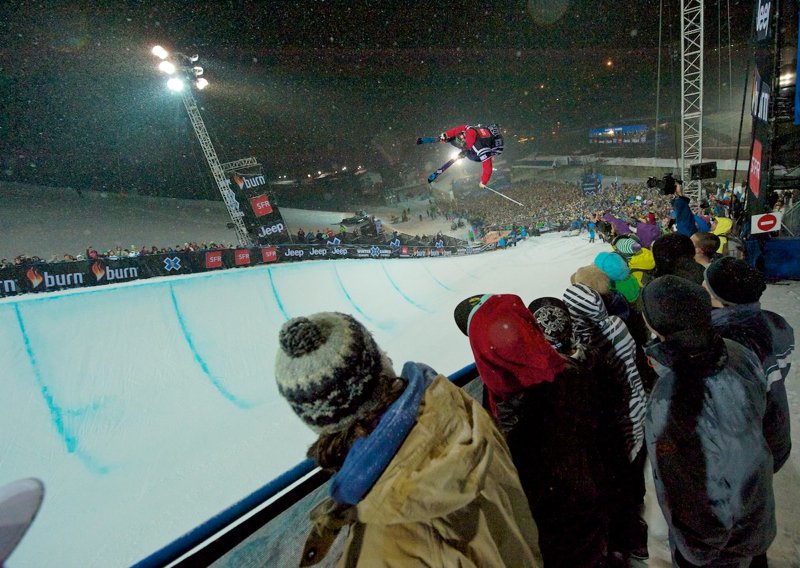 Congratulations to Turski and Rolland for their winning performances today here in Tignes, France, and stay tuned for more from the second annual European X Games, which continues tomorrow with Men's Slopestyle Finals.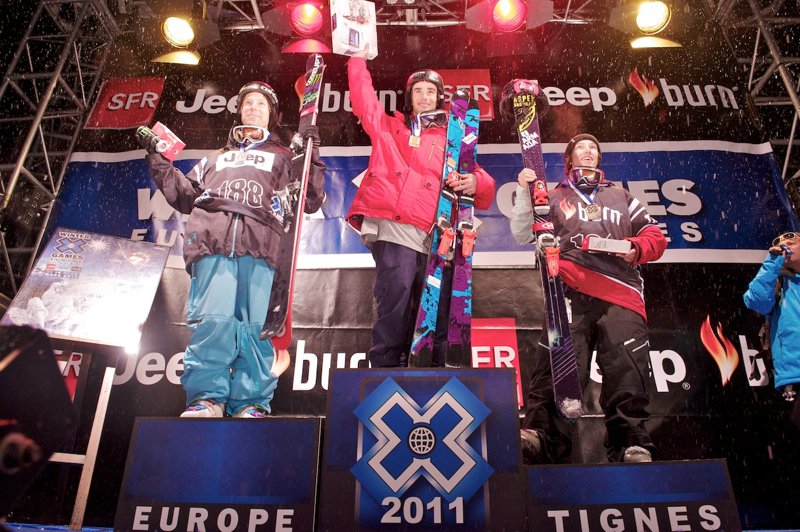 Men's Superpipe Finals Results
1) Kevin Rolland - 93.00
2) Justin Dorey - 90.00
3) Torin Yater-Wallace - 88.00
4) Simon Dumont - 87.00
5) Thomas Krief - 85.00
6) Duncan Adams - 78.66
7) Jossi Wells - 71.66
8) David Wise - 68.00