Ed's Note: This is part three of three of Empire, an interview series presented by the New York State Tourism Board and Newschoolers.com with prolific skiers that once called New York home.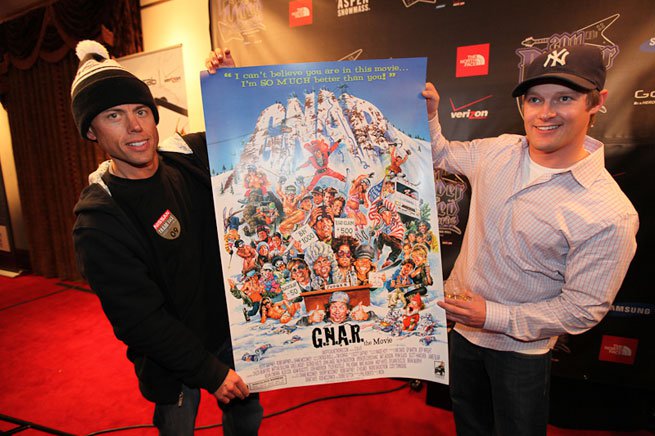 Dr. Robb Gaffney, left, and Tim Conrad at the 2009 Powder Awards. Photo: powderawards.com
One of the iconic locals in Lake Tahoe, Dr. Robb Gaffney has skied and written his way into the heart of Squaw Valley. He, along with Shane McConkey, is responsible for penning the book Squallywood and creating the game G.N.A.R., which was later made into the "I'm so much better than you" film of the same name. For Gaffney, however, the Adirondacks will always be home. While New York offers more ski areas than any other state in the US, it was recently-reopened Big Tupper where Gaffney and family honed their legendary skiing skills.
Where did you grow up? Where did you learn to ski?
I was born in Tupper Lake, New York, and learned to ski at Big Tupper Ski Area. At 7 years old we moved an hour away to Canton, New York, which was a hockey town, so as skiers we spent a lot of time on the road traveling back and forth to ski Big Tupper every chance we could get.
What was the experience like learning to ski at Big Tupper? Who taught you how to ski?
Big Tupper is blessed with varied terrain and several peaks that offer skiers of all abilities to step up gradually to the next level.
My mother taught me how to make my first turn right at the base of the ski hill, next to the main lodge and just below the T-bar. I was pretty small and only 2 years old so she was able to carry me back up again and again until I was comfortable making a sweeping left turn. Then it was off to the Mighty Might beginner surface lift, which had a nice wide open gentle groomer bordered by tall, gray, hardwood trees.
The next step was the T-Bar which leads up to 4 or 5 long groomers. These were all open for night skiing too. Anyone who called Big Tupper their home mountain during that era remembers the beauty of that lift at night; silently it pulled you up through a lit alleyway of leafless and snow covered deciduous tress, through the bite of the cold North Country air, while the flurries lightly fell into the light from the black sky above. At 7 years old, our parents allowed us to be out there on our own. We would get off at the midway station, bomb down and hit every little nub we could find, and go back up to do it again and again until 9pm when they pulled the rope across the maze.
Every kid who grew up skiing Big Tupper remembers the first day their parents felt they were good enough to ride Chair I. All those years, you'd look up at that lift and see it extend up and over the highest peak visible from the lodge and one of the most difficult trails, "The Face", careened down right underneath it. Hopping on Chair 1 for the first time was exhilarating and an experience of true exploration.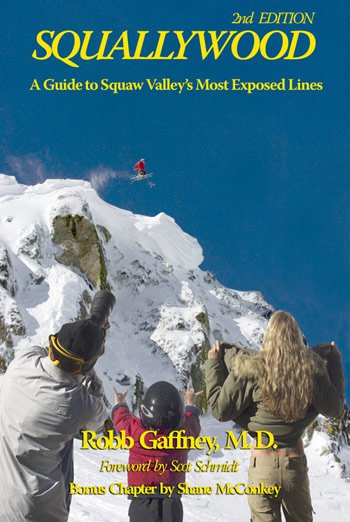 http://www.youtube.com/watch?v=7hykk9Ryf9M
What makes small, Adirondack mountain communities special?
Small Adirondack communities are special because the people within them remain connected to the land. Walk into anyone's home in a small Adirondack community like Tupper Lake and you'll find knotted woody furniture made from a local craftsman, a cast iron wood stove to burn the local hardwood, a photo of someone holding a fish they caught in their local lake, a picture frame made out of bark, or maple syrup tapped from the trees on their property. It's this connectedness with the land that gets lost as ski resort towns grow. The small communities still have it and that's why we love them.
How did the Adirondacks shape you into the person you are today?
The Adirondacks are truly some of the most beautiful mountains in the country. Growing up within them and with the people who called them home has shaped my respect for the land and the importance of remaining in contact with it. Most of the books on our shelves at home were written by local authors and they were filled with beautiful photos and written accounts of their experiences within Adirondack State Park. People who live there are driven by experiences outside of their homes and from their contact with the remarkable natural elements around them. That way of life will never leave me and will guide me, my decisions and what I stand for until the day I die.
When did you pack up and move to Squaw?
I first skied National Chute at Squaw in my sneakers in July 1983. But really I first skied Squaw in 1989 when on spring break from college at the University of Colorado, Boulder. After graduation, I moved to Squaw and ski bummed for 2 years before returning to Colorado to go to medical school. I arranged my schedule during medical school to accommodate several weeks to several months per winter of skiing Squaw. It felt I never really left, despite not living there for 8 years during med school and residency.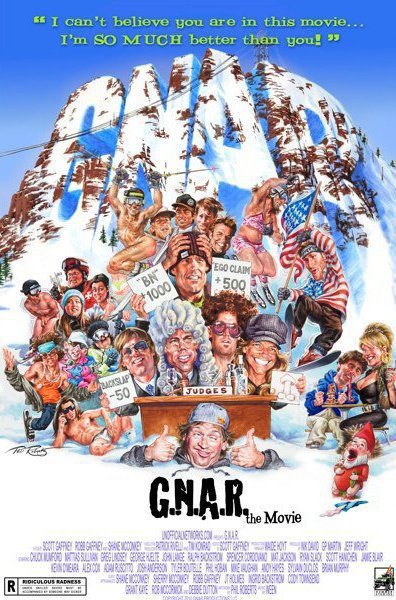 Watch the entire film here: http://unofficialnetworks.com/gnar/