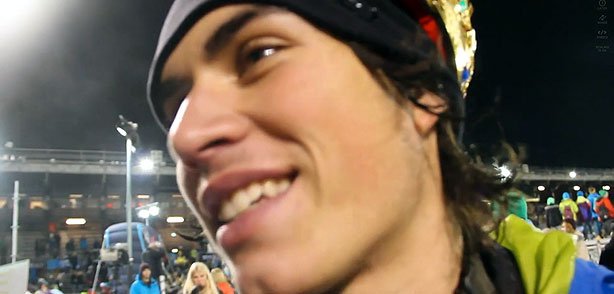 You can talk about dominating an event but there seems to be no one out there like Elias Ambuhl at the moment! Last weekend he took a plane to Sweden and left with the winner's crown for the King of Style 2011 – Big Air event. Not only that but he bagged himself a piece of the $20k prize purse as well!
Regular format – the riders had 3 runs and the best two were the ones that counted. Double corks seemed to be the order of the day and it was Elias's double cork 12 reverse tail grab that sealed the victory. This finished off a trilogy of big air wins when you include the Budapest Fridge and Freestyle.ch. The only one he's missed out on so far is Relentless Freeze.
Joining him on the podium was Bobby Brown and British star, James Woods.
Final Results:
1. Elias Ambuhl
2. Bobby Brown
3. James Woods
4. Tom Granier
5. Jacob Wester
6. Jesper Tjader
7. Jon Olsson
8. Jossi Wells
9. Gus Kenworthy
10. Kai Mahler
11. PK Hunder
12. Oscar Harlaut
Related posts:Elias Ambühl TV: Winter Dew Tour 2011 Elias Ambuhl is always at the top of a list...
Elias Ambühl TV Episode 4.1 Latest video from one of the world's best shredders, Elias...
Elias Ambuhl's webisode series One of the big hitters in the ski world is...