ELIAS AMBÜHL CONQUERS BUDAPEST
SWISS FREESTYLE HERO ELIAS AMBÜHL WON EASTERN EUROPE'S FIRST EVER INNER-CITY FREESKI BIG AIR, THE FRIDGE FESTIVAL IN BUDAPEST.
THE ATOMIC TEAM RIDER BEAT AN INTERNATIONAL ALL-STAR CAST IN SATURDAY'S FINAL.
Autumn has been the season for inner-city big air events for almost a decade, but this year saw a true premiere. Budapest hosted the first ever major freeski event in Eastern Europe with the Fridge Festival last weekend. 16 international top riders gathered in the Hungarian capitol to battle it out on a 34 m high artificial ramp.
THE FRIDGE BRAVES WARM WEATHER
The unusually mild weather was welcomed by the tens of thousands of spectators but presented a tough challenge for the event organisers. It took many hours of preparation before the final could start on Saturday with a simple best-of-two-runs format. However, the conditions didn't stop the riders throwing yet another double cork fest. An enthusiastic crowd witnessed great performances by all of
the athletes, who were from eleven different countries, proving once more that freeskiing is a truly international sport. Elias Ambühl set the pace early in the qualification with a massive double corked 1080° mute-nose. Norway's PK Hunder and JF Houle from Canada followed suit to complete the super final of the top 3.
ELIAS AMBÜHL GOES HUGE
In the super final JF Houle raised the standards with a big double cork 1260° japan. PK Hunder answered with a poked double cork 1080° nose-mute to take the lead, but no one could touch Elias Ambühl on Saturday. The young Swiss tweaked his double cork 1080° nose-mute beyond the limits and landed perfectly at the bottom of the huge ramp. There was no doubt about the winner. Of course, Elias was stoked: "The weekend couldn't have been any better. Now I am looking forward to the King Of Style in Stockholm and the Sweet Rumble in Trysil." With his first victory at an inner-city big air under his belt Elias Ambühl is more than ready for the upcoming contest season on proper snow.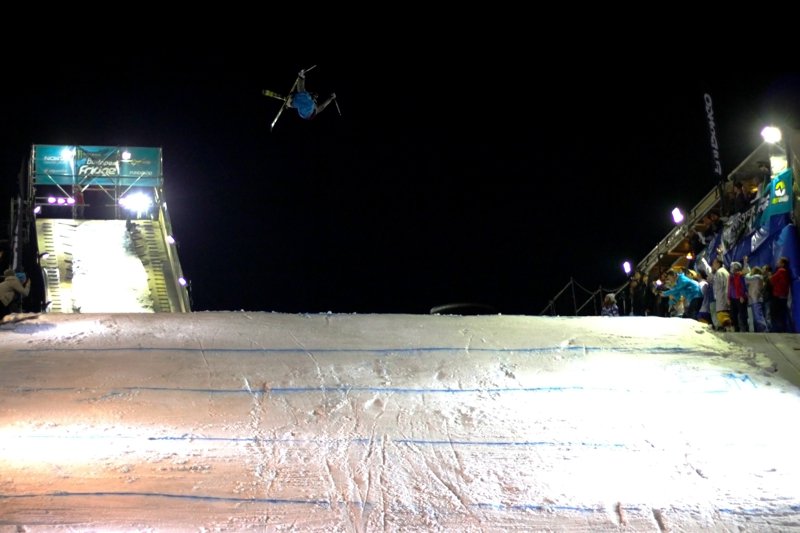 ABOUT ELIAS AMBÜHL
According to his genes, the just 18-year-old Elias Ambühl should rather carve through gates than jump off kickers, since his father used to ski in the Alpine World Cup for the Swiss National Team.
MEDIA INFORMATION. ALTENMARKT, 15.11.2010
Thus it came as no surprise that Elias started his skiing career in racing. However, when his older brother Andri switched to freeskiing, Elias voted for freedom on two boards as well. And he was right, as the young boy from Masein, a small village close to Chur in Grisons, soon started to collect respectable results. Among others things he has won the Austrian Freeski Open, won the Survival of
the Fittest and hosted his own competition, the Ambühl Invitational together with his brother. Also this season has started with a fantastic highlight for the table-tennis and downhill-bike fan, as he got second at the legendary freestyle.ch in Zurich for the second year running. He even scored better than his icon and teammate Andreas Håtveit who placed third and to whom Elias looks up to for his
versatility in skiing. Elias ambitiously strives for his goals and thus he has quite a lot of contests on his schedule for this season again.
ATOMIC: Passion, Innovation and Performance since 1955
ATOMIC manufactures products which are perfectly tailored for ski racers and freeskiers, cross-country skiers and backcountry skiers, beginners and World Champions alike. Every ATOMIC product is much more than the sum of its component parts, not only incorporating the know-how of creative experts, but also embodying the passion for skiing of each and every ATOMIC employee.
ATOMIC is based in Altenmarkt, in the heart of the Alps, where snow is always nearby and where each new idea can be tested right there and then, 365 days a year. Thanks to a combination of experience, innovation and passion, ATOMIC has been synonymous with winter and skiing since the company was founded in 1955.
ATOMIC is part of the Amer Sports Group.
Website: http://www.atomicsnow.com