Welcome back to The Roofbox Editors' Picks for 2016-17. We're almost certainly last to the annual gear selections party but I'd like to think that's because we actually spend at least a week on the skis we test rather than a couple of runs at a gear test.
All Mountain has been used to mean a lot of things in skiing and to describe a lot of skis over the course of time. But this is Newschoolers and so for us All Mountain means a ski on which you can play with the whole mountain in a variety of conditions. So we've picked out 4 skis that we feel you can pretty much use for anything. They are options for the mythical one ski quiver if you will and which one works for you depends on how it is you want to ski the mountain.
Faction Candide 2.0

The Candide 2.0 has been updated a fair amount since I first reviewed it back when they launched. The basics of the ski have remained more or less the same. The tight sidecut, relatively solid flex and overall feel of the ski have been carried through the updates. But the new poplar beech core feels smoother to me and softer in the tips and tails. The raising/elongation of the tips (and even more noticably the tails) makes them more versatile in a range of conditions. These blur the line between park and all mountain, and while they handle mixed snow fine, the symmetrical shape despite the improvements, is not great in pow. I thought long and hard about including these skis because haven't spend as much time on the newest model as I'd like. But the previous version was my wider park/all mountain ski pick for last season and the current model is, without a doubt, the best 2.0 yet. So at the end of the day, they deservedly make the cut.
Who would they be good for?
Park skiers who want something wider for added versatility but still want a ski they can ride in the park half or more of the time.
_
Armada Arv 106

The ARV 106 is one of my favorite skis on the market at the moment. Like most of my personal favorites, it brings all the fun of a park ski to the rest of the mountain. Despite having that park ski feel, the narrow edges would put me off using them as a rail ski, but for jibbing around the mountain and hitting some jumps they are perfect. They are as good a ski for butters as I have ever skied, with a wide platform for stability, a solid enough flex that you don't wash but still soft enough they are still a breeze to press. Perfect. They are a playful skier's delight and if that sounds like your cup of tea then you can't do better right now. Read Full Review.
Who would they be good for?
A park skier who doesn't ski a ton of park anymore but still loves to butter and play with the entire mountain.
_
K2 Marksman
The uniquely shaped Marksman is one of the most versatile skis on the market. Its asymmetrical, tapered and heavily rockered profile means that for the size, it performs seriously well in deep snow. And that, combined with the solid flex means they handle chopped up snow well too. In fact they handle an extraordinarily wide range of conditions commendably well and even have thick enough edges that they can take a decent park beating. And just about enough playfulness that they are fun there too. There is a degree of the old adage 'jack of all trades, master of none' about them. For most single aspects of skiing you can find a more suitable tool, but I struggle to think of any ski that can do as much, as well. The Marksman is more or less the definition of All Mountain. Read Full Review.
Who would they be good for?
Someone who wants to do the lot on one ski or wants to prioritise pow on a ski that is easily manageable when the goods don't arrive.
_
J Skis Metal

"The Metal was fun, and easy to ski. They do a really good job of balancing ease of skiing and stability. This balance means you don't need to think too much about the way you're skiing, which is cool, you can just go rip. I think it would be a great ski as an (almost) everyday inbounds alpine setup. The metal helps dampen the ski, so it can handle tracked snow easily, and the rocker makes them fairly quick to throw around. I'm not much of a jibber, and I'd say they lean more towards a traditional skier like myself, I don't see issues with popping around and launching airs though. They can still charge, and pop, but it's a ski your dad would love as well, because of the mix of stability and nimbleness."- Matt Sklar. Read Full Review.
Who would they be good for?
Fun loving skiers who ski in a slightly more traditional way but still want to retain the option to boost when it takes their fancy.
_
Planks Yeti Hunter Outerwear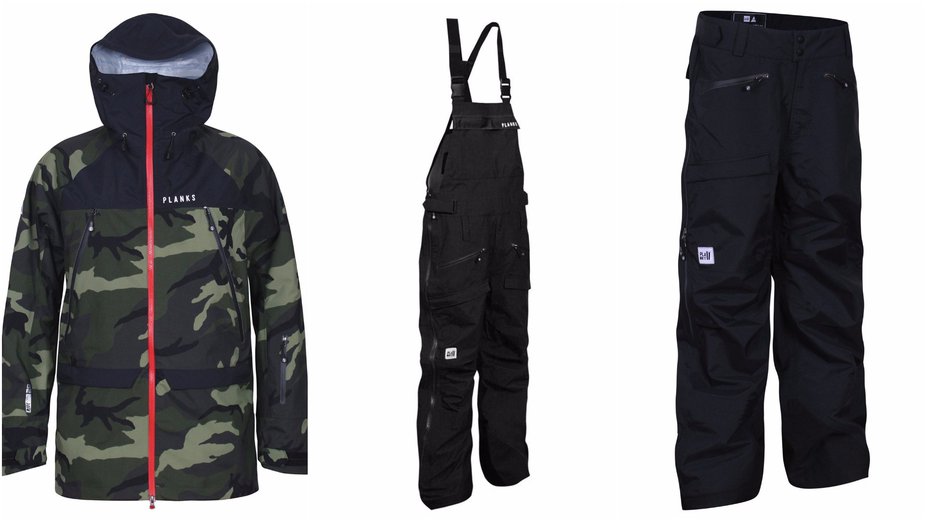 A pick last year and again for 2017, the Yeti Hunter series from Planks is pretty much the perfect All Mountain choice simply because ticks all the boxes: 3L 20k/20k fabric, lightweight, durable, skier owned and it looks dope too. I've ridden in my setup from indoor parks to pissing rain camping trips in Scotland and it has done me proud for the lot. Not only is it quality gear, it's also not crazy high-end price-wise. The fit for 2016-17 has been improved and that was my only slight criticism before. I can't fault it.
Next Week: Our Powder Picks