Seems like we skipped past spring and mud season all together as the past few days in Vail have felt like full on summer. 70 degree temps and bright blue skies are chasing the 500+ inches of snow up the hillside, looking harder and harder to get to each day. That is until you make the drive over to A-Basin and revel in the even higher altitude goodness that lasts into early July.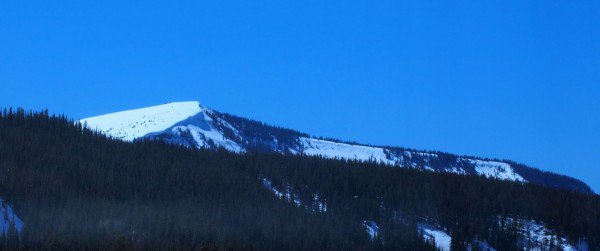 As you can see from our recent posts, we've been taking advantage of the 40-minute drive lately and enjoying the unpretentious, attitude-free skiing above treeline. On the way back last week, I got a great glimpse of the East Vail chutes from the road and had to snap a few pictures. To those who know what they're looking for, it's a great way to see the terrain from a different angle and get a refreshed view of what we ski. Also, an opportunity to pick out new lines and re-assess avalanche prone terrain. Just check out that cornice above!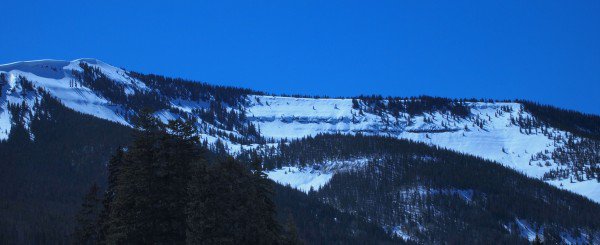 The brief snapshots I took while screaming down the 1-70 corridor show a prominent, man-made notch at the top of Old Man's cornice. For those that read our blog and watched our videos all winter, you'll recognize this as the drop-in point used again and again to get to the goods. The skier's left and skier's right are insanely huge, and have been for the past two months. Skiing it my first time this season, I was told it would only be a 3-4ft drop into endless fresh pow. Upon arrival in late March, it was more like 6ft into hard slough. Building sized walls of folded snow stared down on either side of the notch. The cornice is still massive, casting a shadow viewable from 1-70 and looming large over Old Man's basin. As we have said throughout the season, this will be epic if it slides. Something to witness from a safe distance.
Also interesting to note was the seldom skied 3rd bowl, skier's right of the Old Man's notch. As you can see from the shot above, significant natural avalanching has occurred across the entire bowl. Not a place we regularly venture for this very reason. That said, it seems like this time of year, snow is crashing down across the state. CAIC has been posting almost daily of massive slides and the news is even being picked up by the Denver Post. Never a better time to be careful out there.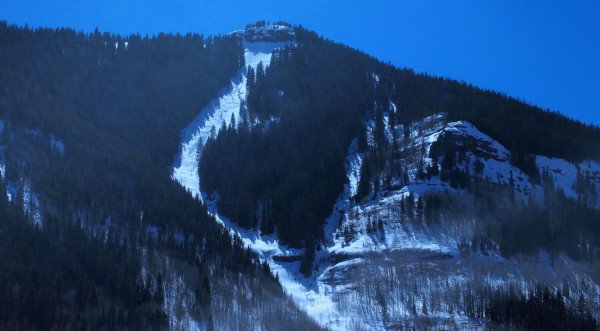 Rounding the final corner to Vail, got a good shot of King Arthur's from the road. The cliffs at the top still look menacing and the long run to the bottom is sprinkled with avy-debris. It's always good to keep in the front of your mind how these natural chutes are formed and a reminder of the awesome power that moving snow unleashes. Sturdy trees, solid rocks, and squishy humans are never a match.
We'll be coming with a season wrap-up soon as we put the summer storage wax on the skis and break out the bikes. That is, unless we get another late-season dump.