SFC Denver today announced this season's edition of the Early Bird Rail Jam & Sample Sale. This year marks the fourth year the group has been hosting the jam, which has grown to become one of the most highly anticipated events of the early season in Denver. The contest, which takes place on Saturday, October 20th from 4pm - 9pm, will be open to 100 total participants across five categories, including men's snowboarding open, men's snowboarding 17 and under, women's snowboarding and men's and women's skiing categories.
 
With registration beginning at 4pm and the first of very few practice runs opening up at 4:30pm, the event will run into the evening. For the first time some food and snacks will be available for purchase. The cost to compete is $10 online prior to the event and $15 at the door while space is available. However it's free to attend and watch, along with pursuing the amazing deals offered by a variety of local sales reps who will be in attendance.
Throughout the evening the event expects to see roughly 1000 people attend, hang out, eat some food, and carouse the tents of the sample sale, according to event coordinator Randy Schroeder. If accurate, this predicted turnout would dwarf last year's crowd of around 500.
This year's setup will feature an improved drop-in layout that promises to drop the sketch factor to the floor, allowing for a safer, more trickable environment. The features (which are yet to be announced) will be garnished once again by Winter Park Resort. "We're definitely working hard to address some of the suggestions from past years to improve the setup," said Schroeder.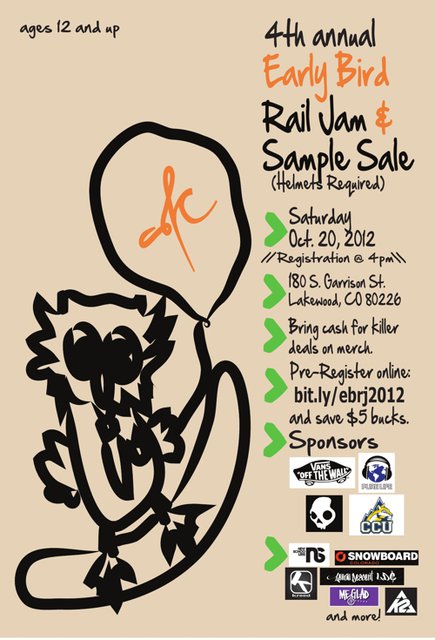 Confirmed sponsors currently include Vans, K2 Snowboards, Skullcandy, CandyGrind, Pure Life, Lethal Descent, Newschoolers, Phunkshun, BC Surf & Sport, Thrifty Stick Board Shop, Air1 Radio, CCU, Kreed Eyewear, Abomination Boards, 801 Powder and more. For more information on the Early Bird Rail Jam, check out the event page on Facebook, and to register for the jam, click here.