After our fiasco at the border of Canada, Becker and I finally got to meet up and do some shooting together. With all the Poor Boyz filmers busy we rallied the webisode filmer Ross Reid to GTS everything that went down for the past week. There was a bit of snow, lots of crust, and of course fun to be had this past week. John Symms also got some time off from Jib Academy and Dew Tour announcing to meet up with us south west of Boise for some much needed snowmobile action and backcountry EPIC-NESS. He showed up a little later in the week and missed the day when Brandon's buddy Ray Gadd came out and took some photos, here is how the trip looked through his lense.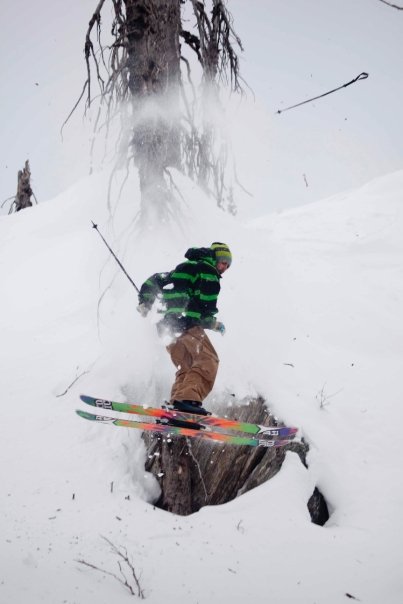 This picture is awesome. The lost pole makes me laugh, the tree debris flying everywhere also makes me laugh
Starting the day off mellow with some butters
More Becker, more style
Becker doing his thing
Brandon posing for a Glamour shot before the sesh
its hard to spot the landing without a few tracks or hottubs :)
Holding the grab for and making sure Ray gets at least 2 frames per jump with the grab
Rodeo 540 off cliff I cant think of a scarier trick, Becker making it look simple
Ray getting tricky with some Black and White, Becker was absolutely sending it off this cliff
Just enjoying the sun while it was out
Some experimental butters in flat light and flat landing, but the take off was primetime
More buttery action, this is my Orville Redenbacker face This next sequence of shots has a pretty good story behind it. Well I was planning to land switch and hit the next cliff switch, it didn't work out that way. I lost a ski, flipped over the bottom cliff, and hit my arm pretty hard on my ski which was suprising, because I thought I hit my arm on the rock at first. From these photos it looks like i hit the rock hard, but I skimmed over it and landed safely in the pow below, but notice my ski is missing in the end crash photos but is lying next to me in the aftermath photo.... it came barreling down at full speed and jousted me in the arm! that is why I am sitting in pain, with a charlie horse the size of a tennis ball on my bicep!
Everything is going good so far, everything is A..OK
This is the beginning of my Roller Coaster Ride...this is the worst case scenario of landing switch before another cliff...
I have trouble deciding which one looks worse....
or this one... let me know your thoughts (note the hat off with Goggles intact and shadow)
This is mind bottling, it appears that my hat has fallen back onto my head, but it is only an ILLUSION!
Here I am in a large amount of pain, my Rime Knit laying peacfully in the background unaware of its recent adventure
Through the trees... I wish this was in Sepia tone, seriously
Wili'n out.. NICK Cannon HE's HILARiousBig thanks to Ray for taking photos! I am off to Bend Oregon for the Winterfest Rail jam. It should be fun the set up looks good, great work Pete! Also big thanks to the crew, we shall assemble again in the near future for more shenanigans, and hopefully the landing switch off double stage cliffs will go my way in the future.... until next time, enjoy the powder, we are finally getting some!