Words & photos by Will Eginton
Day one of the fourth annual Dumont Cup could easily be described in two words: making due. With 10 days of unseasonably warm weather preceding the event, Sunday River found themselves at a bit of an impasse. The contest itself, recently awarded platinum status by the AFP, is held on a slope that has been ravaged by the 80-degree weather. With typical Mainer stubbornness – and some serious industriousness – the park staff at Sunday River was able to scrape together enough snow to build a six-feature course worthy of the level of competition. Certain setbacks could not be avoided, however: the course was drastically shortened from years' past, the jumps themselves were a tinge smaller, and the practice day was cancelled altogether.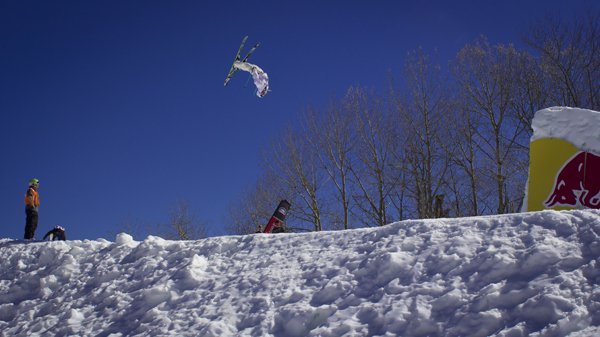 Ian Cosco sneaks in a backy run during the amateur jam.
Yet as East Coasters often must, event staff and competitors alike certainly made due. Following a brief, 45-minute practice session, the 5o amateur athletes battled it out for spots in Saturday's final. Contingents from Utah, Canada, Ohio, and of course New England used the hour-and-a-half jam to their full advantage. At the end of the day, Lyman Currier came out on top of the first ever Dumont Cup Amateur podium followed closely by Dale Talkington and Kolby Ward.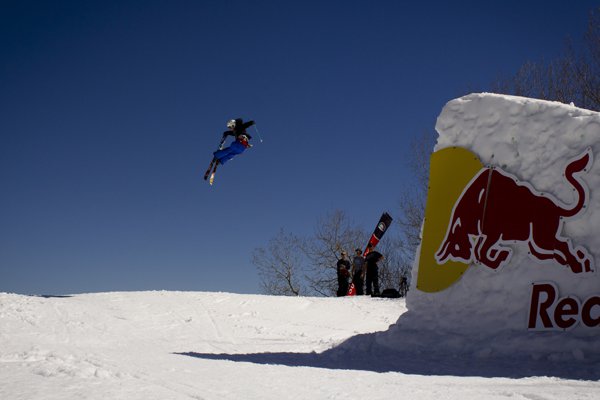 Ohio's Brian Kiss earns his bid to finals.
4bi9 athlete and Carinthia Open winner Ryan Wyble continued his East Coast dominance with a run capped off by a gorgeous switch right 7 and switch left 10, earning himself a coveted bib for Saturday's event.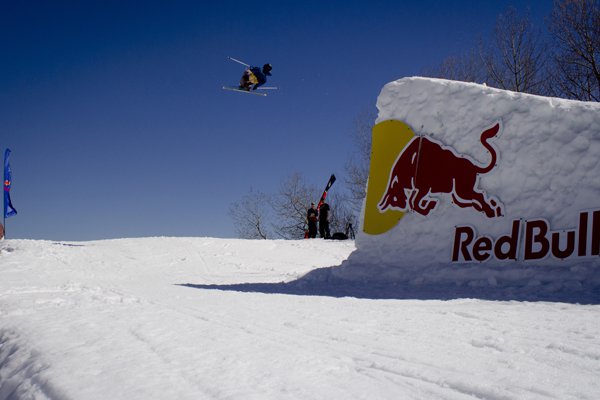 Ryan Wyble wrapping up a switch 10.
Following in his footsteps were fellow Park City locals Erik Hughes and Andy Partridge, who consistently put down solid runs, spinning both ways comfortably over the bottom two jumps. Partridge, who has been quickly moving up the ranks of the amateur scene, will finally get a chance to compete against the big boys in Saturday's final.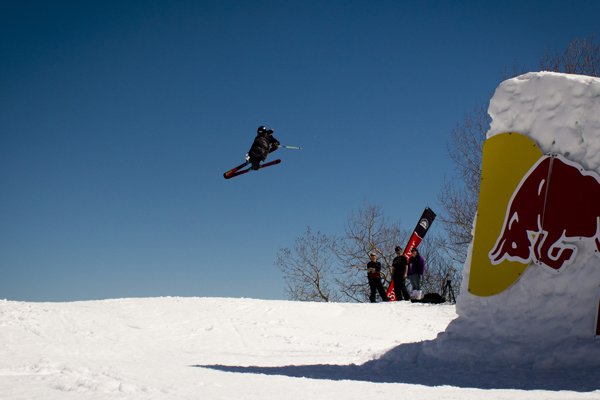 Andy Partridge
Quebec made a solid showing as well. Vincent Gagnir and his brother Charles in typical form laid down big spins with unique grabs to push their way into finals where they will be joined by their Quebecois brethren Sam Lagrange and up-and-comer Alex Beaulieu-Marchand.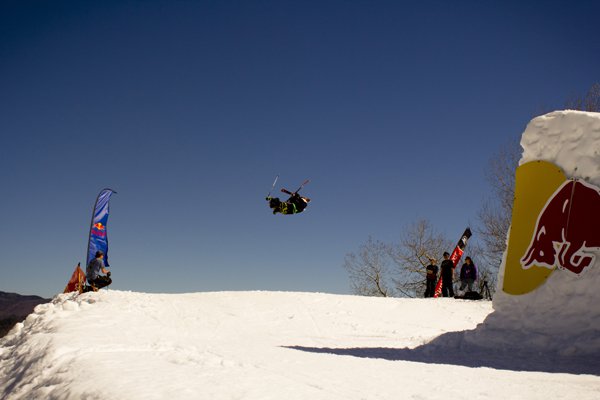 Vincent Gagnier in typical form.
Not to be outshone by his provincial neighbors to the east, Jamieson Irvine quietly and smoothly established himself as a constant threat. Jamieson stomped left and right 9's and laced the most insane rail trick of the day with a blind swap front 4 out of the pole jam to wall ride feature.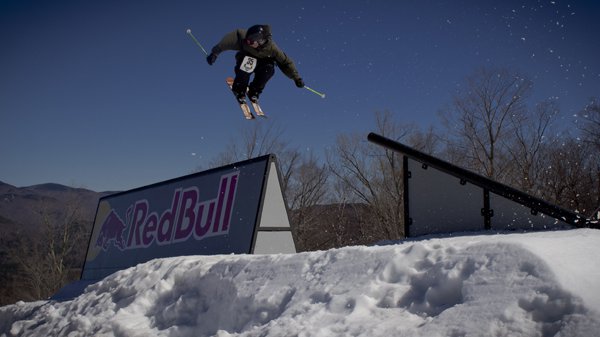 Jamieson Irvine mid-swap.
Sam Parker and Tyler Duncan, who grew up skiing Sunday River, certainly felt the stoke of the hometown crowd as they both put down equally impressive runs. Duncan's flawless switch 9 on the bottom hit as well as Parker's switch misty 9's landed each of the locals an opportunity to move on to day two.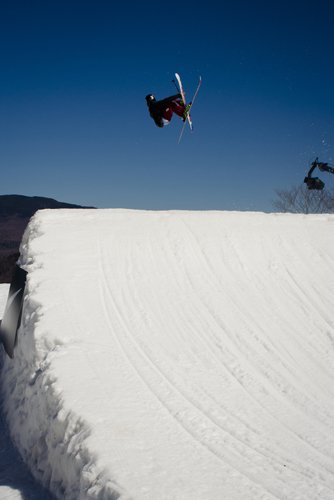 Sam Parker rolling over a switch misty 9.
New this year, The Dumont Cup crowned an Amateur Champion as well as the respective second and third place finishers. Rounding out the podium in third was Kolby Ward – the recent slope champ of The North Face Open Park and Pipe Open at Waterville Valley. His flawless left and right spins, combined with tech rail tricks, firmly established the Coloradan ahead of the pack.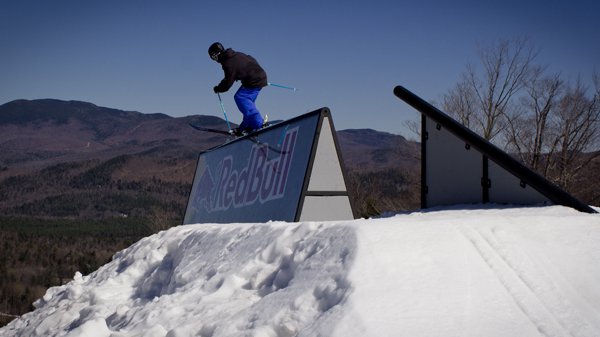 Kolby Ward on the pole jam to wall ride feature.
Utah transplant Dale Talkington undoubtedly made a statement today, going hard right off the bat and relentlessly putting down stylish, technical runs throughout the day. His blunted switch 9's and fluid style unquestionably placed the 4bi9 athlete on the podium in secon.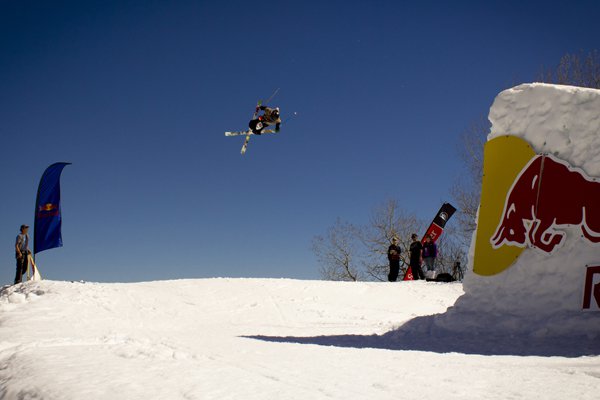 Dale Talkington mid-switch 10.
But it was Lyman Currier who was ultimately was crowned the day's champion after lacing the best run of the day. Putting down technical rail tricks, and a slew of 9's – all flawlessly grabbed – separated the Boulder, Colorado native from Dale's more style--oriented runs.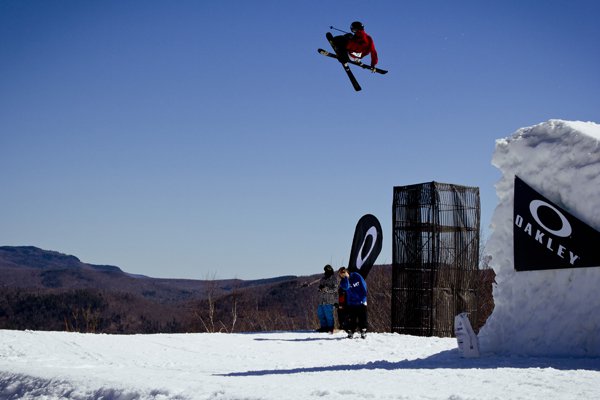 Lyman Currier en route to the top of the podium.
"It's always a super fun competition," said Currier. "This is one of the first years that we've had nice weather, so I'm super stoked for tomorrow. Hopefully I can lay down a good run." The Dumont Cup continues on Saturday as the 20 qualifying amateur skiers compete side-by-side with the pre-qualified professionals.
 
Dumont Cup Amateur Podium
Lyman Currier
Dale Talkington
Kolby Ward
Amateur Qualified Athletes (in no particular order)
Lucas Evans
Charles Gagnier
Sam Lagrange
Ryan Wyble
Vincent Gagnier
Matt Crawford
Kyler Walker
Brian Kiss
Riley McDonough
Tyler Duncan
Jamieson Irvine
Noah Morrison
Sam Parker
Will Hibbs
Eric Hughes
Alex Beaulieu-Marchand
Curtis Bolduc