Words and Photos by: Jamie Walter
Day One of the 5th annual Dumont Cup went off with a bang today at Sunday River, Maine. Slush, shifting winds, and flat light certainly weren't enough to keep the 58 amateur competitors from throwing down in two jam format sessions, as they fought to claim the 30 spots that move onto tomorrow's semi-finals and finals.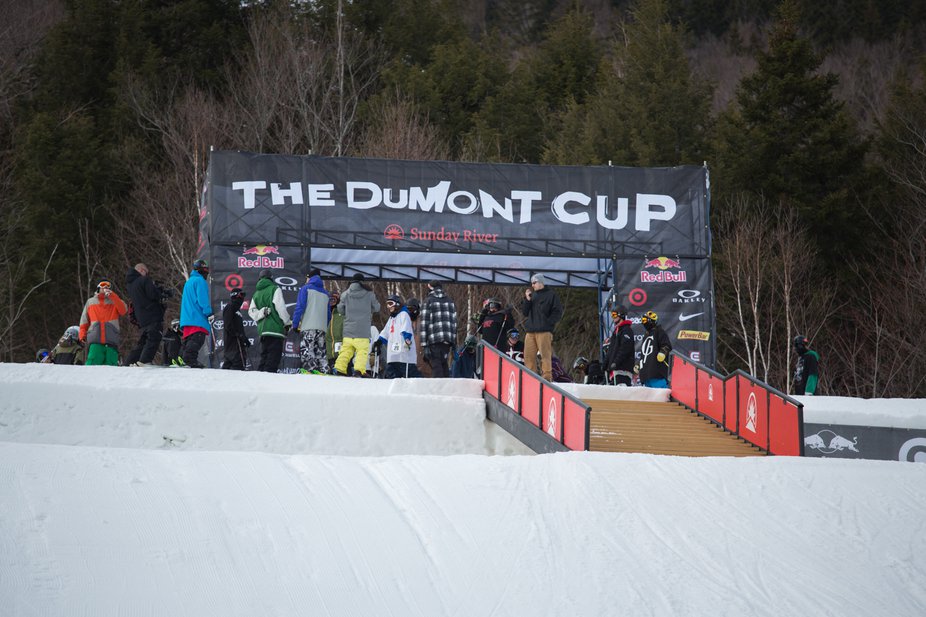 Riders await the start of the AM jam
This year's course features two rail sections and three jumps, measured from 50 to 75 feet. From the top, riders drop into a down rail and down-flat-down tube stairset, which then leads to a canon rail or elevated flat bar option. They then make their way into the jumps, which were all capable of producing enough airtime for double corks. Simon Dumont, the host of the biggest East Coast event of the year, was found on course early this morning making sure everything was up to the athlete's standards. Talking through the radio to the superb Sunday River park crew, he double checked that all the lips to the jumps and rails were salted and shaved to perfect angles.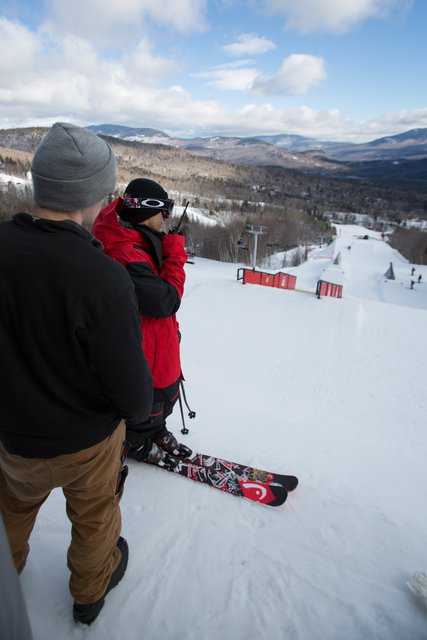 Simon chats with Park Crew to make sure everything is set prior to the start of practice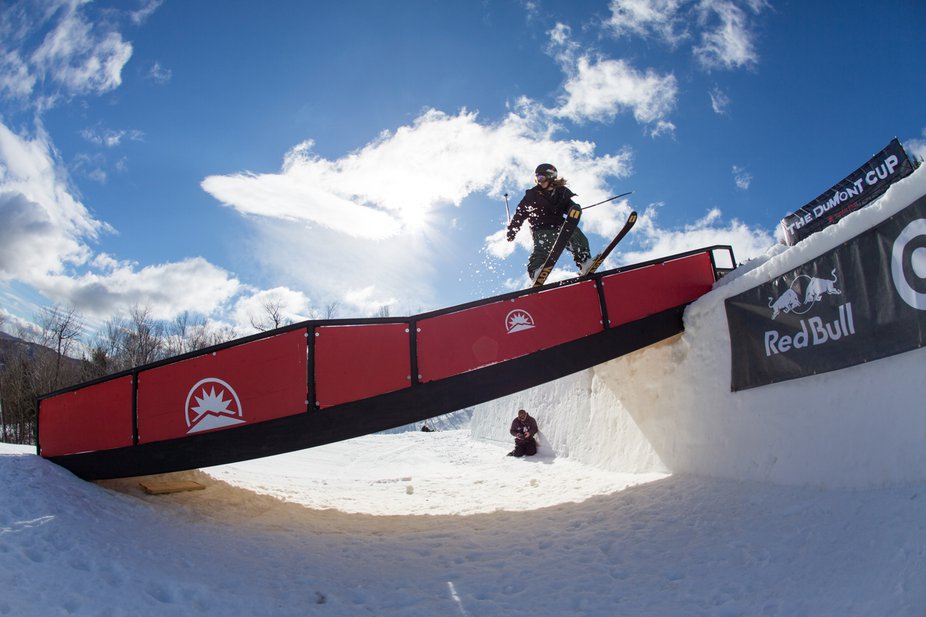 Emile Bergeron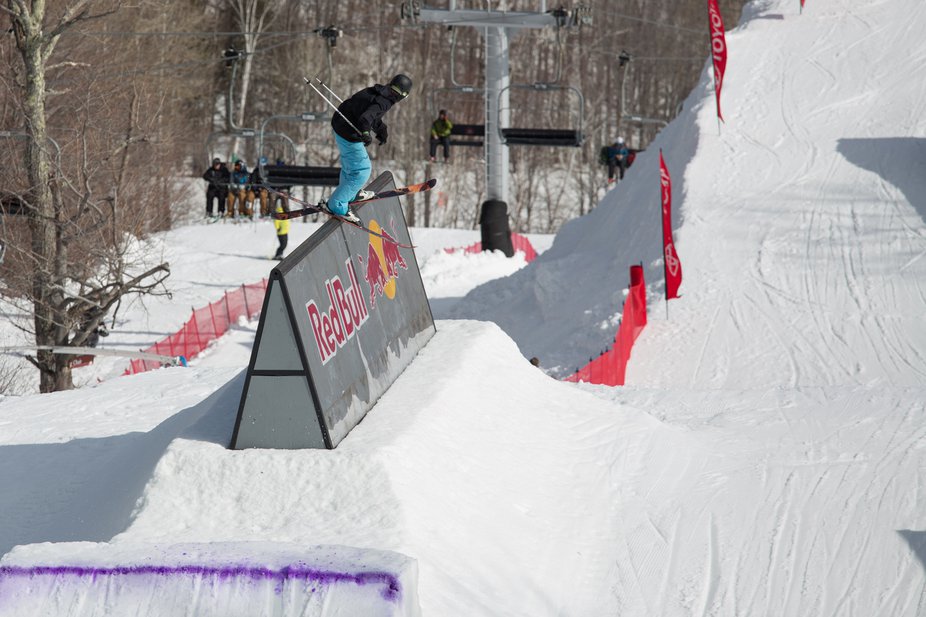 The elevated Red Bull flat rail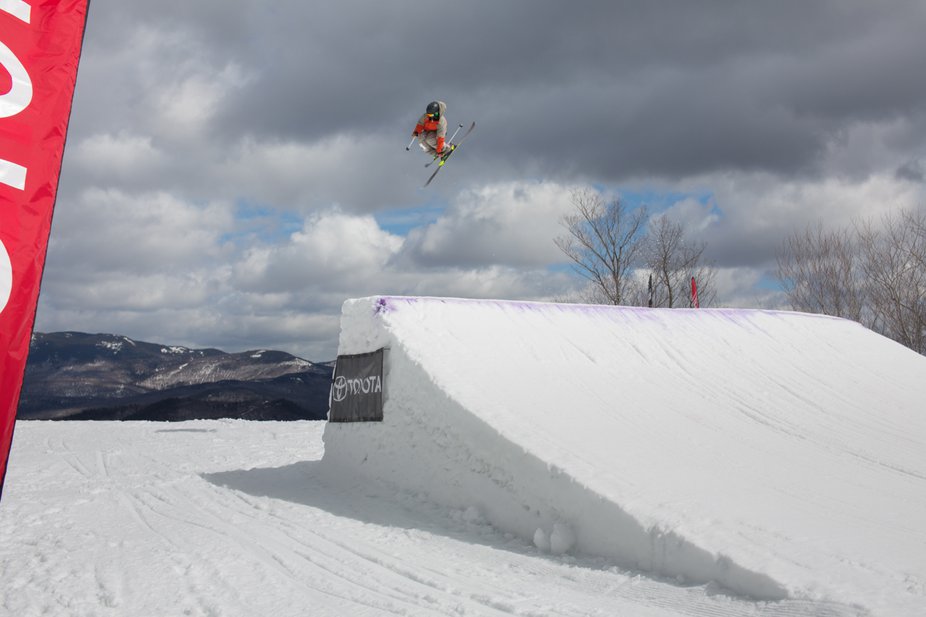 Corbin Lefebvre mute 5 on the first jump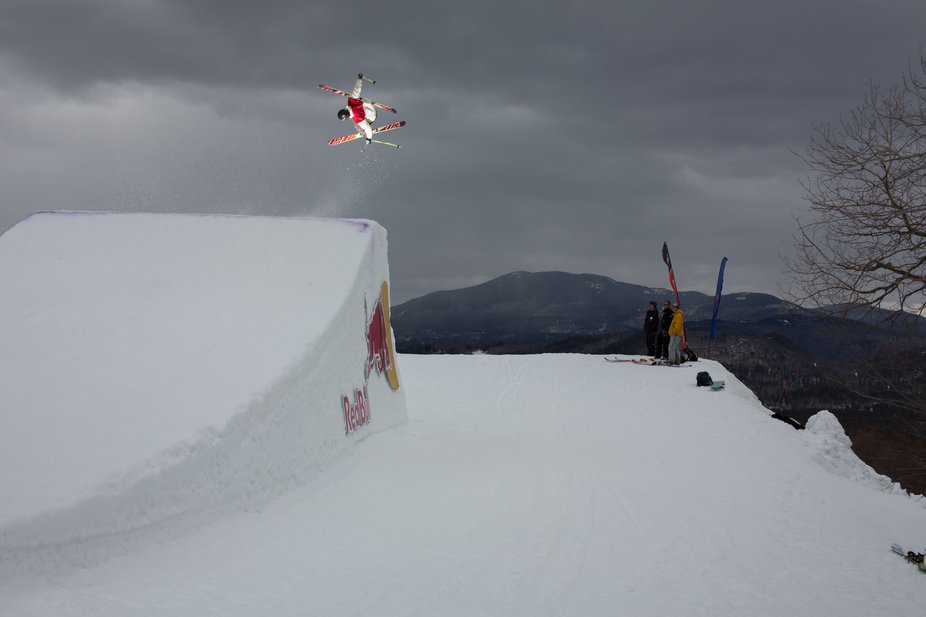 Jon Steltzer with a massive cork 3
There was no doubt the riders enjoyed the course today, as they took advantage of the soft landings to launch the features with large amplitude. Though with sun poking in and out behind dense clouds, flat light certainly came into play and seemed to hold most of the athletes back, forcing them to throw more stylish spins and focus on technique rather than large rotation double corks which carry more difficulty. The most common of these smoother spins were corked out 7's and 9's with tweaked tail grabs, rodeo 5's, and flat 3 critical's. On the rails, riders were more focused on carrying speed into the first jump, which resulted in low risk, well executed kfed's and grabbed 450 out's.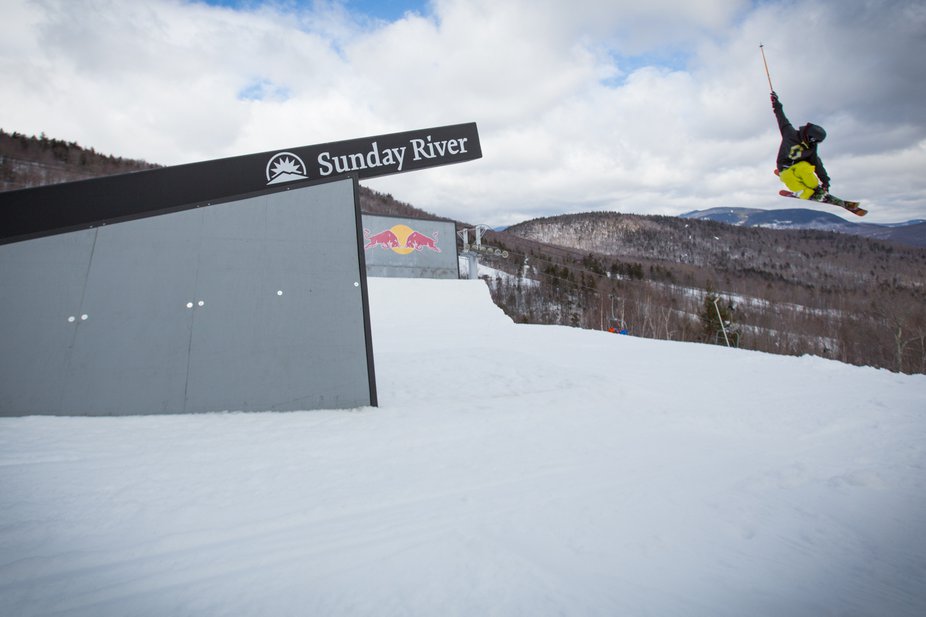 Tweaked safety blind 2 out of the cannon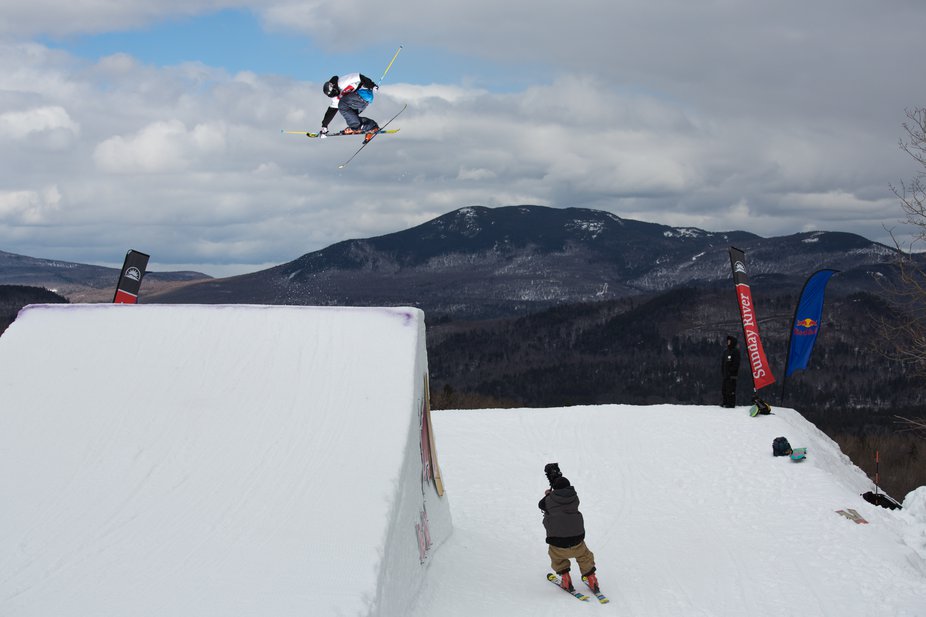 Blake Wilson with a high mute on the big booter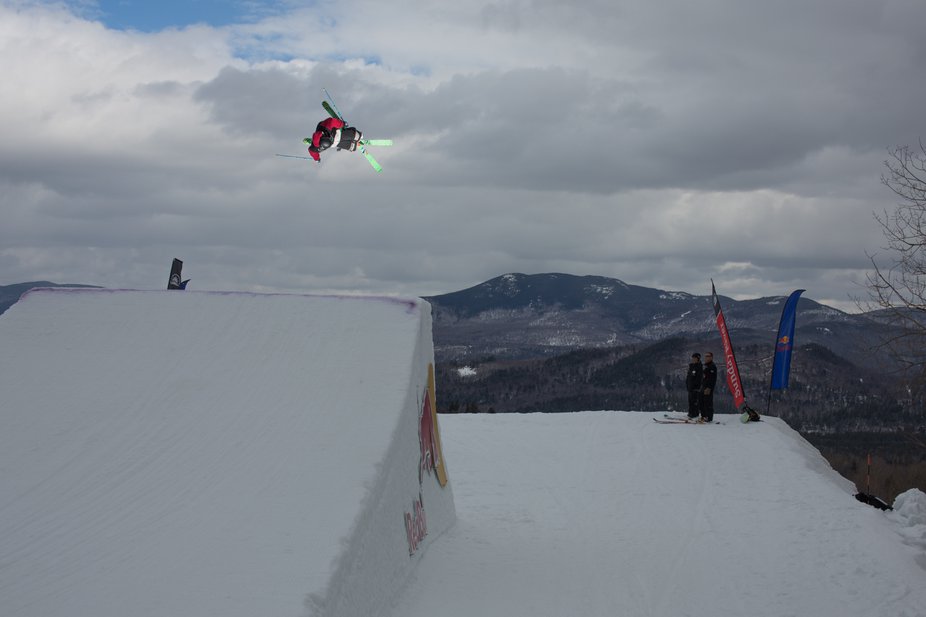 LJ Strenio cork 9 blunt
Talking with the event's head AFP judge Steele Spence after the bib toss out, Spence said those that moved on through today's two jams were the ones that mixed up their direction of spins and axises, held clean grabs, and kept their runs smooth. For tomorrow, he says with such an elite field of riders, those that make the podium will be the ones with the best executed runs from top to bottom, making sure to get their grabs on lock and mix up their rotations.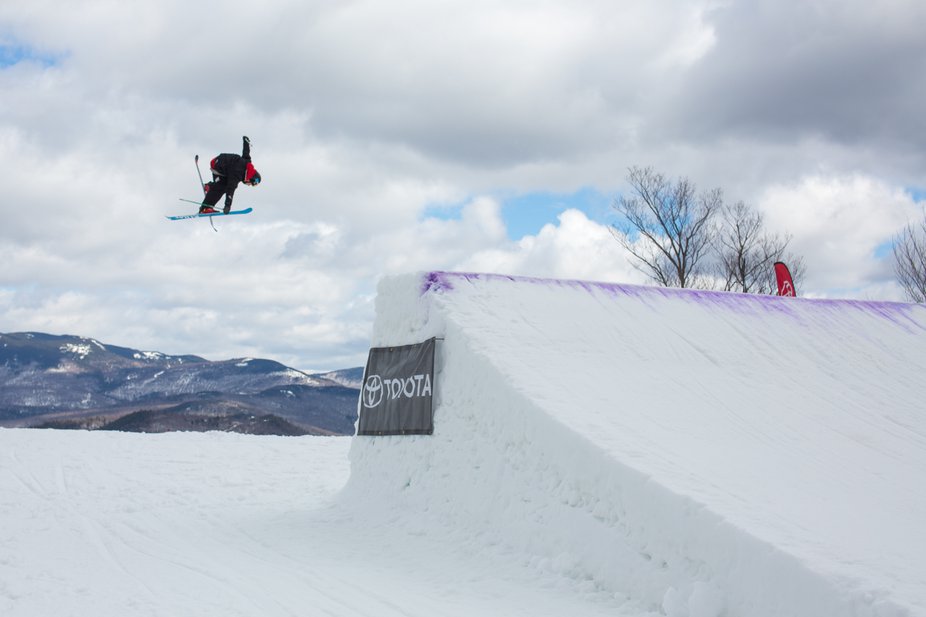 Tyler Duncan, cork 3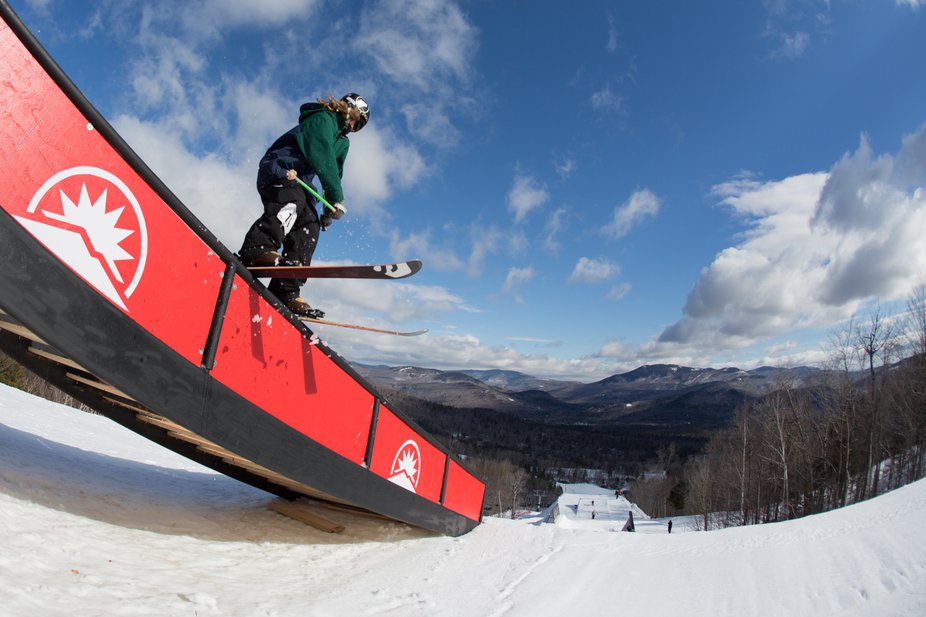 Keaton Carlson on the down rail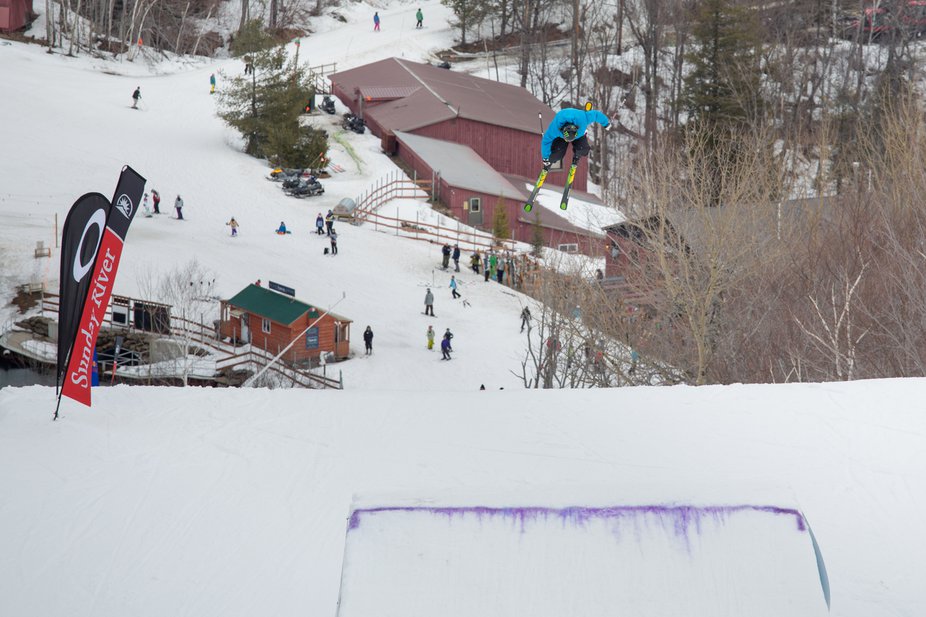 Colby West
Joining the field of amateurs tomorrow afternoon are 20 pre-qualified professionals, which include previous winners Nick Goepper and Gus Kenworthy. Many of the invited athletes were seen throughout the day flowing through the course one after another during down time in the two jams, giving a preview of their double cork 12 mutes, switch misty 9's, and Nick Goepper's switch 2 on misty 4 out of the cannon rail. Mr. Dumont was also seen lapping through the course, followed by a camera belonging to the STEPT crew, who have been working with him to produce a behind the scenes video series titled "Drop In"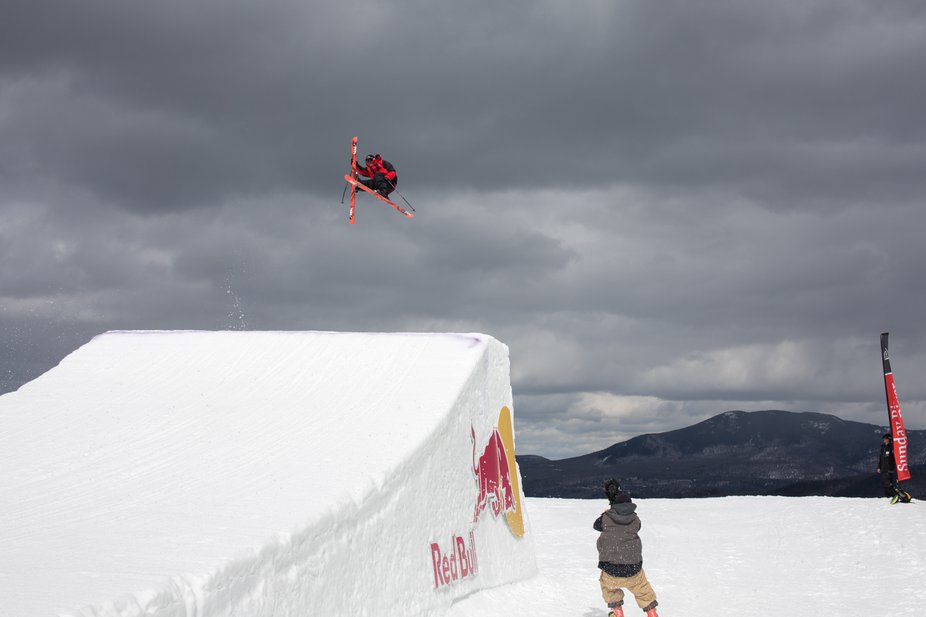 Simon showing how it's done on his own course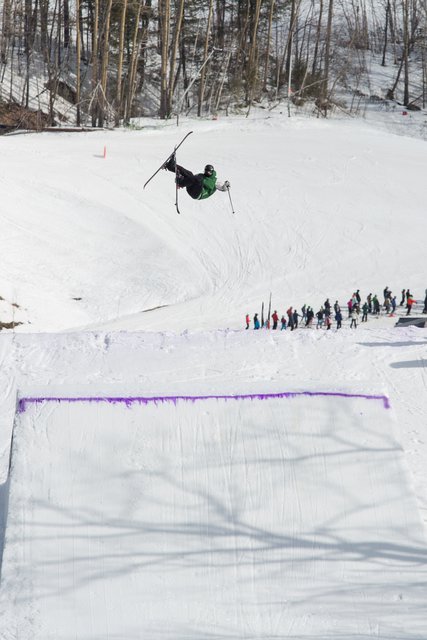 Gus Kenworthy, Rodeo 5 Japan
Nick Goepper gives us a preview of tomorrow: a switch 270 on, misty 450 out
After the dust settled from a hard days work by all the competitors, athletes were invited to a dinner hosted in the Barker Mountain lodge, where Simon handed out the bibs to our 30 semi-finalists.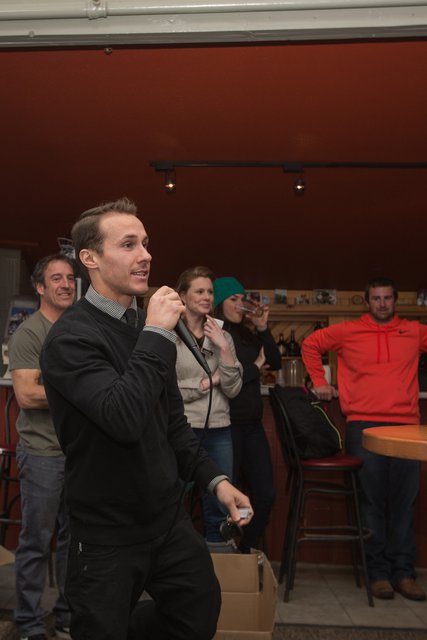 A well dressed Simon Dumont addressing the crowd of athletes before handing out bibs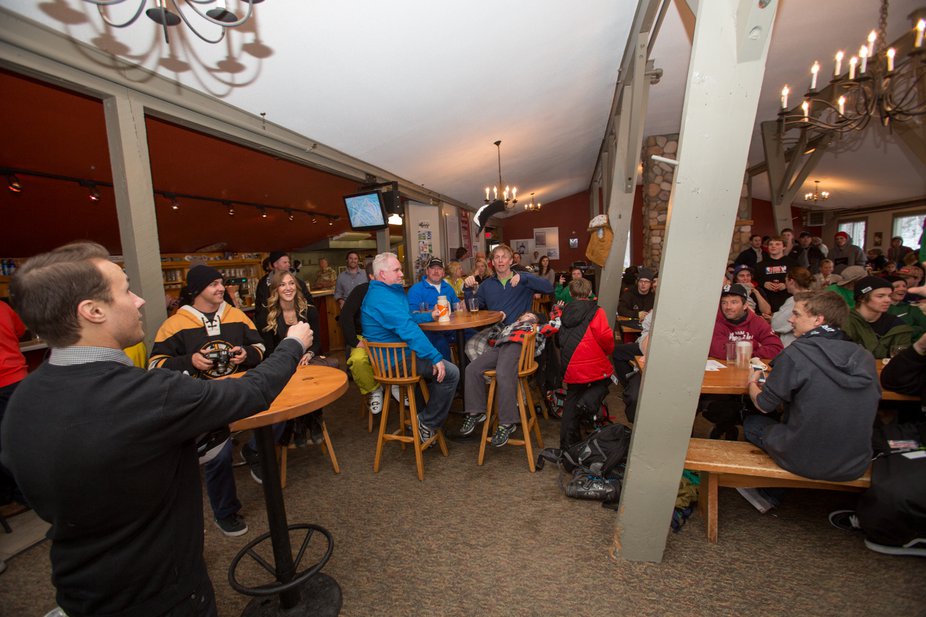 Dumont tossing out some Oakley trucker hats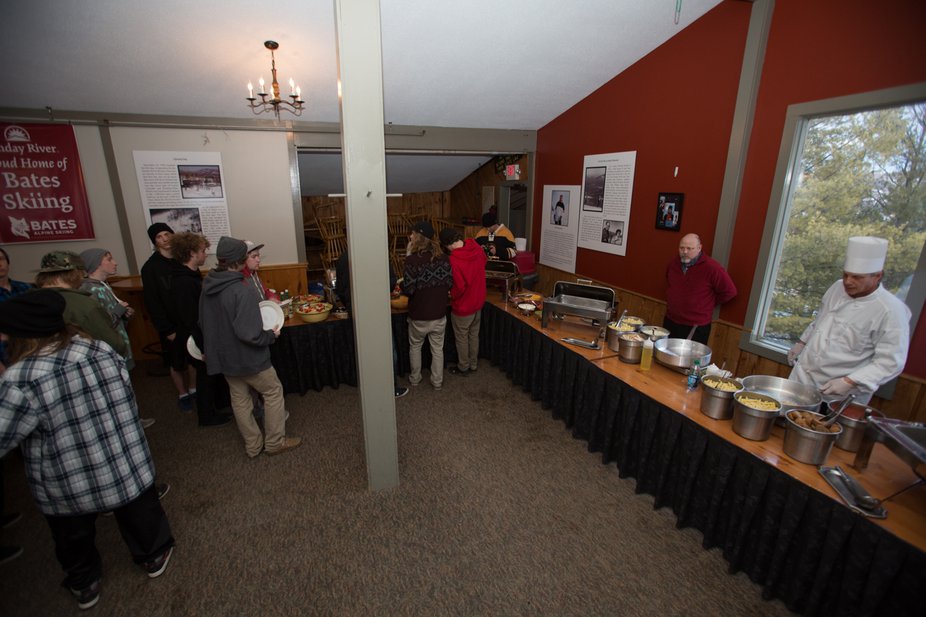 Dinner is served!
Moving on to tomorrow's Semi-Finals:
Lyman Currier
Noah Wallace
LJ Strenio
Colby Ward
Brian Kiss
Colby West
Reid McEachran
Matt Crawford
Keaton Carlson
Blake Wilson
Cody Cirillo
Matthew Wilcox
Evan McEachran
Alex Hackel
Ben Smith
Colby Stevenson
Emile Bergeron
Tyler Mega
Yan Bussieres
Thomas Pool
Tim Ryan
Kristaps Thompson
Dylan Dssette
Simon Gringas
Tyler Duncan
Andy Partridge
Robby Franco
Connor Kelly
Henry Savage
Carson Kerr
Be sure to stay tuned here on Newschoolers for a recap of the finals, and be sure to catch the live stream of tomorrow's events here!