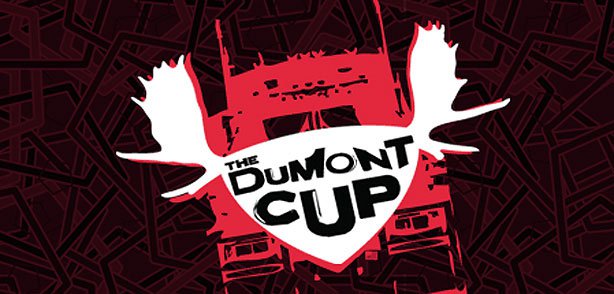 In its fourth year the Dumont Cup has crowned yet another winner and this time it's Gus Kenworthy. He follows on from Tom Wallisch, Alex Schlopy and Nick Goepper to hold the ridiculous trophy. Nick Goepper nearly managed to repeat his finish from last year after a strong fight leaving him in second. Three-time podium placer Joss Christensen took third place.
Kenworthy's winning run consisted of a K-Fed on the down-flat-down rail (frontside switch up to back 270 out), 360 switch up to 270 off the pole jam to wall ride rail feature, rightside 900 lead tail on the first jump, double flip 900 Japan on the second and finishing off with a double cork 1260 mute grab. That was his second run out of three and he managed to cement the win with no stress, he was perfect.
Goepper's second place run was: lip slide 270 on the down rail to front 270 off, switch 270 on to pretzel 270 out of the wall ride rail feature, switch misty 900 blunt (first kicker), switch leftside double flip 900 Japan (second kicker) finishing with a double cork 1260 mute grab like Kenworthy.
Joss Christensen had to be a bit pissed off with chalking up another podium finish but no win as of yet. His run consisted of a switch on to front 450 off the down rail, pole jam to wall ride wail backside 450 off, switch 900 mute grab (first kicker), double cork 1260 mute (second kicker) finishing with a switch rightside 1260 leading tail.
Finals results:
1. Gus Kenworthy → 96.0
2. Nick Goepper → 94.0
3. Joss Christensen → 90.7
4. Jossi Wells → 85.0
5. James Woods → 84.3
6. Wilie Borm → 83.7
7. Charles Gagnier → 82.3
8. Ryan Wyble → 81.3
9. Alex Beaulieu → 77.7
10. Andy Partridge → 77.0
11. Dale Talkington → 71.0
12. Sam Lagrange → 70.7
13. Kolby Ward → 67.3
Related posts:Winter Dew Tour 2012: Goepper wins Slopestyle – Wallisch takes the Dew Cup! Nick managed to fend off Wallisch but his second place...
Toyota One Hit Wonder 2011: Gus Kenworthy wins! A flawless double cork 1440 tail grab was the perfect...
Winter Dew Tour 2012: Killington – Gus Kenworthy course check Gus has his buddy follow him so he can show...