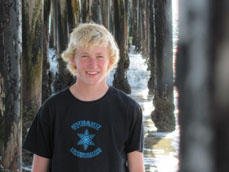 Faction team rider, and leader of the Junior Freeskiing World Tour, sent us this recent update:
Jackson Hole and Grand Targhee
Last week I went to the Grand Targhee Junior Freeskiing Open. However, before going to the event I skied in Jackson Hole.
After a long drive we arrived in Jackson Hole at about 3:00 on Tuesday, March 15th. We took a lap on Teton Pass. During the hike the storm we had been hoping for moved in. While the snow on the pass was old, the arrival of the storm promised a great next few days.
The next two days we skied at the resort. Both days we had amazing snow. Four Pines, in the Jackson backcountry, was skiing incredibly well. I was hoping to ski some classic Jackson Hole lines while there; however, the storm created dangerous avalanche conditions and very low visibility. We stuck to storm riding the powder in the trees. I don't have any pictures, but I did get some sweet GoPro shots. Be sure to look out for these shots in the future.
After skiing in Jackson, we headed over the pass to ski and compete at Grand Targhee. I didn't have a great competition, but I had fun nonetheless. I was in fifth place leading into the final day. I skied a great line and did a backflip off of a windlip at the bottom. Unfortunately, I backslapped on my backflip. It was a tough break, but that is the nature of competition skiing. I still managed a tenth place finish.
Here is a picture of me airing it out during Finals: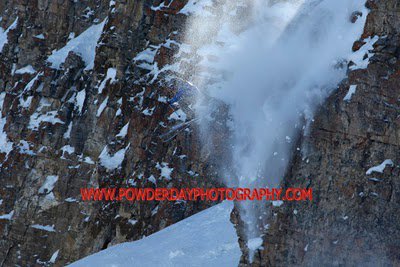 More importantly though, my finish in Targhee kept me in the lead for the overall standings.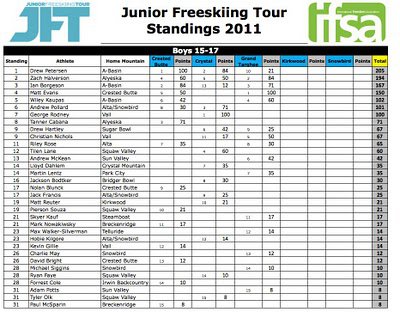 Thank you for reading! I am currently in Kirkwood, California for the fourth stop of the Junior Freeskiing Tour. I have never seen this much snow before. I will be posting another update soon.
GOOD LUCK in Kirkwood Drew, we know you will kill it.