As Dreamtime Preorder fast approaches, DPS will offer $70 USD shipping on all skis purchased during Preorder going to Europe. All orders of three skis or more, will continue to receive free shipping worldwide. The exclusive $70 shipping offer to Europe is discounted from the normal European shipping fee of $160. This discount will be in addition to the special Preorder pricing on both the Pure and Hybrid construction lines. All skis purchased in Preorder will ship within 25 business days of ordering.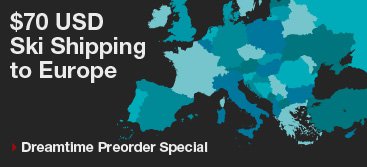 Dreamtime Preorder starts July 19th and ends August 1st.
For more information, follow this link.