?WE HAD TO DO IT?, DRAGON SAYS THEY HAVE NO CHOICE BUT TO RUN A 2nd EDITION OF THE GAME
SUCCESS OF LAST YEARS GAME WAS SO OVERWHELMING COMPANY DIRECTORS FELT COMPELLED TO HOST THE COMPETITION AGAIN
Six winners from around the world compete to shred with snowboarding legend GIGI Ruf and free-skier TJ Schiller
The people at DRAGON have done it again?.
Last year the brand rewarded five winners from around the world the chance of a life time to spend seven days with legendary surfer Rob Machado.
In 2010, the six winners of DRAGON?S 2nd edition of the worldwide DMT Web Game will receive an exclusive, all expense paid trip to a Premiere North America snow
destination to hang out with GIGI RUF and TJ SCHILLER.
The final destination will remain a mystery and will be based on optimal snow conditions.
From February 1st to April 4th, Dragon will invite unlimited users worldwide to log in and play a virtual free-skiing online game with TJ SCHILLER and a snowboarding backcountry trip with Gigi Ruf.
http://www.dragonalliance.com/dmtwebgame
For media enquires, imagery or interviews contact:
JC CLENET – INTERNATIONAL DIRECTOR
jcclenet@dragonalliance.com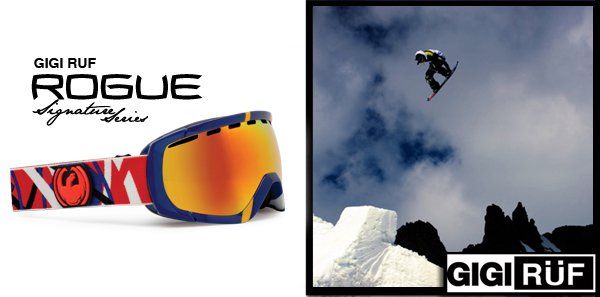 GIGI RUF
Christian ?Gigi? Ruf hails from the Alps in Austria. Having grown up in an area where snowboard parks were just starting to become the rage in the states, Gigi had to be creative with his surroundings to enjoy his snowboarding. This forced Gigi to look beyond the usual groomed run at his local hill.
Gigi began looking into the backcountry near his home and on the mountain. From pillow lines, powder kickers, to even having a full jib event held behind his house he found a way.
Fast-forward to today and you have one of the most well rounded snowboarders in the world. He has managed to put down video part after video part, even having a couple years when he has filmed multiple parts in one year.
GIGI RUF ROGUE SIGNATURE SERIES – Release Fall 2010
Features:
Replaceable Strap
Dual Layer Face Foam
Micro Fleece Lining
100% UV Protection
Super Anti-Fog Lens*
Available in Polarized
Polyurethane Frame
Helmet Compatible
Medium Fit Size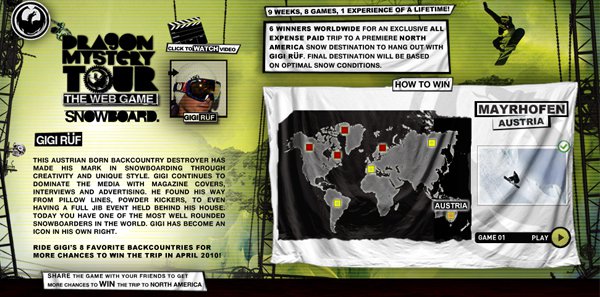 TJ SCHILLER
This Vernon, British Columbia ski sensation made his mark on free skiing a few years ago while traveling the world with Poor Boyz Productions. TJ has really come into his own over the last two years; He made a sponsor change from Armada to Coreupt skis and has a new found focus on his skiing.
He not only took home the X-Games Gold in Slopestyle last year but also filmed segments with Poor Boyz and Matchstick Productions. This Season is looking like it could be a good one for TJ as he has some new tricks locked in and spent all summer in the gym and at the trampoline mats.Looking down the line it only made sense to give TJ the first FreeSki Signature model. TJ chose the Rogue frame, as it was his favorite model and looked towards his love for the 90?s TV show; The Fresh Prince of Belair.
He has big plans this year to ?Handle business? in all the comps entered and be back filming multiple parts.
TJ SCHILLER ROGUE SIGNATURE SERIES – Release Fall 2010
Presenting the TJ Schiller signature goggle. His signature Rogue goggle borrows from the early days of Hip-Hop and street art. The goggle is primarily influenced by TJ?s love for Fresh Prince of Bel-Air – look for TJ to be bringing back the high top fade.
Features:
Optically Correct Lens
Adjustable Hinges
Triple Layer Face Foam
Micro Fleece Lining
100% UV Protection
Super Anti-Fog Lens*
Available in Polarized
Polyurethane Frame
Helmet Compatible
Medium Fit Size