Find below my verbose barely coherent ramblings. If you dig it -cool. If you think it's sh*t, that's because it might just be. -JVD
Ever since the IOC gave Beijing the nod over Kazakhstan on the 31st of July, the decision to hold the 2022 Winter Olympics in China has been shrouded in controversy.
And this week's fuel for the fires of controversy was provided by biologist Wang Xi from the Chinese Academy of Science who revealed that much of the Xiaohaituo Alpine Skiing Field in the larger proposed Yanqing Olympic complex falls within the Songshan National Nature Reserve. Wang Xi then went further and posted overlays from the IOC's evaluation report with those from the nature reserve's website on his blog. His overlays revealed that both the start and finish of the runs are encompassed by the Songshan National Nature Reserve.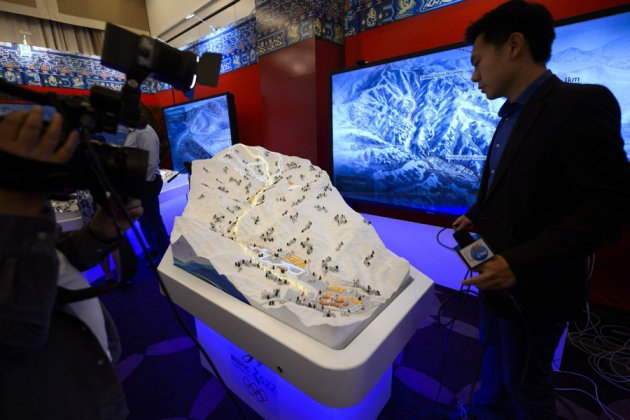 This should hardly come as a surprise though. ...No, not because it's China. Because it's Skiing.
In recent years, the ski industry seems to have become increasingly embroiled in environmental conflicts.
Even just this week it was announced a new 1.2km indoor ski slope is to be built in Dubai at a huge cost to the environment no doubt. Regrettably though, this is only one roll out of many environmentally questionable announcements fielded by the industry this summer.
And if you think it's just the Chinese playing fast and loose with their wilderness, think again. Ten years ago, the local government in the Tyrol region of Austria pulled a similar trick, lifting local environmental planning regulations to allow skiing at 11,500ft on the Gepatsch glacier. The Tyrol episode one in a catalogue of incidents where government has bent at the whim of resort developers.
Our very lifestyle is to the detriment of the mountains we surround ourselves with. Our resort towns (if we must call those surreal satellite settlements 'towns') are pushing ever higher up the mountains and down the valleys. Clear cuts for new lift systems strike upwards through untouched alpine landscapes, complete anathema to the freedom of the wilderness that skiers once sought.
Our love of the mountains should be one of the golden threads which binds our community together. But when we attempt to marry our environmental obligations with our passion, -often an unsettling exercise-, it is imperative that we do not exempt ourselves of responsibility. If anything, we shoulder a much larger albatross than the holiday skier types. Our purchases, habits and idols mean we have thrown not just a few sticks onto the fire but rather doused this environmental furnace in gasoline.
We can all take steps to counterpose our actions, but we alone must decide how large the strides of our own steps are. Whether it's offsetting the carbon from your 'epic' cross-country road trip in search of pow or taking the dive and forgoing mechanised access altogether, we will all pay our alimony as we can and more importantly as we choose. It's not my place, your place or anyone else's place to say how someone should manage their environmental obligations, and it sure as hell shouldn't clear your conscious even if you do.