We got a late start Wednesday night, since we Cant Stop and we had other things going on that day ha, we made it to the Trail-Head at about 9:00 pm headed off in the dark With our Head Lamps on. after a couple miles of hiking we set up camp at about 6,500 ft. Was A nice Night Looked clear and promising we would have a shot at the Summit.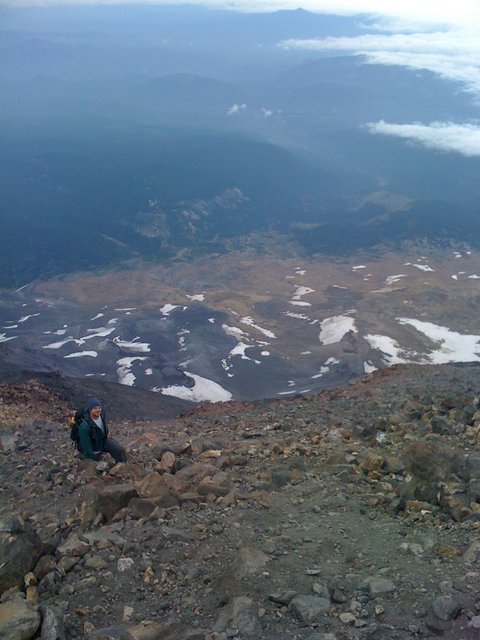 We woke up early, left camp at about 4:30 am, once again hiking in the Dark. Once the sun came out, or it got light enough to see, the view was amazing! When we were about 5,000 ft in Elevation away from the top, it Started to SNOW!!
We were pretty surprised. Since My bro and I had prepared for a nice sunny day, You could say we were both way underdressed and questioned if we would be able to make it all the way to the top, we were cold!  Just after those thoughts the snow stopped and we proceeded to head for the Summit. About 6 hours after we left camp we had made it to the summit, On top there were beautiful views of all the Surrounding Peaks, St. Helens, Hood, Raineer, A super cool view off the east side of Adams of a super trecherous Glacier field and huge rock walls surrounding the canyon.
After exploring the Summit we headed back down the Mountain another 4 hours of hiking.
After many steps up, and many back down, Lots of laughs and good memories made we were both super stoked we made it to the top now were thinking about what mountain to climb next!!
hope everyone is enjoying the Summa, now I'm off to France to work on my movie CANT STOP with ride the planet productions. If you have not seen the teaser check it at http://www.ridetheplanets.com
boooyaah
SammyC