[For those of you who don't speak Swedish, we ran this through an online translator. I think you'll find the results amusing. - Ed.]Välkomna till Free Radicals Releaseparty i Åre!!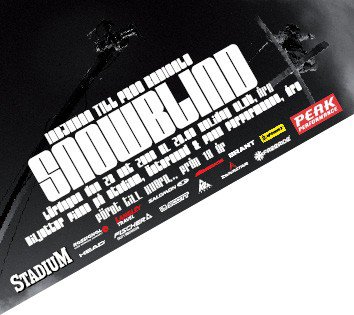 Var: HolidayClub, ÅreNär: Lördagen den 28 oktober klockan 20.30 (från 18 år)Biljetterna till festen efter filmvisningen är begränsade och kan hämtas fr.o.m den 14:e på Stadium, Östersund & Peak Performance, Åre. Vill du vara säker på en plats till höstens party är det först till kvarn som gäller.Busstransport Östersund-Åre T/R Avresa 12.00 från Busstorget nr 10Hemresa 03.00 från Holiday ClubBiljetter köpes på Stadium. Pris 150kr (inkl. biljett till party)Free Radicals Releaseparty är en del av Åre Filmfestival. För mer information om Filmfestivalen och övriga filmer som visas:
http://www.playground.seProgram
Free Radicals Releaseparty (från 18år)Mix Megapol Arena:20.30 InsläppBildspel
av Anders Neuman, teaser från Five o´clock News med Swedish Possé och
vinnarbidraget från Freerides läsar tävling Freeride Video Awards visas.22.00
Norrlandspremiär senaste Free Radicalsfilmen Snowblind från Downfilms.
Med bla Jon Larsson, Niklas Karlström och Stina Jakobsson.23.00-02.00 Party i Sportsbar (Biljett enl.ovan. Begränsat eftersläpp)Filmen visas även Söndag den 29 oktober kl. 15.00 med efterföljande autografsignering.------------------------------------------------------------------------------
(haggard English translation)Welcomes to Free Radicals Releaseparty in Åre!!Is: HolidayClub, ÅreWhen: Saturday October 28 o'clock 20.30 (from 18 years)The tickets to the party after filmvisningen is limited and can be retrieved fr.o.m the 14: e on stage, Östersund & Peak Performance, Åre. Wants to you to be safe on a place to the autumn's party is the first to mill that applies.Bus transport Östersund Åre T/RStart 12.00 from Busstorget noes 10Hem travel 03.00 from Holiday clubTickets are bought on stage. Pinch 150kr (including. ticket to party)Free Radicals Releaseparty is a part of Åre film festival. For more information about the film festival and other films that be shown: http://www.playground.seProgrammes Free Radicals Releaseparty (from 18år)Mix Megapol arena:20.30 InsläppPicture playing off Anders Neuman, teaser from Five o´clock News with Swedish Possé and vinnarbidraget from Freerides läsar competition Freeride video Awards is shown.22.00 Norrlandspremiär lateest Free Radicalsfilmen Snowblind from Downfilms. With blah ion Larsson, Niklas Karlström and Stina Jakobsson.23.00-02.00 party in Sportsbar (ticket enl.ovan. Limited eftersläpp)The film is shown also Sunday October 29 kl. 15.00 with subsequent autograph signature.