I often think that a wise camera company could do very well by bundling a copy of Photoshop Elements with every camera they sell. After all, the software's retail price is barely more than $100!
That way, even the humblest digital photographer could extract the max from their images and realise the true potential ? and magic! ? of digital photography.
Having said this, when you glance through the book you immediately become aware that author Jim Zuckerman is no ordinary photographer, has taught at many universities and schools and is widely travelled, with his images used in dozens of publications. He's also a 'grand master' at the use of Photoshop!
So you begin at the top with the book's examples drawn from the top shelf; many of them are surreal. After all, why walk with turkeys when you can fly with eagles!
Zuckerman confesses to being "passionate about Photoshop" and admits that, while his book "will expand your thinking", this is only the tip of the iceberg.
In the book he presents many of his favourite images that he has created in Photoshop, explaining in step-by-step fashion how he has accomplished each one, encouraging you to follow his path by using your images with his tips. Going against the style of the traditional Photoshop book, showered with drop down menus and icons, he prefers to take the route of suggesting creative and inspiring approaches.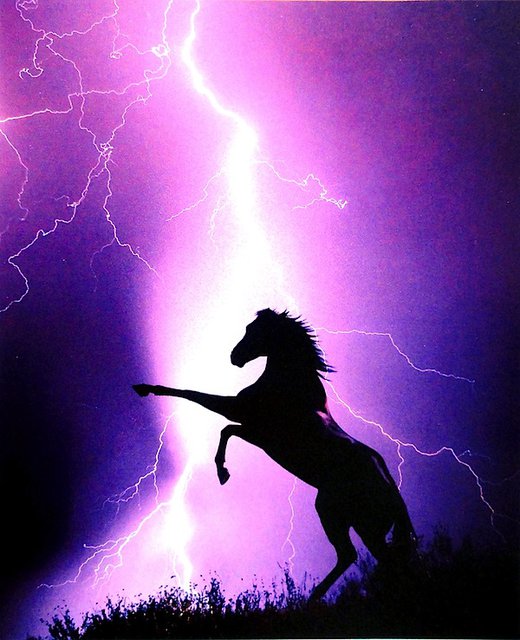 Take the example shown here: this is based on a 25 year old shot managed with the help of a horse trainer who encouraged the animal to rear on command, with the original shots taken against a white, overcast sky.
This shot was combined with one of a strike of lightning; this sandwich was then subjected to Blend mode which successfully overlaid the strike against the white portion of the shot. In Layers he then chose the Darken blend mode to darken the white sky. All of this allowed the horse and its flowing mane to remain unchanged.
While it's doubtful if you will ever get to the stage of hiring a horse and trainer to make your mark as a Photoshop tyro, the book's help will give you the encouragement to take the simplest image and make a grand photographic statement.
Fortunately, you can get going with little more than a bundle of images, a copy of Photoshop and, Zuckerman's suggestion ? a graphics pen tool.
An absolutely inspiring book!
Author: J Zuckerman.
Publisher: Pixiq.
Distributor: Capricorn Link.
Length: 128 pages.
ISBN 978 1 4547 0118 7.
Price: Get a price on Digital Photographer's Guide to Dramatic Photoshop Effects at Amazon where it is currently 32 off the retail price.
Post originally from: Digital Photography Tips.
Check out our more Photography Tips at Photography Tips for Beginners, Portrait Photography Tips and Wedding Photography Tips.
Digital Photographer's Guide to Dramatic Photoshop Effects [Book Review]