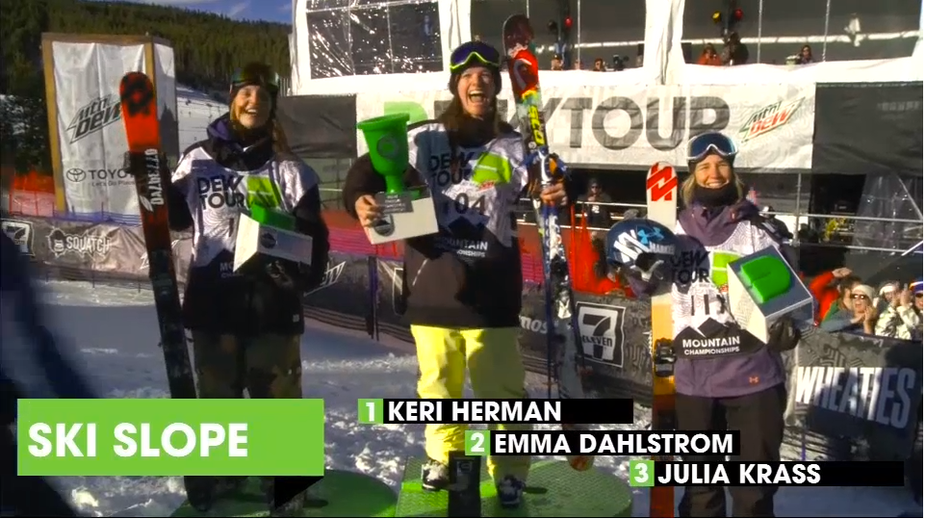 Another bluebird day in Breckenridge, Colorado, as the ladies competed in the Dew Tour Slopestyle Finals. Bishop encouraged us to look out for Maggie Voisin, who will turn 16 tomorrow, and was leader from the qualifiers.
Kim Lamarre dropped in first, but with an early fall she looked to make a come back in her second run. Breck local Keri Herman dropped second, and scored enough to keep her in first place for the remainder of the competition. Following Keri was: Emma Dahlstrom (76.0), Anouk Purnell- Fariel (64.25), Julia Krass (24.75), and Maggie Voisin (18.25). The Leaderboard after the second round was: (1) Keri, (2) Emma, (3) Anouk.
Second round started off with a course hold, as Kim Lamarre stumbled off course after a faulty landing on a 270 on-270 out from the first rail section. She was responsive, however after being checked out, was taken downhill by medical officials. Keri washed out on the first jump, therefore keeping her first score. Emma had another clean run, and enough to bump her up 6 points to an 82, but still remained in second place behind 'Keri The Hermanator'. Anouk had a tough landing on a cork 9 on the last jump, and with a score of 51.50, stuck with her first run. Last run of the competition was Julia Krass, who managed to slide into third place with a score of 79.5. Maggie Voisen, who was in 5th place, opted out of her second run for unknown reasons, which officially gave Keri the win.
Congrats Ladies and Happy International Women's Ski day!