Today marked the final day of superpipe competition for the men and the ladies. As the sun rose and the clouds dissolved, the qualified competitors from yesterday took to the pipe for some early morning practice. The freshly cut pipe and collective stoke had everybody chomping at the bit to show their best runs to the world. Around 10:15, a substantial crowd had gathered at the base of the pipe to watch as the ladies took to the main stage. From a narrow field of six, the best of the best were out to show just how far women's superpipe has progressed over the past few years.
Jess Cumming mid 9With a stacked field of competitors, everybody seemed to walk away making an impression on the crowd. Jess Cumming combined amplitude with tenacious grabs that she's become known for, however, it wasn't enough to top the rest of the field. Rosalind G. came out with the biggest airs of all the ladies, consistently boosting 7-12 feet out, giving her the 3rd place finish. In second came Jen Hudak, whose run consisted of stomped 5's, 7's, and a 9 with grabs held throughout. After all was said and done, it was Sarah Burke whose plethora of tricks (including a huge cork 9) gave her the narrow victory over this stacked group of competitors. All in all there was an impressive showing from the ladies, who all managed to stick a solid run in the finals showing the poise and composure that marks true professionals.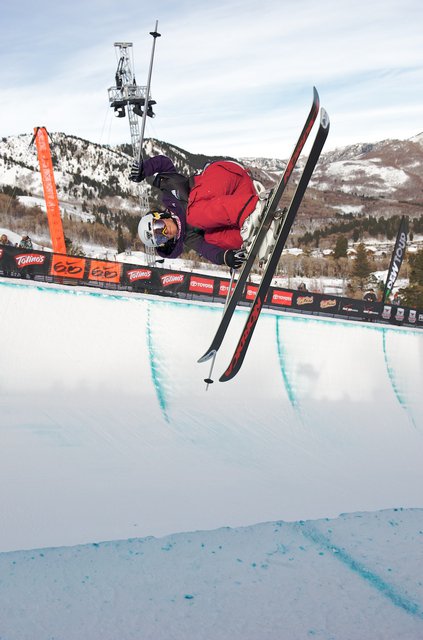 Anais Caradeaux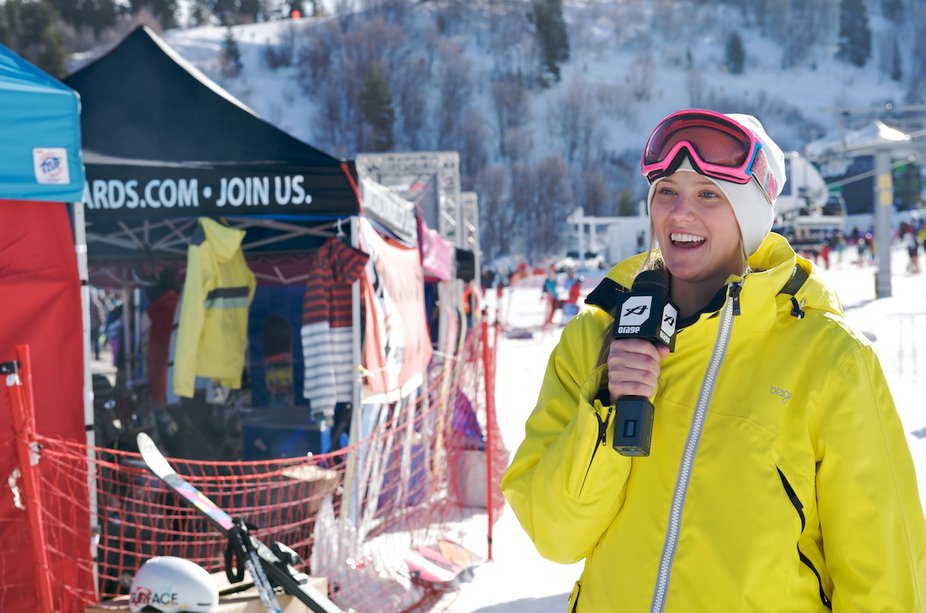 Jess on da micResults:1) Sarah Burke - 91.752) Jen Hudak - 88.753) Rosalind Groenewoud - 83.004) Anais Caradeux - 80.255) Virginie Faivre - 73.506) Jess Cumming - 68.75Immediately following the women's finals, the men took to the superpipe. Unfortunately, after getting banged up during the practice round throwing a huge double, Xavier Bertoni was held back from putting together his best run for the finals. He still linked back to back 9's and added his signature textbook style to walk away with a 5th place finish.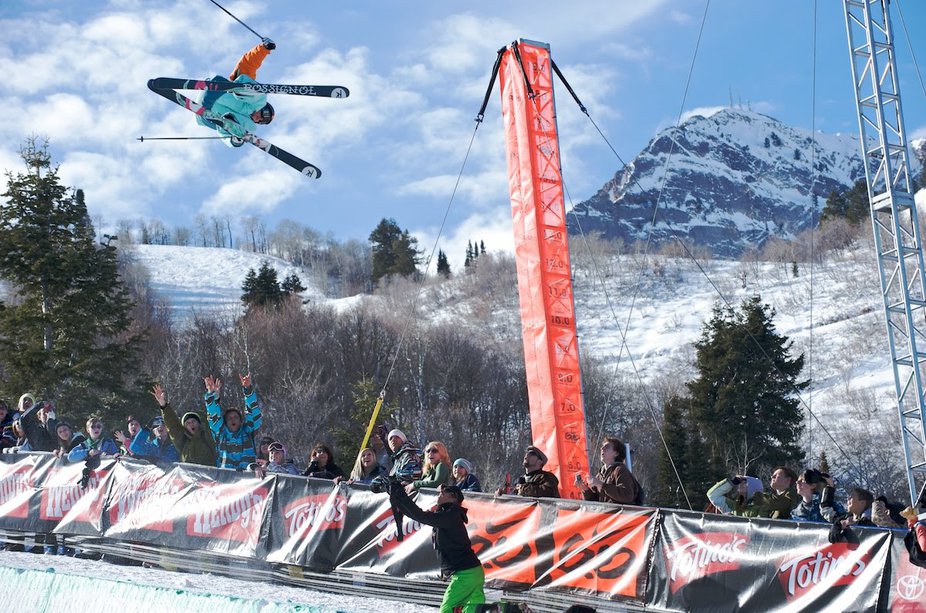 Peter Olenick is officially back on the scene after laying down an impressive run with a stomped alley-oop double and left and right side spins putting him in 3rd place. Edging out Peter was the Dumont, who in typical fashion went huge off of every hit and stomped the daylights out of a huge double. In the end, it was the wonder from down under Jossi Wells who walked away with the first place finish. His consistent airs, diverse bag of tricks, and ability to squeeze in an extra trick gave him the top honor of 1st place.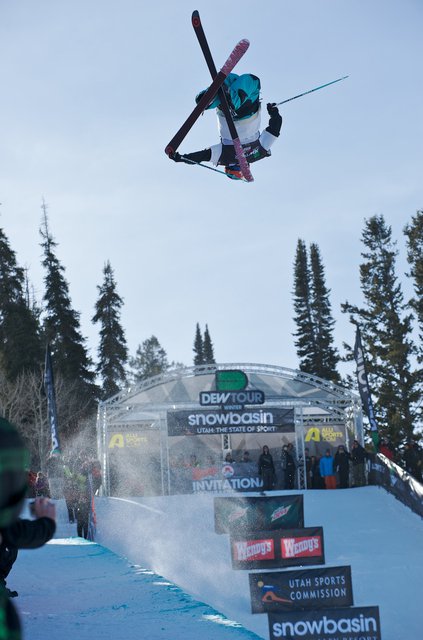 Simon Dew-mont must have pounded some serious Red Bull before Amping this Monster air like a Rockstar. Suuurge!Results:1)Jossi Wells - 92.502) Simon Dumont - 91.383) Peter Olenick - 89.504) Tucker Perkins - 87.255) Xavier Bertoni - 85.056) AJ Kemppainen - 84.007) Colby James West - 81.258) Matt Dunhamel - 84.009) Dan Marion - 74.0010) Mike Riddle - 60.0011) Kevin Rolland - 55.0012) Justin Dorey - 45.75As the afternoon wore on and the clouds rolled back in, the superpipe crowd migrated across the hill, and the slopestyle prelims went off like a bottle rocket shot from the back of an El Camino. The stacked field of athletes put on a clinic for the massive crowd at the base of the Wildcat lift.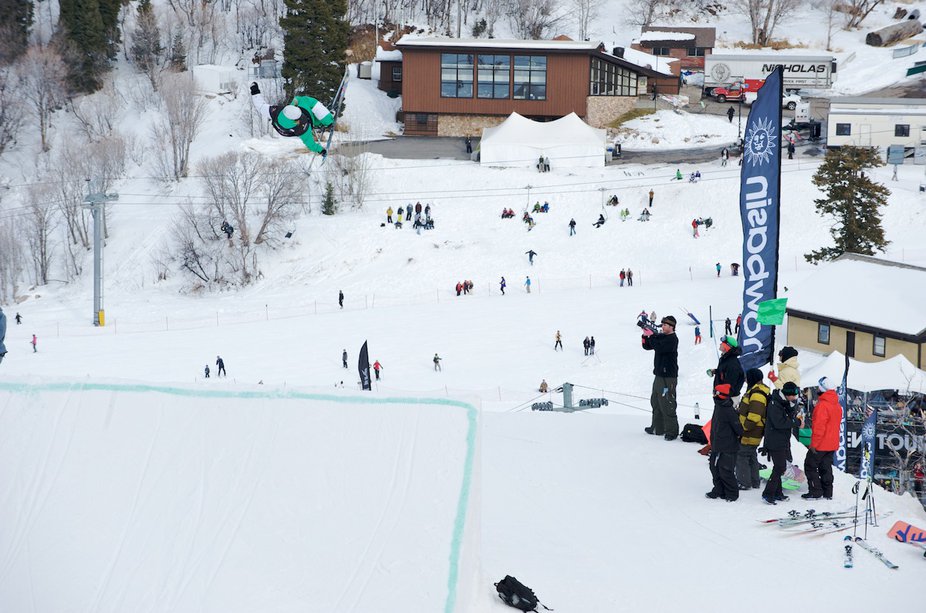 Banks Gilberti has officially taken over the role of bubble boy from fellow Orage teammate Matt Margetts for the second comp in a row. While Banksy rode the bubble through a better part of this afternoon's prelims, he was eventually knocked off by another member of the Orage team, Phil Casabon. Financials managed to redeem himself shortly thereafter during an all-out ping pong melee with Phil at the Orage house.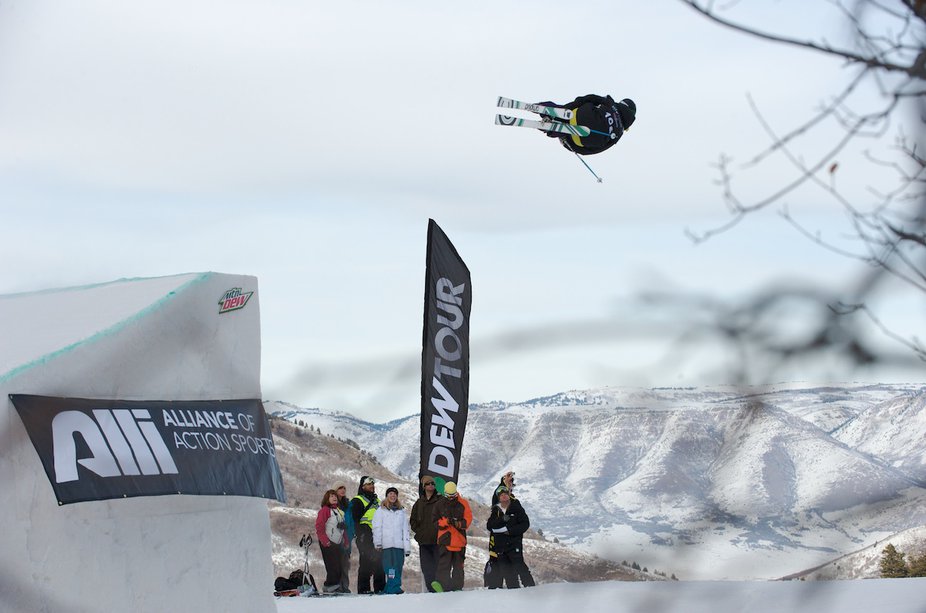 McRae Williams dials in the Japan in this switch double 10.New Orage talent McRae Williams made an impressive showing with solid grabs and a smooth switch double cork 10 over the last booter to land in 5th.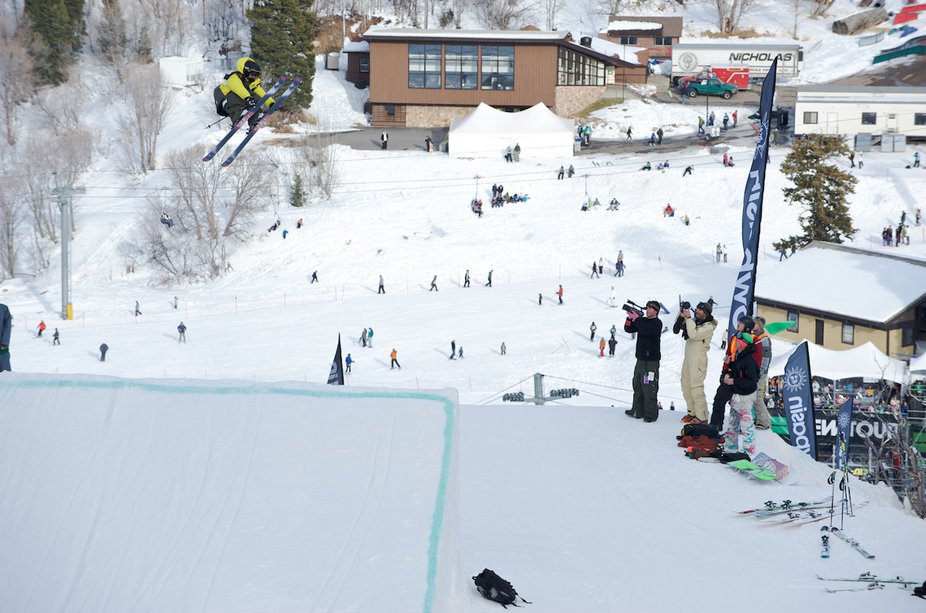 Phil gillin' around as usual...
Byyyyyyah!Just ahead of McRae was our own Philly C who laid down a rock solid run with a ? Phil is poised to unleash copious amounts of style on the course for tomorrow's final.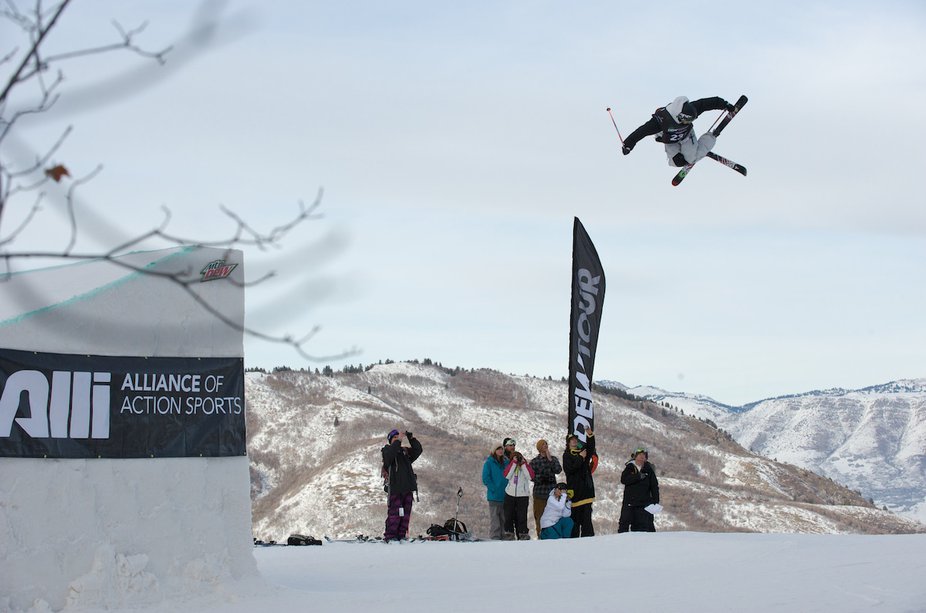 Chug Life prior to throwin' a switch backie off the canon rail at the bottomThe top three were rounded out with TJ Schiller, Alexis Godbout, and Jossi Wells who took first for the second time today.Results:1) Jossi Wells - 89.672) Alexis Godbout - 89.503) TJ Schiller - 87.004) Phil Casabon - 86.675) McRae Williams - 85.676) Ian Cosco - 85.337) Elias Ambuhl - 85.178) Bobby Brown - 84.009) Charles Gagnier - 81.33Stay tuned for complete coverage of tomorrow's slopestyle finals, as well as a recap of the Orage teams' weekend here in beautiful Snowbasin Utah.