Words & photos: Rocky Maloney
 
It was another beautiful bluebird day up in Snowbasin, Utah for men's and women's Superpipe Finals. The pipe was cut to perfection and the crowd was well into the hundreds, cheering loudly and ready to gasp in awe as skiing's best halfpipe wizards did their thing.
 
The top six qualified ladies were up first. In order, Jess Cumming, Anais Caradeux, Virginie Faivre, Sarah Burke, Rosalind Groenewoud and Jen Hudak, all of whom had an awesome showing in yesterday's prelims, were primed and ready to light up the pipe once again during the only women's ski competition on this winter's Dew Tour.
 
Jess Cumming started things off by laying down a solid first run throwing a nice 720 and riding it out, but her second run unfortunately wasn't enough to get her on the podium.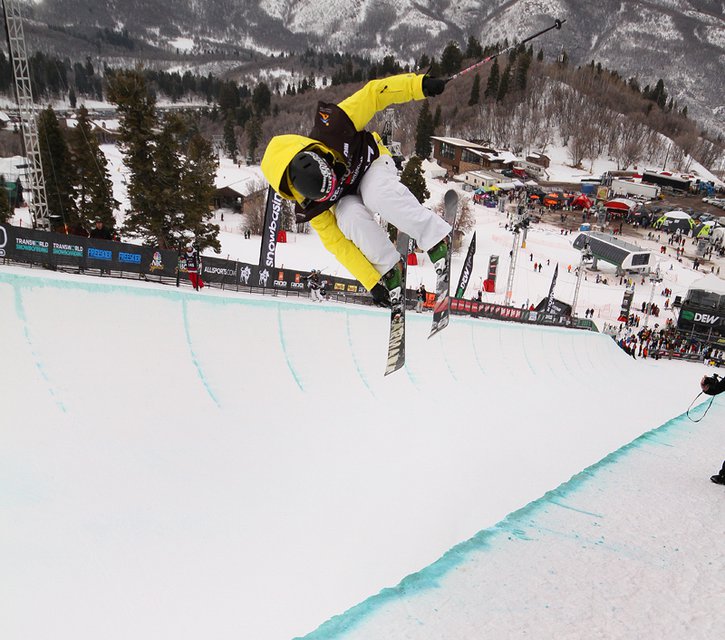 Jess Cumming
Virginie Favire followed by getting super technical with a variety of switch spins, but couldn't put together a solid enough run to squeeze into the top three and finished in 5th with 73.50. Rosalind Groenewoud definitely showed up excited and ready to give it her all after a tweaked knee in yesterday's prelims caused many to wonder if she could even compete.  Roz showed it was no big deal by continuing to send it, taking her first couple hits bigger than some of the men, and ultimately putting together an excpetionally clean run complemented by a nice 540 to guarantee her 3rd place podium spot.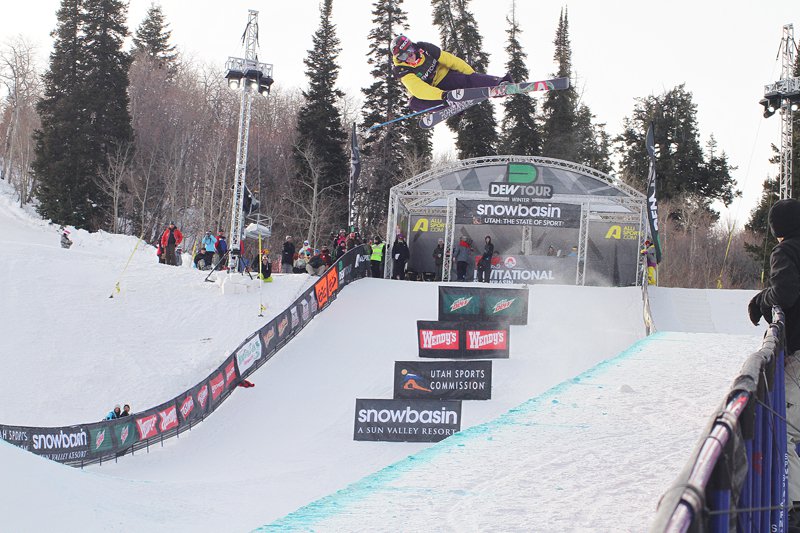 Rosalind Groenewoud boosting her way into 3rd place.
Following her first place finish yesterday Jen Hudak came out on fire during her first run and was amped up to say the least, throwing a cork 540 to cork 720 that helped her land on top of the leaderboard after the first set of runs with a 88.75.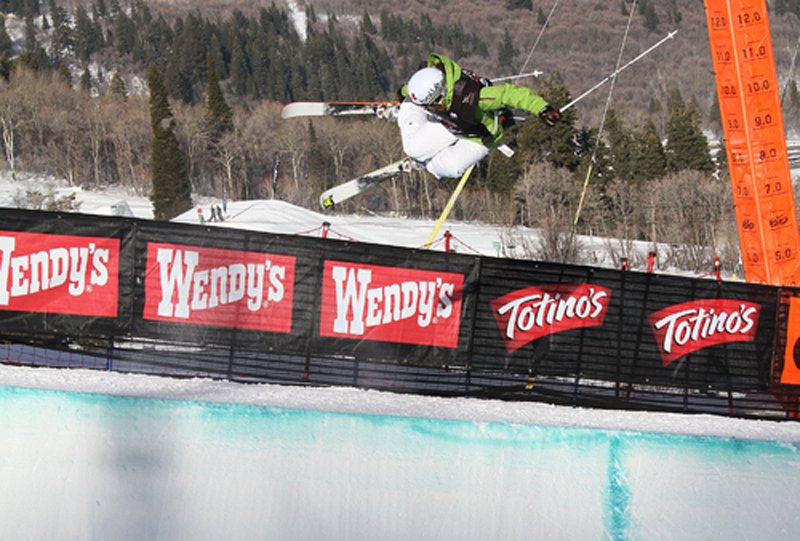 Jen Hudak
Sarah Burke, recently engaged to Rory Bushfield (congrats you two!), came out a little slow on her first run but looked calm and cool for her second by stomping a cork 900, cork 540 and cork 720, giving her the edge over Jen Hudak to take the top spot on the podium after a year away from competition.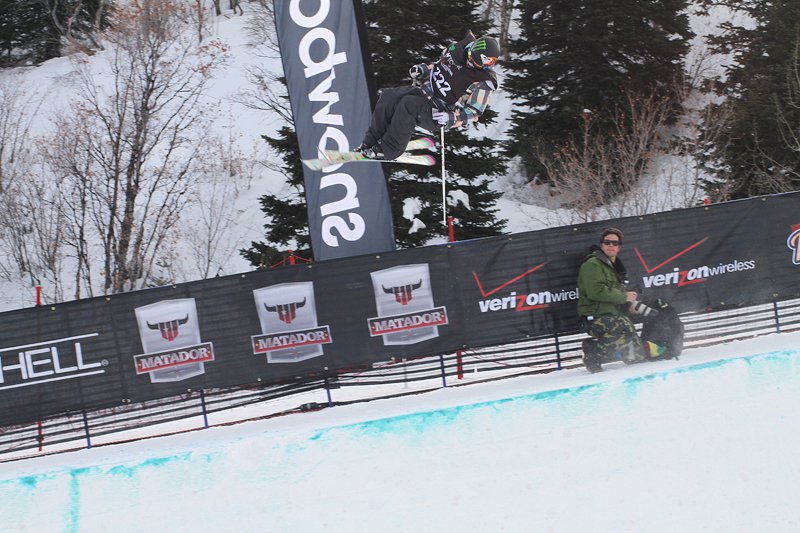 Sarah spinning her 900 for the win.
Results
1) Sarah Burke - 91.75
2) Jen Hudak - 88.75
3) Rosalind Groenewoud - 83.00
4) Anais Caradeux - 80.25
5) Virginie Faivre - 73.50
6) Jessica Cumming - 68.75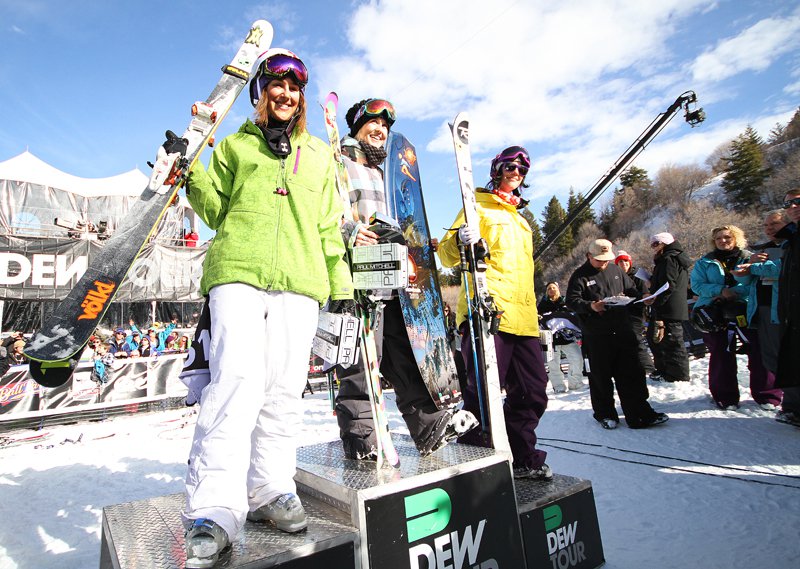 Jen Hudak (2nd), Sarah Burke (1st), Rosalind Groenewoud (3rd)
The ladies did an excellent job of getting the crowd hyped up for the men, who followed shortly thereadter. Xavier Bertoni took a nasty digger on a double in practice and looked a little shook up afterwards, causing him to seem hesitant to throw his first hit double during the competition. The reigning X Games champion still sent it though, with a boosty rodeo and left and right side combo spins, putting together a solid second run after falling on his first to bump him from 11th to an eventual 5th place.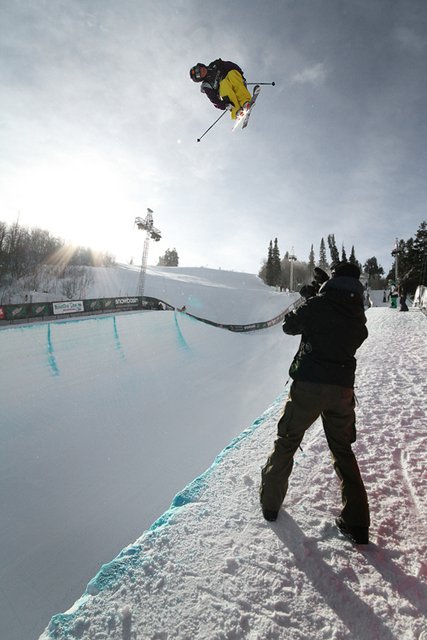 Xavier Bertoni, doubling down in practice.
Top qualifier Justin Dorey and Breckenridge Dew Tour champion Mike Riddle also had some issues today, as neither could put together a complete run and fell both rounds.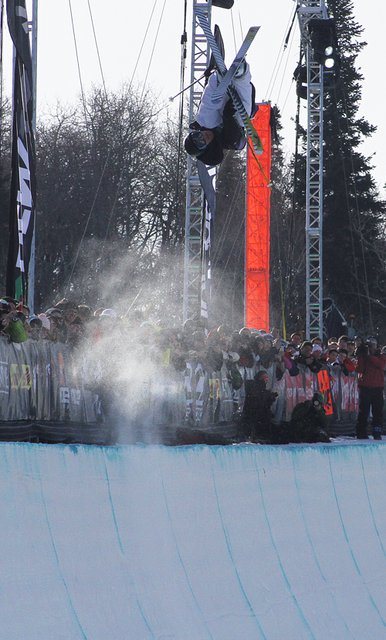 Justin Dorey
Young gun Tucker Perkins took full advantage, and came out swinging, throwing a huge double third hit, along with a stomped 1080 to switch 540. He finished up with a solid 87.25 to claim his fourth place spot, just shy of the podium.
Tucker Perkins
Peter Olenick took his first run of the day without throwing any doubles, and stomped his way to the bottom with a solid first run score of 84.50. During his second run, Peter sent it, throwing his double alley-oop flatspin followed by a quiver of technical left and right side spins with a switch hit at the bottom, claiming his first spot on the podium in quite some time with a fine 3rd place showing.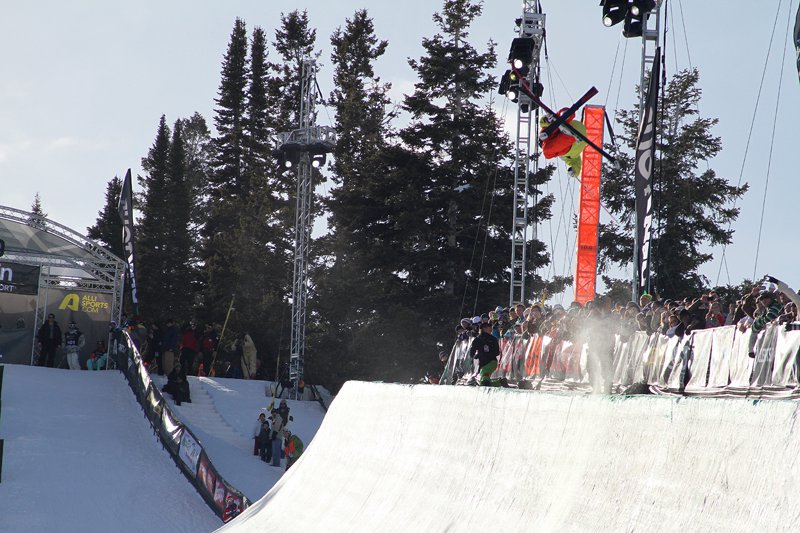 Peter Olenick
Simon Dumont came out firing on all cylinders like always with a colossal first hit 900, to right 900, to a solid double flip, and finished off his run on top of the leaderboard after the first round with a 90.50.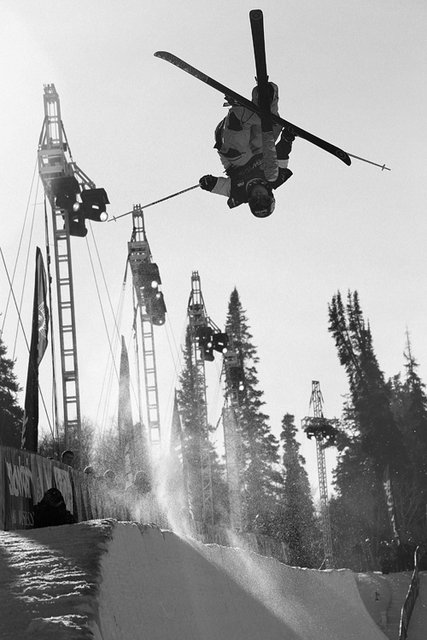 Simon Dumont
Jossi Wells was up next and as always, was all smiles while throwing down one of the most stylish and consistent runs I have ever witnessed. He got one more hit than Simon, putting him just above The Dumont with a 92.50. What's more interesting than a little Dew Tour Superpipe drama? Simon then took his second run, improving just a little at 91.38 but could not edge out the Kiwi.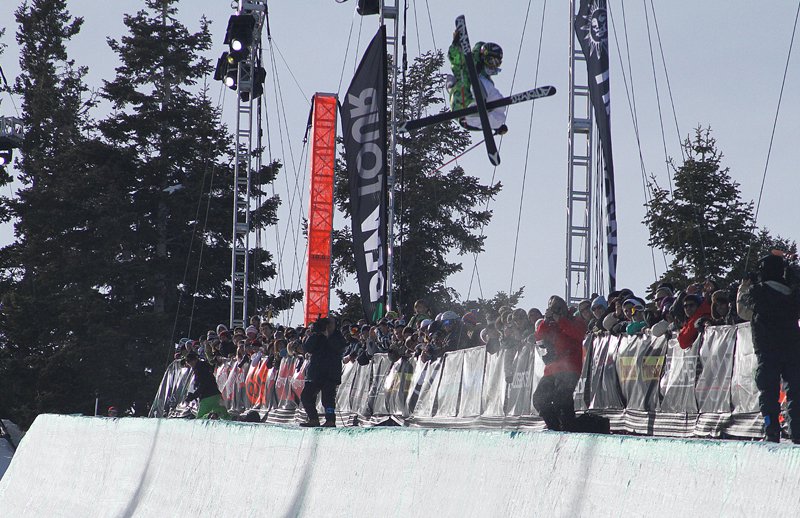 Jossi Wells, en route to the top of the podium.
Results
1) Jossi Wells - 92.50
2) Simon Dumont - 91.38
3) Peter Olenick - 89.50
4) Tucker Perkins - 87.25
5) Xavier Bertoni - 85.05
6) AJ Kemppainen - 84.00
7) Colby James West - 81.25
8) Matt Dunhamel - 84.00
9) Dan Marion - 74.00
10) Mike Riddle - 60.00
11) Kevin Rolland - 55.00
12) Justin Dorey - 45.75
Simon Dumont (2nd), Jossi Wells (1st), Peter Olenick (3rd)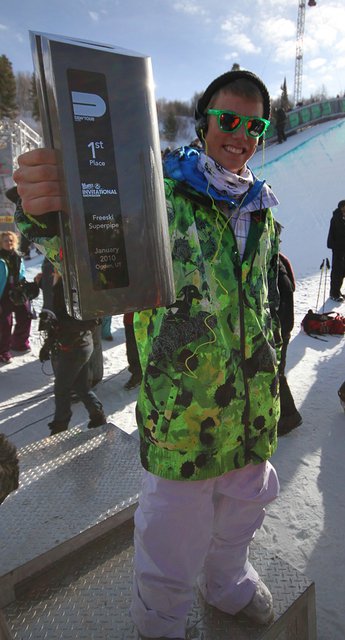 Congrats Jossi!
Stay tuned to NS for more coverage on the second stop of the Winter Dew Tour from Snowbasin, Utah, continuing this afternoon with Slopestyle Prelims, and culminating with tomorrow's Slopestyle Finals.