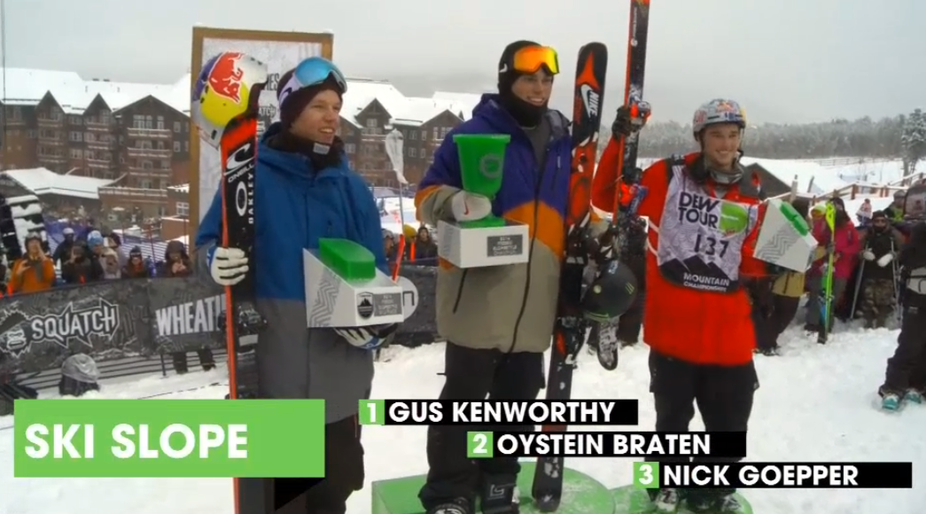 Dew Tour Finals just finished. Things kicked off with Schmuck invading the livestream preshow, stealing Georgia's mic, answering some questions and generally contributing to the entertainment value. Both him and Doug made their predictions, with Schmuck going for Goepper and Doug for Oystein. There were also some Games of SLVSH during the pauses in the live stream which was a nice touch and Henrik promoting Bjorn Borg underwear by wearing boxers on his head was also a highlight
For the first time in the weekend, conditions were less than perfect with snow falling and some wind affecting the course. After some cringeworthy wrestling style intros, first round began with McRae Williams, who kept it safe but still knuckled the second jump as did Andri Ragettli, not a great sign. It sucked to see guys struggling to clear the jumps but the one plus side was getting to ski the top guys throwing simple tricks with style, something newschoolers has a habit of asking for. The first guy to clear the whole line cleanly was Joss Christensen setting the bar with a 73.75. Then it was another 4 runs before anyone cleared the course, at which point Gus K posted a 86.25 to go way clear at the top with a run including a ridiculous switch 2 to top of the wallride pow slash. Suddenly everyone started finding the speed and managing to clear the course but nobody could top Gus who finished round one in the lead, followed by Nick Goepper and Oystein.
Second run, Andri Ragettli managed a clean run to post an 82.0 and go third, then more struggles with speed especially for Henrik and Jesper. It took Gus (again) to break the trend posting up a 88.75, adding a 450 out of his 2-on-wallride. Alex Bellemare had a banger run going but sadly went down on a last hit kang. Nick Goepper stomped his second run but with an 85.50 it wasn't enough to top Gus. Oystein managed to hold it together in the last run of the whole event, moment of truth but it was only enough for second, bumping Goepper to third.