Words: Jeff Schmuck
Photos: John Vandervalk
After five days of intense competition, the first stop of the Winter Dew Tour has officially concluded here in Breckenridge, Colorado.
Following yesterday's impressive shenanigans in the pipe, the main event of women's and men's ski slopestyle finals went down today amidst more cloudy skies and pounding snow. Save for the obvious speed issues, the weather didn't appear to be as drastic of a factor as expected today, as both the men and women did a stellar job proving why they're hailed as some of the best slopestyle skiers in the world, no matter what the conditions.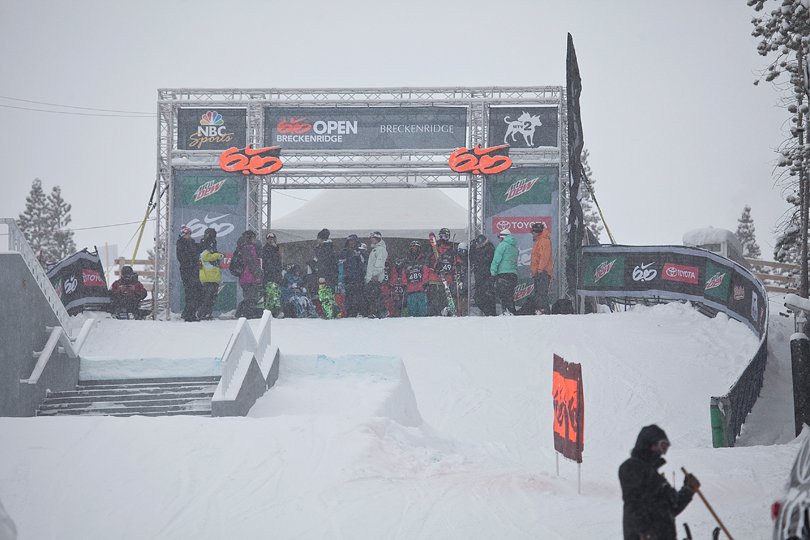 First up were the ladies, where the top six from yesterday's prelims had two runs with the best one counting for their shot at glory and a spot on the podium.
Earning the top spot and Dew Tour viking hat today was the lovely style munchkin herself, Ashley Battersby, who threw down a switch 5, 7 and a huge and smooth 180 off the bottom hit, which was quite the feat considering most of the girls were unable to clear it.
Ashley Battersby
In second was the glowing Keri Herman, who stomped a series of big switch 5's herself along with some uniquely grabbed 3's with a truck load of style.
Keri Herman
Rounding out the podium in third was the impressive newcomer Jess Warll, who nearly had the run of the day with a flatspin 3, to super corked 5, to right 3, to attempted flatspin 5, but unfortunately bobbled a bit on her last hit. Be sure to watch out for this young lady in the future.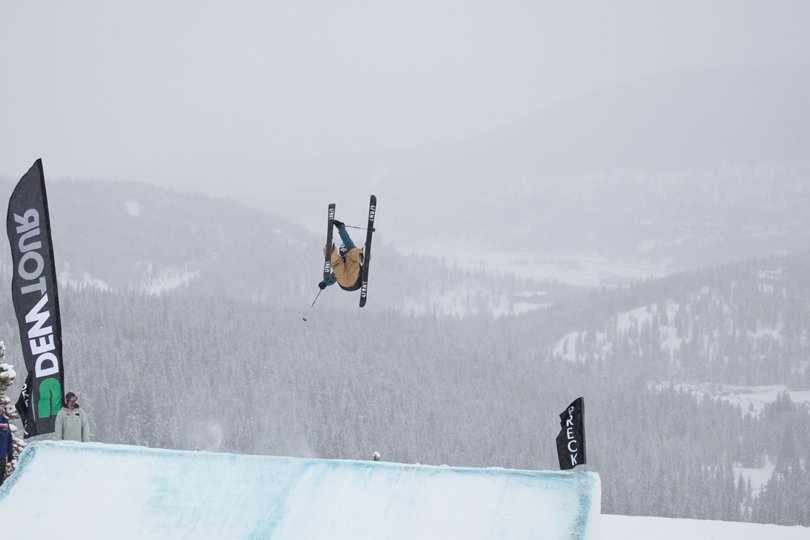 Jess Warll
Taking fourth was another relatively fresh face on the competition scene, Devin Logan, who has been making her mark in both pipe and slopestyle, and put down a great run in what was surely a sign of things to come from the female member of the talented Logan family.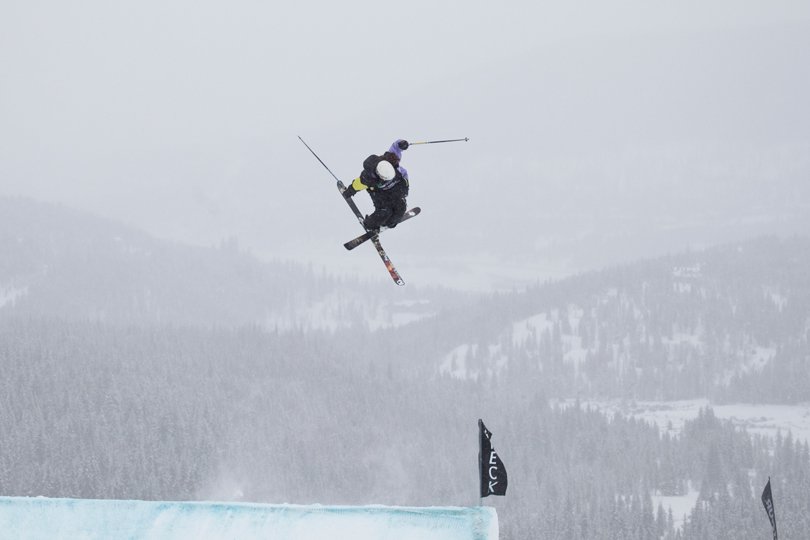 Devin Logan
And grabbing the last two spots were the Euros, Switzerland's Eveline Bhend and Sweden's Emma Dahlström, who unfortunately had a spot of trouble on both of their runs, but big props are in order for Dahlström, who attempted some sweet cork 7's on the first jump.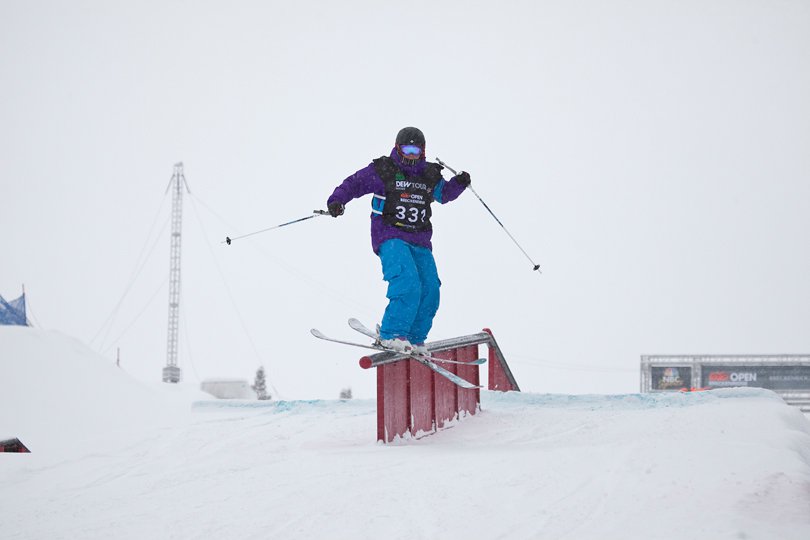 Eveline Bhend
Emma Dahlström
Following the girls it was the men's time to shine, and shine they did despite the dim conditions, as the top nine finishers from prelims squared off against the pre-qualified triple threat of Tom Wallisch, Bobby Brown and Andreas Håtveit.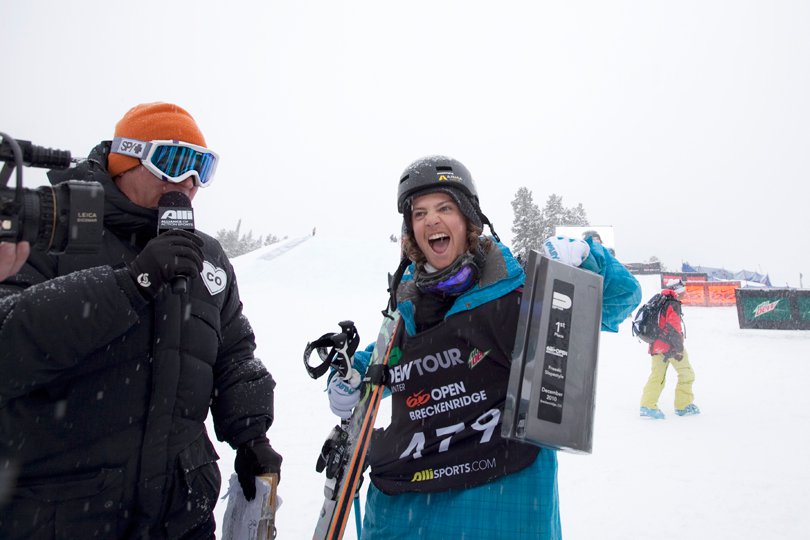 Alexis Godbout
In the end, Alexis Godbout very deservingly picked up the first major win of his career today with an astonishing run that consisted of a cork 9 reverse mute, switch 10 blunt, switch cork 9 mute and right side double flatspin 9 japan, all with some of the most unique grabs and clean style of the day, something the judges were obviously paying close attention to throughout the contest.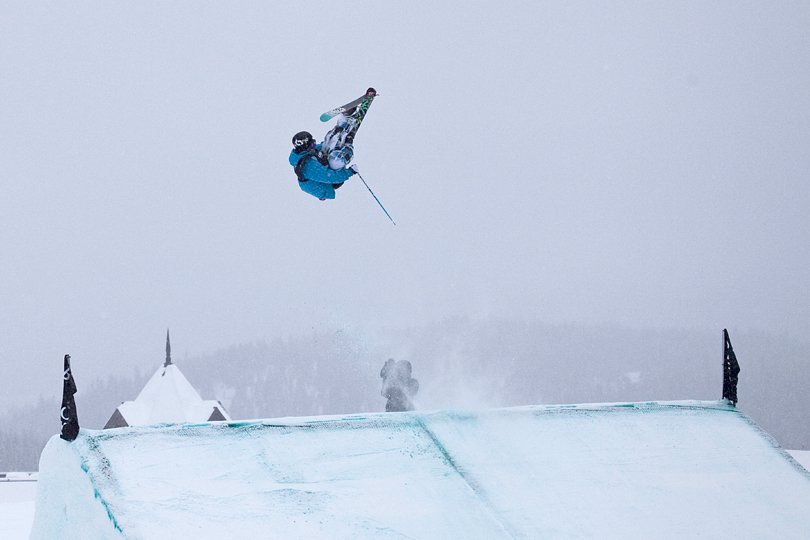 Alexis Godbout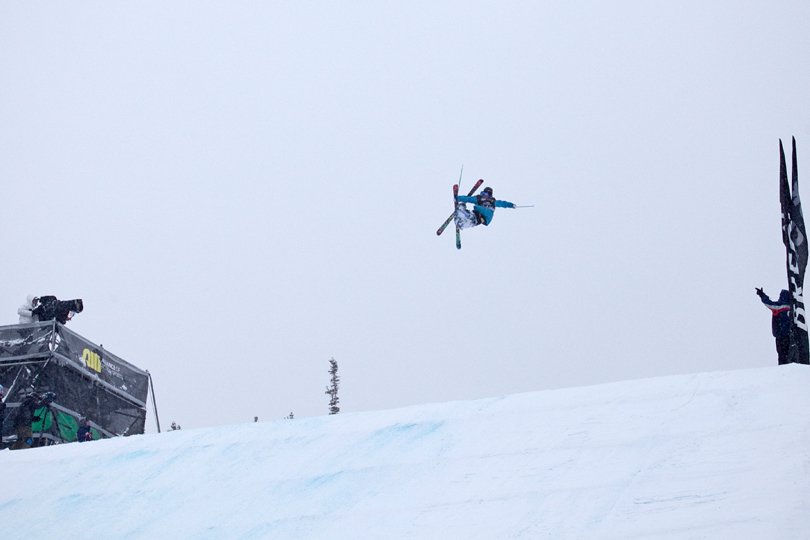 Just behind Godbout was hometown hero Bobby Brown, who absolutely crushed the course with back-to-back left and right side doubles, but may have been docked the necessary two points that would have given him the win for opening up a bit on one of his top jumps.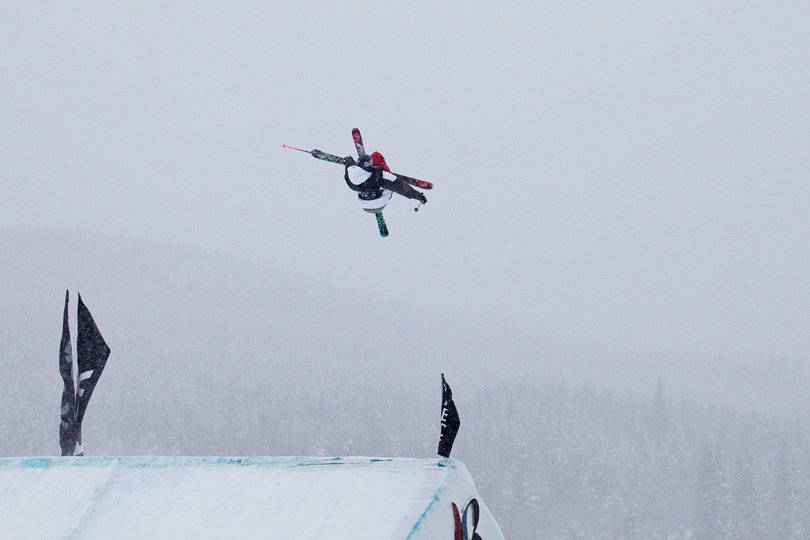 Bobby Brown
In third was the uber consistent Sammy Carlson with his trademark switch 9 poke, a 630 on to the rainbow box, and flawless double cork 10 on the money booter, while Tom Wallisch just missed the podium due to some troubles with speed, but still put down an incredible run that included what announcer Mike Atkinson called "the best double cork in the business."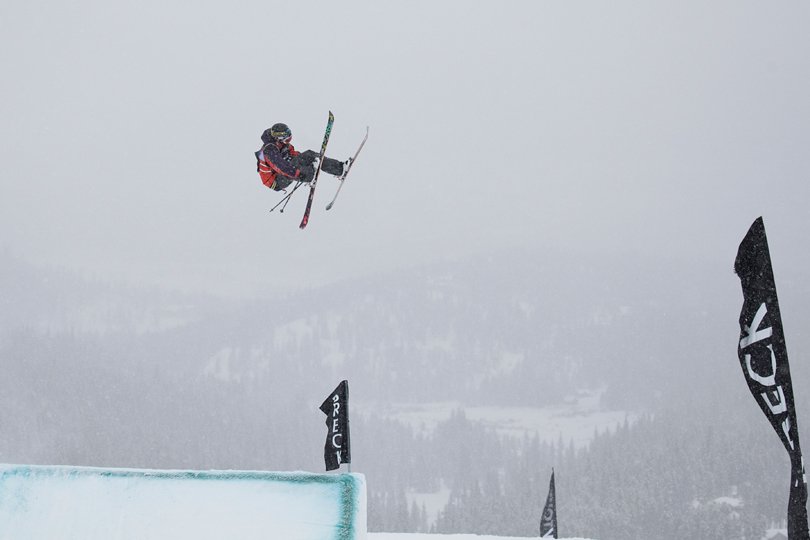 Sammy Carlson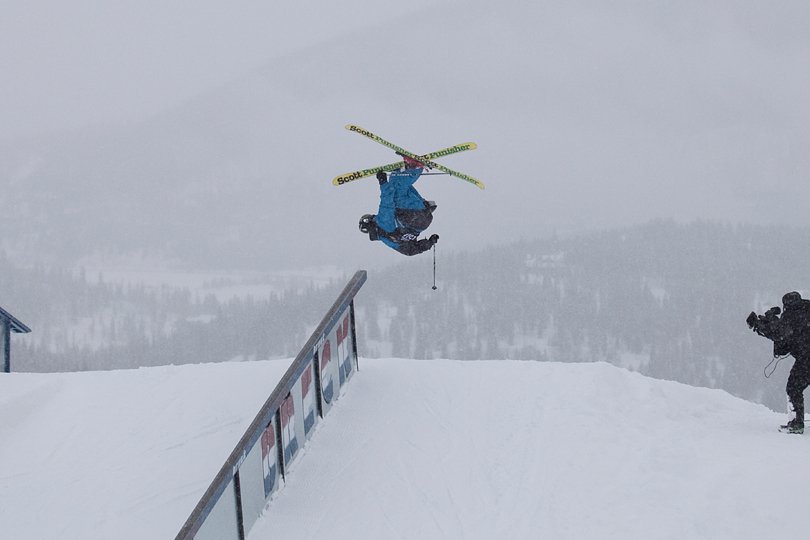 Tom Wallisch
In fifth was Russ Henshaw, who like Brown threw textbook back-to-back left and right side doubles, but for some reason was not scored higher than expected, causing a few eyebrows to be raised by some of his fellow competitors in the finish corral.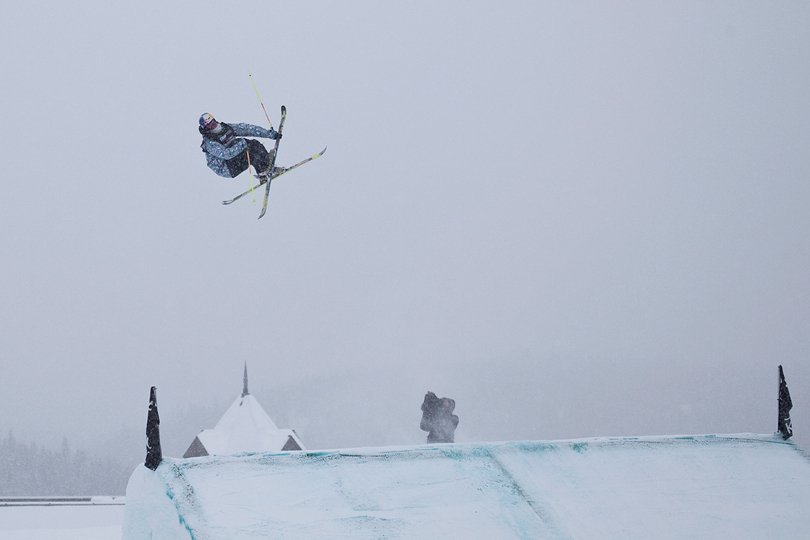 Russ Henshaw
In sixth was Phil 'B-Dog' Casabon, who as expected put down one of the most stylish runs seen all week, with the Norwegian superstar Andreas Håtveit just behind him in seventh.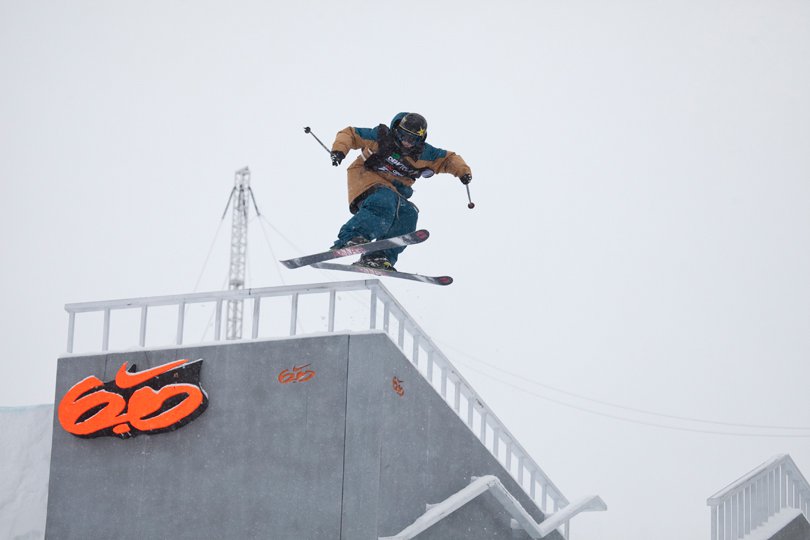 Phil Casabon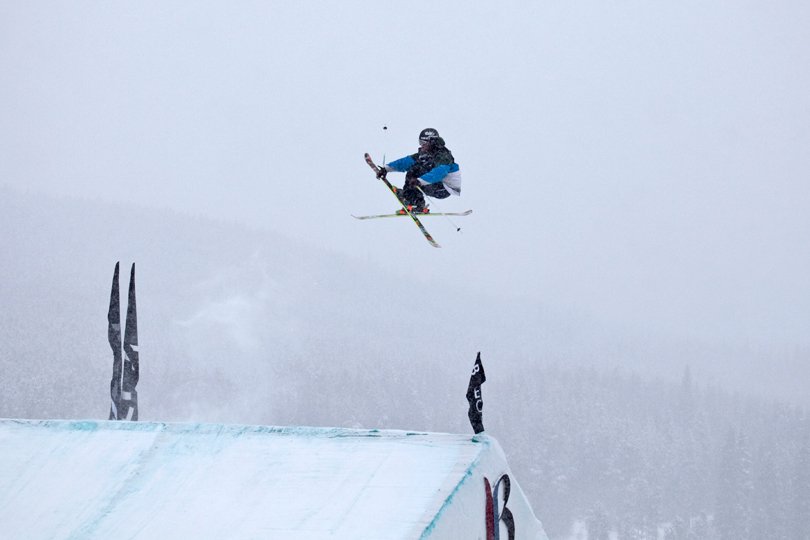 Andreas Håtveit
In eighth and ninth were JF Houle and Elias Ambuhl, who crashed on both of their runs, along with Thomas Dolplads, who ended up in 10th, while Ian 'Chug' Cosco and LJ Strenio suffered a similar fate, and rounded out the top 12 in 11th and 12th respectively as a result. Props to Chug though, who broke his thumb during a crash on his first run but proved just how much of a man he is by powering through the pain (and taping his pole to his hand) and going back up top to take his second run.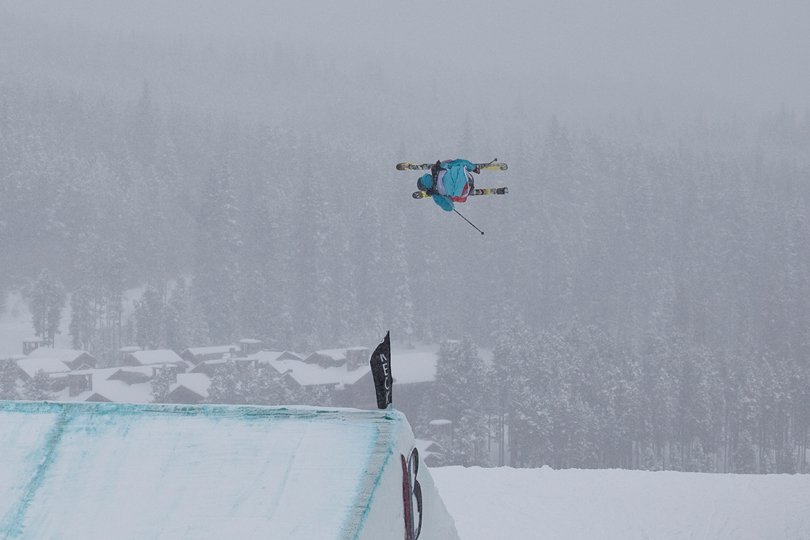 JF Houle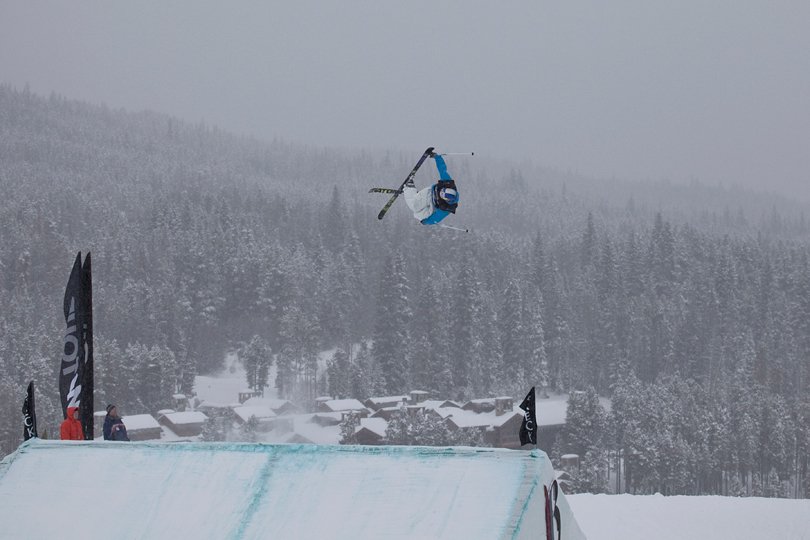 Elias Ambuhl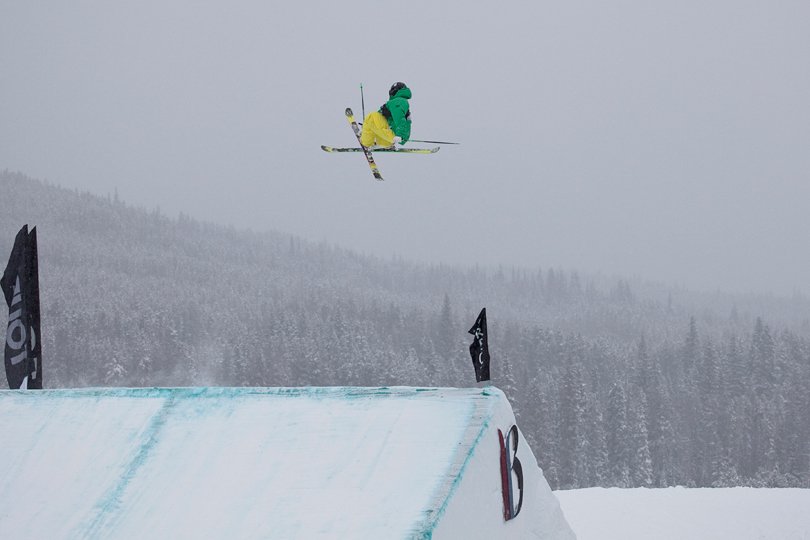 Thomas Dolplads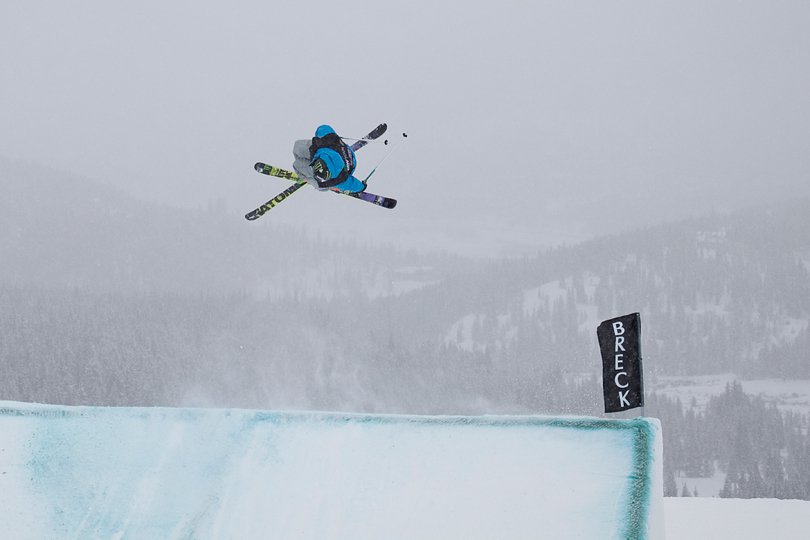 Ian Cosco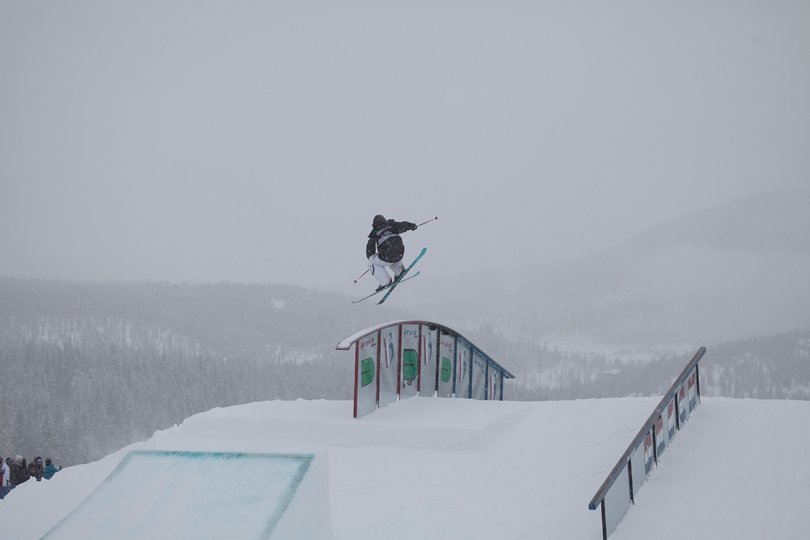 LJ Strenio
This concludes the first stop of the Winter Dew Tour in Breckenridge, Colorado. Stay tuned for the second stop of the Tour on January 20th - 23rd in Killington, Vermont, and to see how this week's results affect the AFP standings, be sure to head over to http://www.afpworldtour.com.
Results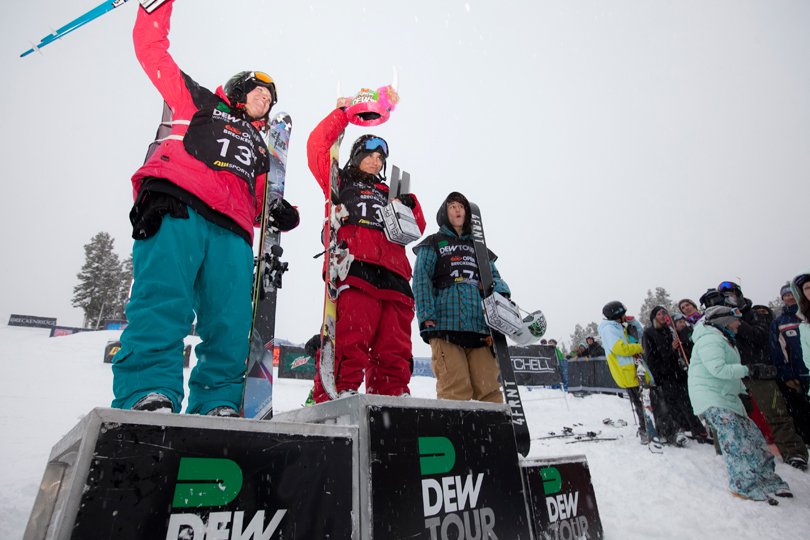 Keri Herman (2nd), Ashley Battersby (1st), Jess Warll (3rd)
Women's Slopestyle Finals
1) Ashley Battersby - 86.50
2) Keri Herman - 83.00
3) Jessica Warll - 80.00
4) Devin Logan - 70.50
5) Eveline Bhend - 63.75
6) Emma Dahlström - 25.25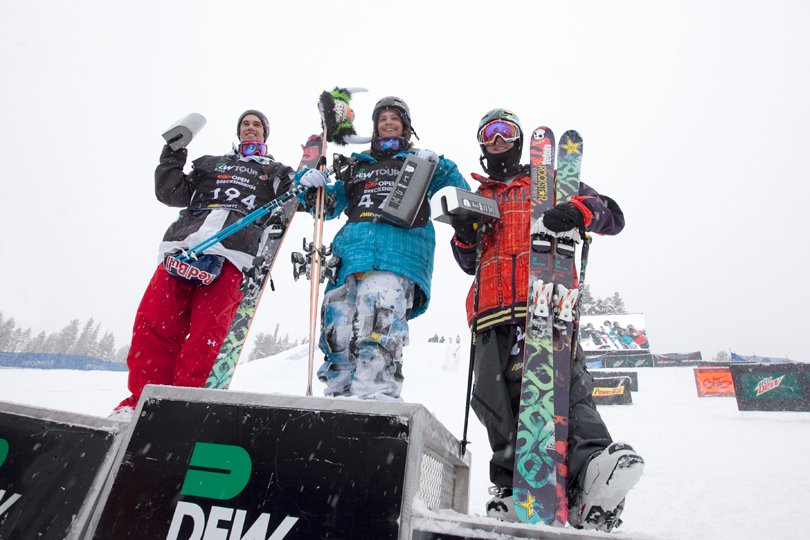 Bobby Brown (2nd), Alexis Godbout (1st), Sammy Carlson (3rd)
Men's Slopestyle Finals
1) Alexis Godbout - 94.50
2) Bobby Brown - 92.25
3) Sammy Carlson - 88.75
4) Tom Wallisch - 87.75
5) Russ Henshaw - 82.25
6) Philip Casabon - 75.00
7) Andreas Håtveit - 74.75
8) JF Houle - 66.00
9) Elias Ambuhl - 49.25
10) Thomas Dolplads - 40.50
11) Ian Cosco - 28.75
12) John Strenio - 15.50