Words & photos by Dan Brown
Video by Alex Knuuttunen
Day two of the Killington stop of the Winter Dew Tour has just wrapped up, with Men's Ski Slopestyle Prelims occurring in the first half of the day, followed by Men's Ski Superpipe Finals underneath the lights in the evening. The day started under a crisp bluebird sky at the top of Lower Skyburst for Men's Ski Slopestyle Prelims, where 25 competitors battled the New England cold and each other for the nine available spots to advance to the finals. The course consisted of six features, beginning with a down rail to the option of a down-flat-down or flat, gap, flat-down box, into a three way split of either a cannon pipe, flat down or a cannon box. Three massive jumps rounded out the remainder of the course.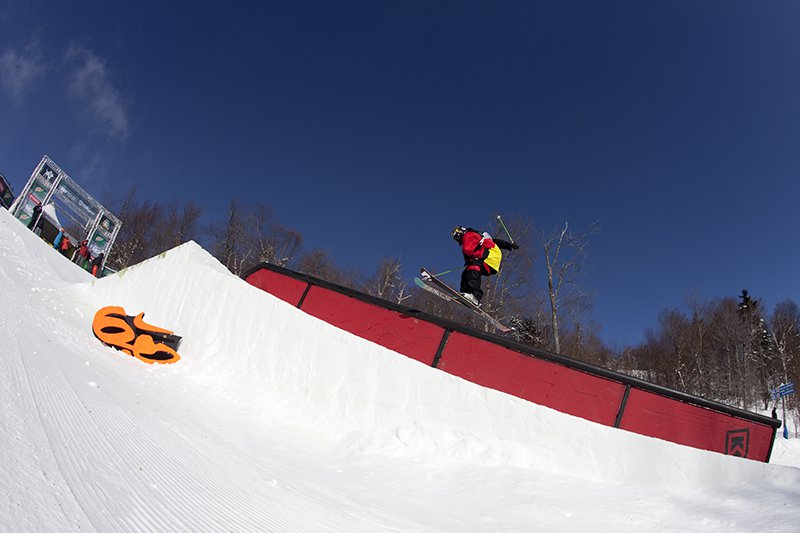 Matt Walker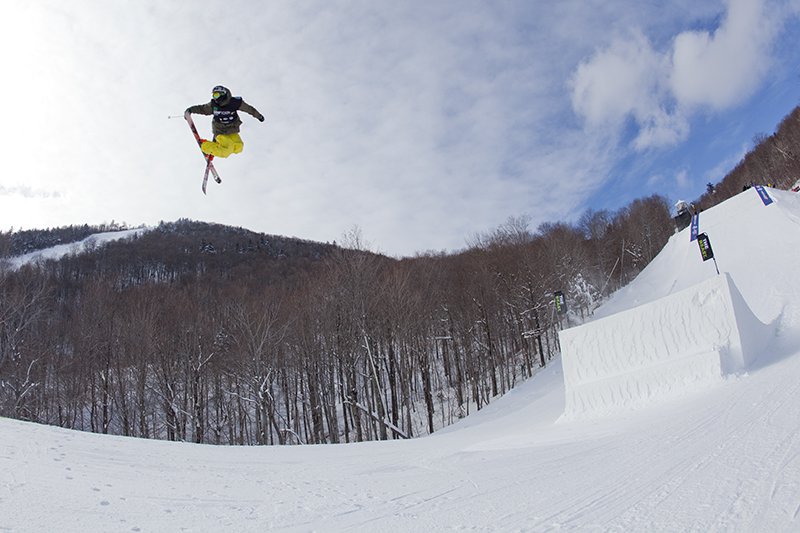 Chris Logan
Similar to yesterday, ample time was afforded to the athletes for warm up runs, which began at 10:00 and continued for over two hours. In that time period, athletes hot lapped the setup, perfecting their technique for the impending competition. It was during this time that French Canadian Paul 'B-Paul' Bergeron unfortunately went down, injuring his jaw and forcing him to drop out of the competition. We wish him a speedy recovery.
Following some quick course maintenance by both the Killington Park Staff and Snowpark Technologies, who've kept both the slopestyle course and pipe in immaculate shape, the prelims started. Technical rail sections and smooth airs seemed to be the theme of the day, making the judge's job not one of envy but as mentioned, the top nine would be the only athletes to advance to tomorrow's finals. For the crowd whom had made the trek up the side of the course, it was certainly a site to see.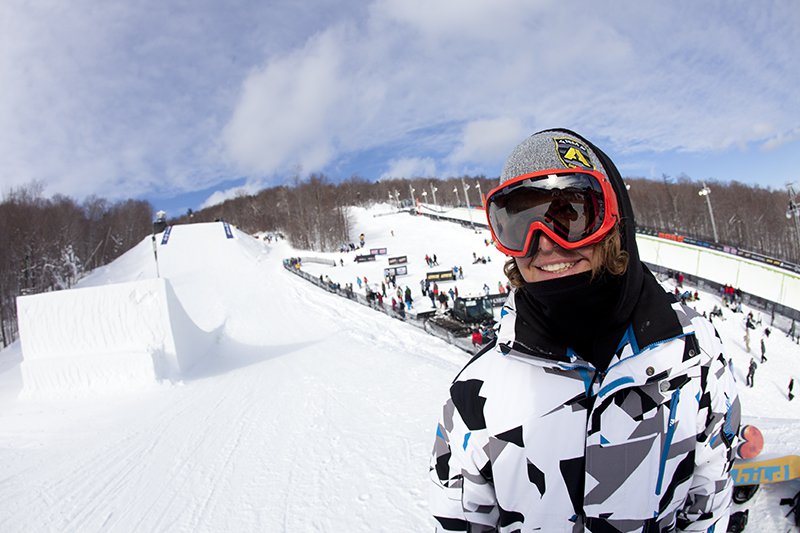 Dew Tour Breckenridge Slopestyle Winner Alexis Godbout
Rounding out the bubble position was Charles Gagnier, who's name should almost be synonymous with the freeski slopestyle scene. Despite the Quebecois' efforts, he was unable to advance, landing in the 10th position. Park City, Utah resident Alex Schlopy will be moving on to the finals after placing 9th, followed by fellow PC native McRae Williams in 8th, Switzerland's Elias Ambuhl in 7th, Noway's Andreas Håtveit in 6th, Drummondville, Quebec's JF Houle in 5th and Indiana's Nick Goepper in 4th.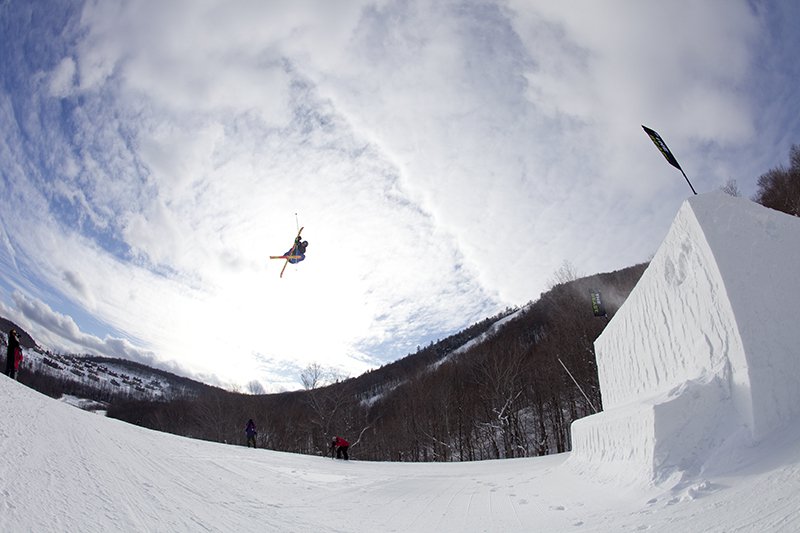 Andreas Håtveit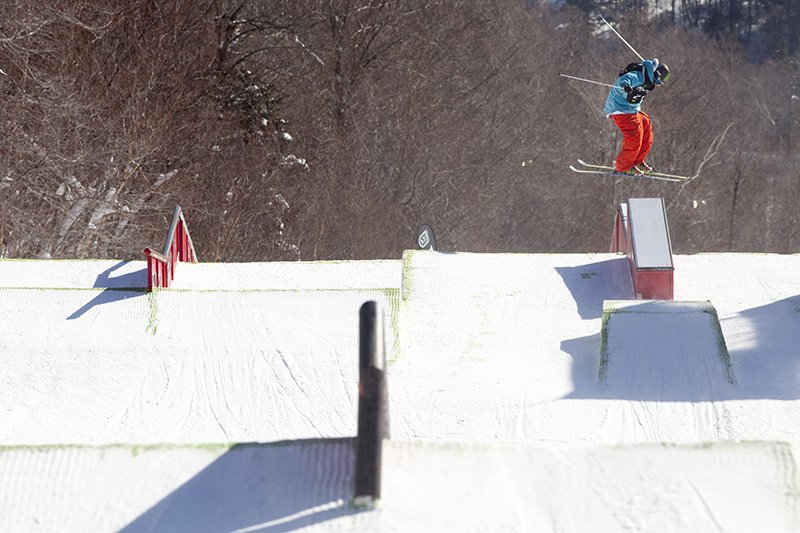 JF Houle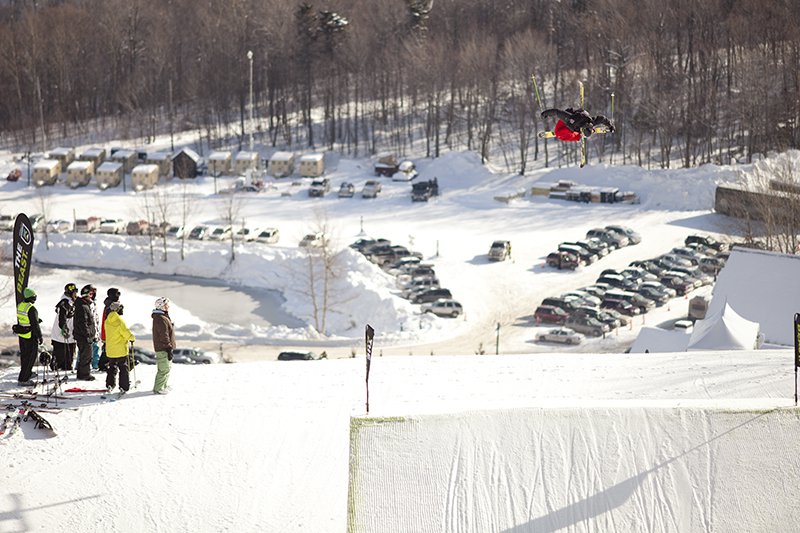 Nick Goepper
If there were a podium for prelims, it would include Åre, Sweden's Henrik Harlaut, who's run included a left cork 10 tail, helping him land in 3rd, Norway's Aleksander Aurdal in 2nd, and Aussie Russ Henshaw in the top spot with a stylish switch dub 12.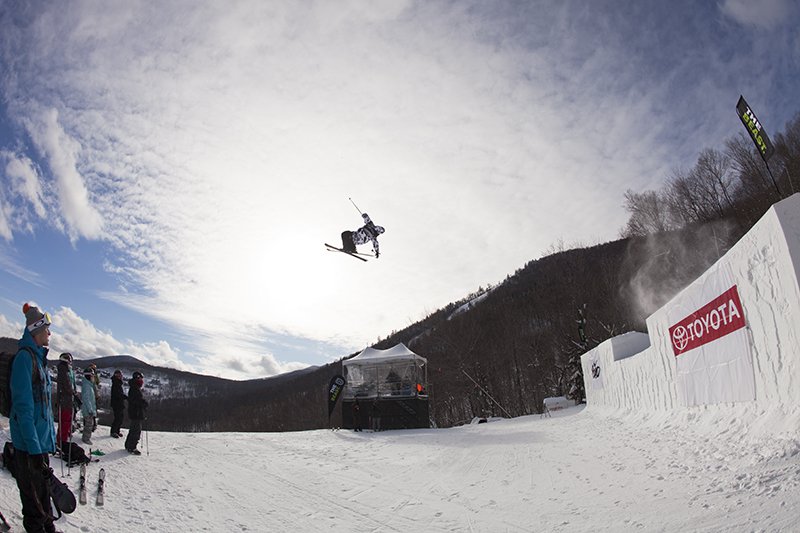 Henrik Harlaut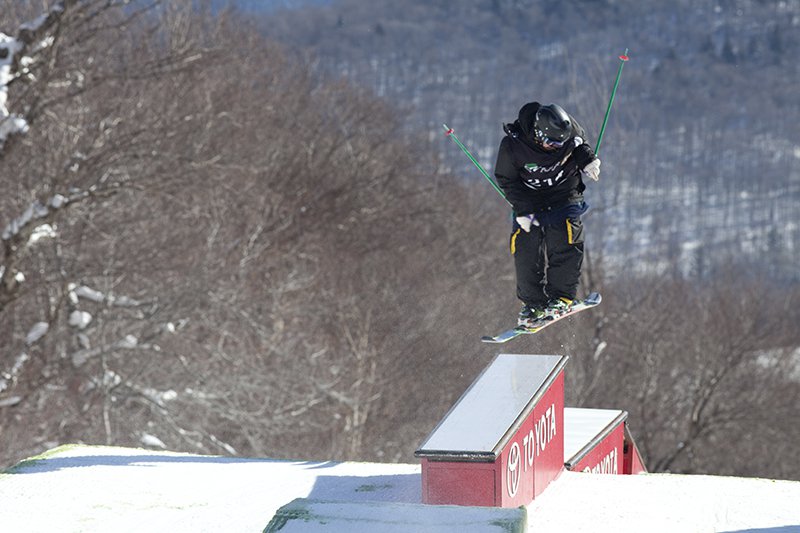 Aleksander Aurdal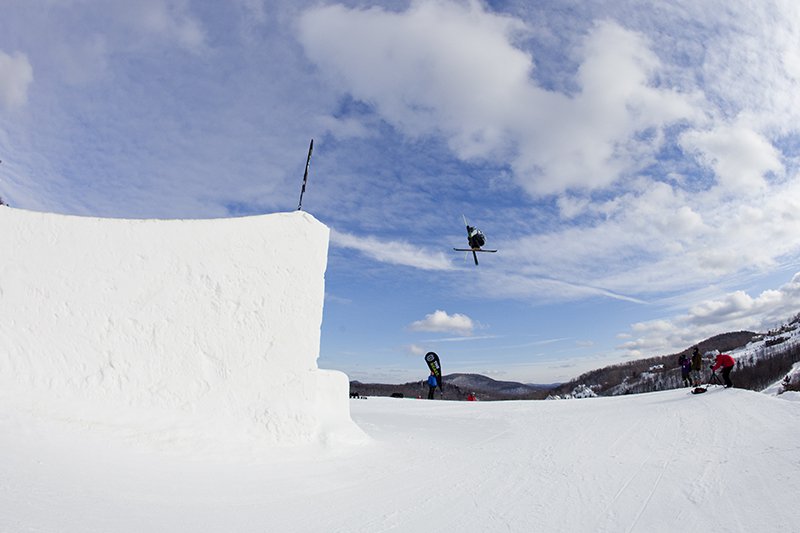 Russ Henshaw
With a short break in the schedule, the masses had a chance to explore the Festival Village that had athlete signings and a bunch of free product samples among other things, but when the sun fell behind the Vermont mountains and the lights began to hum, the massive crowd filled the viewing areas of the superpipe for the big event. Even with the dropping temperatures, the crowd's energy was electric. They were here to view the world's top athletes go all in for the fight for the top.
And all in they went, as many went for broke with huge airs and big spins to the crowd's delight. When the dust had settled, falling into the 12th position was New Hampshire's Tucker Perkins, who up until getting caught up on his last hits, would have definitely finished in the top three or four positions. Canadian pipe heavy hitters Justin Dorey and Mike Riddle took the 11th and 10th spots respectively, although their characteristically huge doubles on the first hit weren't enough to place them higher.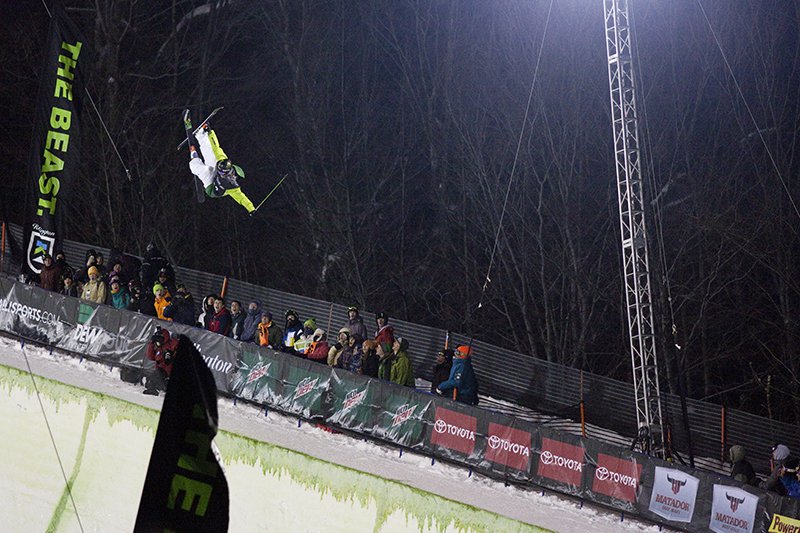 Justin Dorey
Colorado's Taylor Seaton definitely upped his amplitude for finals, whose switch 7's took 9th. David Wise, of Nevada, in 8th, probably had the highest airs of the night, while Idaho's Banks Gilberti, in 7th, put down one of his best pipe runs to date.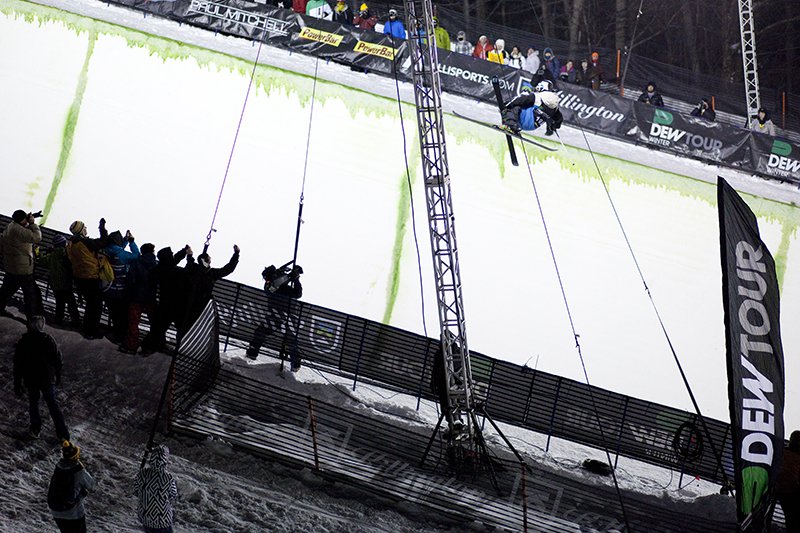 Taylor Seaton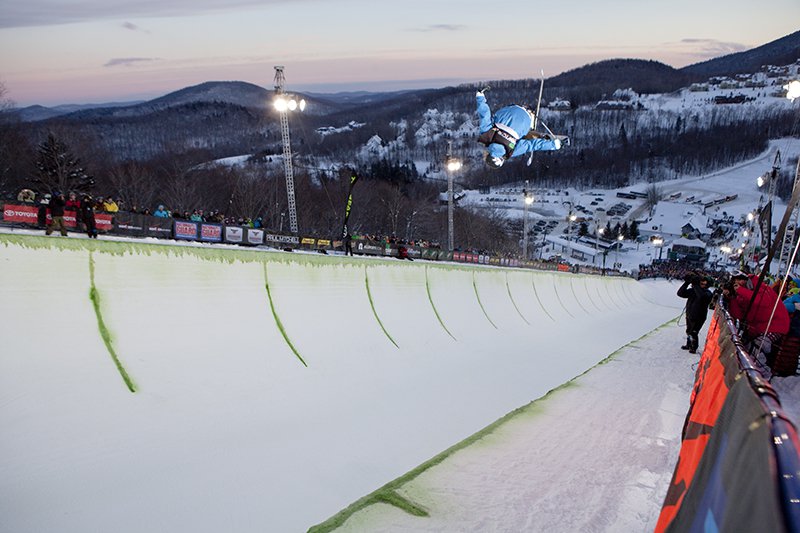 Banks Gilberti
6th place went to Canadian Matt Margetts, who not only introduced the Vermont crowd to Canadian hip hop artist Son Real as his run soundtrack, but threw down with right 10's to the delight of all.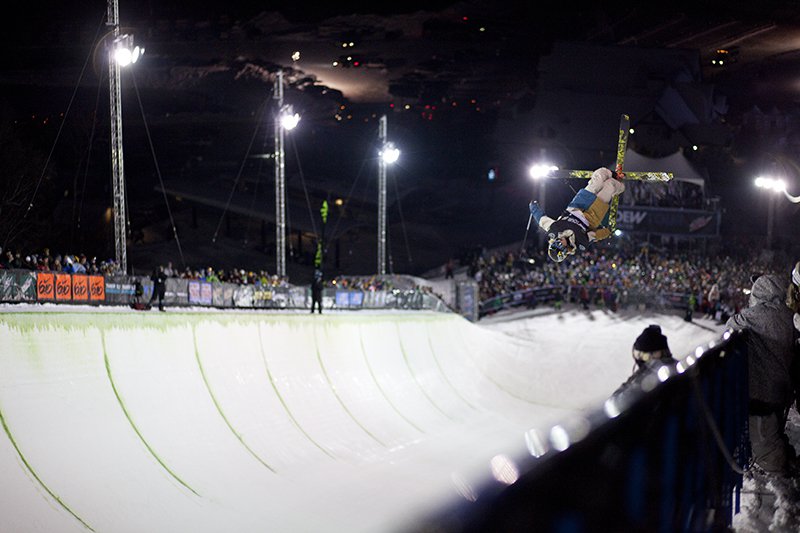 Matt Margetts
Rounding out the top five was France's Thomas Krief, who after yesterday's 3rd place finish in prelims will definitely be a name to watch with his young age and massive airs, while 4th went to Dan Marion of Maine, who couldn't have seemed happier with his run.
Thomas Krief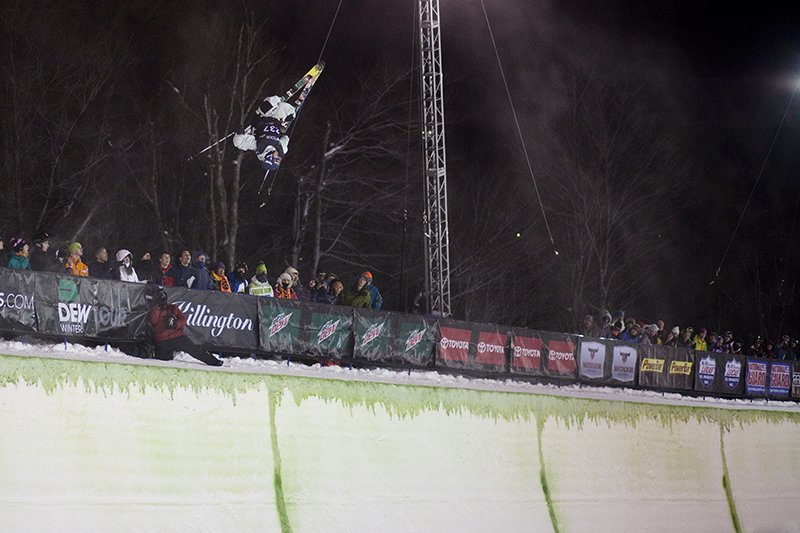 Dan Marion
Fellow Mainer and pipe phenom Simon Dumont took the 3rd spot of the podium with his ever characteristic massive airs and three dubs throughout his run, who could've been a serious contender for the top spot if it wasn't for a wobble on his last hit.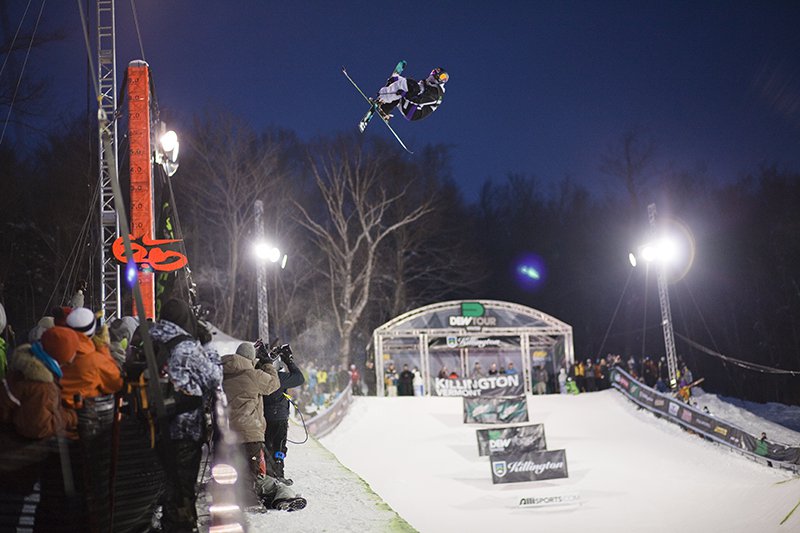 Simon Dumont
Gus Kenworthy climbed the steps to the 2nd place spot for his second major superpipe podium, who right from the get go held the run to beat all night with an 87.75. He carried the 1st seed until Kevin Rolland's second run with three double flips (tow double flairs and a double cork 12 at the bottom) unseated the young Kenworthy.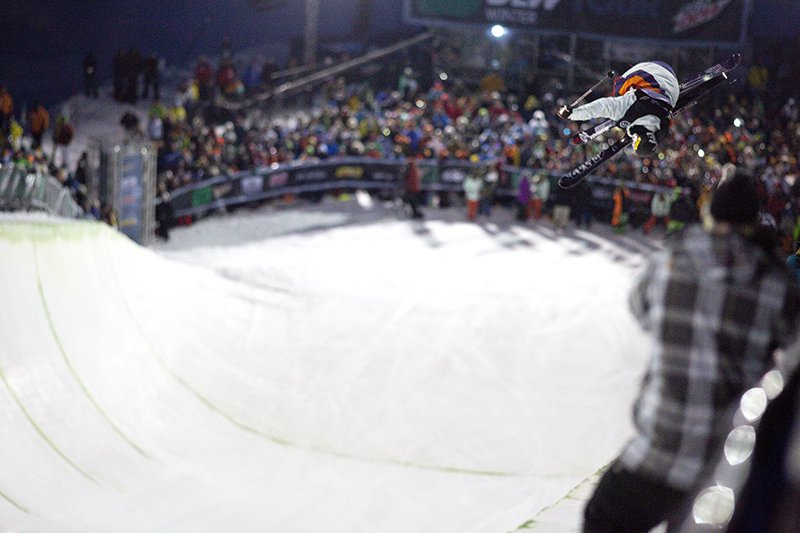 Gus Kenworthy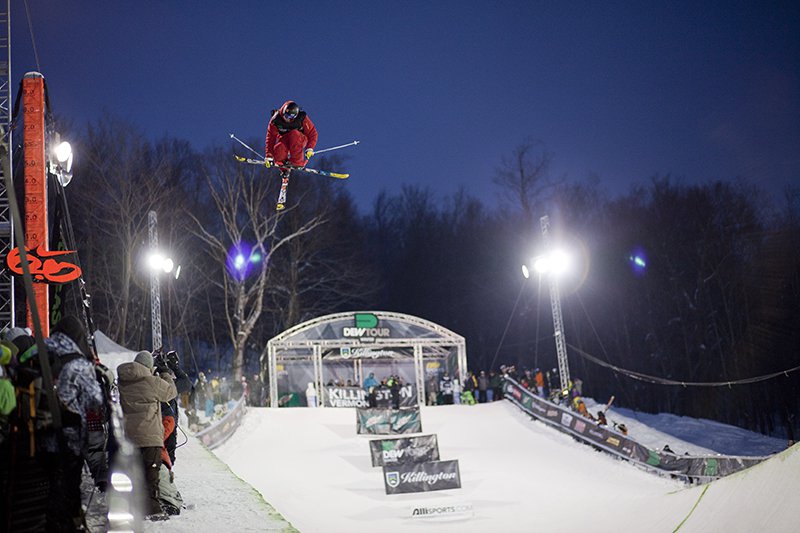 Kevin Rolland
Congrats to Kevin Rolland for his first place victory, and stay tuned for more coverage from the second stop of the Winter Dew Tour in Killington, Vermont, as Men's Ski Slopestyle Finals will surely culminate the event in a big, big way tomorrow.
Kevin Rolland
Results
Slopestyle Prelims
1) Russ Henshaw - 88.33
2) AleksanderAurdal - 87.83
3) Henrik Harlaut - 86.33
4) Nick Goepper - 86.00
5) JF Houle - 85.17
6) Andreas Håtveit - 85.00
7) Elias Ambuhl - 83.17
8) McRae Williams - 82.67
9) Alex Schlopy - 81.00
cut-off
10) Charles Gagnier - 79.33
11) Chris Laker - 79.00
12) Sean Jordan - 78.67
13) Dane Tudor - 75.00
14) Ian Cosco - 72.83
15) Matt Walker - 72.83
16) LJ Strenio - 70.50
17) Banks Gilberti - 70.17
18) Simon Dumont - 70.00
19) James Woods - 68.67
20) Thomas Dolplads - 68.17
21) Colby West - 64.17
22) Jossi Wells - 63.50
23) Chris Logan - 63.17
24) Phil Casabon - 36.83
25) Paul Bergeron - DNS
The top 9 finishers from today's event will advance to tomorrow's finals joining Alexis Godbout, Bobby Brown and Sammy Carlson who are currently 1st, 2nd and 3rd in the points standings.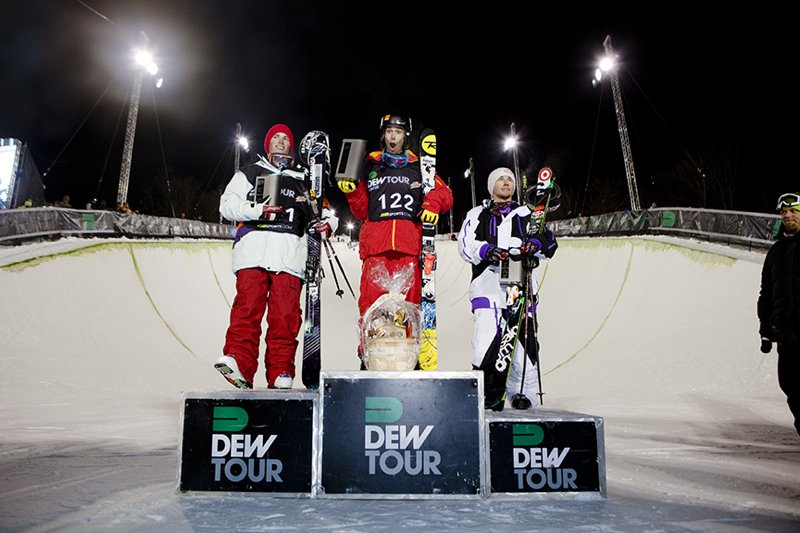 Gus Kenworthy (2nd), Kevin Rolland (1st), Simon Dumont (3rd)
Superpipe Finals
1) Kevin Rolland - 92.50
2) Gus Kenworthy - 87.75
3) Simon Dumont - 86.75
4) Dan Marion - 83.00
5) Thomas Krief - 77.75
6) Matt Margetts - 75.00
7) Banks Gilberti - 70.50
8) David Wise - 68.00
9) Taylor Seaton - 64.25
10) Mike Riddle - 54.75
11) Justin Dorey - 33.50
12) Tucker Perkins - 13.75
To see how today's superpipe event affects the AFP rankings, head on over to http://www.afpworldtour.com.
NSTV: Dew Tour Killington Day 2