Words & photos by Dan Brown
Video by Alex Knuuttunen
There's an old New England adage that goes, "If you don't like the weather, wait five minutes." With the second stop of the Winter Dew Tour rolling into Killington, Vermont, day one saw the arrival of five inches of new snow overnight that preceded today's rolling snow showers, heavy at times, and intermittent periods of blue skies. Certainly, today was no exception to that saying.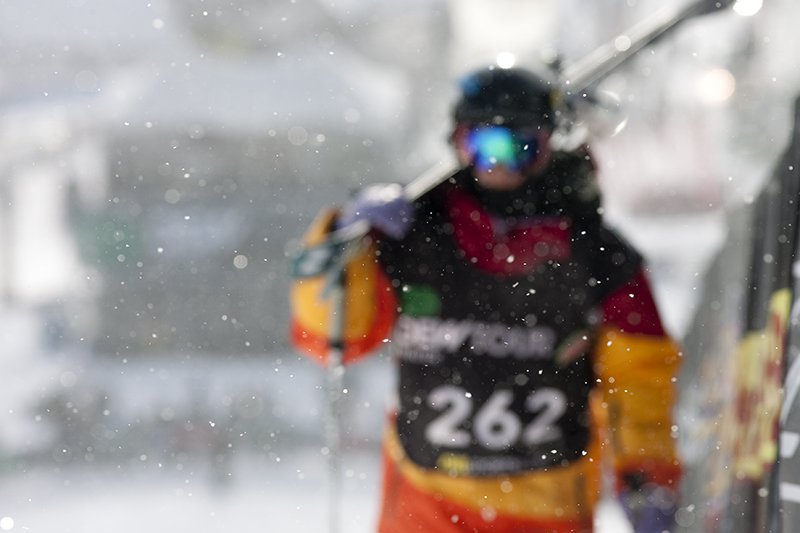 Torin Yater-Wallace
Despite the inconsistent weather pattern, the one consistency was the amount of talent present at today's Men's Ski Superpipe Prelims. Relative newcomers to the pipe scene like Torin Yater-Wallace, Walter Wood and Joss Christensen joined venerable pipe heavy hitters Peter Olenick, Jossi Wells and Colby West in the run for the nine open spots for finals, which are set to take place tomorrow evening.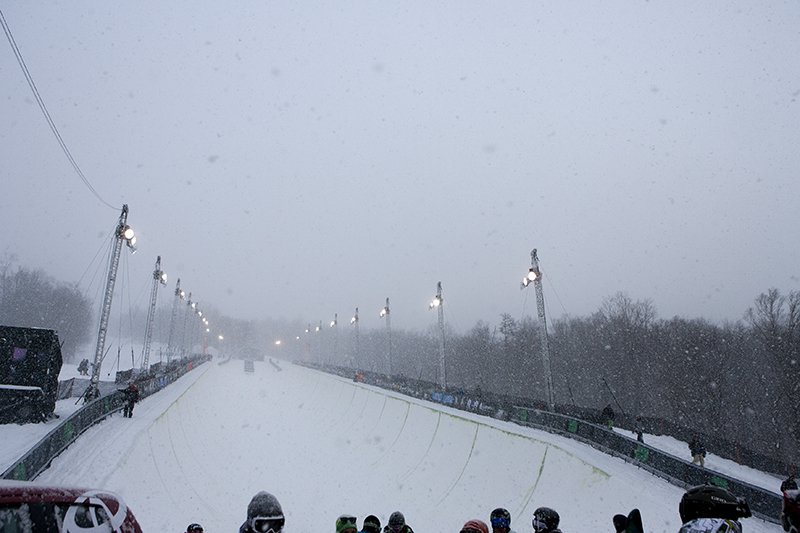 Killington, Vermont
Athletes began arriving at the Dew Tour Festival Village around 10 a.m., enjoying a bit of down time before loading the lift up to the top of the pipe. The pipe, a 22-foot high behemoth set into the side of Killington's Bear Mountain, sat just above the base which allowed the gathering crowd below a prime viewing area. Park City, Utah native Joss Christensen voiced his concerns about the weather, "Yesterday, with a little bit of snow, it slowed it down a lot because…it was a flatter pitch." Despite his initial misgivings about the snowfall, Christensen had nothing but good things to say about the Killington event, "Everything they've done is sick, the courses are sick…besides the cold weather, it's almost perfect." Banks Gilberti, one time local Vermonter, who resides in Breckenridge, Colorado, shared Christensen's views of the setup, "Pipe's riding smooth, walls are pretty poppy…it makes for a pretty smooth ride…if the snow slows down, we'll have a pretty sweet event."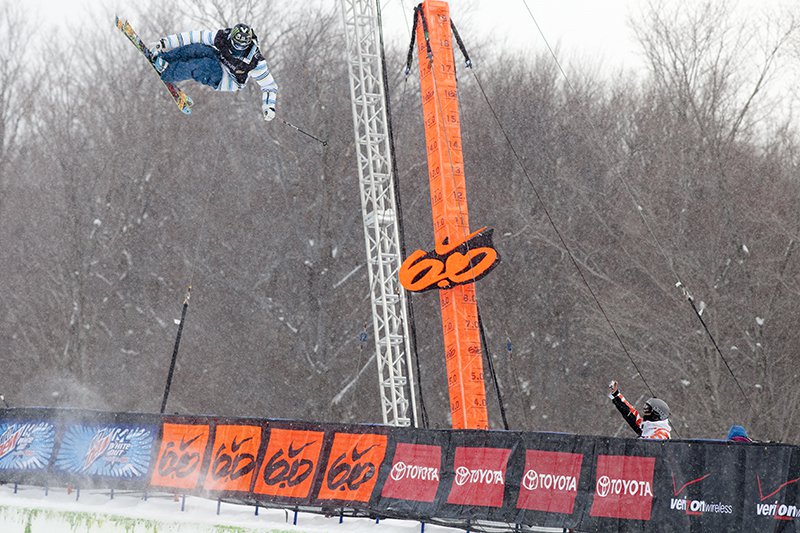 Peter Olenick
With practice starting at 11, skiers began dropping in conservatively, adjusting their game to suit the accumulating snow at first, but when the 1 hour and 45 minute warm up ended, the athletes began reaching into their pocket of tricks and the show started. At 1 o'clock, it was time to go. With 22 athletes vying for an advance to finals, the competition was heated.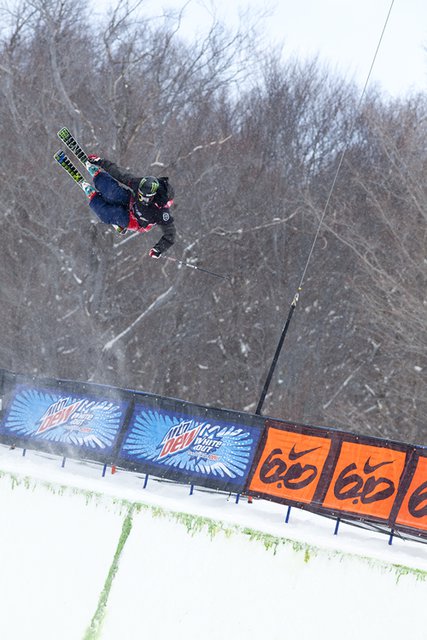 Colby James West
Dropping in first was Breckenridge's Colby West, who despite his smooth performance wasn't able to secure one of the nine spots, sitting in 11th after his two runs.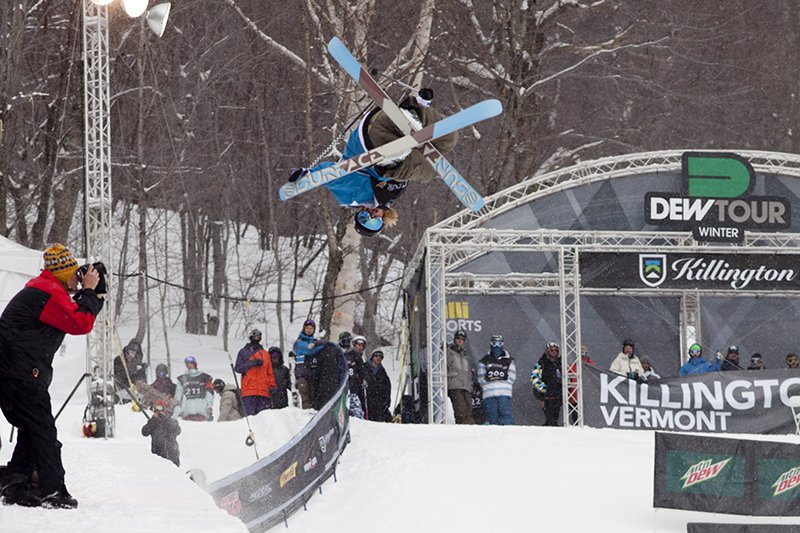 Banks Gilberti
Following West was Banks Gilberti, who's consistency, with a switch 540 tail on the first hit and a right 720 and cork left 900 reverse mute peppering his run secured a top spot, sitting him in 6th.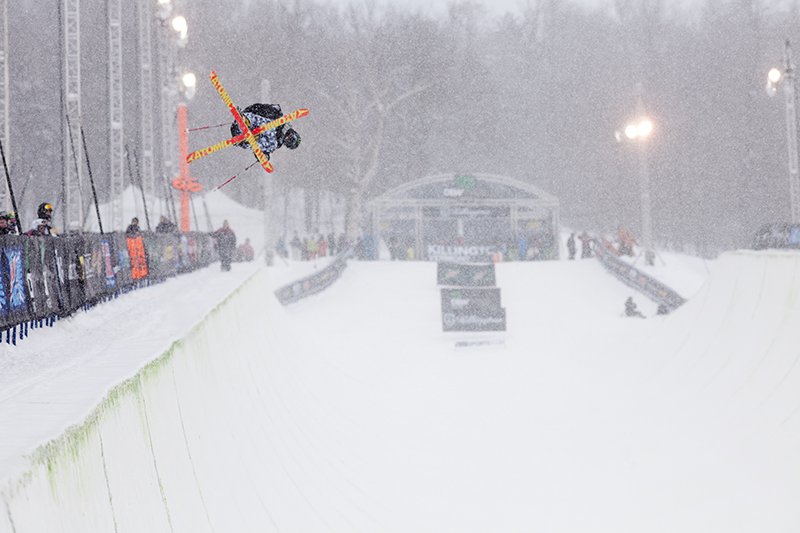 Jossi Wells
Jossi Wells had trouble convincing the judges to seat him above the bubble and unfortunately landed in 10th.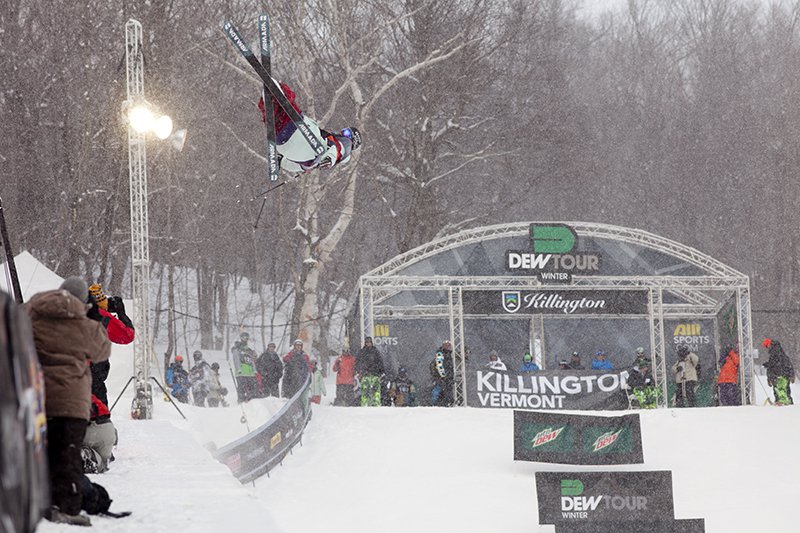 Gus Kenworthy
Gus Kenworthy secured the coveted 9th position with smooth transitions between his back-to-back left and right 7's, which helped moved him on to tomorrow's finals.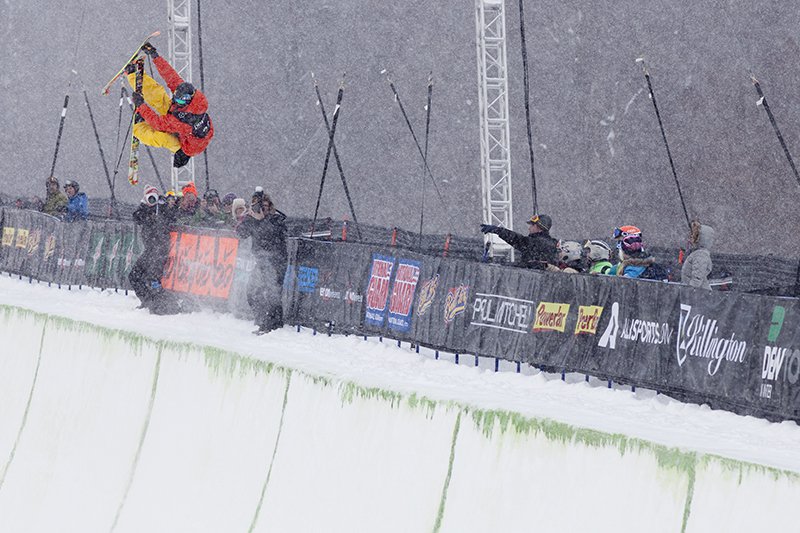 Mike Riddle
The Robin Hood of skiing, Canadian Mike Riddle, landed the 8th spot, who's signature flatspin 3 bowarrow and dubs made appearances. Riddle would later comment via Twitter that he "made it into finals…on a safe run by the skin of my teeth."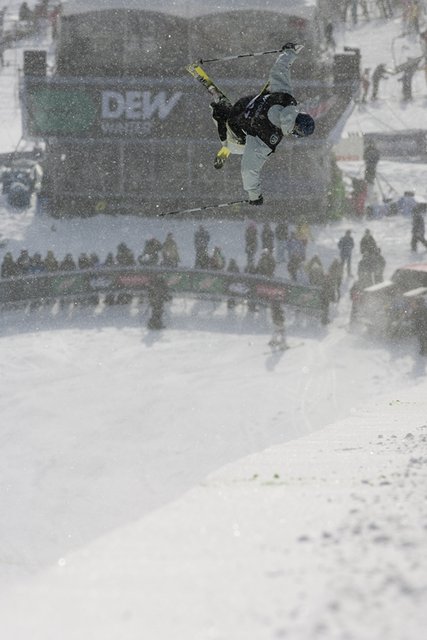 Dan Marion
Mainer (pronounced "Main-ah") Dan Marion needed his second run to advance after going down in his first run on his first hit. Sending it a second time around, Marion was able to put it down for 7th.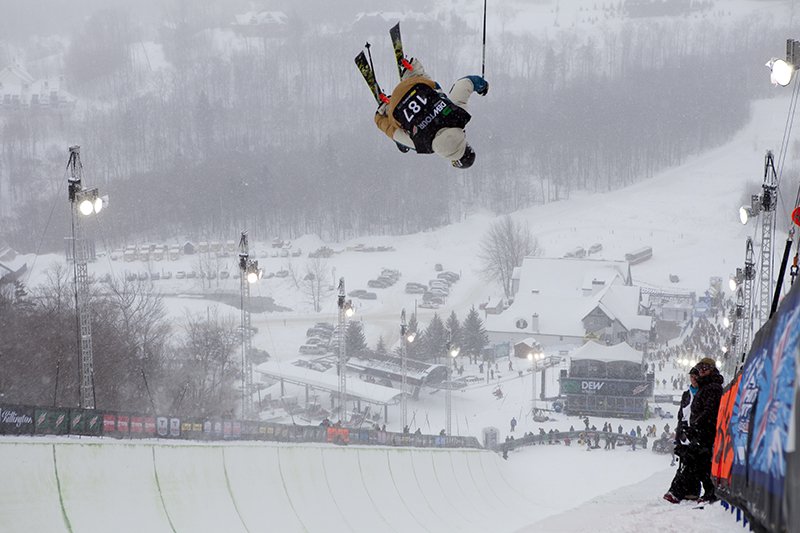 Matt Margetts
In 5th, Canadian Matt Margetts had stylish right tens that got the crowd working.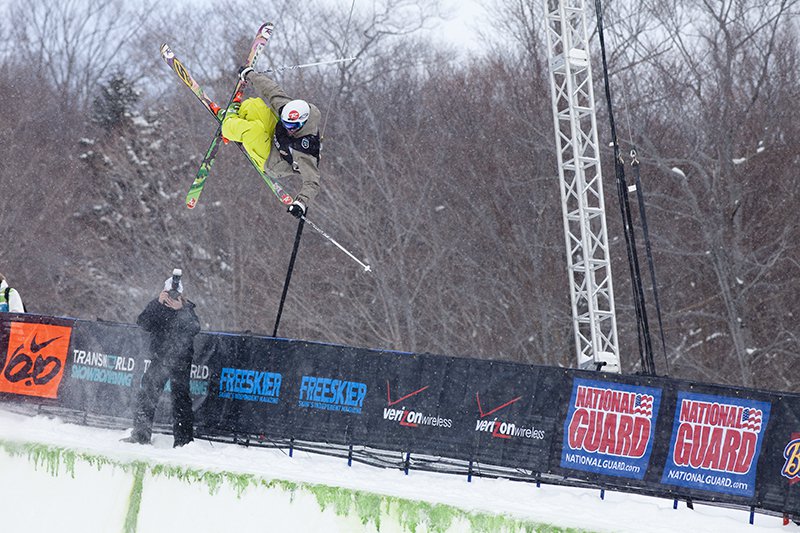 David Wise
The 4th position went to David Wise, who boosted bigger than anyone throughout the day.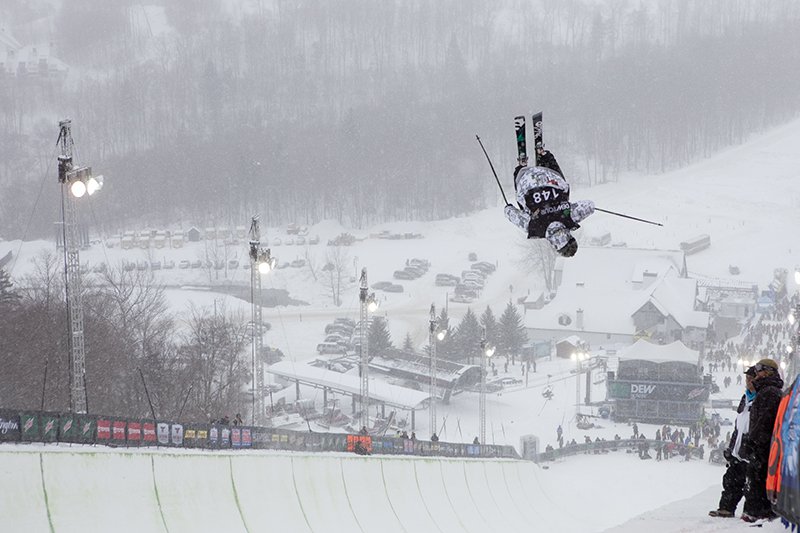 Thomas Krief
In 3rd, 17-year-old Thomas Krief of Alpe D'huerz, France was the youngest competitor to advance.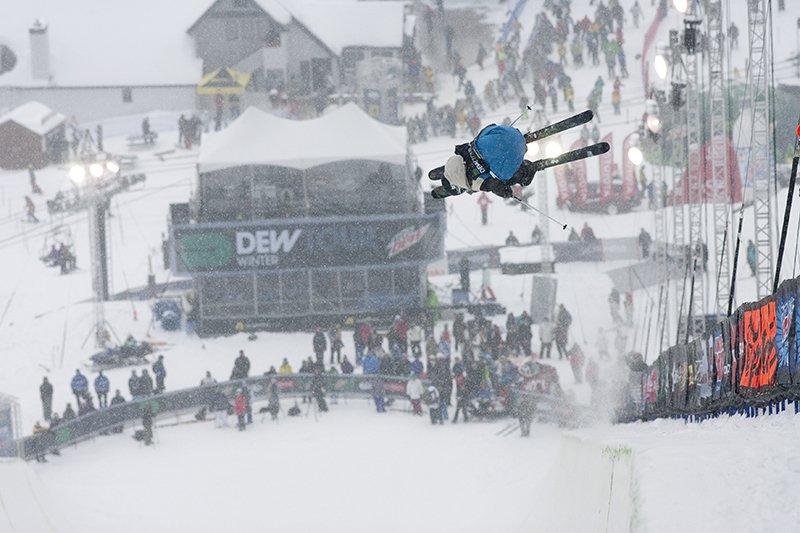 Taylor Seaton
Taylor Seaton's switch 720 and right 900, on his first and fourth hits respectively, helped place him in 2nd.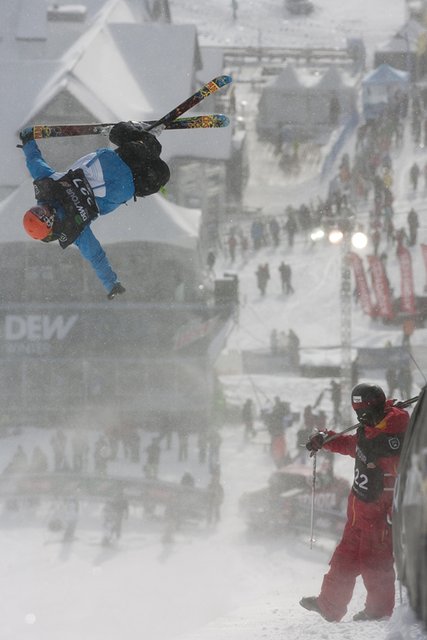 Tucker Perkins en route to 1st place as the pre-qualified Kevin Rolland looks on.
In first, and deservedly so, was New Hampshire's own Tucker Perkins, who's run could only be described as Wicked Pissah. With amplitude and flawless landings, look for Perkins to be tough competition in the Finals.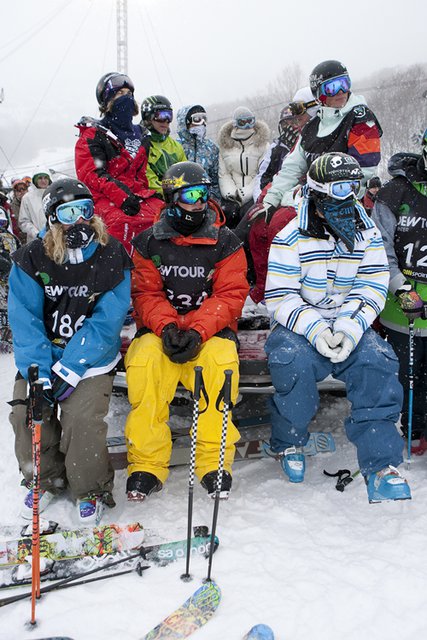 And with that, the first day of Killington Winter Dew Tour wraps up. Look for more updates as the weekend progresses with Men's Slopestyle Prelims and Men's Superpipe Finals going off tomorrow, where today's top nine will meet pre-qualified athletes Justin Dorey, Simon Dumont and Kevin Rolland…and stay tuned for the season's first episode of NSTV.
Results
1) Tucker Perkins - 85.00
2) Taylor Seaton - 83.00
3) Thomas Krief - 80.25
4) David Wise David - 77.25
5) Matt Margetts - 76.75
6) Banks Gilberti - 75.25
7) Dan Marion - 74.50
8) Mike Riddle - 72.00
9) Gus Kenworthy - 71.75
cut-off
10) Jossi Wells - 71.00
11) Colby West - 70.25
12) Torin Yater-Wallace - 67.50
13) AJ Kemppainen - 66.50
14) Noah Bowman - 65.50
15) Tyler Peterson - 61.25
16) Peter Olenick - 56.75
17) Sean Collin - 53.00
18) Rob Heule Rob - 50.75
19) Mitch Gilman - 47.75
20) Joss Christensen - 37.50
21) Byron Wells - 12.50
22) Walter Wood - DNS
NSTV: Dew Tour Killington Day 1