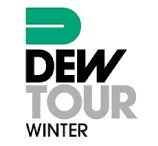 The Winter Dew Tour, the world's premiere season-long winter action sports tour, today announced the host resorts and dates for the three stops of the 2009-10 season. The Winter Dew Tour showcases the top winter athletes from around the world competing in freeskiing (slopestyle and superpipe) and snowboarding (slopestyle and superpipe) for both men and women. The Tour begins at Breckenridge Ski Resort in Breckenridge, Colo., Dec. 18-20, 2009, continues at new host resort, Snowbasin, in Huntsville, Utah, Jan. 15-17, 2010 and concludes at Mount Snow Resort in West Dover, Vt., Feb. 5-7, 2010.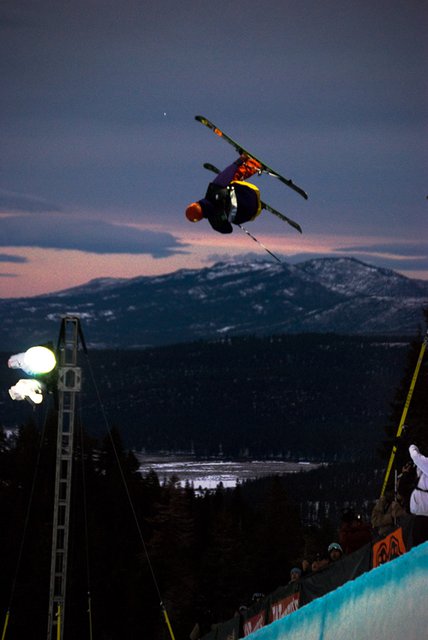 Justin Dorey. photo: Rom Marcucci
All three stops of the Winter Dew Tour will be televised Live on NBC and simulcast around the world on Eurosport 2, Extreme Channel and Fox Sports Australia, with additional coverage on USA Network and MTV2.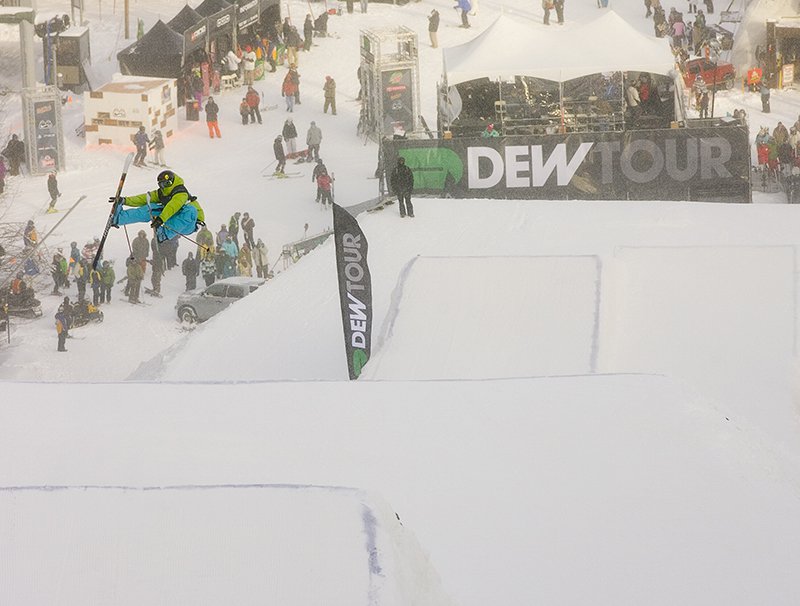 Mike Riddle. photo: Dan Brown
"The inaugural season of the Winter Dew Tour brought top notch freeskiing and snowboarding action sports competitions to some of the most beautiful resorts in the country," said Chris Prybylo, Vice President of Events for Alli, the Alliance of Action Sports. "With the addition of Snowbasin, we look forward to building on the success we had last season and continuing to give fans and athletes alike a great experience."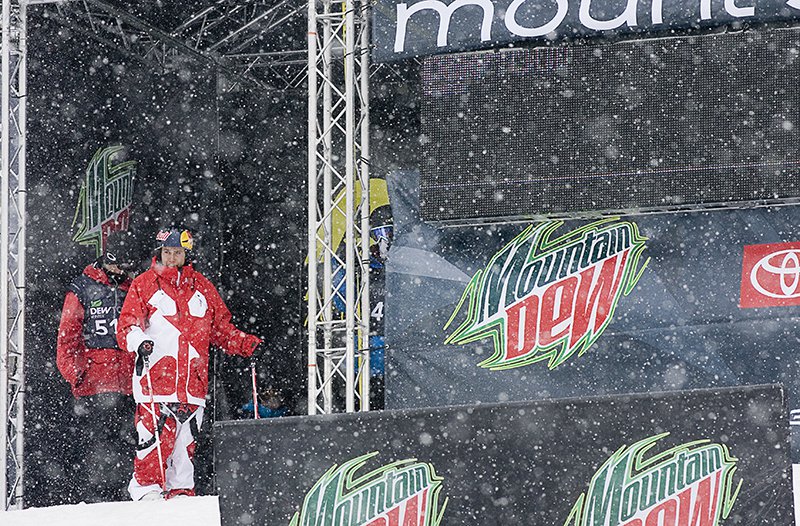 Simon Dumont. photo: Dan Brown
"We've been waiting for something like the Winter Dew Tour to come around and it was so fun competing on it last season," said Simon Dumont, who finished second in the 2008-09 Dew Tour Freeski Superpipe rankings. "The competition was unbelievable with the deepest fields ever. I'm super excited to see what next season brings. Hopefully I can win the overall this time."
The complete 09/10 Winter Dew Tour schedule is as follows:
December 18th - 20th, 2009 @ Breckenridge Ski Resort, Breckenridge, Colorado.
January 15th - 17th, 2010 @ Snowbasin Resort, Huntsville, Utah.
February 5th - 7th, 2010 @ Mount Snow Resort, West Dover, Vermont.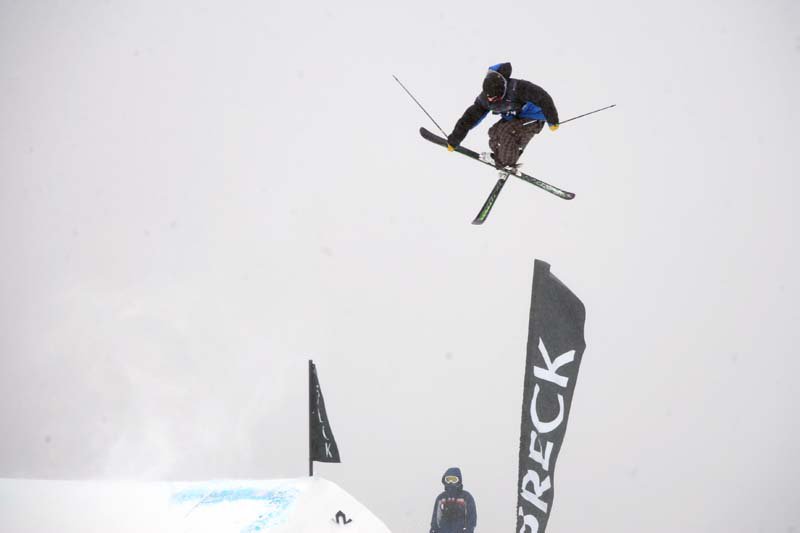 Dew Tour Freeski Slopestyle Overall Champion PK Hunder. photo: Julie Weinberger
Entering its second season, the Winter Dew Tour had nearly 70,000 fans experience last year's inaugural season and an average of 26 million viewers tuned in via NBC, USA and MTV2 during 2008-09. The top athletes in the world will take part in this year's Tour, all competing for the highly coveted Dew Cup that will be awarded in Mount Snow, Vt. at season's end. The 2008-09 Dew Cup champions include Shaun White (Snowboard Superpipe and Slopestyle), Kelly Clark (Snowboard Superpipe), Spencer O'Brien (Snowboard Slopestyle), PK Hunder (Freeski Slopestyle) and Tanner Hall (Freeski Superpipe).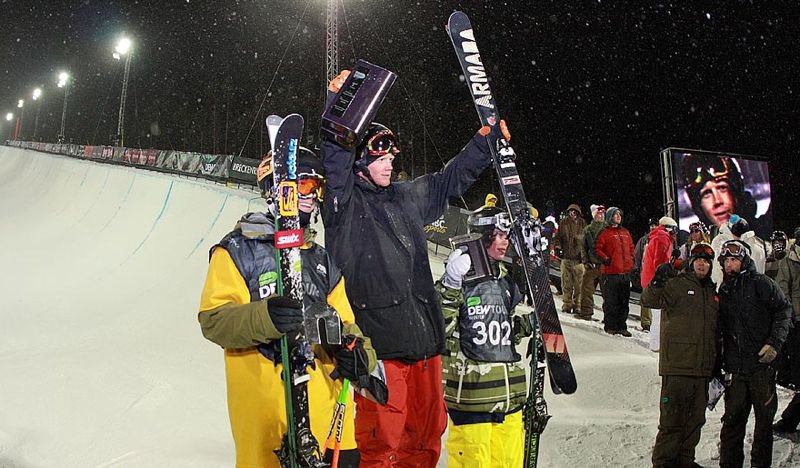 Dew Tour Freeski Superpipe Overall Champion Tanner Hall. photo: John Vandervalk
Winter Dew Tour
The Winter Dew Tour consists of three major, multi-sport events spanning across the country, with a cumulative points system, and a $1.5 million competitive purse. Each event features snowboard (superpipe and slopestyle) and freeskiing (superpipe and slopestyle) for both men and women. At season's end, the overall point's leaders are crowned year-end champions and awarded the prestigious Dew Cup. As part of an Alli property, key lifestyle elements compliment the competitions at each Tour event including the Festival Village, specialty competitions, and live cutting edge music. The Winter Dew Tour is broadcast live on NBC Sports with additional competition and lifestyle broadcasts on MTV, MTV2 and USA. The Winter Dew Tour is also distributed on Fuel TV, Universal HD, and internationally on Eurosport, Fox Australia and Extreme Channel. Winter Dew Tour partners include Mountain Dew (tour title sponsor); Toyota (event title sponsor). Associate partners include Ball Park, Nike 6.0, PlayStation®, Wendy's, and Verizon Wireless. More information can be found at http://www.allisports.com.
Alli, the Alliance of Action Sports
Alli, the Alliance of Action Sports, is a global business that encompasses national and international action sports tours and events, multimedia production, and a consumer facing lifestyle brand. The Alliance includes: the Dew Tour, Winter Dew Tour, China Invitational, Maloof Money Cup, Lucas Oil AMA Motocross Championship, King of Wake series, and the Gatorade Free Flow Tour; Alli Productions, which creates original content, produces and presents content with partners, and distributes Alli content through a variety of channels. Alli is owned by NBC Sports and MTV Networks. More information can be found at http://www.allisports.com.
NBC Universal
NBC Universal is one of the world's leading media and entertainment companies in the development, production, and marketing of entertainment, news, and information to a global audience. Formed in May 2004 through the combining of NBC and Vivendi Universal Entertainment, NBC Universal owns and operates the No. 1 television network, the fastest-growing Spanish-language network, a valuable portfolio of news and entertainment networks, a premier motion picture company, significant television production operations, a leading television stations group, and world-renowned theme parks. NBC Universal is 80% owned by General Electric, with 20% controlled by Vivendi Universal.
MTV Networks
MTV Networks, a unit of Viacom (NYSE: VIA, VIA.B), is one of the world's leading creators of programming and content across all media platforms. MTV Networks, with more than 150 channels worldwide, owns and operates the following television programming services - MTV: MUSIC TELEVISION, MTV2, VH1, mtvU, NICKELODEON, NICK at NITE, LOGO, COMEDY CENTRAL, TV LAND, SPIKE TV, CMT, NOGGIN, THE N, VH1 CLASSIC, MTVN INTERNATIONAL and THE DIGITAL SUITE FROM MTV NETWORKS, a package of 13 digital services, all of these networks trademarks of MTV Networks. MTV Networks connects with its audiences through its robust consumer products businesses and its more than 300 interactive properties worldwide, including online, broadband, wireless and interactive television services and also has licensing agreements, joint ventures, and syndication deals whereby all of its programming services can be seen worldwide.