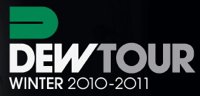 Registration is open for the third season of the Winter Dew Tour and the list of pre-qualified athletes has just been released, highlighted by Olympian snowboarders and defending Dew Cup champions. The three-stop Tour kicks off at Breckenridge Ski Resort for the Nike 6.0 Open, December 16-19, 2010, continues on to Killington Resort, January 20-23, 2011 and concludes with the Toyota Championships at Snowbasin Resort, February 10-13, 2011. The top snowboard and freeski athletes will compete in slopestyle and superpipe disciplines for the coveted Dew Cup awarded at season's end and for a total of $1.5 million in prize money.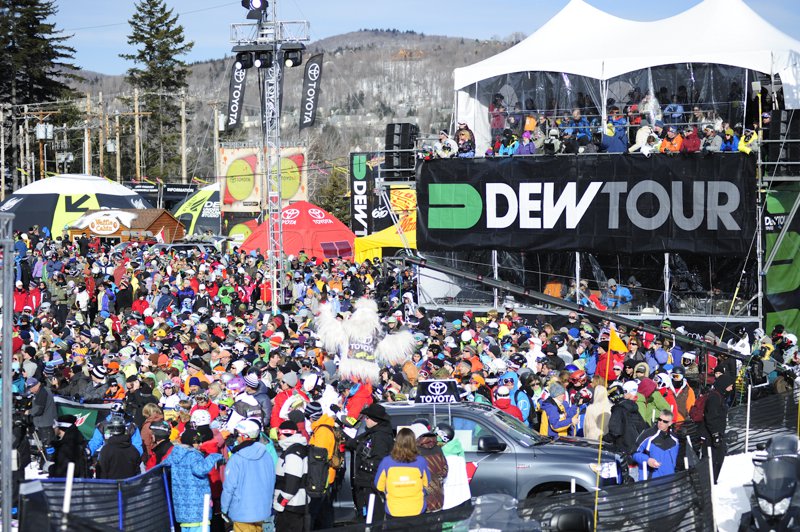 Photo: Matt Stauble
The men's freeski athlete roster is highlighted by defending Dew Cup champions Jossi Wells in superpipe and Andreas Hatveit in slopestyle. With stiff competition from the likes of Simon Dumont and Xavier Bertoni in superpipe and Bobby Brown and Tom Wallisch in slopestyle, it promises for a dynamic season with numerous contenders for the coveted Cup.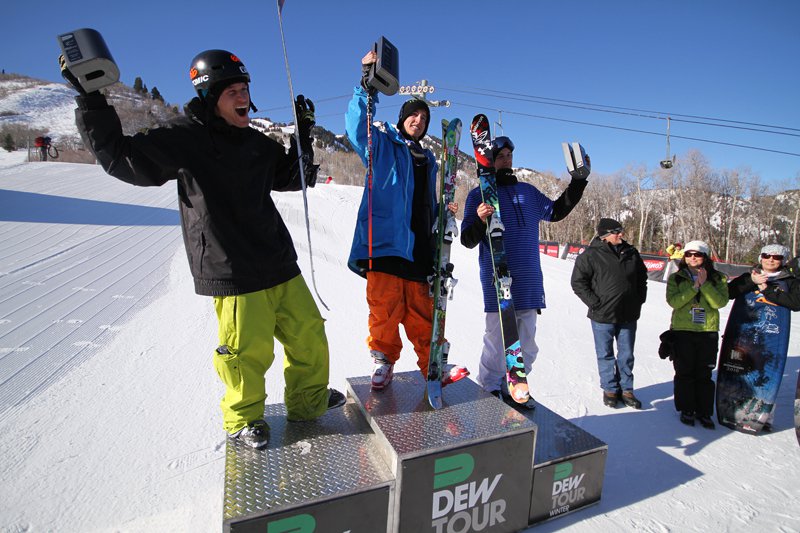 Andreas Håtveit, Tom Wallisch and Bobby Brown. Photo: Rocky Maloney
"Last season was unbelievable for me, and I couldn't have been happier to end it as the Dew Cup champion," said Wells. "The level of talent and competition is going to be insane this year. I'm so stoked for the Tour to start again!"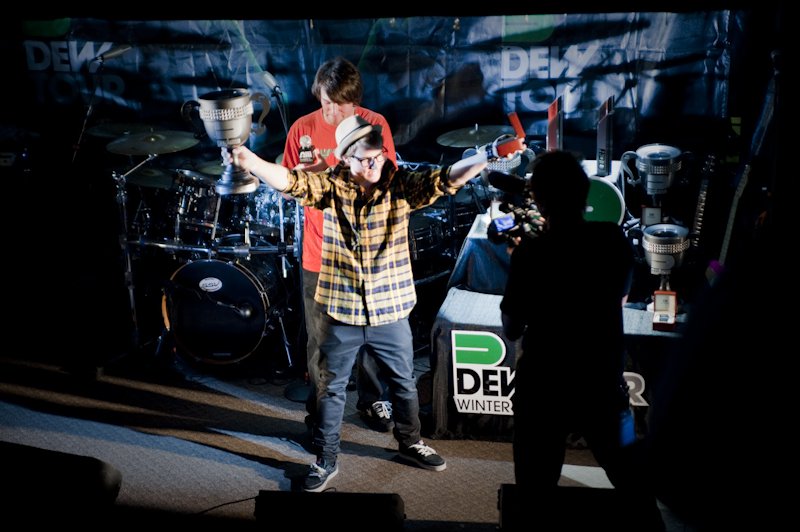 Dew Cup Champion Jossi Wells. Photo: Matt Stauble
Through the support of Paul Mitchell, the upcoming season will also feature expanded women's freeski slopestyle and superpipe competitions at the Nike 6.0 Open in Breckenridge, Colo. and again to close out the season at the Toyota Championships in Ogden, Utah. Although not a Dew Cup discipline, the women's freeski events will include full athlete fields competing in both preliminary and final rounds of competition.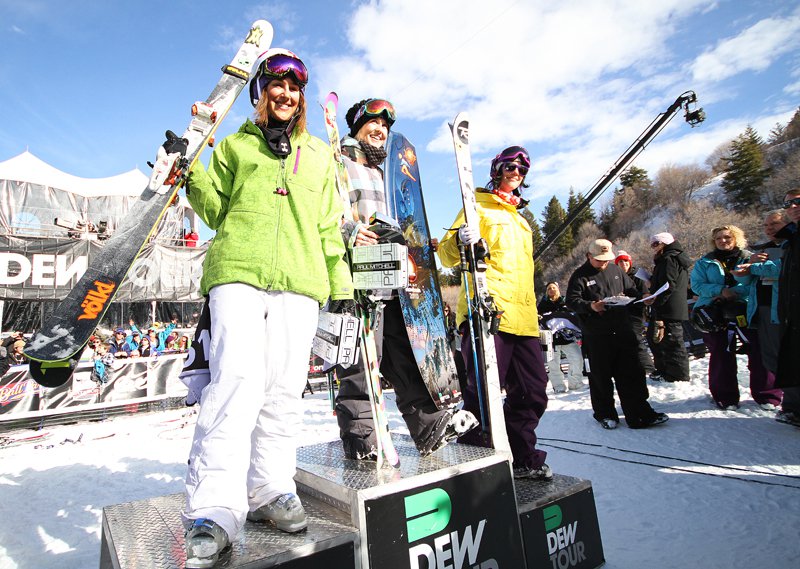 Welcome back to Dew Tour ladies! Photo: Rocky Maloney
Athletes are pre-qualified based on their 2009-10 Winter Dew Tour rankings. Athlete registration for the 2010-11 Winter Dew Tour season is currently open and the full, final roster will be announced prior to each event. As a way to continue growing winter action sports and spotlighting new talent, the Winter Dew Tour will hold Open Qualifiers at the Nike 6.0 Open in Breckenridge to allow spots for emerging talent on the Tour.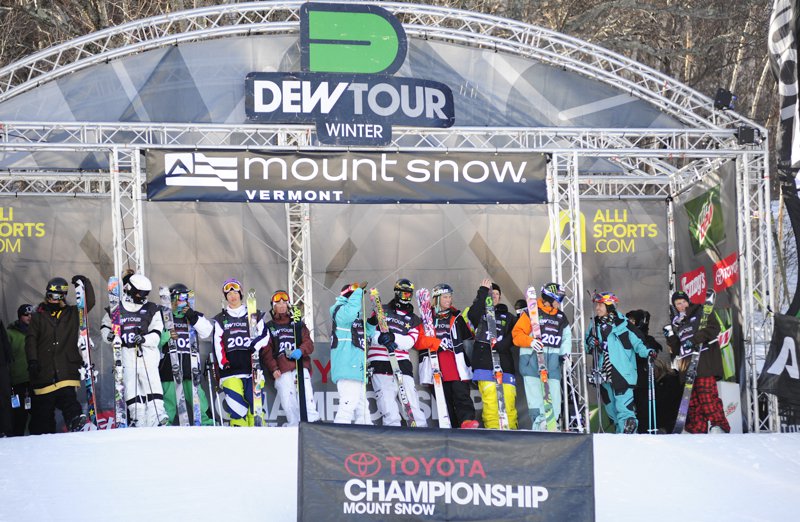 Photo: Matt Stauble
The full list of pre-qualified freeski athletes is below. The first round of confirmed athletes for the Nike 6.0 Open will be announced on Tuesday, November 9th, 2010.
Men's Freeski Superpipe
Jossi Wells
Simon Dumont
Xavier Bertoni
Mike Riddle
Tucker Perkins
Justin Dorey
Kevin Rolland
Peter Olenick
Banks Gilberti
Matt Duhamel
Dan Marion
AJ Kemppainen
Colby West
Tanner Hall*
Torin Yater-Wallace**
Men's Freeski Slopestyle
Andreas Håtveit
Bobby Brown
Tom Wallisch
Sammy Carlson
Alexis Godbout
JF Houle
Jossi Wells
Elias Ambuhl
Phil Casabon
Charles Gagnier
Sean Jordan
Alex Schlopy
TJ Schiller
McRae Williams
Ian Cosco
Elvis Harsheim
Anders Backe
Banks Gilberti
PK Hunder*
Steffan Hamre**
* Former Dew Cup champion exemption
** 2010 Gatorade Free Flow Tour champion
An industry-leader in broadcast exposure, the Winter Dew Tour will air live on NBC with additional broadcasts on USA, MTV, MTV2, USA, Fuel TV, Universal HD and internationally on Eurosport, Fox Australia and Extreme Channel. The complete 2010-11 Winter Dew Tour schedule is as follows...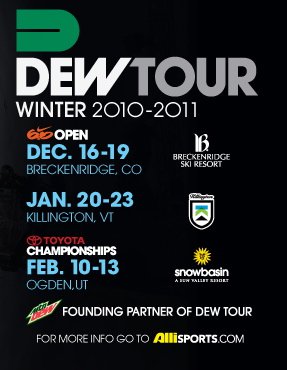 Entering its third season, the top athletes in the world will take part in the 2010-11 Winter Dew Tour, all competing for the highly coveted Dew Cup that will be awarded at the Toyota Championship at Snowbasin Resort in Ogden, Utah. The 2009-10 Dew Cup champions include Andreas Hatveit (Freeski Slopestyle), Jossi Wells (Freeski Superpipe), Jamie Anderson (Women's Snowboard Slopestyle), Sage Kotsenburg (Men's Snowboard Slopestyle), Kaitlyn Farrington (Women's Snowboard Superpipe), JJ Thomas (Men's Snowboard Superpipe).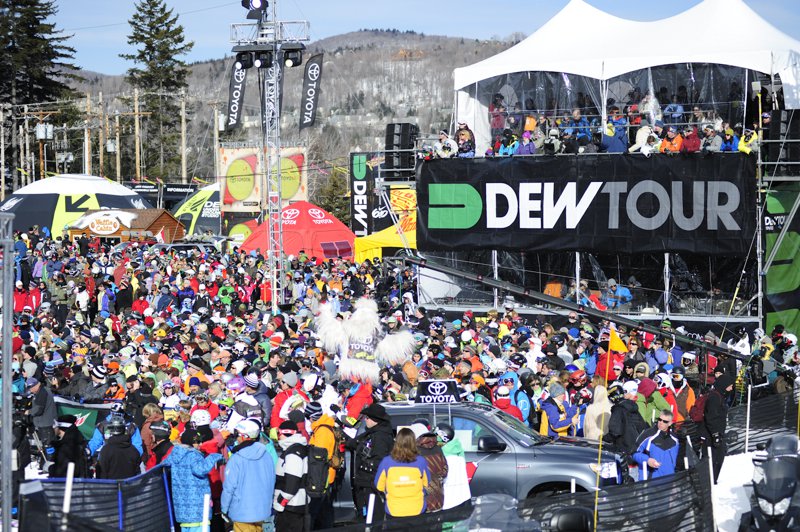 Photo: Matt Stauble