The Team Challenge is probably (hopefully) everyone's highlight of the Dew Tour, with riders from 6 of skiing's biggest brands competing in modified halfpipe, jumps and jibs. Torin YW ended up pulling double duty for Armada, riding both pipe and jumps but all the other teams fielded three riders. It was also a chance to see some film guys like Antti Ollila and others who you don't often see in competition, least of all big ones like this.
_
Modified Pipe:
Run 1:
Antti Ollila started things off for Team Faction in the pipe section and showed immediately he's no slouch riding pipe: Switch right 5 from the shark fin then dropping in switch to the pipe for a huge switch tweaked safety straight air was the highlgiht. Birk Irving put together a clean run with a steezy tokyo drift to switch drop to the pipe section, utilizing the pipe well and showing his pipe pedigree to take an early lead. Aaron Blunck showed exactly why he is one of the best pipe skiers on the planet with a super technical run, showing off his switch pipe riding but unfortunately had some sketchiness in there which knocked his score way back. The same went for Torin, who put his hands down on a left 7 but had a dope alleyoop flat 9 out of the pipe to the roller.
_
Antti (Faction): Style run
_
Birk (K2): 3rd place pipe run
_
Run 2:
Antti almost put down another creative run until he went down on an alleyoop nosebutter cork 7. Aaron Blunck sent his beautiful switch to switch dub 9 on the first pipe hit but again, couldn't keep his run clean, crashing on the hip at the bottom. Miguel Porteus cleaned up his run (switch 5 the fin, right dub 2, b2b 9s, cork 450 to the roller, switch 450 the hip to end) to take over first spot, as did Torin who went narrowly second behind Miguel. (alleyoop flat 7 bow and arrow on the fin, 9 tail, left 7 safety, switch right 7 mute, alleyoop flat 9 out to the roller, big switch 180 the hip to the big pipe section). Hunter Hess sent a crazy dub out of the pipe to the roller but couldn't hold it together perfectly (overrotation with a knee grab).
_
Miguel (Atomic): 1st place pipe run
_
Torin (Armada): 2nd place run
_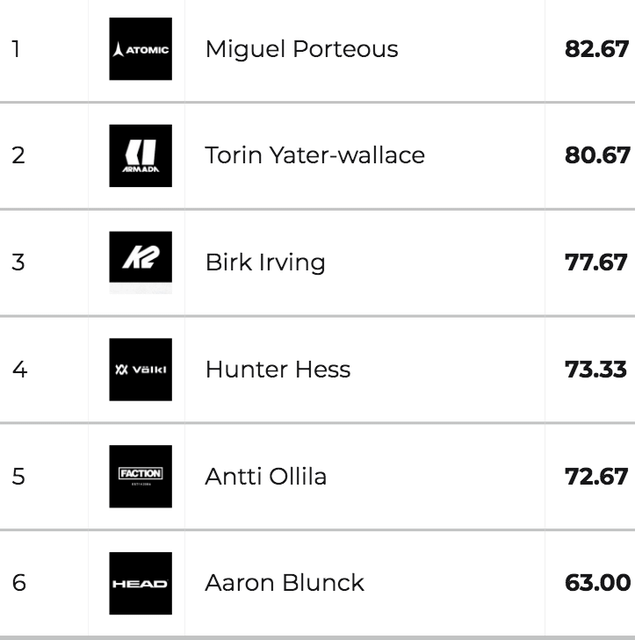 ____
_
Jumps:
Run 1:
The jump section was straight up fucked from the off, with Mac Forehand throwing what turned out to be a mellow right dub 12 safety, switch left dub 12 mute to left dub 14 tail. Ferdinand Dahl kept things steezy with a right dub misty 10, left dub 12 dub japan to switch right cork 9 tail. Evan McEachran then turned up the heat with a dub 12 nose + tail, and b2b switch dub 14s (right with safety, left with tail). Fabian Boesch answered with an equally (almost equally in the judges' opinion) crazy switch left dub 14 japan, switch right dub misty 12 safety to left dub 16 blunt. Before Torin blew everyone's mind with a dub rodeo 14 on the last hit (spinning the last 3 pretty much on the landing) and McRae crashed hard on his third hit.
_
Torin (Armada): Steeze run
_
Run 2:
Mac Forehand improved his mute on the switch dub and stepped up his final trick to a perfect capped blunt dub 16 to get the first score in the 90s. Ferdinand also stepped up his last hit with a crazy switch double 12 (belly down) to boost his score a bit but not enough really boost his ranking. Evan McEachran repeated his first run, adding a dub japan to his second, and cleaned things up a touch, boosting his score to 92+. Boesch also cleaned things up, and again, took over first place with a 94.00. Torin unfortunately landed backseat on a second hit switch dub 12 and sent a fronty for the boys on the last feature. McRae dub 12, switch dub 12, dub 12
_
Fabian Boesch (Atomic): First place jump
_
Evan McEachran (Head): Second place jump
_
Mac Forehand (Faction): Third place jump
_
Ferdinand Dahl (K2)
_
McRae Williams (Volkl)
_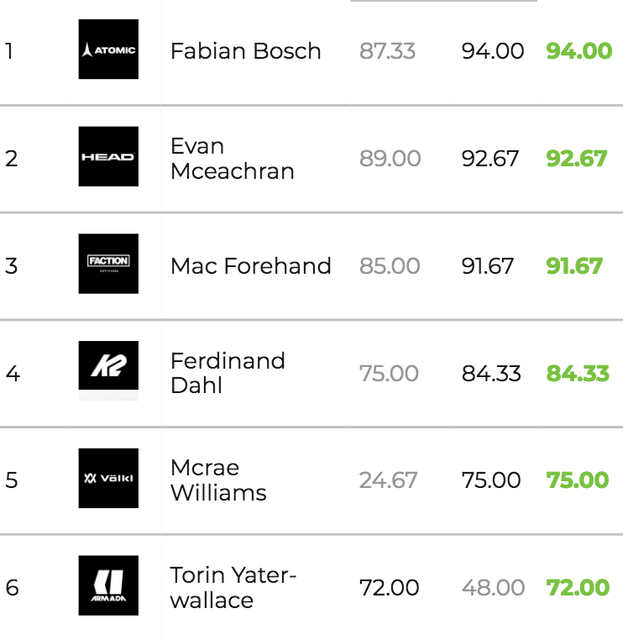 ____
_
Jib Section:
Run 1:
Alex Hall got the ball rolling with some rail insanity, a crazy transfer + a 450 tail tap out on the donkey to can feature. Colby Stevenson kept it tech but unfortunately came off the last rail early. Jesper did Jesper things, ending his run with a switch backie off the bottom donkey over the can. Gus made things look easy, keeping it mellow (for him) but putting a score on the board, all but guaranteeing Atomic the win. He ended his run with the same switch 2 pretz 4 Kelly Sildaru did earlier, highlighting exactly how high a level her run was on. Henrik brought the steeze with a switch lip safety slide back 2 out but crashed on his final trick. ABM rounded out the field with a run including a silky switch butter 5 over the roller and a nice 4 disaster continuing 4 for the highest score of run one.
Run 2:
Alex Hall then raised the bar with probably the most tech contest rail run I've ever seen. I'm not even going to try and type it out, just watch the video. Jesper put down the same run again but boosted his score. ABM dropped last and put down a second completely bonkers jib run of the day but by this point, Atomic had already sealed the deal taking the overall W.
_
Alex Hall (Faction): 1st Place Jib
_
ABM (Volkl): 2nd Place Jib
_
Jesper Tjader(Head): 3rd Place Jib
_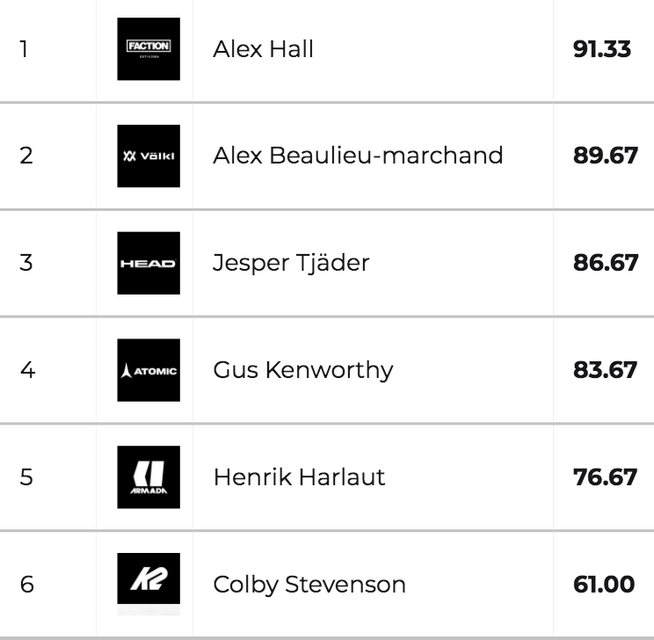 ____
_
Overall Results: