Cover: Fabian Boesch shot by Jamie Walter
Skiing is insane right now. There were some wind issues at Breck today, but even with that added difficulty, the level of riding was ridiculous. Splitting the jumps and rails clearly gave the riders more time to focus on each and the result was one of the most impressive displays of technical trickery I've seen to date. Of course, Dew is the first big contest of the season so this might be the new standard, it was definitely nuts.
_
Jump Section:
Run 1:
Right off the bat, Fabian Boesch stomped a crazy technical triple jump combo (switch dub 14, switch dub misty 12, dub 16 blunt). There were honestly too many good runs to write out in full and not have this be 5000 words, so we're on minimal highlights here. The first person to beat him and push into the 90s was Andri Ragettli, who stomped a switch dub misty 16 and a forward dub 16 but didn't define his grabs enough to score super high (2 tindys). Alex Hall then hit it out of the park with three dubs with insane grabs (left dub 12 lead tail, switch left dub 14 seatbelt japan, switch right dub 12 lead mute) to score a whopping 94. Evan McEachran immediately answered with his trademark left dub 12 nose tail backed up with b2b dub 14s with locked in grabs putting him second with a 92.33.
_
Alex Hall (1st place jump run):
_
Evan McEachran (3rd place jump run):
_
Run 2:
Boesch cleaned up his last hit dub 16 blunt to boost his score to 92 and provisional third. ABM put down back to back dub bios (switch dub bio 12, forward dub bio 12) which I thought was super rad but didn't score that well (88). Teale and Woodsy also put down clean putting respectable scores on the board. Henrik then put down the first triple of the day in a pretty crazy run (left belly down dub flat 12 (lobster flip kinda), switch right dub 10, switch triple orbital 12 critical) but still only scored an 89. Perhaps that switch right dub 10 held his score back but afterward, Henrik was openly disappointed with his score when interviewed.
_
ABM:
_
Dollo:
_
Run 3:
Fabian Boesch made it three for three, even cleaner this time and again boosted his score to 93.33 and second spot at the time. Oscar Wester put down a clean run to put a score on the board but a dub misty 12 to dub 14 looked a bit pedestrian compared to some of what was going down today. ABM sent a huge switch triple on the second jump but then crashed on his last hit dub bio 12. Andri Ragettli cleaned up his grabs for his third run, getting more of a safety on the switch dub misty 16 and more of a tail on the dub 16 but still only scored a 92.0. Woodsy also cleaned things up a tad, though his grab on the dub 16 is confusing. Gus put down his cleanest run of the day, but could still only manage an 84. It ended with A-Hall in top spot going into the rails thanks to his bonkers first run, ahead of Fabian Boesch and Evan McEachran
_
Fabian Boesch (2nd place jump run):
_
Andri Ragettli:
_
Woodsy:
_
Top 6 after jumps: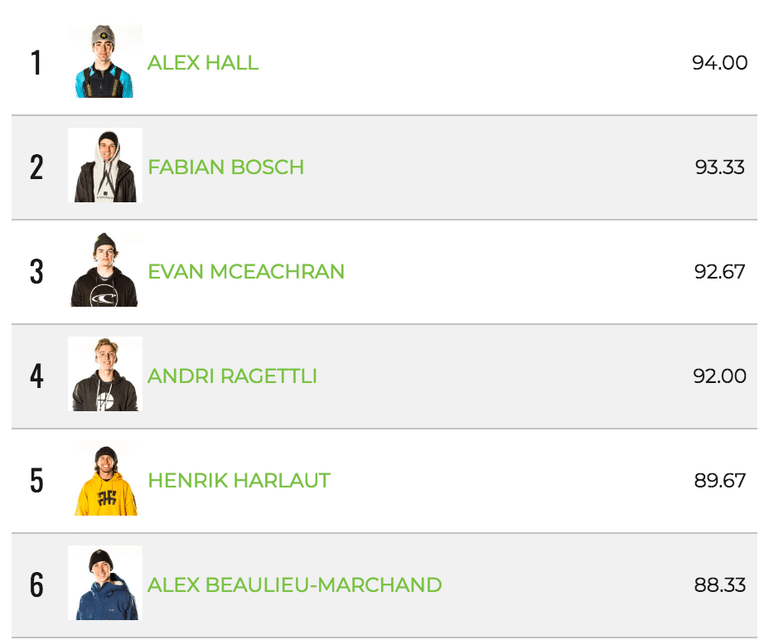 ______
_
Jib Section:
The other great thing about the Dew Tour format is that rails are guaranteed to count for 50% of the score. That is always theoretically the case, but there is no doubt in my mind at least, that judges understanding of rail tricks is less good than of jumps and that historically at least, jumps have counted for far more.
Run 1:
ABM put down the first mindfuck of a rail run with four super technical tricks. His 4 continuing 4 on the donkey was nuts and he probably got underscored. Andri Ragettli spun super fast, with two sixes in his run including a switch 2 pretz 6 on the donkey, but only scored an 84.66. Woodsy put down a really unique run with a switch 180 on 180 off on the wallride and a gap disaster switch tails 4 on the third rail set but kind of messed up his last trick. Gus showed that he had the makings of a winning rail run immediately before A Hall couldn't quite keep it together at the bottom of his first run putting a touch more pressure on himself. Evan McEachran sent it to the top of the wallride and found a really scary looking transfer at the bottom to post the first score in the 90s. Henrik immediately answered with a 92.0 of his own courtesy of a terrifying switch tails blender on (to nollie front 2) and both 4s on for the best rail score of run 1.
_
Dollo (2nd Place Jib):
_
Andri Ragettli
_
Run 2:
Only a few Guys managed to improve on the second run, the first of whom was Woodsy. He had a unique run for sure but the judges clearly didn't see it as technical enough, keeping his score at 83.66. Then A-Hall put his run down pretty clean, a slight early off on the last rail kept his score down to an 89 (could easily have been 90s) though. Thanks to his jump score, he went first for precisely one run... until Evan McEachran improved on his first run, adding a 4 out to his transfer at the bottom to score a 94 and go first overall.
_
Woodsy
_
Run 3:
Oscar Wester cleaned things up for his final rail run but it wasn't enough to challenge the podium boys. ABM greased his own last chance. His switch 180 to the pad - continuing 270 to backslide was one of the coolest combos of the day and his 4 continuing 4 through the Donkey was bolts. He scored a 91.0 but I might argue even that was an underscore. Gus messed up his transfer on the second feature but threw a 630 on, one of the hardest tricks of the day, just for the shits and giggles. Respect. A Hall had his best run of the day on run three, but did miss a 270 out that he would have liked. Still scored a 90 but not enough to take the lead. Evan McEachran somehow landed his super technical run for a second time in a row and scores 0.67 higher and took the big W after a dominant rail performance.
_
Evan McEachran (1st place jib run)
_
Alex Hall (2nd place overall)
_
ABM (3rd Place Jib)
_
Top 8 Jib Section: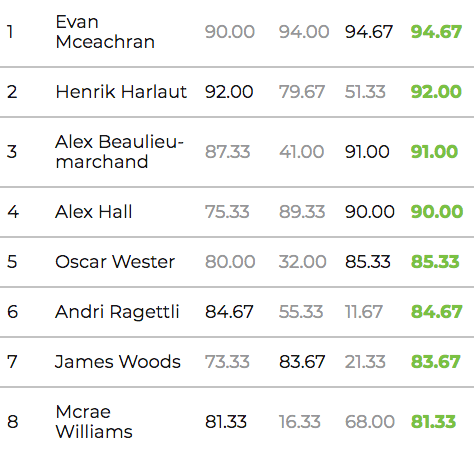 ___
_
Overall Results: