Words by Jeff Schmuck
Photos by Julie Weinberger & Jeff Schmuck
The bad weather that plagued yesterday's slopestyle prelims was not to be seen today as the skies opened up for the men's superpipe prelims and women's superpipe exhibition in Breckenridge.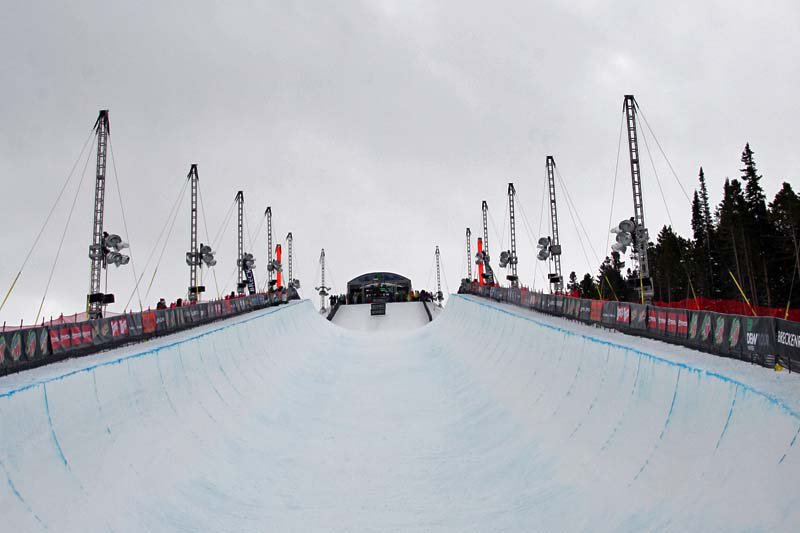 photo: Julie Weinberger
Practice began at roughly 11am and the men and women went right to work. Looking strong right off the bat were the three most talked about pipe skiers of the year, Tanner Hall, Simon Dumont and Justin Dorey. Much like in slopestyle, Simon was on a mission like never before and is focused and determined to win at all costs. Tanner's intoxicating stoke for skiing was festering around the start gate like a happy version of the Ebola virus and as usual, his skiing spoke for itself, with massive left and right 9's and 10's and a first hit 12 that he threw down from morning till afternoon.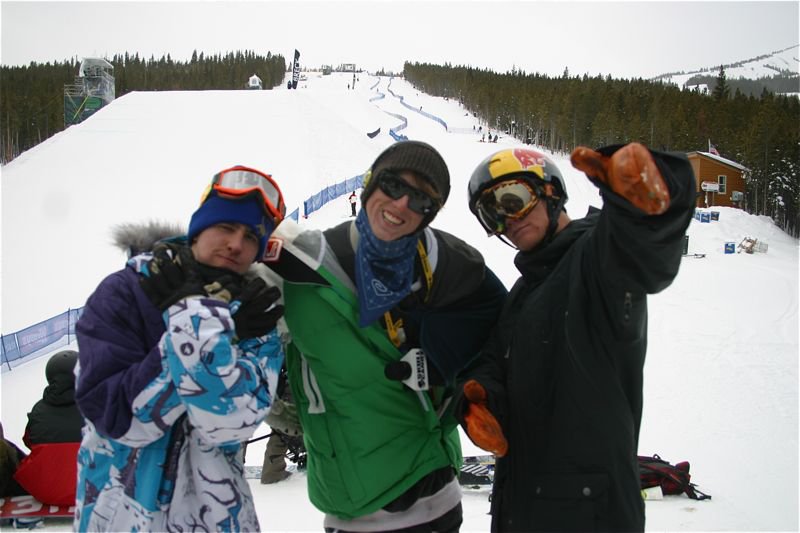 Henrik, Wallisch, Tanner. photo: Jeff Schmuck
But throughout practice the real head turner was Dorey, who was throwing left and right alley-oop flatspins in a way that would make Keanu Reeves in the Matrix jealous. Combined with his switch left and right spins and Dorey will surely be a force to be reckoned with throughout the year, which is a feat unto itself since he's just coming off a fresh knee surgery.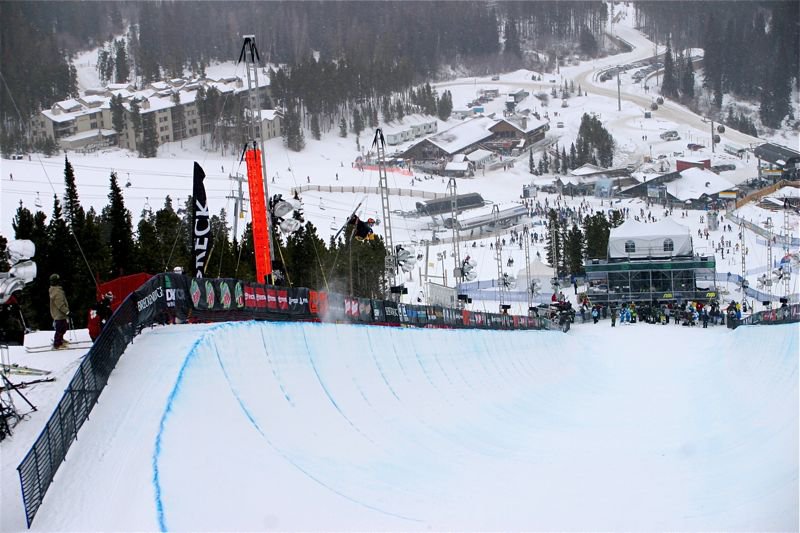 Justin Dorey. photo: Jeff Schmuck
Also upping the ante this morning were the usual pipe suspects that are Jossi Wells, Colby West, Mike Riddle and Peter Olenick (who has been on a hot streak since this contest began) and a most unusual pipe suspect, LJ Strenio.
Mike Riddle. photo: Julie Weinberger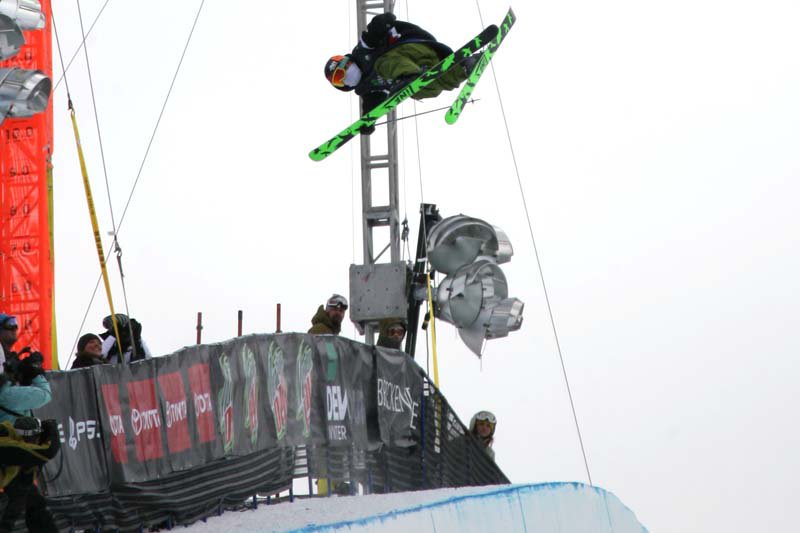 LJ Strenio. photo: Julie Weinberger
Counteracting the North American firepower were the often overlooked and highly underrated duo of Xavier Bertoni and Kevin Rolland from France, who's textbook style and technical tricks were as smooth as the red wine from their homeland.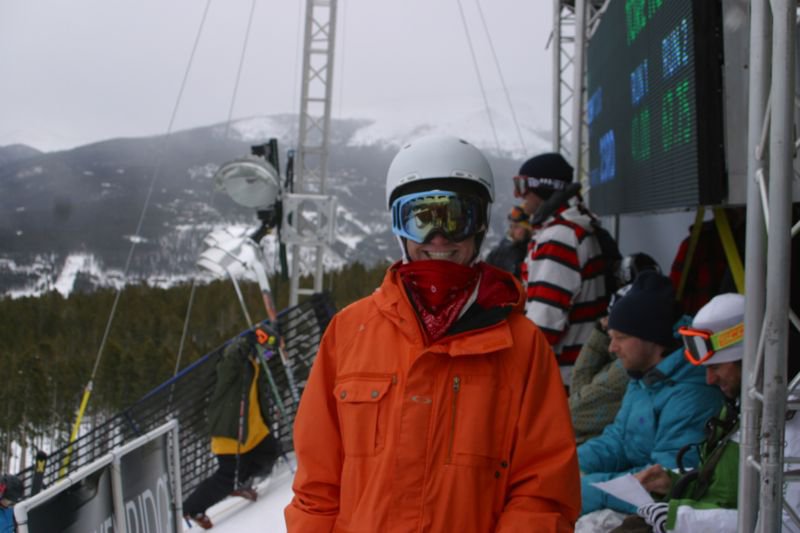 The Brothers Wells. Byron...
After an hour or so of practice the first of two heats kicked off. Just as yesterday, there were 35 skiers in total and only 12 were to be awarded the prize of competing in tomorrow night's finals under the lights and live on NBC Sports. With a fire in his eyes and right out of the gate, Byron Wells laid down one of the most solid pipe runs of his soon to be long and illustrious career. His performance would eventually land him in seventh, just one spot behind his brother Jossi who would compete later in the day. Jossi of course was quite relieved by this, because if you're acquainted with the brothers Wells, you know that when the time comes that Byron eventually beats Jossi, he'll never let him hear the end of it.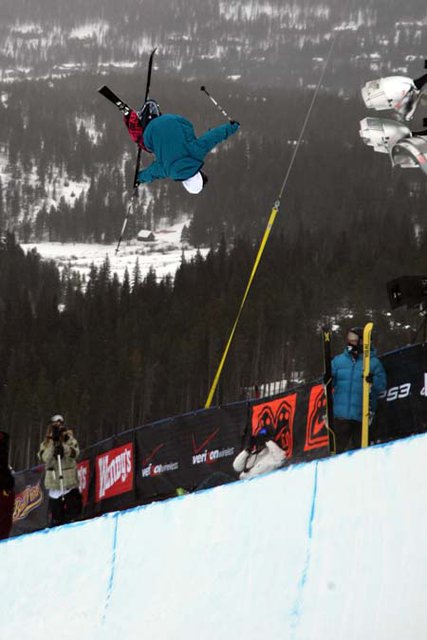 ...Jossi. photo: Julie Weinberger
Following Byron was Justin Dorey, who after a bobbled first run began feeling the pressure to meet the high expectations many seem to have of him for this winter after his summer of slaying in New Zealand. However much to the delight of everyone in attendance, Dorey pulled through and put down a mindfuck of a run, helping land him in second place when all was said and done.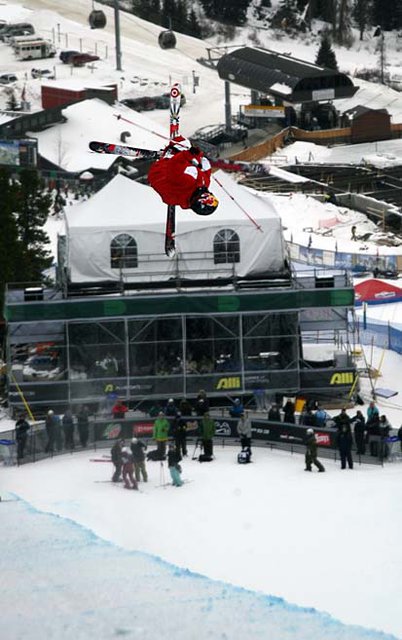 Simon Dumont. photo: Julie Weinberger
Peter Olenick also continued his reign of terror, with a set of massive flairs and left and right 9's capped off with a silky 10 that would see him move onto the finals in ninth place, and as expected Xavier Bertoni put in a stellar performance that landed him in fifth. However it was Simon Dumont who was the story of heat one and ultimately the entire day, as his stratospheric amplitude and picture perfect spins were simply unmatched throughout the prelims, helping score him a much deserved first place.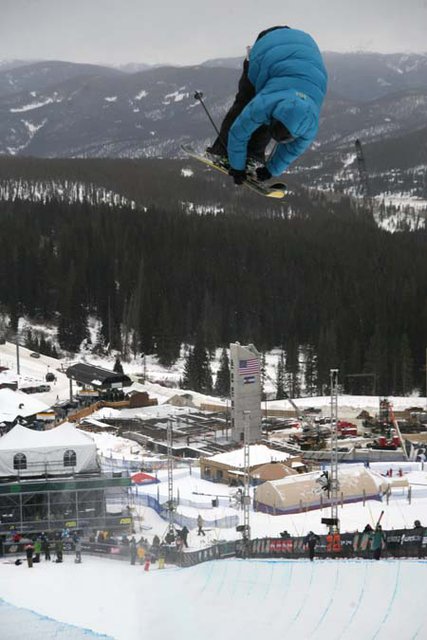 Walter Wood. photo: Julie Weinberger
The second heat seemed be the more stacked of the two, with the majority of the top 12 cocooning out of it towards tomorrow night. Kevin Rolland and Jossi Wells both crushed their way into the finals, and Walter Wood proved the notion that he'll be around for a long time to come by showing he's as consistent as business in breast implant clinic in Los Angeles. Sitting on the bubble but eventually popping it were Taylor Seaton and the high-flying kiwi Lyndon Sheehan, who has arguably the biggest pop in skiing.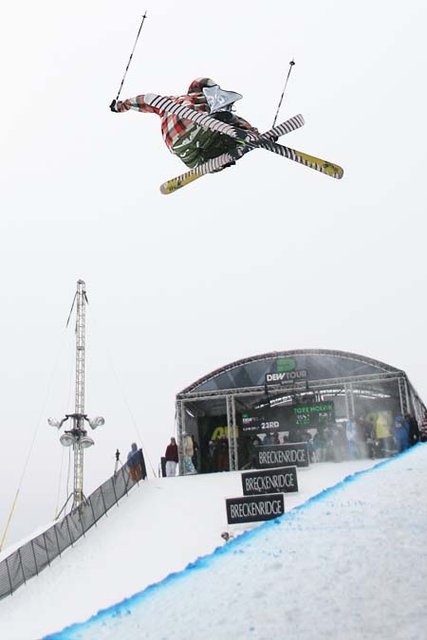 Colby West. photo: Julie Weinberger
Unfortunately two of the big guns that were expected to go off in the second heat misfired, as Colby James West and Mike Riddle couldn't put down their best runs, knocking them out of contention for the big show tomorrow night, which they will no doubt be missed at.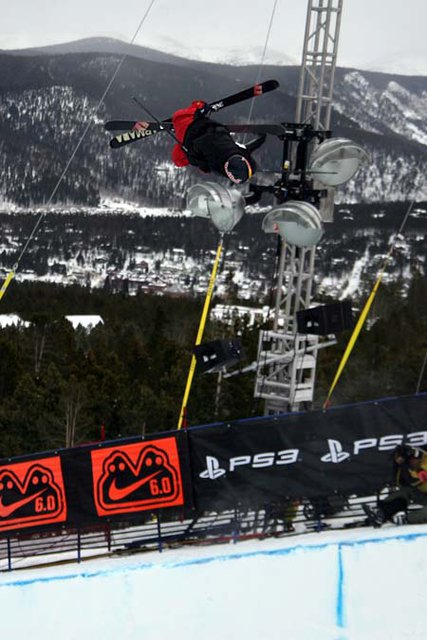 Tanner Hall. photo: Julie Weinberger
And not to be outdone and to no one's surprise was Tanner Hall, who continued his flawless dominance of the halfpipe world by landing himself in fourth, behind Dumont, Dorey, and the real darkhorse story of the day...Duncan Adams. The softspoken and hardworking Adams didn't just come to play today...he came to win, and he wore his desire on his sleeve by throwing a barrage of massive switch left and right spins that he stomped louder than an NBA dunk. Proving how determined he is, Duncan stuck around long after the men's division had ended, repeatedly hiking the pipe all by himself to get as much practice in as he could before his first primetime appearance tomorrow night.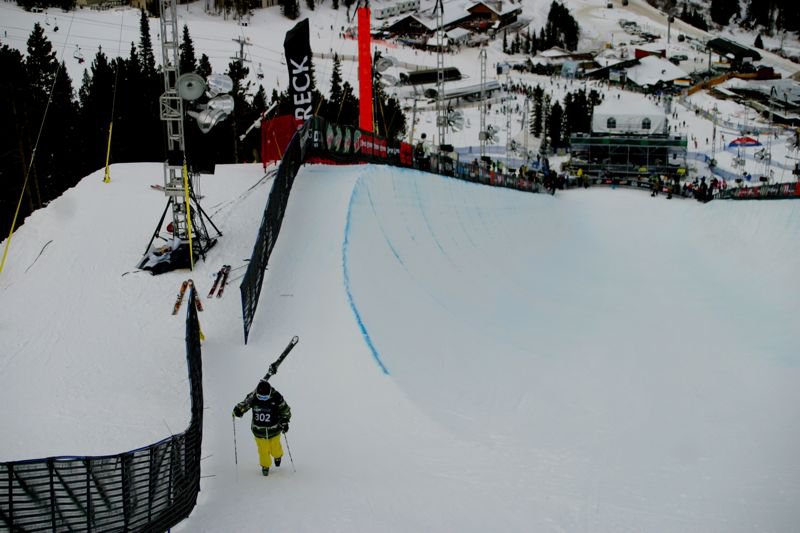 Duncan Adams...last man standing. photo: Jeff Schmuck
Men's Results
1) Simon Dumont - 90.50
2) Justin Dorey - 88.25
3) Duncan Adams - 85.50
4) Tanner Hall - 85.25
5) Xavier Bertoni - 82.25
6) Jossi Wells - 81.00
7) Byron Wells - 80.75
8) Kevin Rolland - 75.75
9) Peter Olenick - 72.25
10) Walter Wood - 71.25
11) Taylor Seaton - 71.00
12) Lyndon Sheehan - 69.75
-cutoff-
13) Tucker Perkins - 67.75
14) Matt Margetts - 67.50
15) AJ Kemppainen - 67.50
16) Mike Riddle - 66.00
17) Tyler Peterson - 65.00
18) Colby West - 64.75
19) Marshall LaCroix - 62.25
20) John Strenio - 61.75
21) Kyle Smaine - 59.25
22) Andre Simonpietri - 58.75
23) David Wise - 58.50
24) Jack Sullan - 58.25
25) Evan Schwartz - 52.75
26) JL Ratchel - 52.50
27) Matti Raty - 49.25
28) Colby Albino - 40.50
29) Matt Philippi - 28.75
30) Rob Heule - 27.00
31) Sammy Carlson - 22.75
32) Thomas Krief - 21.25
33) Matt Duhamel - 18.75
34) Miles Honens - 9.50
35) Kentaro Tsuda - 9.50
Shortly after the men's prelims finished, it was the ladies' turn to strut their stuff in the women's superpipe 'exhibition,' which was an odd term considering the event was in actuality a full-on competition with prize money (albeit less than the men's division) for the winners.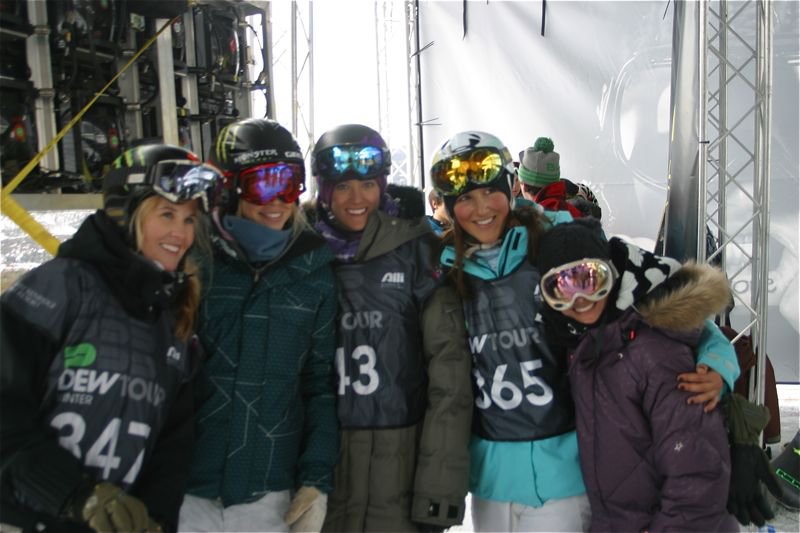 (left to right) Sarah Burke, Kristi Leskinen, Jess Cumming, Jen Hudak, Virginie Favre. photo: Jeff Schmuck
Five women were in the running, and it was only fitting that those in contention be the top five female pipe skiers in the world...Sarah Burke, Jess Cumming, Jen Hudak, Rosalind Groenewoud and Dania Assaly.
Jess kicked things off with the run that put her on many a podiums last winter complete with a nice 5 mute, some large airs and a 7 at the bottom that landed her in third. Hudak followed but although her first run didn't go as planned, she made up for it on the second edging out Jess for second place.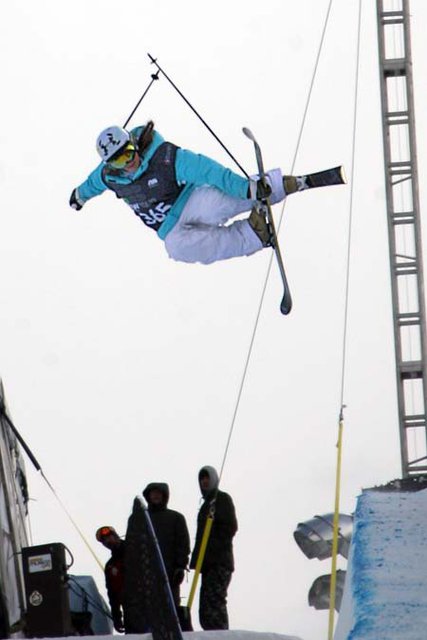 Jen Hudak. photo: Julie Weinberger
Rosalind and Dania unfortunately had a stroke of bad luck, as Roz lost her pole on the first hit of her first run (but completed it with only one pole) and then crashed on the first hit of her second. Likewise Dania fell on the first hit of her second run, although her first run was scored just below Jen's.
Sarah Burke. photo: Julie Weinberger
But as sure as the wind blows in Breckenridge, Sarah Burke continued her dominance of the women's pipe circuit by picking up her first win of the season with a left and right 5, a styled-out 7 at the bottom and some straight airs that were bigger than some of the guys.
Women's Results
1) Sarah Burke - 95.00
2) Jen Hudak - 85.00
3) Jess Cumming - 77.75
4) Dania Assaly - 69.00
5) Rosalind Groenewoud - 33.00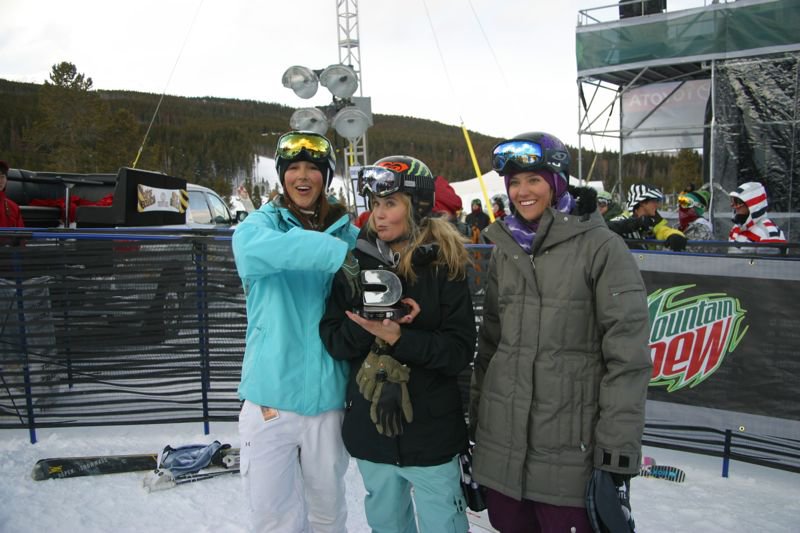 photo: Jeff Schmuck
Tomorrow will be a busy day at Dew Tour with the rescheduled men's slopestyle prelims kicking off at 9am which will see the boys get only one run due to time constraints as opposed to the originally scheduled two. Once the 35 have been scaled down to 12 the finals will immediately begin and will be followed by the women's slopestyle exhibition which will end just a few hours before the superpipe finals begin under the lights at 6pm.
As usual, we'll be keeping you up to date on everything that's going down at Dew Tour, so be sure to keep yourself glued to NS tomorrow as we plan on dropping a full update on the slopestyle contest followed by pipe results later in the evening and a full report the next day.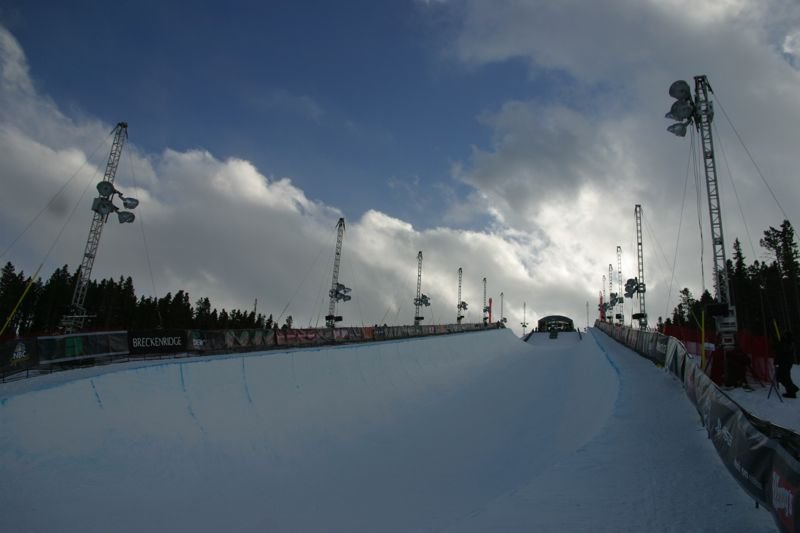 photo: Jeff Schmuck