Words by Jeff Schmuck
Photos by Julie Weinberger & John Vandervalk
The first of the three Winter Dew Tour stops culminated last night in Breckenridge, Colorado with Tanner Hall picking up his first win of the season at the men's superpipe finals.
Tanner and many others called the conditions some of the toughest they've ever had to deal with in a pipe contest, as although the snow was falling much more lightly than earlier in the day during slopestyle and the massive lights did their best to tear through the fog, the cold temperatures and high winds that were ever present over the course of the week were doing their best to make things difficult for the competitors.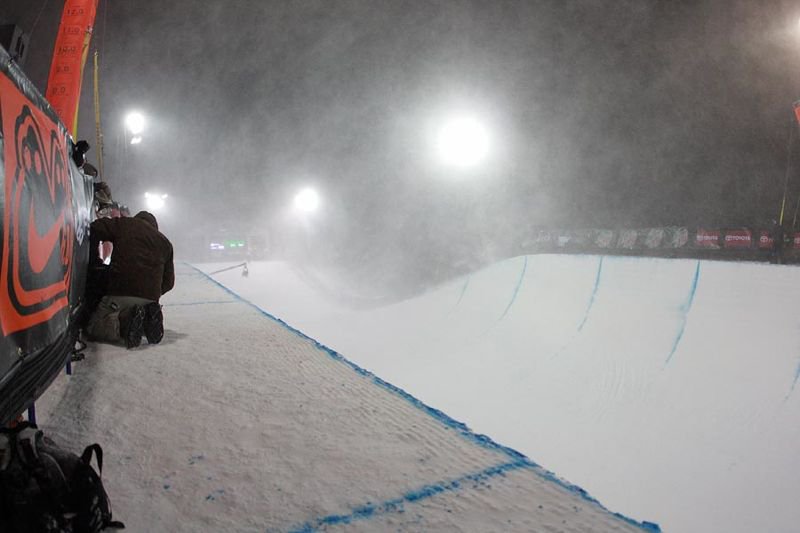 photo: John Vandervalk
The 12 talented skiers that were dwindled down from 35 after Friday's prelims were competing in a two-run format with the best run counting, and with a more than respectable crowd at the bottom braving the elements to watch the boys do what they do best the stoke factor was on high.
Lyndon Sheehan. photo: John Vandervalk
As the TV cameras began to roll the high flying Lyndon Sheehan from New Zealand kicked off the proceedings and was followed by Taylor Seaton, both of whom put down respectable runs that would eventually land them in 9th and 8th place respectively.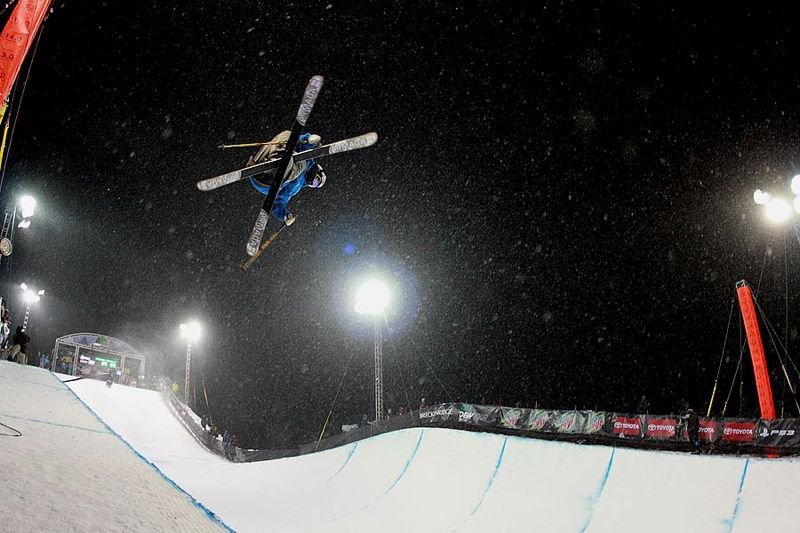 Taylor Seaton. photo: John Vandervalk
The young and exciting Walter Wood was up next and was boosting huge with some seriously styled-out grabs but had a spot of trouble on each of his runs and ended up in 10th. Keep your eyes on this kid, he's going to be around for a long time to come.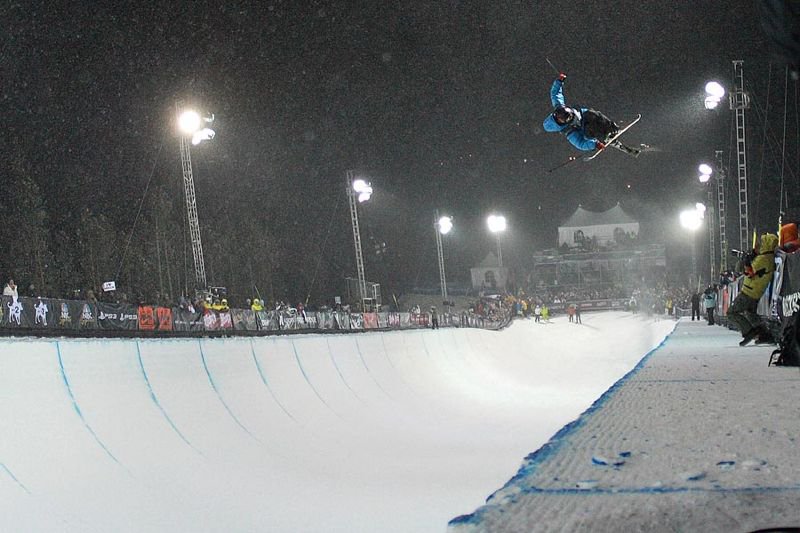 Walter Wood. photo: John Vandervalk
Pipe alumni Peter Olenick, who has been shredding his ass off all week long, then took center stage and proceeded to throw down (sans whiskey flip) two of the cleanest runs he's done in his long career which awarded him a solid 4th place. Much like Walter and many others, be sure to watch out for Pete over the course of this year, he's on a mission.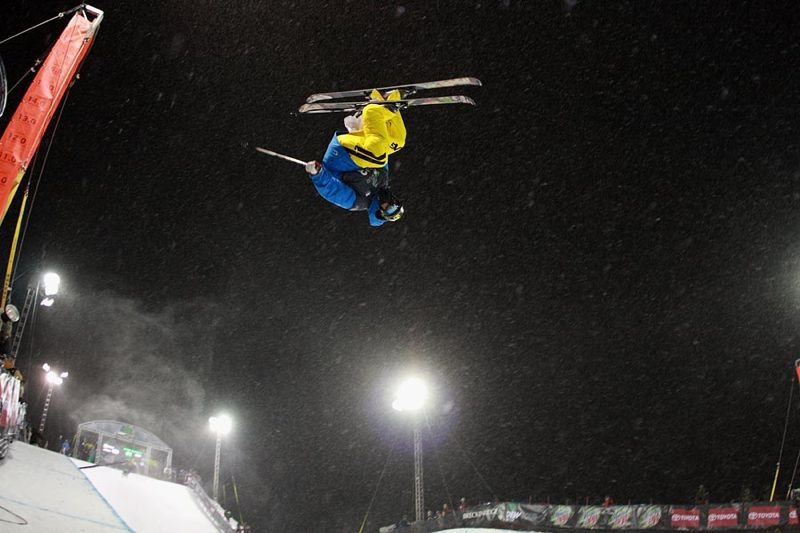 Peter Olenick. photo: John Vandervalk
The first half of the cat-like French duo of Kevin Rolland and Xavier Bertoni then roared down the pipe, as Rolland put down a highly technical run complete with many a switch hits and solid grabs that put him in 7th. Shortly thereafter Xavier dropped in and slightly bettered his counterpart's score by putting on a similar and masterful display of technicality that was reminiscent of Candide Thovex's antics in the pipe, which probably has something to do with the fact that they're from the same town.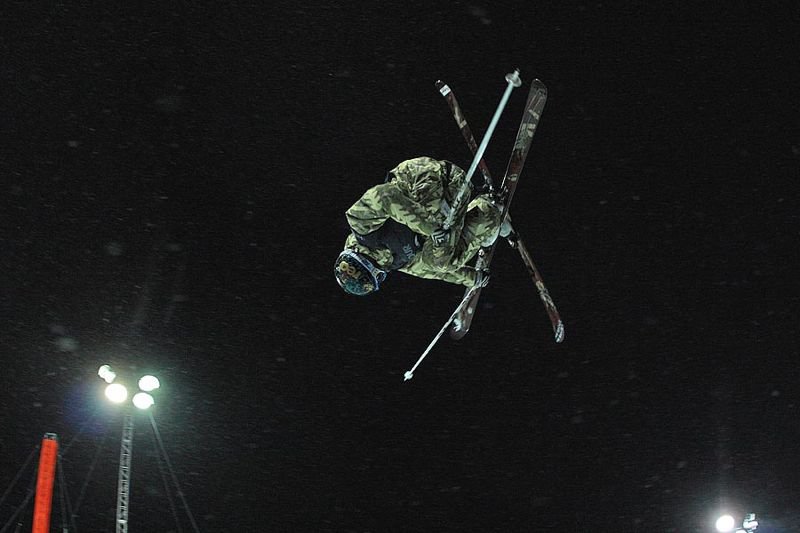 Kevin Rolland. photo: John Vandervalk
Byron Wells was then all set to go and had to wave the Wells flag on his own as his brother Jossi decided to skip the event to give his knee some time to rest after injuring it in slopestyle earlier in the day. Jossi said that he doesn't think it's too serious but that he will be getting an ultrasound tomorrow to make sure it's not too bad and plans on taking a week or two off just to be safe. Here's hoping that it's all good for you Joss.
So with his brother waiting at the bottom cheering him on Byron dropped in on his first run and unfortunately bobbled a bit, causing him to go all or nothing on his second which saw him launch quite possibly the biggest or perhaps second biggest (behind Dumont) air of the night with a colossal cork 5 that was a thing of beauty. Sadly he ended up losing a ski a few hits later, which put him in 11th place.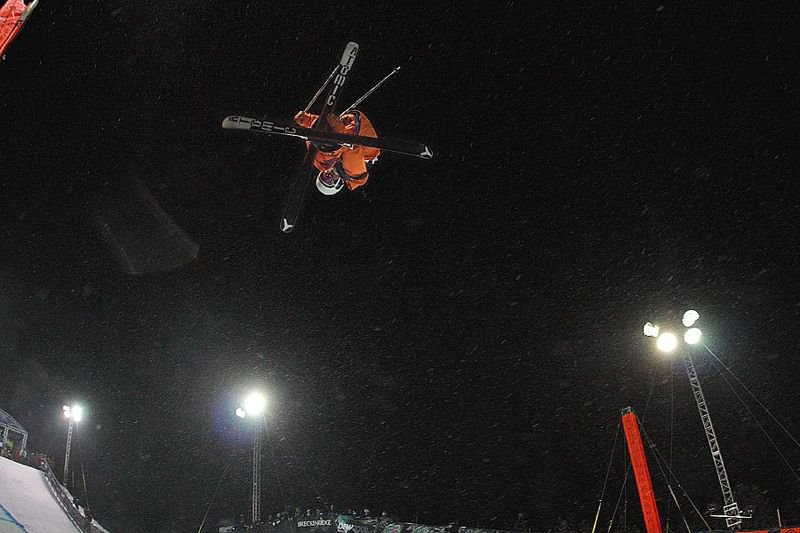 Byron Wells. photo: John Vandervalk
The time then came for the top four skiers from the prelims and whom everybody had been talking about for the last few days to make their mark. Jumping straight into the fire first was the iconic Tanner Hall, who after placing 4th in prelims was hungry to show the world what we all know he's capable of...and he didn't disappoint.
Tanner Hall. photo: Julie Weinberger
There was murmuring in the crowd as to whether or not he would throw down one of his two doubles (as he had been doing some in practice the night before), but due to the weather he decided to forgo it, and in the end, he didn't need it. T kicked things off with a huge 12, to right 9, to left 9, to alley-oop flatspin 3 to switch 10. To no one's surprise, his impressive run landed him in 1st place, which he would ultimately hold onto for the remainder of the night.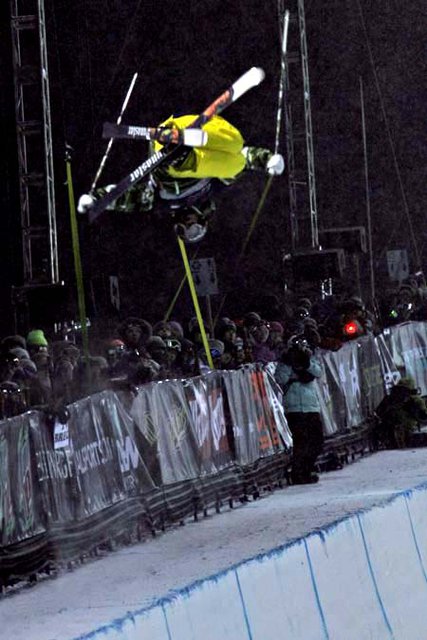 Duncan Adams. photo: Julie Weinberger
Up next was the darkhorse Duncan Adams, who after crushing it in the prelims and working his ass off to prepare for finals came in hot and laid down one of the smoothest runs seen in recent memory, with a combo of left and right spins and a multitude of switch hits on which he arguably carried better speed than any of the other competitors. The judges seemed to agree and put him into second place for his efforts.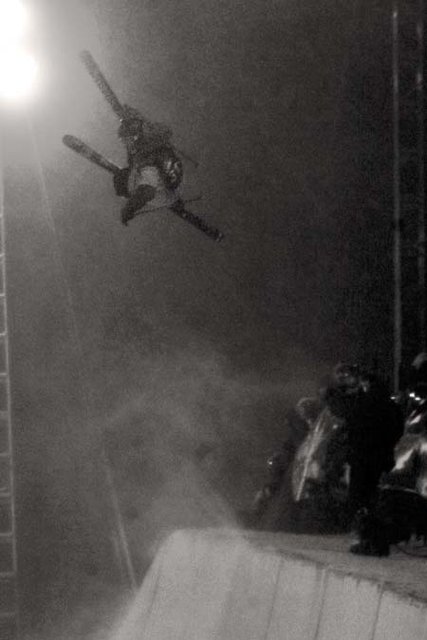 Justin Dorey. photo: Julie Weinberger
However Duncan's bridesmaid position would be quickly snatched away by the exciting Justin Dorey, who is quite possibly the most talked about and anticipated pipe skier of the year as he is considered to be the most serious threat to the Tanner/Simon dominance of the pipe world. Dorey met those expectations last night and then some, by throwing left and right alley-oop flatspins and switch left and right spins, which no one else has been doing. As a result of his versatility, Dorey took over the second place spot.
But no pipe competition can be considered over until Simon Dumont has had his turn. The man Tanner Hall calls the best pipe skier in the world won the prelims and therefore skied last. As the anticipation in the air rose to a fever pitch, Simon mobbed into the pipe faster and more aggressively than anyone else and showed the world that he's taken his pipe game to a whole new level with a flawlessly massive left 9, to right 9, to 12, to air to fakie to switch 10.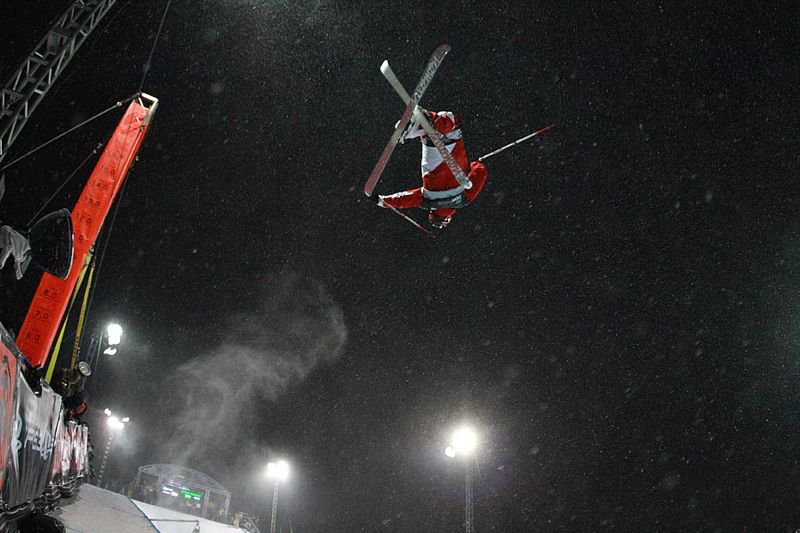 Simon Dumont. photo: John Vandervalk
It seemed apparent that the judges docked him a bit for his air to fakie by placing him in 4th, so after the end of everyone's next runs which saw little to no movement in the leader board (other than Peter bettering his first run and landing himself in 4th and bumping Simon down to 5th), Simon screamed down the pipe again going bigger and better than his first run and decided to mix it up a bit by replacing his air to fakie with an alley-oop 7 before going for his switch 10. However as he went into his last hit he seemed to run out of room as one of his skis nicked the deck and fell off.
As Simon's score came up on the leader board Tanner raised his arms in triumph once again by taking home his first Dew Tour medal at the inaugural event, with Justin Dorey in 2nd, Duncan Adams in 3rd, Peter Olenick in 4th and Simon Dumont in 5th.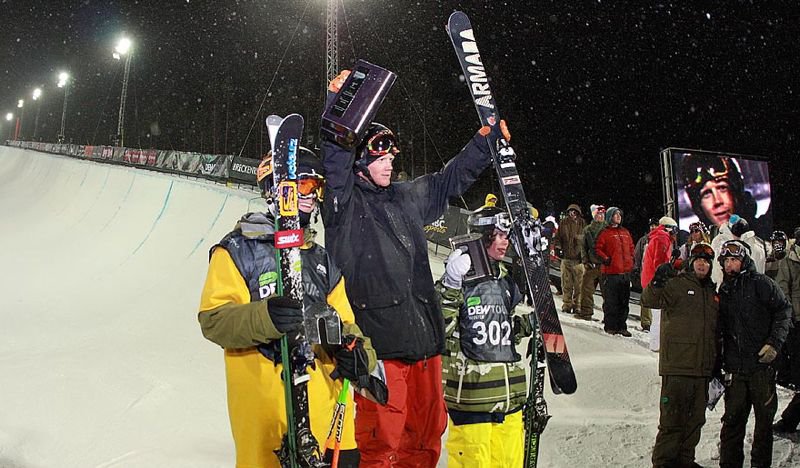 Results
1) Tanner Hall - 90.75
2) Justin Dorey - 85.50
3) Duncan Adams - 81.00
4) Peter Olenick - 79.50
5) Simon Dumont - 78.75
6) Xavier Bertoni - 75.00
7) Kevin Rolland - 70.75
8) Taylor Seaton - 67.50
9) Lyndon Sheehan - 64.75
10) Walter Wood - 27.00
11) Byron Wells - 17.00
12) Jossi Wells - DNS
That's all from the first Dew Tour stop in Breckenridge, Colorado. Next up will be the second stop which goes down from January 8th-11th at Mount Snow, Vermont, and NS will be there providing you with all the coverage you need to keep yourself in the loop. Stay tuned.